Album Review
Auteur Labels: Les Disques Du Crepuscule 1980-1985 [coll] – [LTM Recordings]
lombard 6/1/2010 A Library, CD
"Auteur Labels: Les Disques Du Crepuscule 1980-1985" is another compilation in an ongoing series of label-specific releases from LTM Records.
This particular collection from 2008 is fixated on the Belgian label Crepuscule during the time period 1980 to 1985. Although the music varies stylistically, it's all unmistakably '80s in the best possible way. It begins with a pair of dramatic tracks, Michael Nyman's classically-inspired "Mozart" and a frenetically fun and danceable "Life in Reverse" from Marine. The mood changes considerably with Thick Pigeon's ode to the "Subway," with its Tangerine Dream-ish feel and soft female spoken-word style lyrics. Durutti Column's woeful "Party" took me back to the many hours I spent consuming Smiths songs and had a similar emotional allure.
Women are well-represented in tracks by The French Impressionists, Isolation Ward, Antena and Repetition (one of my favorites). Tuxedomoon's "Ninotchka" is a fun romp that might make you think of a rousing Russian bar band whipping a crowd into a frenzy of traditional dancing (you can even hear the clinking of glasses).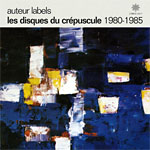 you heard it 35 times on kfjc! most recently: