Album Review
Atrament "Eternal Downfall"
milo 8/13/2016 A Library, Cassette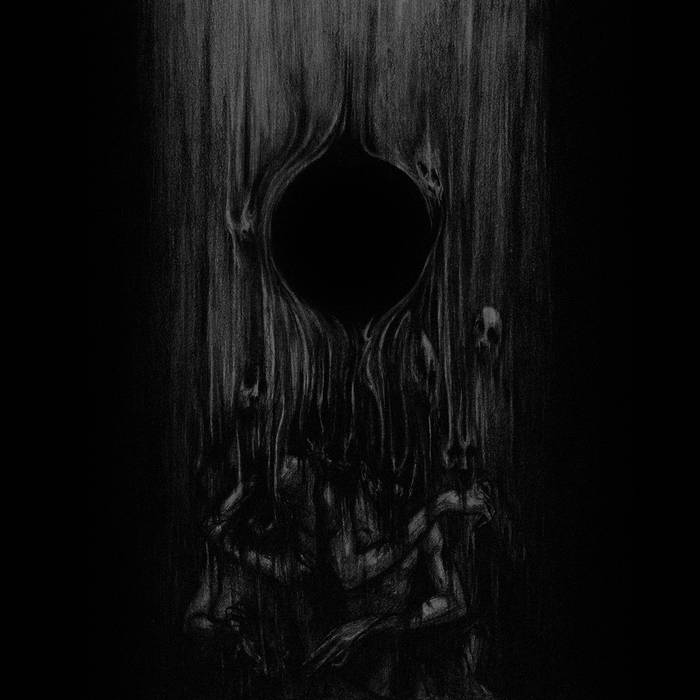 Interpretive: A man riding horseback in a midnight battle plows through the enemy line, as a tide of corpses in the making parts before him like Moses at the Red Sea. Underneath, the steed gallops at a ferocious pace, with only victory on its mind, the blinders fixing his vision ahead–only ahead–until the final battle, whereupon his charge will dismount and behead the leader of the fallen enemy. He knows not the possibility of failure. The riders arms propel his mace deep into the skulls he now crushes with ease, a level of mastery won only through years at war.
Descriptive: Welcome to a nearly continuous festival of punishment. This Bay area four piece (guit/drums/bass/vox) has refined a particularly dark and simple approach to aggressive music. They're tight, achieve a coherent sound, and the vocals are gruff enough to hit the spot without sounding comically evil. Bursts of three quick notes from the sludgy guitars ride atop fast-paced drumming; most tracks have a distinctive break from this before looping around for a second pass. No hooks or particularly memorable riffs; the focus here is on creating a wholly pummeling auditory experience. Memorable bits: the solid mosh in Sunken Reign (#2), and guitar flourishes & work around the kit in Hericide (#5). Dusk Abuse (#11) wraps things up nicely. This 2016 release has received support from multiple labels for the different formats, and these guys are delivering a superior product compared to their peers.
Short: straight up hardcore band dresses up as death metal band for Halloween, decides they like the outfits.
we haven't played it... yet
Fresh batches of new music are released to DJs every Wednesday evening, so check back in a few days.