Album Review
Novik, Aaron – "Floating World Vol.1" – [Porto Franco Records]
lombard 10/9/2012 A Library, CD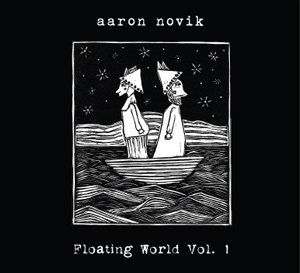 This 2011 release, Floating World Vol. 1, from composer Aaron Novik feels like a crazy opera. With violins, sax, accordion, organ, and clarinet, it has a chamber rock, klezmer sensibility with a lurking weirdness. Some lyrics are stream-of-consciousness and some pieces remind me of songs written by kids, in that they reflect matter-of-fact depictions of every day life (an ode to an umbrella, a track about under-diapers). Others are more obtuse, with inspired metaphors and impressive word play. Swan writes:
"we move thru the acid trip of existence,
as darkness the shape of a man,
bright sunflower petals emitting."
Although some tracks are fun and light, there's an underlying darkness. Hitler 1945 has a somber feel to both the lyrics and music. When you learn more about the creation of this album, it all makes sense. Novik composed these pieces around the poetry of 3 different "outsider" poets from San Francisco's Mission District: Swan ("former Chicago journalist…reborn as homeless street prophet"), the late Bart Alberti ("autistic savant"), and Michael Bernard Loggins (Creativity Explored artist). Carla Kihlstedt, Katy Stephan, and others (including Conspiracy of Beards) provide vocals.
It's an amazing slice of life and include glimpses of the Mission District haunts of the artists, from Valencia and 18th Street ("people were looking through lots of stuff that was sat out on the sidewalk…they got the street all trashy") to Market Street ("it's dangerous and unsafe!).
Amid the humor, there is also a lot of pain and depth, as these poems express the realities of the authors. In "Seat Part," Michael Bernard Loggins writes:
"problems weighs a ton
but life is soft as a love cushion
seat part"
you heard it 15 times on kfjc! most recently: