KFJC On-Line Reviews
What KFJC has added to their library and why...
Progressive Black Metal from Athens, active 2002-13. They only put out three recordings, of which this 2013 EP is the last. It really is great stuff, its angular and aggressive mid-length bursts balancing atonality and melody skilfully with a slight Grind influence perhaps. Included within the appealing all-paper packaging is a wordy interview—conducted by Temple of Flesh, the Cypriot label that co-released this with BBMM— with I.K. guitarist 'MyLastBreatH.' The following excerpts, presented in their original sequence, may help you decide whether you will like this LP:
"[W]e formed I.K. with the sole purpose to play Black Metal that departs from the Black Metal rules… Our name is a tribute to Antaeus, a very special and original band; that is telling of where we came from… A.V. of Dead Congregation appeared with us on stage… some riffs are nods to other bands that the listener can name… I cannot pick between Deathspell Omega and Black Witchery… [drummer] Syrinx blasted with the astrogrind camp of Dephosphorus before focusing on his classical music studies…"
This is not the most 'authentic' Black Metal in the world, but this is not a surprise as the band openly disdain the orthodox sound. There is plenty of bite here all the same.
Reviewed by Lord Gravestench on June 5, 2018 at 9:20 pm
smallertide is Sam Sharp and Joel Almberg, a guitar duo from Minneapolis. This is their first full length release, the follow up to a 2016 7" EP, Crickets (in our library). Guitar melodies, treated with reverb and effects. The tracks are fleeting, lasting just a few minutes, and together with the hazy sound, the record has a twilight feel. But it's not just pretty, easy listening – there's the occasionally placed dissonant note, a melancholy ache. Released by Sharp's label Poor L'Amour.
Reviewed by lexi glass on June 5, 2018 at 8:47 pm
Collection of works from the beginning and end of the composer's career, performed by the American Composers Orchestra from NYC.
"The Seasons" (1947) (T2-T5) Composed to accompany a ballet, this one of Cage's first works for a full orchestra of traditional Western instruments. Dissonant, but not completely clashing, melodies that build from the quiet winter to the fiery fall. You can hear the influence of Cage's teacher, Arnold Schoenberg.
"Suite for Toy Piano" (1949)  A composition that centers on the unique metallic sound of the children's instrument. At this point, Cage was obsessed with the music of Erik Satie, who at the time was relatively unknown. There are two interpretations of the piece: the original solo work (T10-T14) which is surprisingly lovely, and a 1963 reworking (T15-T19) by Lou Harrison that substitutes the toy piano with a full orchestra, that obviously gives the work a completely different, grander sound. I prefer the original, but it's interesting to hear both side by side.
"Concerto for Prepared Piano and Chamber Orchestra" (1950/51) (T6-T8) Now we're getting closer to Cage's most famous work "4'33" (1952) that exemplifies his musical approach of "non-intention," inspired by Zen philosophy. This piece is a step in that direction, with Cage allowing the musicians to improvise freely within a fixed overall structure. But the fixed structure itself is also subject to chance: Cage flipped coins to determine how the orchestral and piano parts move in pitch and time. The piano, played here by Margaret Leng Tang, is prepared with objects inserted into the piano strings to change the sound of the notes.
"Seventy-Four" (1992) (T1 and T9) This work comes at the very end of Cage's career, five months before his death at the age of 79. A completely different kind of score, with the musicians playing single notes but freely choosing when and how to play them within a time interval. When the musicians change to different notes, it creates these unpredictable moments of dissonance, and an evolving drone-like sound. Two instances of the piece are included here.
Reviewed by lexi glass on June 5, 2018 at 8:27 pm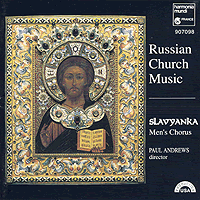 Choral liturgy music from the Russian Church, released in 1992 by harmonia mundi. Track 16 composed by Stravinsky. The Slavyanka Russian Chorus was founded April 1979 in San Francisco, named for a 19th-C. Russian settlement at Fort Lee near the mouth of what is now called the Russian River.
Reviewed by Hemroid The Leader on June 4, 2018 at 5:30 pm
"SIX CLASSIC ALBUMS"– 44 tracks from 1957-59 on 4 CDs from European imprint Real Gone Jazz, 2012. Rollins, Coltrane, Pettiford, Roach, Haynes, Charlie Rouse.. gang's all here. . Back cover of the booklet has the personnel. CD4 solo in SF. He had a ring that said MONK, he would hold it upside down and it spelled KNOW. "Always know," he said.
Reviewed by Hemroid The Leader on June 4, 2018 at 4:43 pm
This is a compilation of songs originally recorded between 1981 and 1984. It's electronics that sounds playful like video games with hazy male vocals fading in and out among the sounds of telephones ringing (3). It's more than the playful sound, though; it's a flashback to the 80s and many of these feel like a soundtrack to that time (4, 6, 8). I can tell this will get lots of plays.
Reviewed by humana on June 4, 2018 at 12:03 pm
This is refreshingly accessible avant-garde jazz from a quartet featuring Hone on alto sax and bass clarinet, Lauren Baba on viola, Gregory Uhlmann on guitar, and Mike Lockwood on drums.They are capable composers and improvisers. "Play" (7) sounds like a wonky circus act, while "Morning Bear" (9) is a lovely creation (written by and featuring pizzicato by Baba) worthy of many listens.
Reviewed by humana on June 4, 2018 at 11:42 am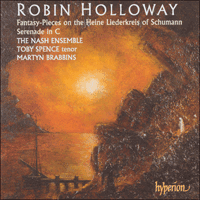 British composer Robin Holloway (b1943) reworking material from Schumann, chopping it up and pushing it this way and that. Performed by the Nash Ensemble, named for the beautiful Nash terraces of their native London. 1979's Serenade in C is almost jazzy at times, especially the Finale (#5). Fantasies on's Schumann's Liederkris (1971) follow, with Schumann's originals, sung by young and robust show-stealer Toby Spence, sandwiched in between. Kind of an odd program, but it works.
Reviewed by Hemroid The Leader on May 30, 2018 at 4:20 pm
12 duets between Syrian oud and Chinese pipa. Their string instruments offer different interpretations of the same ideas. Hong teaches and Rafea was artist-in-residence at Carleton College in Northfield, MN. The tunes are improvised, the players are masters, the vibe gets thick. Sometimes with ancient tradition, time and understanding seems to become dense and harden. These players are kicking up dust, looting the columbarium, hybridizing new alloys and making waves in the aether.
Reviewed by Hemroid The Leader on May 30, 2018 at 3:34 pm
Tidbits for the musical gourmet are served up extremely pleasant. 18th & 19th c. guitar duets with flute, harpsichord, cello or violin. Track length between 7 and 11 minutes, most containing several movements. You could play a single movement, bring diversity to your set, use as a bed. Get creative. The different instrumentations bring different sounds. Very enjoyable.
Reviewed by Hemroid The Leader on May 30, 2018 at 3:01 pm

There's a gently flowing Appalachian stream and then there's the vastness of the cosmos, and hovering somewhere in between is Sarah Louise. Something about the way her 12-string is tuned bathes all that rapid fingerpicking in a soft glow, so that you're never quite sure if you're listening to John Fahey or Tangerine Dream. This record is from 2016 and is part of VDSQ's solo acoustic series. 2018 sees a Thrill Jockey release as well as an LP reissue of her 2015 cassette on Scissor Tail. All tracks are in the 4-6 minute range.
Reviewed by Phil Phactor on May 23, 2018 at 4:48 pm
Anne Clark meets Martin Rev at the local poetry slam to create something
original? Indeed! Map 71 is the two piece Bristol UK duo consisting of
percusionist Andy Pyne and Poet Lisa Jayne. 7 tracks of oscillating reverby
percussion combine with Jayne's inflectionless spoken word musings on topics
such as controversial dance moves and psychedelic waiting rooms to create
something unique and interesting. Real or halucinogenic? Every track will have
you pondering. Elements of Industrial, Ambient, Avant-garde and Post-Punk all
coalesce harmoniously without sounding pretentious or self indulgent. There is
a consistent feel to all presented here but Track 5 is my favorite.
Available as a CD or Cassette.
Reviewed by Jim Hunter on May 23, 2018 at 4:26 pm
Beats to buck you up when you're got the blues, from LA producer Oso Blanco. Flipping a soul sample is a tried and true, and sometimes tired, beatmaking formula, but it's done really well here, at times with the creativity of the legends themselves, Dilla and Madlib. There's also weird touches that give this a sound all its own – glitches and skips, blasts of electronic noise, samples that dissolve into sine waves or swerve off the rails like they're being played on one of our ancient tape decks (don't worry I checked, it's supposed to sound that way!) – that will either catch your interest or harsh your vibe. Still there's some good, head nodding sections, and I might've stood up and danced when one of my favorite jams came into the mix about 20 minutes in on the A side. Though the tape's instrumental, there's lots of samples from (mostly breakup) movies, some with dirty words, sooo: FCCs on both sides.
Reviewed by lexi glass on May 15, 2018 at 8:24 pm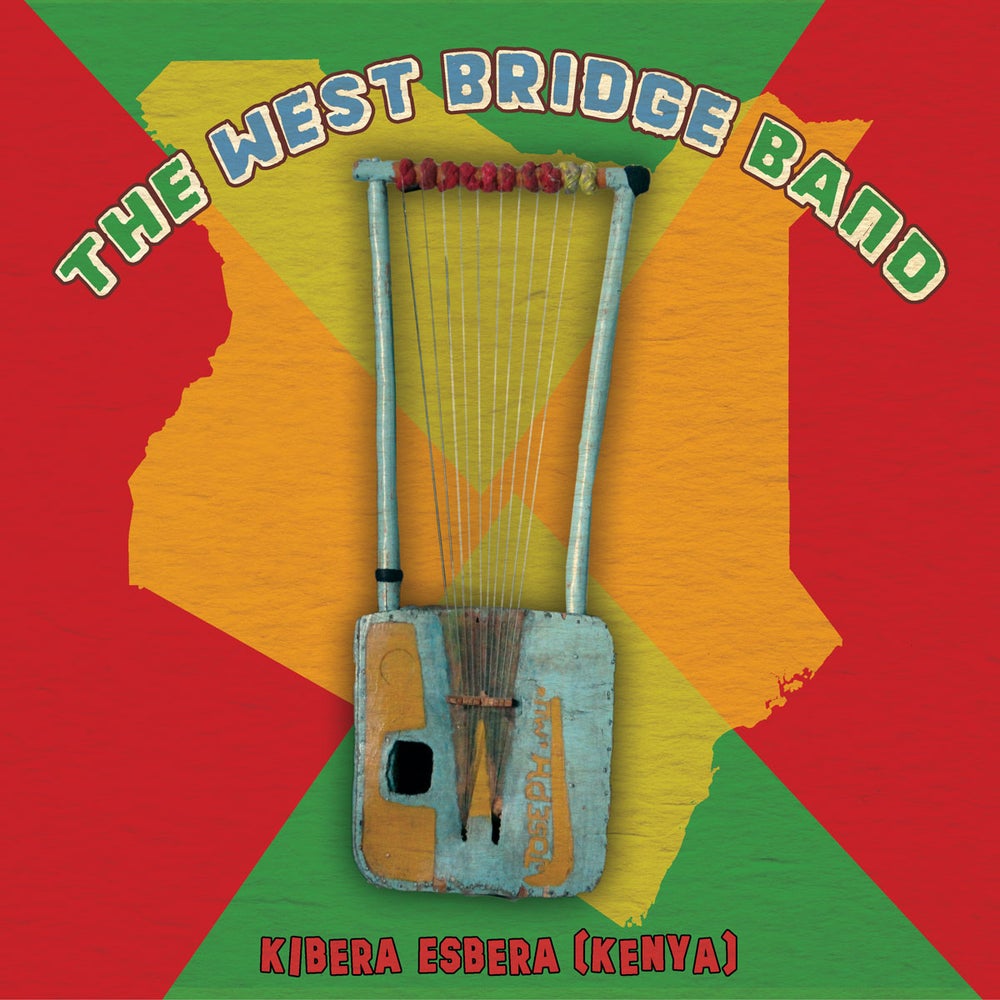 This 4-piece consists of Luhya tribesmen from Kenya on a mixture of homemade and more traditional Kenyan instruments. These instruments live with 2 million others in the Kibera slum outside Nairobi. They live in crushing, impossibly cramped poverty. Their dayjob is entertaining safari tourists, swapping clothes on the break to appear like a new band- this album was recorded by Ian Brennan in a family's home the size of a car interior.
Reviewed by Hemroid The Leader on May 15, 2018 at 2:39 pm
Filed as 12-inch,International
Oakland musician and Outsound New Music Summit organizer Rent Romus takes his sax and flute to Helsinki, Finland where he is joined by excellent Finnish musicians to make this remarkable live 2017 album.  Very weird but very beautiful and listenable.  Sound is terrific, lovely tones from all instruments.  The tracks do not remind me of anything I have heard before and that's a good thing.  (A kantele is a traditional Finnish zither.)
Reviewed by Cousin Mary on May 10, 2018 at 12:17 pm
Guitarist Todd Novak (Cowlicks) is known for his country blue grass music but this band plays surf music.  The EP is all instrumental and features drummer Martyn Jones (Mermen), bass Johnnie Hamilton (Mach IV, Berzerkers), with keyboard work that adds a nice difference from Scott Theakston.  Definitely surf but with an edge.
Reviewed by Cousin Mary on May 10, 2018 at 10:51 am
Hard bop meets avant garde in this outstanding session from 1963.  Original recording and remastering were both done by Rudy Van Gelder.  Excellent piano from leader Andrew Hill, stunning "side men" include Joe Henderson on sax, Richard Davis on bass, Roy Haynes on drums.  Does it get any better than that?  Edgy and marvelous.
Reviewed by Cousin Mary on May 10, 2018 at 9:58 am
Solo guitar carnage from Reg Bloor, an NYC experimental/metal guitarist. Bloor went solo recently, starting with her excellent 2015 release Themes for an Imaginary Slasher. Before that, she played in Glenn Branca's ensemble for nearly two decades, served as concertmaster for several of his symphonies for 100 guitars (she and Branca are married), and collaborated with Bowie, Thurston Moore, GYBE and others. Bloor wields her axe fearsomely, churning out dissonant melodies that slash like a thousand blazing knives. Some pieces move in precise, repetitive melodic cycles, like the climactic bloody scene in a horror film playing in an awful continuous loop. In others, the guitar notes are blurred into a thick blackout. Brutal and brilliant.
Reviewed by lexi glass on May 8, 2018 at 8:38 pm

Served up by ZudRangMa records in Bangkok,
a fantastic store run with keen (and khaen)
love by Maft Sai (connections to next door
Studio Lam where Molam and Luk Thung artists
often perform). Traditional flavors are strong
but varied on this collection of their label's
recent 45s. Opening with the towering power of
the khaen (a bamboo pipe organ that sends
skyscrapers of sound out of one's mouth). The
vocal stylings are so great, kicking up a kind
of gymnastic percussion that dances over drums
and other skins. Check out Chanpen Pornaswan
(B2) for a sterling example, or for the male
counterpoint of view, Aa Jaan Jitakorn Molam
Group (B3) for that surging form of singing.
(B1) actually goes all in with onomatopoeia
on "Ding Ding Dong." That piece feels like
an island sound system with its proud horn
punctuation and killer drummer. So much
style, swervy and hypnotic. Even without
vocals, "Lam Plearn Diew Khaen Diew Phin"
and "A Ba Ni Bi" have dance floor beckoning
beats that slide up to you, A3 a jangley
bouncer, while B4 is a vibraphone groover.
I like to pretend Onuma Singsiri's (A4)
song is some kind of Thai darkwave, but
the initial Joy Division blotted out by funky
sproingy synths and her "how ow how ow ow"
quick cadences. All solid but do NOT miss
Warin Shinaraj (A2) it transports me every
time, not to Bangkok, straight to Paradise.
Her voice lingers on notes then darts away
the guitar and drum anapestically waiting
on every word, ending with a strange calming
blend of laughter and piano ripples. Wow!
New York vs Noo Yaak! We all win.
-Thurston Hunger
Reviewed by Thurston Hunger on May 5, 2018 at 12:39 pm
Filed as 12-inch,International

No stranger to KFJC's airwaves, Marisa Anderson
unites with Portland powerhouse Mississippi Records
to reissue her 2013 release of an homage not just
to the Traditional Songs of the title, but to the
guitar. It's all instrumental, and all electric,
and weaves between reference and reverence. She
can pluck gentle and clean as on "Farther Along"
or tiptoe near the third wire that Junior Kimbrough
use to ride with "Pretty Polly." Songs that are
pulled deep from the heartland, if not the heart
of this country appear : "May The Circle Be Unbroken"
and "Amazing Grace." But Marisa's domain extends
beyond natural and sonic borders, "Bella Ciao"
is indeed beautiful, and builds up a nice storm set
of chords. Dig the super reverb recoil on "Johnny
I Hardly Knew Ye." A lot of the album has a solemn
and introspective vibe, often soothing but not without
a bout of bitterness. That being said, she concludes
with a downright jouncy "When the Roll Is Called Up
Yonder." Perhaps that is the arc of the blues, to
struggle humbly and with grace, but carry a heavy
weight till we hit our run-out groove and the
needle rises with us to the skies.
-Thurston Hunger

Reviewed by Thurston Hunger on May 5, 2018 at 12:37 pm


« Previous Page — Next Page »