KFJC On-Line Reviews
What KFJC has added to their library and why...

If the word "titillating" makes you blush or gives you a chub, this album's for you. Naughty. Bawdy. Tawdry. All these "aw" sounding words to help explain "The Best of Daliance", taken from a series of albums put out in the 1950′s on the then new Elektra Records, based on the 18th century songs of Elizabethan writer Tom D'Urfey. Put together and sung by Ed McCurdy, a 1950′s Greenwich Village fixture and naughty sort in his own right, these songs are all suggestive larks describing couples… or trios… or groups of people enjoying themselves in the best way possible. Lots of lines about "stoking the fire", his long pole pushing into the oven, the maidens cherry complexion loosing it's color and on and on. Blacksmiths must have been having sex all the time. Career change at 55? Possibly. The musical interpretations are smooth, taking us back to the early 1700′s when there wasn't much to do but constantly milk the cow. Alan Arkin plays flute!!!! and Erik Darling, later of the Weavers, plays banjo, taking the place of lute. The CD cover is pink fuzzy suede. Go figure.

Reviewed by Naysayer on February 12, 2018 at 10:02 pm
A one hour noise odyssey from genius of the genre Kimihide Kusafuka, brought to us by LA's Oxen. In these three works, K2 finds a sonic idea, stays with it for a moment, then moves on to the next – the effect is like moving through the world with your senses amplified a millionfold. "Pollution with Huge Lies" (T1) builds from isolated drones and signals into massive torrents of sound and a sense of impending catastrophe. "MOX" (T2) explores rough-textured static, but later on almost melodic phrases appear. "Unpeaceful Song For Rainy Tritium" begins peacefully enough, like an unsuspecting nature scene, until it is slowly swarmed by radioactive plumes and ensuing mayhem. Masterful.
Reviewed by lexi glass on February 7, 2018 at 6:17 pm
On this 2014 cassette EP, noise artist Josef Nadek draws inspiration from the ancient folklore of his native Austria. "Wâldgeischta" lures us into the forests, with field recordings of birds singing as dark ambient echoes settle in the trees (T1). This moves into the mysterious, minimal rhythms of "Nimma dâ" (T2) that blossoms into full-on seething noise on "'s wilde Gfâhr" (T3). The dust settles on the final ambient track "D' Bluatig'n," (T4) electronic groans and growls from the spirits as they disappear back into the woods.
Reviewed by lexi glass on February 7, 2018 at 6:17 pm
Mungo's Hi-Fi Serious Times
Electro-Dancehall style reggae. Mungo's Hi-Fi comes out of Scotland, but sounds like they are straight outta Kingston, JA. Great line-up of vocalists with many styles and dope rhythms from the sound system. DJs on the decks dropping bomb tracks, and MCs on the mics with excellent flows and vocals. Sides A and B are highlighted by female vocalists Warrior Queen, Soom T, and Marina, who help balance things out and add a sweet flava to a scene often dominated by dudes.
Sides C and D the Dudes are back in control and strutting their stuff. Cornell Campbell is a recognizable name on the last track, but all cuts are strong.
Ras Babo
Reviewed by rasbabo on February 7, 2018 at 2:23 pm
Comments Off
Thirteen original tracks from this Seattle based instrumental surf trio are a lot of fun. Well played, it is unmistakably surf music with a modern twist. Some horror, Spanish touches with a reverb crash here and there. Good energy, danceable.
Reviewed by Cousin Mary on February 7, 2018 at 12:57 pm
Bob Ostertag is a true Renaissance Man: author, professor, political activist, composer, electronic musician, journalist, creator of his own software based laptop instruments and more. His work stands out for its uniqueness, creativity, political stance, beauty and challenging qualities. "DJ of The Month" is a 40 minute single track of electronic onslaught and subtlety, mixed together and separated. Sounds flash past and reverberate around and through the listener, taking them on a unique meditative journey. It does become hypnotic in its movement of sound. The piece is meant as a meditation requiring focus and concentration. I know a few of the DJ's who will play the whole thing. So worth it.
Reviewed by Naysayer on February 7, 2018 at 12:30 am
Little did the Roland engineers designing the TB-303 for lounge band as a bass guitar emulator know that it started the acid house genre with the squealchy bass lines. Armando Gallup was indeed one of the Chicago acid house pioneers, his Land Of Confusion — on this collection — became a hit both in US and Europe. He was also one of the co-founders of Warehouse Records plus a busy-bee organizing parties and much more. This is a collection of r
Reviewed by Kai Sync on February 6, 2018 at 11:46 pm
Comments Off
I live for this type of collection: "Funky Chimes", a collection of 27 Belgian session musicians and sort of stars from the 1970′s, experimenting with "funk, jazz, latin and other groovy genres." Did you get that it's from Belgium, a place most people don't initially think of for it's music (which is wrong, of course)? It's library music. It's songs for commercials. It's music your 1970′s Belgian parents would play to relax and feel cool with. The overwhelming notes with photos of each album cover should be more than enough to convince you of the outright grooviness of this stuff. Just look at some of those covers. And the names of the groups and songs: The Indian Sound of… Black Foot, Selectasound '88 & The Bob Boon Singers, The Free Pop Electronic Concept and on and on. Of course, the stunner among stunners is Hearts of Soul and Shampoo performing "We Love the Policeman". This is the more challenging second release in the series, the first being "Funky Chicken". Looking for it as I type.
Reviewed by Naysayer on February 6, 2018 at 10:55 pm
Filed as CD,International
She Didn't Respond is Patrick Harsh (aka Fuckmaker) working with someone named IZFERNOR, of whom I know nothing. If you have been craving an adorable little 3″ package of relentlessly harsh/ugly noise, here you go. Actually I'm not surprised that she didn't respond–I'm guessing she is probably dead.
Reviewed by Max Level on February 6, 2018 at 9:02 pm
Comments Off
Battles: math rock, post rock, art rock. Whatever. These two EP's from 2004, brought together as a double album, are Battles as a foursome, including Tyondai Braxton. That's early Battles. Exquisite interplay of guitars, bass, keyboard and drums, spilling out patterns, breaking them apart, overlapping, interpreting, adjusting. This is the project at it's beginnings, establishing a foundation of what would follow. Calculate away.
Reviewed by Naysayer on February 6, 2018 at 8:41 pm
A seething bundle of ear-shredding noise from Trashfuck. If you took a Masonna record and a Government Alpha record and played them both extremely loud at the same time, you would eventually wonder why go to all that trouble when you can just put Fuckmaker on instead. The man behind the Fuckmaker curtain is named Patrick Harsh, and that might tell you all you need to know about this CD. Track 4 is not as harsh as the other tracks but it's no walk in the park either.
Reviewed by Max Level on February 6, 2018 at 8:35 pm
Comments Off
Liberatore lives in Brooklyn and is from Italy. This album is solo guitar experiments. It sounds like a meditation on vibrations. Very conceptual on first hear but the playful qualities come through.
- Billie Joe Tolliver
Reviewed by billiejoe on February 6, 2018 at 2:32 pm
Kotra is Ukrainian artist Dmytro Fedorenko. Album title Freigeist means freethinker in German. He is known for his abstract performance based pieces. This sounds like moody basey beats. It rattles your rib cage.
– Billie Joe Tolliver
Reviewed by billiejoe on February 6, 2018 at 2:31 pm
Claudio Aizaga Yerovia (1925-2008) was a prolific composer and choir director from Ecuador. Here are 12 songs for voice and piano. Aizaga at the piano. Beautiful songs. Great addition to our library of a relatively obscure voice.
Reviewed by Hemroid The Leader on February 1, 2018 at 3:15 pm
Filed as CD,International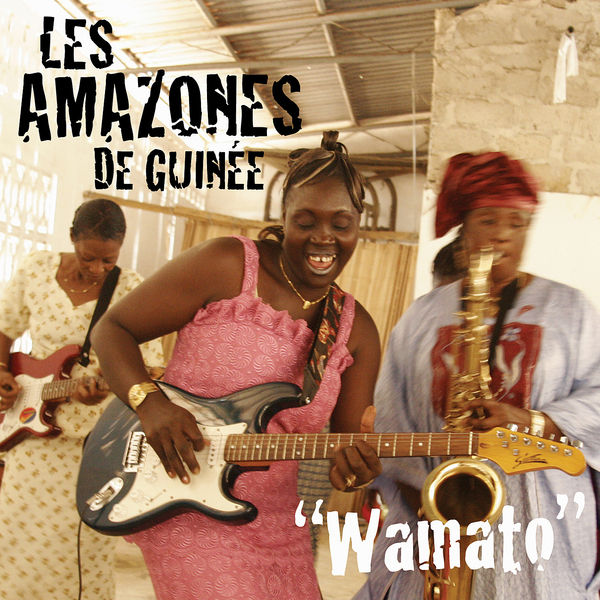 Les Amazones De Guinee are an all-woman band who also members of the Guinean army. This is their first record in 25 years and 2nd overall. Typical of Guinean music, many rhythms intermesh to make this music. Hectoring lead vocals, smooth backing vocals, intricate guitar lines, powerful saxophones, and percussion overlap.
Reviewed by Hemroid The Leader on February 1, 2018 at 2:39 pm
Filed as CD,International
This is an album called 'Internet' by an outfit calling themselves 'Computer,' and well it sounds exactly like you think it would. Which is to say, cliched synth squiggles, slapdash Youtube sampling, text-to-speech, wrong-speed experiments, gratuitous power chords, all chopped up and run through Ableton by a pair of millennials on an Adderall/weed bender. Another reviewer writes: "just a big dump of digital trash that cannot be avoided."
Reviewed by Phil Phactor on January 31, 2018 at 7:14 pm
Analog transmissions from Head Dress, the project of Ted Butler from Los Angeles (he's also behind the underground cassette podcast Norelco Mori). This 2017 cassette comes to us from the newish experimental tape label Castle Bravo out of Lafayette, IN.
Three modular synth works with a focus on rhythm and drone. Sonar pings from a black box on the ocean floor, repeating pulses like a code beamed from a distant source. Ringing drones that flow into beats from alternate dimensions mutating into minimal almost-techno by the end of "Blake's Ridge" (T3). Disappear into the Devil's Triangle.
Reviewed by lexi glass on January 31, 2018 at 6:25 pm
Punishing power electronics on this 2016 release from Stress Orphan, the Baltimore-based project of Eric Trude. Global exploitation, mounting frustration, inevitable explosions. Calls-to-arms, guerilla warfare, howling sirens, nuclear attacks, shock waves, body bags.
Reviewed by lexi glass on January 31, 2018 at 6:25 pm
Comments Off
Suitable for Oktoberfest celebrations. Enjoy some weisswurst and play under the tree, and tap your foot along on the beer-keg. Brings back many memories!
Reviewed by Hemroid The Leader on January 31, 2018 at 2:51 pm
Filed as CD,International
Comments Off
Norwegian weirdness. Droning off-balance situations with raggedy guitars, voices, and random percussion. Odd things provide odd counterpoint to other odd things. Haphazard slide guitar and incomprehensible vocals throughout. One track sounds like a pair of sneakers tumbling noisily in the dryer. To be honest, I couldn't really make heads or tails of this CD. Compared to this, the Bren't Lewiis Ensemble sounds almost normal.

Reviewed by Max Level on January 30, 2018 at 11:02 pm

Comments Off



« Previous Page — Next Page »