KFJC On-Line Reviews
What KFJC has added to their library and why...
Found Property Recordings released this CDr?? documenting a 2008 performance in Sheffield, England by Thereminist extraordinaire Beatrix Ward-Fernandez and percussionist Charlie Collins – sounds in space. Architectural. Volumetric. One continuous performance – track breaks to facilitate use.
Reviewed by Hemroid The Leader on December 28, 2017 at 2:51 pm
Marshall Allen Volcano Quartet, Volcano Swing
Marshall Allen was part of the Sun Ra Arkestra and this band is a continuation of that. They were in London in 2011 when a volcano exploded in Iceland, grounding all lights. The band took a three-day residency at Cafe Oto in North London.
They stopped by the BBC Radio to promote the gig and recorded this CD. First track is totally interstellar, but then they settle into a traumatic jazz quartet groove. the end of the CD there is a live interview and Marshall Allen reveals that he was a member of the Sun Ra Arkestra trapped in Seattle when Mount Saint Helens exploded in 1984.
Reviewed by Hemroid The Leader on December 28, 2017 at 2:23 pm
Different noise artists. Tracks 1-6 are all the same artist and are really short. They can really be considered one piece and would sound cohesive if one were to play them on continuous. All good solid noise tracks.
– Billie Joe Tolliver
Reviewed by billiejoe on December 20, 2017 at 4:31 pm
Detroit guitarist Kenny Burrell recorded at the Village Vanguard with Rochard Davis (b) and Roy Haynes (d). Also includes a mess of reissues from his other Cadet albums, even Christmas tunes. This is head-in-the-clouds stuff, but not interstellar. "Cool" guitar jazz.
Reviewed by Hemroid The Leader on December 19, 2017 at 4:29 pm
Gunslinger comes to town – Anti-Hero – Famous tunes, very evocative. Ennio Morricone wrote and Hugo Montenegro conducted. Spaghetti drama – one of the greatest scores of all time.
Reviewed by Hemroid The Leader on December 19, 2017 at 4:03 pm
Filed as 12-inch,Soundtrack
Nino Rota composed the music for all of Fellii's great films as well as The Godfather. This record documents a concert that took place in Tokyo on March 22, 1976, featuring Rota conducting the New Japan Philharmonic. Side A features tunes from The Godfather, and B are from Fellini movies.
Reviewed by Hemroid The Leader on December 19, 2017 at 3:40 pm
Filed as 12-inch,Soundtrack
\
Sofia Gubaidulina (b. 1931) was a Russian composer who pushed boundaries, tonalities, forms and sounds. This displeased the Russian academy. However, she received the support of Dmitri Shostakovich, who championed her work, thereby providing cover.
Three long tunes, 17, 17, ans 38 minutes. These chamber pieces feature the Bayan, the Russian push-button accordion, a folk instrument. According to banyan player Friedrich Lips, these works, like all works by Gubaidulina, spring from "the collision of two beginnings — good and evil."
Reviewed by Hemroid The Leader on December 19, 2017 at 3:18 pm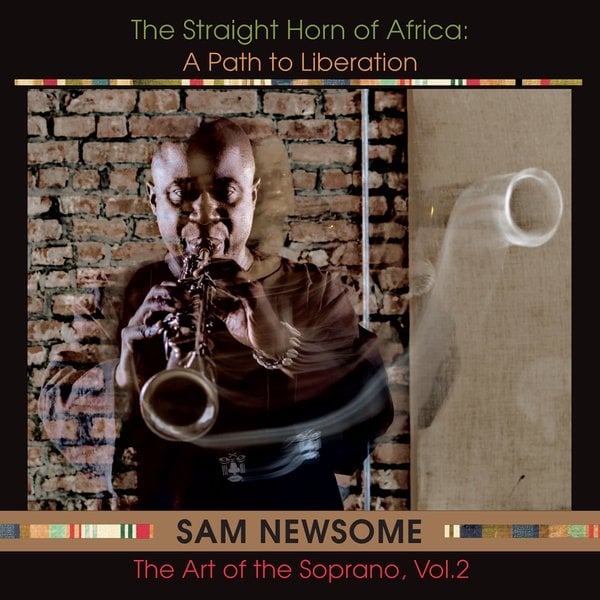 Solo soprano sax originals by Sam Newsome, who was in Terence Blanchard's band in the 90s. A solo investigation, "The Straight Horn of Africa," ventures to many places – swinging, otherworldly sounds, African nature sounds, American jazz sounds, Mimmo-isms, Afrobeat and Highlife — it's all here. Really cool sounds, pure, beautiful, strange.
Reviewed by Hemroid The Leader on December 19, 2017 at 2:46 pm
Mamadou "Jimi" Mbaye (em-BY) is a Senegalese guitarist who makes his guitar sound like traditional african string instruments xalam/khalam and kora. 11 rocking tunes, this is his 1st album released in '97. Guitarist for Youssou N'dour's Super Etoile band. songs in wolof, french, & english. The polished sound of Senegalese mbalax pop is not for everyone but if you can get past it, there's a lot to enjoy here. Track 3, 11.
Reviewed by Hemroid The Leader on December 19, 2017 at 2:16 pm
Filed as CD,International
A fantastic listen. Trumpeter/cornetist Mazurek dives fully into electronic manipulation of his piccolo trumpet. Synth processing, samples, and loops are the tools being used. My impression is that the trumpet is largely the source of the sounds, and sometimes that is apparent, but a lot of the time it's hard to tell–the sounds are bent and modified and crushed and corroded and squonked-out beyond recognition, so who knows? Mazurek's super creative manipulation drops you into a sound-world the likes of which you have probably never heard before. Long tracks, short tracks, it's all here. Fascinating.
Reviewed by Max Level on December 18, 2017 at 10:30 pm
Kawakami was the guitarist and frontman of Japanese d-beat punk band Disclose until his untimely death in 2007, when he chased sleeping pills with vodka. The same year Disclose put out their first album, 1994′s Tragedy, Kawakami's secret side project Bacteria released this demo. On this 2015 re-release from Dan-Doh, the original 28 tracks are crammed onto a single side of a slab of pitch black vinyl to be played at 45 RPM. Blown-out vocals like a feral dog shrieking and howling, bursts of destroyed and demented guitar. If it weren't for the drumming that appears a few minutes in and explodes as the record goes on, you could mistake this for a sludgy, fucked up noise record – a glimpse of Kawakami's next act with the harsh noise project(s) Blackgoat/Goatworshipper. Filthy, raw, gut churning. Finally, a record that crust punks and noisedorks can all agree on!
Reviewed by lexi glass on December 18, 2017 at 7:48 pm
Coume Ouarnède is the solo project of percussionist Yan Arexis. Previously, Arexis was a member of French folk bands Stille Volk, Sus Scrofa, and others. This project's title refers to a network of caves in the Pyrenees, and on this 2016 album (the title translates to "those who empty the trees"), the tracks are named for the landmarks and mountain peaks near its ancient tunnels. The sounds draw you into these passages and the surrounding woods, as Arexis attempts to create "the music from the first years of humanity." Traditional percussion, flute, and stones create a quiet atmosphere (T5, T9), and on two tracks he uses field recordings of the forest (T1, T9). These tracks are very minimal, so much so that the faintest drumming rhythm (T3, T6, T8) or human voice (T2, T3, T5, T6, T7, T8) is a thrill. Supernatural sonic spelunking.
Reviewed by lexi glass on December 18, 2017 at 7:14 pm


Minimal, hippy-dippy, solo guitar explorations courtesy of local artist Jakob Pek, who makes up one-half of improv duo Dunkelpek (with percussionist Nava Dunkelman). While that group can get pretty far out at times, for this project Jakob keeps things simple and contemplative. Tracks 1 and 3 are fingerstyle jams, while tracks 2 and 4 make use of long held tones, made with a violin bow as well as perhaps an E-bow, a signal generator, and Tibetan singing bowls. Track opens with some prayer bells and ends up being a combination of the two approaches. Slow down and take it in.
Reviewed by Phil Phactor on December 13, 2017 at 6:57 pm
From Iceland. Blasty. Short songs. Screaming vocals. Despair. Angst.
- Billie Joe Tolliver
Track lengths:??1- 1:13??2- 0:35??3- 1:01??4- 0:52??5- 0:55??6- 0:55??7- 1:33??8- 2:12??9- 0:51
Reviewed by billiejoe on December 13, 2017 at 2:29 pm
Carriere is a sound artist and composer from Montreal. To me this is what happens when a composer does electronic music. Made by tuned closed circuit feedback. Sounds like beats with melody.
- Billie Joe Tolliver
Reviewed by billiejoe on December 13, 2017 at 2:27 pm
OK, I'll admit it. I was pretty skeptical of this one. I mean, of course Robert Ashley is a genius, but a mid-nineties made-for-TV opera? And what's up with the Victorian steam-punk woman on the cover. There's just no way this thing is gonna be hip.
And I gotta say, after listening to the first few tracks, I was EVEN MORE skeptical. It really is an opera! Full of synths and bizarrely layered vocal arrangements so hard to follow that I had to read the liner notes just to understand. I didn't think I was going to make it all the way through both CDs.
But then something happened, and I understood.
It wasn't the plot that hooked me, because not very much happens. Scenes take place in mundane settings, like doctors' offices, cars, and airline check-in counters. The main theme of the second act (as far as I can tell) is an enumeration of the contents of the main character's purse.
It also wasn't the very conceptual and supposedly deep symbolism, which I found strangely overt yet utterly confusing. The liner notes clearly explain that this whole thing is an allegory for 1492 Spain, and that characters represent concepts including "America", "The Roman Catholic Church", "Integrated Philosophy", and "The Descendants of Jews and non-Jews (i.e. us)".
No, it was something about the cold electronic minimalism that finally got to me. The staccato whispers and monotonous choral unison. Highly uncomfortable, but before long it becomes your world. It is all you know. How could music ever have been any different?
The fragmented points of view and sometimes unreliable narration of Ashley himself. Monologues cast out into the ether. Call-and-response dialogues that subsume themselves, crossing the threshold of tolerable similarity. Honest contemplation of the situation at hand.
The importance of eating pasta at every meal.
If you are looking for a "song", drop the needle on Tarzan (cd2-2). It's pretty catchy, although the protagonist hates it, and features Ashley narrating the lyrics while the are being sung below.
"The Doctor" (cd2-4) shows Ashley's unique dialog style, in a form that is still intelligible and occasionally musical. For slightly more difficult listening, check out the Airline Ticket Counter scenes (cd1-2, cd1-6). But honestly pretty much every track is worth playing. Or maybe none are. I can't tell any more.
Reviewed by Louie Caliente on December 12, 2017 at 9:26 pm

This 2017 release, our first add from the Danish label Jvtlandt, is the second album from Tandaapushi, the Borromean trio of electronic musician and pianist Leo Dupleix, bassist Laurens Smet, and drummer Louis Evrard.
The core tracks of the album were recorded during a session in Brussels with Dupleix on the pianet, Smet on guitar with assorted applied effects, and Evrard on drums. In Part 1 (T2), a steady, hypnotic guitar and drum groove rumble beneath rhythmic jabs on the electric keys. In Part 2 (T4) the drum/guitar foundation, more driving than the first and building in intensity, while mysterious tones spiral. For the Finale (T6), a heavier guitar sound anchors wild excursions on the keys. After the session, the guys shared a plate of frites. Between the main tracks are three improvisations- muted beats percolating from a drum machine and question mark strings (T1), creeping repetitive guitar and deep distorted bass (T3) and looping washes of feedback with soft guitar melodies (T5). It brought to my mind early jazz fusion keyboard experiments, and the grind of the Drid Machine with the angular edges filed away, and I enjoyed it the whole way through.
Reviewed by lexi glass on December 12, 2017 at 8:43 pm
William Grant Still was a 20th Century classical composer, creating pieces often in the neo-romantic and neo-impressionism style. Born in Woodville, Mississippi and spending most of his early days in Little Rock, Arkansas, he was musically influenced by his step father's record collection. Listening to opera as well as learning to play violin honed his interest in classical music. Seeing his fist orchestra perform at Oberlin college settled it: he would compose music. This did not come easy, of course. He played in jazz bands, wrote jazz arrangements for Artie Shaw, and travelled to California in hopes of writing music for films and television. He had minor success with this but it influenced his ideas on orchestrations. Still was the first African American composer to "secure extensive publication and significant performances" of his work. He was considered the patriarch of Black classical music, being the culmination of the Harlem Renaissance. Even though he studied under Edgard Varese, his style went toward a more traditional sound.
The selections on this collection cover many of his diverse projects, from fully orchestrated pieces to simpler tunes composed to poems by Black poets. The Ennanga pieces are his attempt to connect to his African heritage, though at the time he wrote them he did not have access to African music recordings. These pieces became his interpretation. Just like the Florence Price work at our station, this is an important addition to our collection.
Reviewed by Naysayer on December 10, 2017 at 11:16 am
Like Bernard Herrmann was to Alfred Hitchcock and John Williams is to Steven Spielberg, Georges Delerue was the musical connection and interpreter to Francois Truffaut. Delerue scored music for over 200 films, composed operas, sound and light shows, ballets and chamber pieces, but his eleven collaborations with French New Wave film master Truffaut stand out in soundtrack history. Delerue was able to interpret Truffaut's rich tales of romance and heartbreak, mystery and intrigue and the process of film making itself (Day For Night). From fully orchestrated pieces to the familiar solo upright piano solo, "Charlie" from Shoot the Piano Player, these performances by the London Sinfonietta showcase a rich understanding as to why Delerue is so important to film. Use as an auditory palette cleanser or entremets between your sonic onslaught.
Reviewed by Naysayer on December 9, 2017 at 12:47 am
Filed as CD,Soundtrack
Folk trio, Ed Trickett, Gordon Bok and Ann Mayo Muir have been making and performing folk music since the early 1970′s and before. Hailing from the New England states, the three sing of places and events belonging to the East Coast and it's history with Great Britain. Songs of sailing (Bok is also a boatman), ancient English mystics, life in the country, children's ballads and more fill the 12 numbers with quiet, sadness, an overwhelming sense of memory, and an almost painful longing for the past. With just acoustic guitar and vocals, harmonious vocals playing with and around each other, the songs remind me of how quality folk music is the true predecessor to so much of the music of sadness that we love at the station. Just really one of my favorite recordings. Beautiful anytime of the day or night.
Reviewed by Naysayer on December 8, 2017 at 11:59 pm
Next Page »