KFJC On-Line Reviews
What KFJC has added to their library and why...
It is subjective to paint a description of ambient music but very tempting, indeed. Based on an initial quick glance on the title names I got a hunch in my sub-consciousness that then blossomed during listening to these seven track — basically you are on a sailing boat on a quiet ocean; watching the night turn into morning just before the sun goes up. This 2016 release by Robert Rich is a continuation of his celestial and down to earth majestic ambience with natural instruments baked into the aural soup which just makes sense. Everything has its place, it's like listening to a composer that is painting just the right parts in his mental ear to produce something serene as well as intriguing. It is a challenge to lift oneself out from the tidal pools of new age music — this was indeed a rocket blast, a quiet one. Highly recommended.
Reviewed by Kai Sync on November 30, 2016 at 6:12 pm
Attention MISPRINT: side a is the Mendelssohn Violin Concerto Number 2 in E Minor Opus 64. IMO it is the better side.
According to Billboard Magazine of August 31, 1959, "Violinist Oistrakh, cellist Knushevitsky, and pianist Oborin are instrumentalists first and musicians second. Oistrakh and Knushevitsky don't brush over their strings, but literally dig into them, producing a richness and sweetness of sound found in few trios. As musicians, however, they missed some of Schubert's lightness and grace. Prime material for the chamber music fancier."
Reviewed by Hemroid The Leader on November 30, 2016 at 5:25 pm
Collective formed in El Cerrito 2005. Bowed cymbal, nylon string guitar, whispers, arpeggios, Ches Smith drum solo, hammered dulcimer, chanting cello magic.
Reviewed by Hemroid The Leader on November 30, 2016 at 4:47 pm
This fine split cassette from Norwegian sound artist Gaute Granli and Denton, TX noise duo Ruffle proves that even in 2016, there's still new, strange sounds to be strangled out of a guitar.
Side A: Four short tracks from Gaute Granli. Broken, gnarled, detuned guitar sounds, wailing vocals, demented electronics lurking in the background, primitive rhythms. If I was forced to pick out the Texans on this split just listening blindly, I'd be fucked!, because I swear I hear a backwoods twang in Granli's playing. These tracks don't have the volume of his live performance in the KFJC pit from last year, but they're no less raw and unsettling. Check out his other stuff – both his own solo work and as one half of Freddy the Dyke.
Side B: Ruffle (Rick Eye on guitar and Princess Haultaine III on electronics) brings a louder take on the guitar-centered piece. Rick Eye provides the live-wire skronk spark, Princess pours on the junky electronic fuel, and everything combusts in this ten-minute trash fire explosion. Burn it down, y'all!
Reviewed by lexi glass on November 28, 2016 at 8:37 pm
Omaha mid-tempo hardcore, blown to fuck, caustic anxiety. chugging guitar riffs, solid drumbeats, grunt-to-shrill range of echoed vox, squeaky feedback, VERY energetic, infectious. it's not 'Pop' but it does pop out as aggressive, yet accessible.
quick transitions! tk 1 and 2 flow together as one, watch out! or don't!
Reviewed by mouthbreather on November 28, 2016 at 1:11 pm
Adelaide, AUS three-piece, no-wave art-punk scuzz-rock, hyphenated all to hell. sometimes it's a free-jazz soiree, featuring atonal strings, wind and percussion (even a woodstove!), others it's an angular aussie-rant. jangly, noisey, messy, a little something for everyone. reminds this loser of drunken-confidence, viewed from the sober-perspective.
Reviewed by mouthbreather on November 28, 2016 at 12:58 pm
Detroit-based Moon Pool and Dead Band's David Shettler is an in-demand musician and producer, playing with legendary outfits SSM, The Sights, Rodriguez, Paul Collins, Scott Morgan and many more. Nate Young is known for his work with Wolf Eyes, Regression, Dan'l Boone, Demons and many more. Oddly this music is techno electronica meets the psychedelic eye, in a positive way rather than being a cliche hippie group trying to be hip in the age of electrons. This 2016 release has a variety of directions from swirdly arpeggiator electronica to Detroit 2016 techno to blippy noise montages to slower UK style electronic patterns to retro eighties drum machine and analog synth extravaganza to a detuned synth symphony overture. And those were the six tracks.
Reviewed by Kai Sync on November 23, 2016 at 6:19 pm
Kholstomer (Strider) is a famous story by Leo Tolstoy that was never finished by him but was reworked and published anyway. This 2016 release by Ryan Huber starts with a non-organic ambient track but then the industrial techno and noise takes over for most of the album. The more techno centric track open up nice avenues into machine dreaming. The non-techno and more industrial harsh tracks moves into the nightmares of machines. The atmosphere is what the AI factory producing androids are creating. Fortunately there are coffee breaks for the more tonal listener.
Reviewed by Kai Sync on November 23, 2016 at 6:15 pm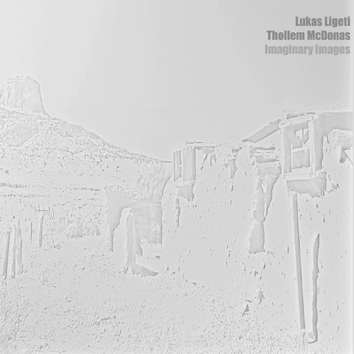 Duo- Lukas Ligeti – drums & Thollem McDonas – piano
Seven spontaneous compositions. No 'tunes' here – the instruments are used as mechanisms for sound generation, rather than as instruments that produce music. The tendency here is towards sound rather than silence- sometimes it is very active.
Lots of other work from both of these artists in the library.
Reviewed by Hemroid The Leader on November 23, 2016 at 5:15 pm
This 2012 LP is brought to you by the City of Eindhoven, whose residents funded Zesde Kolonne's Flipside XL program to support local artists and musicians. Regular KFJC listeners know that Eindhoven is home to a thriving cultural underground, and Zesde Kolonne has served as its center since the early 80s, releasing cassettes from local bands like Zombies Under Stress and MTVS. SMTvUz is a supergroup reuniting members of those bands (Zombie Exit on synths, Mark Tresh on the electronic drums, Mark "Spons" Sponslee and "Big Mamma" Luk Sponslee on more synths, theremin and other misc. electronics) to spew out six tracks of old-school throbbing, gristly madness.
Pounding industrial beats dominate most tracks, along with blown-out synths and piles of other bizzaro electronic instruments (including the Stylophone!!) to create deafening chaos. Highlights for me were "Cats" (T2), which sounds like an army of laser-wielding feral kittens parachuting out of helicopters and storming the Trump Tower, and the 10-minute "Supadroner" (T4), which sounds like plugging your alarm clock into every effects pedal imaginable and turning up all the dials until they break off. Before you drop the needle, don't forget to slip on the neon cut-out paper mask included in the sleeve. Lekker!
Reviewed by lexi glass on November 20, 2016 at 6:58 pm
Bathe in the warm sonic shower of Rodger Stella, American noise artist and founding member of Macronympha.
Waves of static punches and shattering explosions all crashing on an electronic shore. A full spectrum experience.
Reviewed by Louie Caliente on November 20, 2016 at 6:28 pm
Regan John Farquhar, aka Busdriver, son of the screenwriter from Krush Groove is rapper and producer from Los Angeles. Busdriver's solo album, Temporary Forever, was released in 2002. Overflowing with tongue-twisting fast tempo lyricism. Moments fringing on slam poetry, dynamic indie hip-hop . FCC warning on tracks 3,12,16,18.
Reviewed by Arcanum on November 16, 2016 at 5:25 pm
2013 release from now-defunct Portland OR band. Layers of noisy guitars. Atonal goodness. Lots of chord changes. Morose vocals. "I don't want to talk about it any more; I just want to go back to sleep." A pop sensibility at times. I hear many influences in their music–in various places The Cure, Sonic Youth, Versus, Sunny Day Real Estate, and various shoegaze bands came to mind. A dense guitar-attack sound overall. A3 is a short irresistible track in which the vocals switch back and forth between singing and yelling.
Reviewed by Max Level on November 15, 2016 at 10:04 pm
Antonin Dvorak (DVOR-jack) wrote the Quintet op. 97 in the summer of 1894 in Spillville, Iowa, a settlement of his fellow Bohemians. Dvorak loved folk music and here he takes rhythmic inspiration from the drumming of Iroquois indians. He would later say the summer in Spillville was his favorite time in America.
B side is the Cypresses For String Quartet – originally songs. Elaboraations on the classical string quartet.
Reviewed by Hemroid The Leader on November 15, 2016 at 1:17 pm
Huang Ruo (b. 1976 Hainan, China)
Modern Classical from this young Chinese composer. Without much fanfare, these pieces are inquisitive, interesting, subtle. A fresh perspective.
Christina Mamakos, an artistic collaborator, describes his compositional technique "dimensionalism" as follows: "Using an inventive musical voice which draws equal inspiration from Chinese folk, western avant-garde, rock and jazz, Ruo creates a seamless series of musical works that do not necessarily exist in the sound world of our daily life."
Reviewed by Hemroid The Leader on November 15, 2016 at 12:44 pm
San Francisco Symphony conductor Michael Tilson Thomas in 1976, conducting London's Philharmonia Orchestra & Ambrosian Singers through Claude Debussy's (DEB-u-see) La Mer and Nocturnes.
La Mer is an ode to the sea but also an attempt at a symphony. The usual narrative of a symphony is dispensed with. A vast seascape.
Nocturnes are 3 separate parts, often programmed with just the first two. Clouds, Parties, Sirenes.
Reviewed by Hemroid The Leader on November 15, 2016 at 12:17 pm
Claude Debussy (DEB-u-see)
A1 Saxophone Rhapsody. In 1895 Mrs. Elise Hall, a wealthy Bostonian, commissioned this work for saxophone. Debussy was unfamiliar with the sax, cashed the check, and nothing more until 1903 when Mrs. Hall showed up at his Paris apartment. He was hounded until in 1911 he dropped off the soloist's part, with unfinished orchestration. Debussy called her the femme-saxophone (saxophone woman). When he died in 1918, the French composer Roger Ducasse finished the orchestration and the work premiered at the Societe Nationale in 1919.
A2 Clarinet Rhapsody – Written as a clarinet entrance exam for the Paris Conservatoey.
Side B are 3 pieces by Honeggger that are very energetic, lots of brass and percussion. Very enjoyable.
Reviewed by Hemroid The Leader on November 15, 2016 at 11:56 am
Trio playing a potent mix of politically themed California Chicano rock and Native American traditional material. Some tracks bring the raw plugged-in energy of a good garage band, while others take a more elegant approach with a 12-string acoustic guitar. Track 4 on Side 2 is a charging rocker with lyrics in Spanish and an aggressive cumbia beat, and it really works.
A couple of times guitarist/vocalist Gilberto Rodriguez throws in a slide guitar thing as an abstract percussion effect and I'm not crazy about it. Other than that very small thing, though, I'm in. Unfortunately, the record is too short–several of the songs are only a minute or two in length. I hope these guys get a chance to stretch out and produce a full length, more developed album. Until then, check this one out. As a bonus, it's a very nice pressing on heavyweight vinyl.
Reviewed by Max Level on November 14, 2016 at 11:43 pm
It seems like we can't get enough from Ukraine's Kvitnu lately – here's another to scratch the (gl)itch. Mingle is Andrea Gastaldello, an Italian composer and multi-instrumentalist. He describes this 2015 release as an "introspective journey, highly melancholy," my idea of a good time. Piano and guitar sounds are blurred and warped into a ambient metallic glow, while muted beats add texture on some tracks – at times tense (T3, T8), staticky (T3, T4, T5), or barely there (T2, T6, T7, T9, T11). Everything is dialed in just right – it's minimal but not boring, moving but not melodramatic – so as to produce a dark, paranoid beauty.
Check out Mingle's collaborations with noise artist Deison (filed under Deison & Mingle) in our library.
Reviewed by lexi glass on November 14, 2016 at 10:33 pm
Francisco Meirino is a Swiss noise-concrete sound artist exploring "electro-acoustic dialectics." His latest work, "surrender, render, end", fuses many layers of subtle found-sound recordings and minimal ambient electronics into a deep sonic bath.
Slowly rotting appliances rumble and rattle in hollow warehouses. Fields of electronic insects flutter. Far-off beeps and close-up squeaks.
As the title implies, most of the sounds here are cold, uncomfortable, and a bit harsh, but they sometimes give way to warmer, more inviting moments.?? Memories of long train rides, or the static fuzz of an old television set.
Reviewed by Louie Caliente on November 12, 2016 at 6:07 pm
Next Page »