KFJC On-Line Reviews
What KFJC has added to their library and why...

Establish drone artist and professor of computer science Catherine C. Hennix from Stockholm and her ensemble Chora(s)san Time-Court Mirage. She has studied with the musician Pandit Pran Nath. This is an 80 minute track of vibrant tones. It's a live performance of a mix of electronic and non-electronic instruments. Indian inspired sitar sounds along with chanting (sanskrit?) vocals that mimic the oming instruments and chirping/humming horns. Namaste.
- Pandit Tolliver

Reviewed by billiejoe on August 17, 2016 at 4:35 pm
Melek-tha is the French dark industrial project of Lord Evil and his Cyborg Drum Engine. On this 2003 release, we witness the destruction of the world from a distance (high atop Black Mountain?) in two phases. Phase 1 opens with the sounds of the global war machine churning – jagged, racing synths – as its dictates, in French, are issued over the loudspeakers (T.1). These are the sounds of the collapse: a toxic sonic fog settles in, drum beats appear and accelerate as tension builds (T. 2), a transmission arrives from a courtroom as a smiling murderer (Bundy) asserts his innocence, and the machine grinds to a halt, its fuel exhausted (T. 3). Phase 2 is a glimpse of the world post-apocalypse. A new machine, a driving beat, grows from the burnt rubble and twisted metal (T.4); it is clear what is coming will be even shittier. The new laws are delivered to us, this time in an alien language (T. 5), but we understand their meaning. This is a lateral shift to a new world order, based on dominance and submission (T. 6), same as the old order. Welcome to oblivion!!!
Reviewed by lexi glass on August 14, 2016 at 4:51 pm
Slicing Grandpa: Noisey power electronics, low-frequency rumbles, and screeching guitars. Monotonous croaky indecipherable vocals that sound like they were delivered over a department store PA system.
Placenta Popeye: Noise rock trio from Marseilles France. Underwater sonic vibrations and piercing guitar feedback, punctuated by demented screams and moans.
Reviewed by Louie Caliente on August 14, 2016 at 1:34 pm
Complete fucking destruction, as usual. Screaming, squealing, static stabs. Pure sonic sadism.
"Pride of North American Noise" captures the band's sound in 2000-2001, just after Elyse Perez (of Laundry Room Squelchers) joined the testosterone-heavy duo of Emil Hagstrom and Matt Bacon. Many of the tracks were recorded live in Norway, Germany, Switzerland, and South Florida, and feature a variety of guests, including Weasel Walter on Clarinet and Rat Bastard on Violin.
The album clocks in at only 20 minutes, and most tracks are under a minute. The longest is track 17, a bizarre 5-minute club mix by V/VM featuring cheesy 80s synths and sax lines accompanied by cheering crowds and a cacophonous collage of Cock ESP live sets.
FCCs: 3, 16.
Reviewed by Louie Caliente on August 14, 2016 at 1:10 pm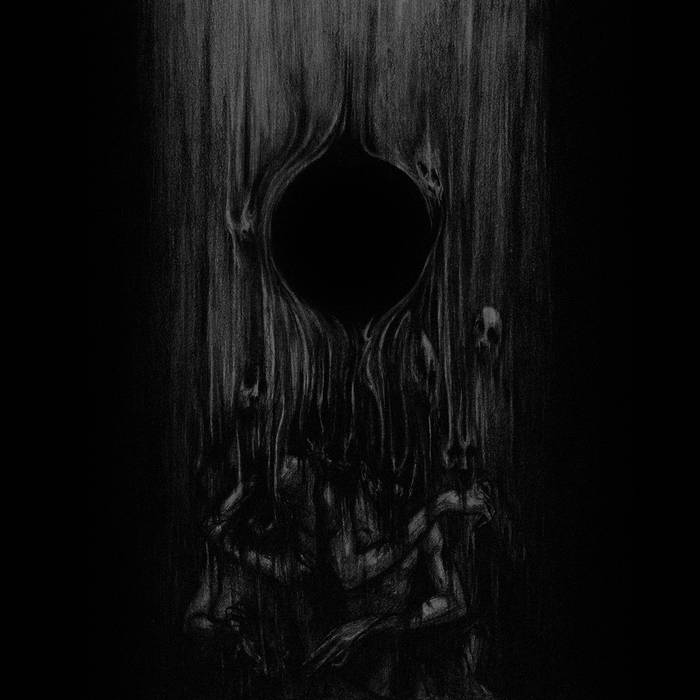 Interpretive: A man riding horseback in a midnight battle plows through the enemy line, as a tide of corpses in the making parts before him like Moses at the Red Sea. Underneath, the steed gallops at a ferocious pace, with only victory on its mind, the blinders fixing his vision ahead–only ahead–until the final battle, whereupon his charge will dismount and behead the leader of the fallen enemy. He knows not the possibility of failure. The riders arms propel his mace deep into the skulls he now crushes with ease, a level of mastery won only through years at war.
Descriptive: Welcome to a nearly continuous festival of punishment. This Bay area four piece (guit/drums/bass/vox) has refined a particularly dark and simple approach to aggressive music. They're tight, achieve a coherent sound, and the vocals are gruff enough to hit the spot without sounding comically evil. Bursts of three quick notes from the sludgy guitars ride atop fast-paced drumming; most tracks have a distinctive break from this before looping around for a second pass. No hooks or particularly memorable riffs; the focus here is on creating a wholly pummeling auditory experience. Memorable bits: the solid mosh in Sunken Reign (#2), and guitar flourishes & work around the kit in Hericide (#5). Dusk Abuse (#11) wraps things up nicely. This 2016 release has received support from multiple labels for the different formats, and these guys are delivering a superior product compared to their peers.
Short: straight up hardcore band dresses up as death metal band for Halloween, decides they like the outfits.
Reviewed by milo on August 13, 2016 at 3:38 pm
This vinyl release is a set of rare demos and takes from the cult electronica-post-punk band Nagamatzu. Nagamatzu was a British duo with Andrw Lagowski and Stephen Jarvis that was formed 1982. This was in the early days with explorations of the new music media using drum machines, sudden cheap Japanese synthesizers and old tape machines in combination with post-punk guitars similar to Joy Division, so these tracks reflect this era. These tracks are from their 1986 to 1991 experimentation. Musically this vinyl is a hit and miss adventure; I enjoyed the first and last tracks, but the rest tended to fall into the trap of 'it's an unreleased take and there's a reason it was not released.' However, you can experience the primal nerve of a duo experimenting with drum machines and other music toys with a cult-murky tape deck sound.
Reviewed by Kai Sync on August 10, 2016 at 7:30 pm
This is one of Andreas Arndt's many albums, released 2007 — the music is lo-fi industrial power angst music combined with heavy doses of pink noise and some non-drum beats sneak in here and there. The voices are manipulated with modulations and distortions and phone eq:ing so that the lyrics are mostly non-understandable statements about something where the title lyrics might give minuscule ideas what the intent of the track is. Some might enjoy this kind of power noise, it is indeed an acquired taste. But I missed any finesse and artistry amongst all the tracks, even with noise music you need artistic intent and the multitude of repetitious noise making has its limits.
Reviewed by Kai Sync on August 10, 2016 at 7:29 pm

Geneva vivre! Perky poppy stuff that could have been
cooked up in a Stereolab or come from the overflow of
Orchestre Tout Puissant Marcel Duchamp. Like that Swiss
band, this album has a full sound, with merely a dynamite
duo (including the actual bassist from OTPMD). Vincent
Bertholet's upright bass lines are what keep this in the
pop zone, he frequently nails the nerve from ear to toe.
In addition there's plenty of weird warpage via outer space
synth. One track, "S.O.S.I." sounds likes a nod to Glenn
Branca (or at least the Theoretical Girls). There is also
un hommage du the incredible Brigitte Fontaine, apparently
on "Cholera" but on "Le Tyran" it almost sounds like lady
Fontaine herself. That voice and the drummer and yin of this
duo comes from Simone Aubert. She has a nice "sweet scream"
of a voice. On "Resigne" it's a candy, on "Le Feu" it's
a flamethrower. The duo vox interplay is cool when paired
up, she might yodel while he speak-sings, or they might
trade off moves closer to a Ye-Ye way. They've got an
immaculate knack for producing catchy songs. Tres cool stuff
I want to hang with these two, although maybe not in the
furry cosplay from the cover. (Is that a "Revenant" nod for
bear and skunk?). Let's track down some Massicot, a side
project for Ms. Aubert. Art rock lives!
-Thurston Hunger
Reviewed by Thurston Hunger on August 10, 2016 at 6:23 pm
The Greek Urban Experience with Turkish delights by way of
the town of Izmir, just prior to WWII. Rita singing the
rough and tumble rebetiko scorchers. Her voice lights your
cigarette, fiddle follows her striking sparks alongside.
Slow and smoldering at its best, but not without fits of
flancy check the "Blond Jewish Girl" for a nice romp, or the
syrto "Little Calliope" which gives this collection its
title. All lyrics translated in a nice booklet (the
Mississippi way!) allowed me to wonder about Paradosiako's
words for "The Doe." Specifically the lines
"Generous wife of the priest 2X
The tough guys you don't talk to "2X
Most of the songs skirt the anguish of amor, The harm (or
is it haram) of the harem, girls from the other village
called out by name, even twice Rita sings of herself.
And I think I heard the backing musicians shout her name
in encouragement (or perhaps a tricky love triangle).
I prefer the scrapier numbers, where a slithering fiddle
reminds me of the film Latcho Drom, but other numbers
bounce in balaika or flutter in clarinet ("Girl from
Aigio"). The recordings are well-preserved, Rita less
so (RIP 1969). At least we revive Rita's varied voice
and her name, the talented musicians (check out the
interplay on "Mercy Little Anna") wander nameless
and amorphous, vanishing like the smoke from those
long ago underground dens.
-Thurston Hunger
Reviewed by Thurston Hunger on August 10, 2016 at 6:23 pm
Filed as 12-inch,International
Self-described avant-garde doom post-metal industrial artist. Sounds like dark electronic rhythms. This album is a brand new release and the first from this artist in our library. Metal inspired beats that have the potential to appeal to multiple palettes.
– Billie Joe Tolliver
Reviewed by billiejoe on August 10, 2016 at 3:37 pm

Daniel Wyche – Guitar, Ryan Packard – Drums. Recorded in Chicago 2015. Two long tunes. Wyche's drone-feedback LFO guitar ebbs & flows. Drummer Packard mixes noise and free jazz, shows good chops. Released by eh? records.
Reviewed by Hemroid The Leader on August 9, 2016 at 3:04 pm

David Chesky's The Agnostic (1997) performed by the Slovak Philharmonic Orchestra & Choir with Alto, Bass, and Boy Alto soloists. Recorded March 2000 in Bratislava, Slovakia.
Sacrilegious music. Libretto inspired by Beckett, Camus, Nietszche & others. An Agnostic believes things are essentially unknowable and that human knowledge is limited to experience. "My name is Todd and I am dead / … I'm but a child / … I question this God." Lots of dynamic range in the recording.
Reviewed by Hemroid The Leader on August 9, 2016 at 2:03 pm
Ritualistic Russian doom metal. So heavy and sludgey you can almost swim in it. Infinite bass fuzz beneath squealing guitar feedback. Pounding barely-rhythmic dirgey industrial beats and choral moans. Lots of low vibrations and sub-sub-sub-harmonics to shake the cobwebs from your crucifix. Samples of Aleister Crowley add to the mass-like feel, although the album is more sonic than satanic.
Reviewed by Louie Caliente on August 8, 2016 at 6:10 pm
Sky Burial is the solo project of Michael Page, but on this 2012 album he is joined by an impressive group of musicians, including Jarboe of Swans, Danny Hyde of Coil, Bridget Wishard of Hawkwind, Troum, and Anni Hogan. Prior to this release, Sky Burial focused on the long-form ambient drone piece to explore themes related to the project's title. These elements remain, but the guest artists bring new sounds, concepts, and instrumentation – including vocals for the first time – to the project, which Page fuses into a complete vision. "There I Saw the Grey Wolf Gaping" is rich with stunning moments. In "Incantare" (T. 1), Troum's stirring electronic shadows are illuminated by Jarboe's vocals. Hyde offers two excellent tracks: "Carne[val]" (T. 3), a ride on a pixelated merry-go-round, and "Fools Circel 9wys" (T. 6) a digeridoo jam. "Silence Moves" (T. 4) is an ambient track that coalesces around a gorgeous, lonely piano line. "Beyond the Veldt" (T. 5) is a shoegaze slow-burner that features Wishard's vocals and evokes the innocent horror of Ray Bradbury's prescient short story "The Veldt." The album concludes with title track (T. 9), a bagpipe dirge amplified to staggering heights.
Reviewed by lexi glass on August 7, 2016 at 10:43 pm
Imagine if you will being a DJ in the 50s and having at your command an NBC Thesaurus series of 16″ discs full of music such as the kind found on this CD. Well, we don't have to, because this little treasure is a perfect example of the recordings made at that time to help radio stations with filler music. Aileen Stanley, so called because she took her brother's first name when he left her to a solo career, began performing at the age of 5 with her brother. Vaudeville was only the start, as we can see from this CD of songs from the 1900s-1920s but recorded in the 1940s. It is a trip listening to the lyrics that take you back to a time when life may not have been simpler, but the songs were. I have lots of favorites on this one. Go find yours.
Reviewed by humana on August 7, 2016 at 8:08 pm
"Songlines, noisetales, dreamscapes"–so reads the liner notes describing this uniquely delightful release from Anna Homler, Frank Schulte, and Axel Otto, a.k.a. Sugarconnection. Vocals, toy instruments, found objects, samples, electronics, zither, tapes, records, and other fascinating sound makers pepper the 20 songs on this CD. The bells and metals and wood are wait remain in my mind, however. Take a listen and see for yourself how this is ahead of its time in electronic experimentation.
Reviewed by humana on August 7, 2016 at 7:59 pm
This movie is worth at least one or two watches. Produced by Rza from Wu Tang. FCC on A9, B5, End of B7, B9
Songs in the film that don't appear on either soundtrack album include From Then Till Now performed by Killah Priest, Armagideon Time performed by Willi Williams, Nuba One performed by Andrew Cyrille and Jimmy Lyons.
The film has been interpreted by critics as an homage to Le Samoura??, a 1967 crime-drama by Jean-Pierre Melville starring Alain Delon. That movie opens with a quote from an invented Book of Bushido and features a meditative, loner hero, Jef Costello. In the same manner that Ghost Dog has an electronic "key" to break into luxury cars, Costello has a huge ring of keys that enable him to steal any Citro??n DS. The endings share a key similarity. Moreover, the peculiar relationship between the heroes of both movies and birds, as companions and danger advisers, is another common theme.
The film contains a number of references to Seijun Suzuki's Branded to Kill, such as when a bird lands in front of Ghost Dog's rifle scope, referencing the incident with a butterfly in Suzuki's film. Ghost Dog shooting Sonny Valerio up the drain pipe is taken directly from Branded to Kill.
Cartoons are used as a motif that parallels plot developments. Handsome Frank watches a cartoon featuring Betty Boop corralling her pigeons moments before Ghost Dog, a fellow pigeon raiser, arrives to assassinate him. Ghost Dog is later seen handling his pigeons in the same manner as Betty. Boss Vargo watches a Felix the Cat cartoon wherein the Professor voices his frustration at capturing the elusive Felix and his magic bag, mirroring the mafia's inability to find and eliminate Ghost Dog, who carries his weapons and equipment in a black briefcase. Vargo and his daughter, Louise, watch a Woody Woodpecker cartoon in the car, immediately after Ghost Dog has been distracted by a woodpecker while sniping in the woods. The cartoon features a staring contest between Woody and the Grim Reaper. Vargo's daughter watches an episode of The Itchy & Scratchy Show (in which Itchy and Scratchy threaten each other with increasingly bigger guns, before blowing up the earth) before the equally violent battle which concludes the film.
Reviewed by Arcanum on August 4, 2016 at 1:47 am
Filed as 12-inch,Soundtrack
Spanning six decades of work. Twirly synth, crunchy noise (track 2 disc 1), electronics, fluttery snaps (track 8 disc 1), low drone (track 3 disc 2), crackles, field recordings (track 6 disc 2), crackly texture (track 12 disc 2). All around good stuff. Artist profiles in the booklet.
- Billie Joe Tolliver
Reviewed by billiejoe on August 3, 2016 at 3:52 pm
Italian experimental sax jazz released in 2008. Dueling beeps chirps fuzz and standard melody. Slow paced. Keeps you on your toes.
- Billie Joe Tolliver
Reviewed by billiejoe on August 3, 2016 at 3:47 pm
Bernard Szajner is a French producer with a style similar to the early day Eno productions. He does not even consider himself a musician, rather a visual music sculptor and has worked on a variety of projects including theatrical events and laser shows. He is also considered the inventor of the laser harp. On this 1983 album he was using the pseudonym The (Hypothetical) Prophets together with Karel Beer for a tour the force audio trip concerning field samples, electro psychedelic walls of sound, collage loops as arranged songs with a variety of singing material, drum machines and odd lyrics. The concept was to present themselves as Russian new wave pop stars acting as anti-nuclear movement artists, hence some of the tracks have Russian voicing.. Some of the productions sound very modern for today, half-way to contemporary techno productions, some tracks are in the vein of Cabaret Voltaire, some have Gong influences (Bernard did work with Gong), but some tracks are modulated into goofiness due to the silliness quota that is cranked up too high. All together, this is a rare album re-released due to its new wave electronica classic status — with occasional warts included.

Reviewed by Kai Sync on August 3, 2016 at 11:17 am


« Previous Page — Next Page »