KFJC On-Line Reviews
What KFJC has added to their library and why...

This is a double-CD grab bag of mixed wonders–I really enjoyed almost all the tracks on this release. There's rap, singer-songwriter, daydream pop, jazz (my favorite is CD2, Track 1), country/twang, metal echoes, punk…I don't like this expression, but it's true in this case: It's ALL good. Thank goodness Portland supports indie artists in this amazing way. Have fun listening.

Reviewed by humana on June 30, 2014 at 9:48 pm

Threesome is a three piece surf band from Serbia. Aggressive and dissonant, their sound is not timid. Fine playing, fast paced – comments about punk influence abound. Great stuff from Eastern Europe!

Reviewed by Cousin Mary on June 30, 2014 at 6:15 pm

Bang! Mustang is a four-piece (2 guitars, bass, drums) surf band from Germany. Influences at times are Spaghetti Westerns and rock-a-billy, but their sound is unique – thick and twangy. One of the excellent surf bands coming out of Europe these days.

Reviewed by Cousin Mary on June 30, 2014 at 6:05 pm

65 TV themes from the 1960′s and 1970′s! Ensembles of various sizes including big bands and orchestras play these perky, enthusiastic, "it's time for the show!" ditties. Many sound dated, some are odd in a Psychotronic sort of way. Might work for a quick interlude or borrow one to use as your theme song. Fun!

Reviewed by Cousin Mary on June 30, 2014 at 5:24 pm
Filed as CD,Soundtrack
slurping gurgle vox whispering, giggling dementia of the spoken slop variety. beatboxing Brent Field on the flibber jabber spickling deteriorating introspection and how many animals, emotions, and bodily functions can you fit in one monologue. spit-gushing, tummy-churning, country-record-turning nonsense. grab your tissues, it gets messy.
Reviewed by abacus on June 29, 2014 at 9:42 pm
10 powerviolent stabs of claustrophobic self-loathing and indefatigable moral decay. feedback foaming at the feral mouth and stop-on-a-dime grinding sludge-war. psychically painful to be incapacitating. fuckin straight-edge whiners…
Reviewed by abacus on June 29, 2014 at 9:25 pm
sewer grunge sludge jazz from this gaggle of gagging wretches and brooding noise demons; Mikaylah Bowman shrieks against Total Abuser Matt Lyons' guitar gutting and Rusty Kelly's drum/fx induced Breathing Problem and a whole host of other players engaging in manic meditations of soul grinding self-degradation. rock improv obsessions of trash, dirt, broken pedals, pawn shop saxophones and a worship and love of the mistake and the accidental. art like a gutted out slum, beauty comparable to a mangled corpse. ranked amongst the 101 strangest records on Spotify by The Guardian so it's probably too popular for us.
Reviewed by abacus on June 29, 2014 at 8:47 pm

Synth mood pieces, at times with minimal drum machine accompaniment
from former Bay Area being Chandra Shukla and perhaps some other
accomplices. The lead-off track reminded me of how on Beneath
the Planet of the Apes, the bomb-worshippers would communicate
telepathically. Or maybe that 12-tone lullabye from Grandma
Sparrow and His Piddletractor, every bit as eerie, just not
as cute. The tones here are foreboding, #3 is as playful as
it will get, with a jaw harp in a funhouse mirror of sound.
When the drum machines step to the front, I get a nice vibe
of Cabaret Voltaire, say on #9. The harsher drums and silent
pause on #13 provide a nice kick in the mussolini. #5, had
some nice hyper-washes of sound that can really clean one's
ears via headphones. Track #7, sneaks around a stark Joy
Division bassline, before finding a slightly happier path.
The more I listened to these cuts, the more they emerged as
songs…but my initial impression, that they would be killer
film music for some shadowy sci-fi out of Britain remains
strong. Perhaps "Mind Wiping with Pride?" Also there is
apparently an Ainu connection here as there was on the Slava
Ranko 12″ I reviewed earlier this year. Not sure if the message
comes through in these instros, perhaps that is the bear-deity
Kamuy (the anglicized title here) speaking to me? Anyways, a
connection betweeen vanishing indigenous peoples and underground
artists makes sense in my unwiped mind.
-Thurston Hunger
Reviewed by Thurston Hunger on June 26, 2014 at 10:13 am
Once I went to Bali and heard a gamelan orchestra performing a kecak, or monkey, dance. This CD (especially Track 8) sounds exactly like that did. From the chimey start to the chaotic finish of this amazing CD, I kept thinking, "Wow! Gamelan with voices that sound Indonesian (or at least foreign) chanting, clicking, and rollicking along with guitar that adds rock infusion!" The energy sounds Japanese, and it is. I don't know how to pronounce the name of this band, but this profusion of awesome gamelan tunes seamlessly seguing one to the next proves its versatility yet again.
Reviewed by humana on June 24, 2014 at 11:06 pm

Fans of Boredoms, or Italy's Starfuckers, might sneak into this
2011 release through the trapdoor at the bottom of vocalist Claudio
Milano's throat. Tuvan thunder, stabbing shriek, subliminal whispers,
squeaky gasps, octave oohing, lurid laughing and occasionally actually
singing. As I love weird kid-live exploration of vocal craziness,
(David Moss, Meredith Monk, Jaap Blonk) I dig this album. But it is
definitely a 5tet, with bassist Luca Pissavini not only up front
in a strong tappy and slappy way, he also wrote the lyrics for
Claudio Milano to warp and wrap his larynx around. A lot of great
angular interlplay from cellist Cecilia Quinteros, (this is quite
a different release from "dEFYing eRRorS"). Lot of space even
when Milano's mouth is closed (he shuffles papers and takes some
steps on some tracks I think). The horns of Stefano Ferrian (sax)
and Vito Emanuelle Galante (trumpet) are plenty. Lots of darting
lines in and out, really effective on "Single Germ Layer G." Jazz
concrete. The track titles have zoological DNA. "Echinoderms"
delivers the most vocal pyrotechniques. Ferrian launches "Vectensis"
sax spirals over Pissavini's deep notes. Next on the closer,
Pissavini gets that bass marching over creaky cello, sinestri
and sweet. This one will grow on folks over time I bet!
-Thurston Hunger
Reviewed by Thurston Hunger on June 19, 2014 at 6:09 pm

Well this is a summertime kind of add. I've lived in
California since I was six, and this album made me feel
like an out-of-stater. Exremely laidback little guitar
and drums numbers, dipped in off-shore reverb, baked in
those warm canyons of SoCal. The album starts with a
possible homage to Kiss' "Strutter" the first two lines
get alluded to, and the guitar gets quaaluded too. The
Tulips are two guys, Alex Knost on guitar and vocals,
Ford Archbold on bass, plus some guy drummed a little
bit in trade for new skateboard trucks. I bet Costa Mesa
sounds like this even when the band is on tour. If you
strain you can kinda hear Brian Wilson ripples, but this
lp feels more like a thin threadbare sweater from that
indie rock 90′s boutique. The lyrics are delivered in a
talky slur, but at times eclipse their inherent sunshine
in favor of some vague philosophical malaise. Harshmellow!
KFJC deviants might want to trip on "Misses Hash" first.
-Thurston Hunger
Reviewed by Thurston Hunger on June 19, 2014 at 6:09 pm

2012 release, campy trampy with enough Zappa juice and other
visceral fluids to leave "discreet stains on office furniture"
or have your "genitals slathered in mayonnaise". Yep both siphoned
from the lyrics here. There's a pretty amazing band working behind
the primary Girly boys Gregory Jacobsen and Alex Perkolup. Both
Jacobsen and Perkolup sing in that histrionic stage-y fashion (hey
I'm a fan of Sleepytime Gorilla Museum). Some of the music recalled
precision odd-ball Japanese projects (Koenjihyakkei!) but Lovely
Little Girls kicks a little brass as well, Mike Hagedorn on trombone
and Cory Bengtsen on sax. Hyperventilating keys from Jon Beavo.
Maybe their secret sauce is getting an actual female to be one
of the Girls, Carmen Armillas helps take a Beavis edge off the
Butthead lyrics. (Cheer-Accident fans note there are other links
here.) Those (cartoon salesman) vocals might be an acquired taste,
but I think they work pretty well. C'mon the alien cat mewing to
start "Undulate" and then the elastic chorus before (Jacobsen)
approaches the mic wearing just a trenchcoat. The lyrics really
hit (slap?) bottom on "I'm So Good Looking" other tracks will
work in limited radio doses. Feel like LLG went for the funny
boner when they could have hit the jugular. Face paint not
included.
-Thurston Hunger
Reviewed by Thurston Hunger on June 19, 2014 at 6:08 pm
Lush wetland soundscapes as actualized by these three veteran improvisers. Amphibious squeaks and mammalian squeals delicately traded between horn players while guitar lays out a nocturnal backdrop for interplay. Fewell supplying a clean yet seemingly prepared sound at times, locking together harmonious and meditative roots for the horns to build from and dismantle. Cracked wispy drones and spine tingling scratches and creaks. The Estuaries are more dark and mysterious while Semiotic Correlations and Music For Three are more playful. Unnerving, somber, sorrowful, profound and brooding. Patience corrupting and thought inducing. Challenging music for difficult people.
Reviewed by abacus on June 18, 2014 at 7:21 pm
There's a certain something about the 1970′s that makes me get all giddy. If it is soul, funk, Black Power and synthesizers, I'm knockin' you over and pushing to the front of the line. This Gil Scott-Heron and Brian Jackson album, Bridges, from 1977, is what that is all about. Scott-Heron and Jackson are best known for the song "The Bottle" and we know all about it blah, blah, blah. But these guys put out around ten albums in the mighty decade of the '70′s and this one is not taking a back seat to any bottle.
Jackson is the keyboardist, on this album Rhodes (!!) and T.O.N.T.O.(!!!!!!) but we'll get to that later, as well as flautist, singer and composer. Scott-Heron is lyricist and singer. Jackson often took the back seat to Scott-Heron's vocal and lyrical bravado, but it is Jackson's musicianship that solidifies the projects and keeps them funky and soulful. There's always the supporting actor who keeps it all together and Jackson is that. It's 1977 and the Rhodes is in full force, heading into a bit o' fusion but not snoozey fusion (which I like to call "snoozsion"). With a solid back up band, Jackson leads us on a tour of 1977 soul: slow and dripping sex, funky, street strutting, ballad-like. It's all there with the bass line moving your hips in the right direction and the drums keeping up your attention, in case you forget.
Can we talk about the T.O.N.T.O. (The Original New Timbral Orchestra)? It's the largest, multitimbral polyphonic analog synthesizer in the world. It takes up a room. It was used in "Phantom of the Paradise". Jackson uses it and it blasts. Squeaks, and bloinks and weirdo shots of electronic spaceyness. Yum.
Scott-Heron actually sings more than speaks on this album and that's a good thing. His mellow, mid octave range voice takes the listener where he wants you to go but not forcefully. His tales of travel, urban dilemma and social consciousness are not bats beating you over the head, usually. The listener makes a connection.
Now a few heads ups: 1."Vildgolia" has Bela Lugosi/vampire vocals and references. 2."Racetrack in France" sounds like how Jamiroquai got his sound. 3. The beginning of "We Almost Lost Detroit" sounds like one of those deep soul cuts you play when you invite your lady over for the evening. The lights are low, the incense is lit. You've got the bottle of Courvoisier open and ready to pour and then BAM, Scott-Heron starts signing about the 1966 nuclear meltdown at the Fermi Atomic Power Plant near Monroe MI. He even mentions Karen Silkwood. Talk about a buzz kill. You ain't getting any tonight with that kind of talk.
All three of these get the Naysayer nod of approval.
You will be satisfied with this when you listen.
Reviewed by Naysayer on June 18, 2014 at 9:06 am
This "job" of reviewing music never ceases to surprise and amaze me. I'd think I would get jaded with all the stuff I hear, but not so. Cousins release, "The Halls of Wickwire", distributed by Ba Da Bing and Hand Drawn Dracula, continue on this journey of surprise and enjoyment. Cousins hail from Halifax, Nova Scotia. Cousins are now a duo, being Leigh Dotey on drums and vocals and Aaron Mangle on guitars and vocals. Cousins are best friends, not cousins. And yes, Cousins are a male/female duo but don't get sucked into the "oh no, not another one" trap. These two are tight, fuzzy garage rockers that know how to kick it out with all the power one would hope for. Some review I read about them said it was difficult on paper to get down the greatness of their sound. Words could not quite capture it. I am having the same problem, but let's have a go at it.
First, the songs were written when Mangle's grandmother was succumbing to dementia. Some of the songs are interpretations of the grandmother describing the world around her as it changes for her. This sets the serious tone of the album. But it is not, I repeat NOT, gimmicky. And the lyrics are more universal as good words should be.
Next, the instrumentation is fuzzy, lo-fi, not overly trashy, but gritty, especially the guitar. Dotey's drumming is strong, pounding out the beat in a manner that gets to the core of the song. You will be bopping your head up and down. The melodies are catchy with good riffs. They stick in your head and after a listen you'll be singing along. There is a variation in the songs, some slow, some faster, but all with a serious understanding of rock. The references, whether intentional or not, are classic: Roy Orbison guitar picking, Pixies like driving and building intensity, Link Wray psycho surf riffs, Cramps drumming rawness, even old timey piano on "Ocean" with flashes of Supergrass. Yet it all comes out sounding like their own.
A big two thumbs up and a jump up and down. Play it.
Reviewed by Naysayer on June 18, 2014 at 7:18 am
SOLID! What else can I say? Well you know I'm going to go on, but just remember….. SOLID.
So Sonny Knight made a recording about 50 years ago which became a sought after soul cult hit. And that was that, musically speaking. He was in the army for a few years, travelled across the country, became a truck driver. He did have a stint in the mid 70′s funk band Haze, but that was it musically. A few years ago, things changed when Secret Stash records released their "Twin Cities Funk and Soul" compilation and Sonny was asked to join in on the promotion concerts. From that sprung Sonny Knight and the Fabulous Lakers, the house band for Secret Stash label, whose focus is primarily soul and afrobeat rereleases. They played around in different joints and then spent time listening to music and coming up with ideas. A half a year or so later and out comes this stunning piece of soul.
This thing is so good…. you close your eyes and think you are in the 1970′s…. this soul and funk is so good. And it's not retro. This is serious. Filled with the joys of soul- sex and sultriness and teasing and suggestiveness and just enough of oh oh to make you smile and get your temperature up a bit. There is the soul ballad which hits it right on. And the talking tale of how Sonny's life was tough, right outta Lou Rawls and Isaac Hayes, knocks your socks off on "I'm Still Here (Pt. 1).
Knight's voice is a bit gravelly with these smooth patches that go straight to the heart. He hits those high notes like all of the masters. The Fabulous Lakers, a seven piece, kick out the soulful jam, hitting it with the snare, digging in with a serious bass line, horn section blurting out just the right amount of brass to accentuate the point but not to overpower it.
This is the real deal. And there is no sadness of "what if he had been recording all those years"? No way. Knight has come at the right time and he is taking it in the palm of his hand. Get ready. Soul lives.
Reviewed by Naysayer on June 18, 2014 at 12:19 am
Mooryc, full name Maurycy Zimmermann, Berlin based electronic producer, has put out a clean, crisp, dark, serious, beat driven album with "Roofs". This is music for ultra cool, darkly lit clubs in Berlin or Koln (not Munich, definitely not Munich). You wear black, form fitting suits. You have a sharp jawline. Gudrun Gut sits by your side. Angst!!!!!! In relationships, in life, in the club. Angst!!!!! Why do I love this thing so much? I think I want to be German.
The first track, "Open It", is straight up instrumental electronic Kompakt/Freude Am Tanzen territory. Smooth beats at a walking pace, not too fast, very cool and sexy and dark enough to keep everyone happy. From the second track "Jupiter", we are introduced to Mooryc's voice, which initially to me sounded too pop for it's own good. I wasn't sure what was up. That first track was so good.
But sticking with it I fell for the mood and texture of each song. His voice, somewhat higher than I would expect, sings of lost love and how it just happens that way, of dark relationships and something slightly wicked this way comes. The electronic beats in the back keep the focus and make you bob your head whether you want to or not, while you find yourself starting to sing along, whether you want to or not. Now I just blast it and sing along at the top of my lungs. Try it. You just might join me.
Reviewed by Naysayer on June 17, 2014 at 10:55 pm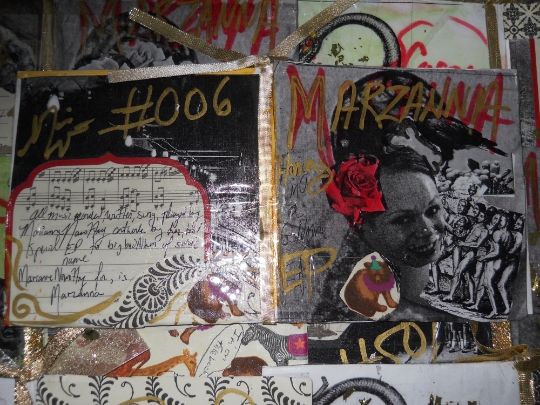 Experimental artist Marianne Nowottny released this very limited edition (only 50 copies) solo CD on Siren Wire Editions back in 2013. On this release she uses the moniker Marzanna, which is the name for the goddess of death and winter in Poland. Strange vocals, keyboards, and odd vocal interplay are in keeping with her other releases. She's been putting out music since she was a teenager and was always beyond her years. It's hard to believe that it was nearly 13 years ago (November 2001) that she played at a KFJC Listener Appreciation Party at Homestead Lanes! Ethereal and strange, just as we've come to expect from this poetic musician.
Reviewed by lombard on June 17, 2014 at 4:04 pm
Although this CD was placed into my hands in the dead of winter, it's fitting that it's getting added as we approach summer solstice. It's a sunny pop album by the Texas project Blackstone Rngrs (aka Blackstone Rangers) with some hazy vocals, hints of the 80s and a smidgen of girl-group style harmonizing.
Reviewed by lombard on June 17, 2014 at 3:37 pm
When you see, find, touch or hear something that is so absolutely beautiful, so fulfilling, so rich and wondrous, you just have to pause. And wait. And allow it to sink in.
This is what is still happening to me after having listened to Richard Moult and David Colohan's exquisite duo piece, "hexameron". Richard Moult is from the group United Bible Studies, so experience in creating mood steeped in christian and pagan artifice are well exercised. David Colohan, who sometimes appears on UBS projects, is musically prolific on his own. Both gentlemen have a lot of musical experience to choose from.
For this project, the choice is instrumental. And the mood is ancient, Gaelic, wind swept vistas, cold north sea, church and castle ruins and sites of pagan rituals. It's not frightening, but it is open and sometimes somber and full of memory.
Moult first recorded the piano pieces on a cold January in 2013, between the hours of 3 and 4 am, on the Isle of Skye, during gale force winds. Sounds like a good setting. Skye, by the way, is the largest northern island in Scotland. Windy. And wet. Colohan recorded his sounds, made from acoustic and electric guitars, keyboards, alto saxophone and trombone at the Hibemaculum, Ballymahon, Ireland between the Spring and Autumn of 2013. Also sounds like a good setting.
Moult mixed these sounds to create this lush work. Swelling piano, then ever so faint. Guitar feedback with simple string plunks. An isolated horn sound plaintively calling out. Just all so rich. Think Durutti Column for piano, or a more acoustic Godspeed when they get going. But then it can be such simple piano notes. Or hints of ancient religious music. The pieces are not rushed. They are thoughtful.
The title, "hexameron" refers to the genre of theoretical treatise that looks at the six days of creation of the universe described in the Christian and Judaic religious texts. It also refers to any six of something. "hexameron" is broken up into six parts and most definitely has a feeling of creation, turbulence, wonder.
Stop for a moment when playing and really allow yourself to enjoy.
And let it sink in.
Reviewed by Naysayer on June 17, 2014 at 7:45 am
Next Page »