KFJC On-Line Reviews
What KFJC has added to their library and why...

KFJC's first full length from NaTALie Chami aka TALsounds,
after two splits with Greyghost and Iron Galaxy. This is
also KFJC's introduction to the riveting Chicago label
Notes and Bolts. On her earlier Iron Galaxy split, Natalie
brought a friend into her cloudbank, but this returns to
her gravity-defying dream-delay solo work. Home-crafted
mind-blenders with some potential circuit bender trickery
too. I really dig the element of drone-song, there are
gentle anchors of repeating notes/chords, that reminded
me of Popol Vuh. Her voice work melds with her variety
of synths, in the way Liz Harris' voice drifts between
the strings of her guitars. You're not just floating,
you're floating towards something. And it may not be
as pretty a destination as you had hoped; check the
grittier electronics on "Same Noise" and "Justice."
She tweaks her own voice frequently, like on "Raw
Discourse" that ends up recalling the "Dolls Polyphony"
from the Akira soundtrack. A nice mix of cute and
eerie on that. Gossamer lyrics on many tracks that
vanish when you touch them. Chami's 2013 brand of
sonic isolation tank meets ear massage has me looking
forward to more soon. -Thurston Hunger

Reviewed by Thurston Hunger on December 22, 2013 at 6:02 pm

Double disc choosing dirt over disco in 80′s Italy. Culled
with care by Alessio Natalizia (of the Walls project on
Kompakt) and thorough liner notes in English translation.
They are worth peruuing for all the This Heat and Tuxedomoon
references. Like those translated notes, much of the singing
on this is done in English, with an eye to the US/UK, but
certainly their own ear. No need to get an interpreter for the
omnipresent angst on these cuts. Guitar and synth are often
employed with no battle, but equal parts stark squalor.
Lots of whispery vox on tracks, that sense of conspiracy
which to me intimated the 90′s rock concrete of the Starfuckers.
All of side A is so very good, an adrenalin jag from the very
first lurches of Die Form with spazzy sax in it as well and a
killer version of Gaznevada's "Going Underground" Side B
still has that dark feel of being recorded in an abandoned
subway but the synth slides in a bit more. And by the end
of side C, female voices from Rats and La Bambola Del Dr
Caligari add a sultriness, but it's just a tempting trap.
Arguably the most "mutated" track leads off Side D, with
Spirocheta Pergoli choked vocals and a stolen TV screen
sputtering and splattering music The liner notes mention
Maurizio Bianchi, whom KFJC has many recordings and
colors from in the same breath as Doris Norton, who makes
her KFJC debut 30 years later here. Homegrown software
sounds from her. A lot of room for various DJ's to get into
this, tunnels from punk, industrial dance and experimental.
Hopefully more revival work from these Italians scenes
to be unearthed as well. Swank job by the Strut folks
and Natalizia! -Thurston Hunger

Reviewed by Thurston Hunger on December 22, 2013 at 6:01 pm

Gorgeous, whimsy desert psych folk drones. Quivering mandolins, rustling strings, guitars, wordless female ghostly singing, various percussion… The whole thing is very continuous in sound (six discs!). This is the kind of music you'd want to take some hallucinogens to. Soft colors, slowly evolving migrations, whispy clouds. Has an earthly ambiance to it. Definitely has a tribal vibe, in a harmonious ritualistic sort of way. These recordings were originally released on cassette as well. NSB is a duo from France.
Reviewed by cinder on December 20, 2013 at 5:44 pm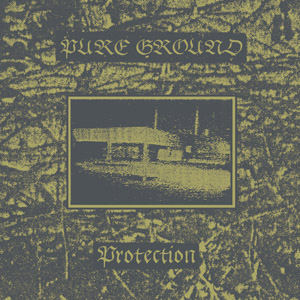 New 23min release from LA recording duo Pure Ground, in a limited 100 tape edition. I've seen people describe this as minimal wave and industrial; it's got a lot of minor chord synth progressions, and simple drum machine beats; I'm going to go out on a limb and call this "Margaret Thatcher Era Re-Enactment" wave. Dark-ish, not terribly complex lyrics and themes, lofi-recording aesthetic with hidden pop aspirations. A fun listen.
Reviewed by incognito on December 18, 2013 at 5:59 pm

Interesting one-sided release of Chasing Voices off NYC's secretive Preserved Instincts label. Chasing Voices are very elusive, name?location?bio? no idea but I do know that all of their EP releases are one-sided and that the clandestine Chasing Voices collective is a slo-mo rave bomb. This is deep techno with a dark feel, rhythmic and hypnotic. You can absolutely get lost in it. They have been compared to Plastikman and I see the similarities, the secrecy, the dark nature, hypnotic beats etc. I only wish they had given us two sides! Heres hoping for a full length release someday because this is amazing.
Reviewed by Belladonna on December 18, 2013 at 5:39 pm
Pioneering, Houston-based noise artist Richard Ramirez is known for his harsh, wall-of-sound, noise sounds. This album is unapologetic in its purism in holding to that aesthetic.
Three tracks of static modulated and filtered from a rumble to a screech. This isn't mindless or simple, though, far from it. Careful listening reveals thoughtful modulations in tone, dynamics, and textural parameters of the sound showing Ramirez's masterful control of his instrument.
Reviewed by Muad'Dib on December 18, 2013 at 5:14 pm
This is a split on the Styles Upon Styles label/project/collective out of Brooklyn. Lets start with the B-Side with music by "extraterrestrial dance music" artist (read Hip Hop) kuxxan SUUM aka Zach Cooper. Because I listened to this side first and it rocked so hard, the A-side had a lot to live up to. kuxxan SUUMs beats and breaks totally rocked it out hip hop style, this was amazing. A-side features "avant-soul project" King Garbage aka Victor DiMotsis. Typical Brooklyn insipid hipster mediocrity. So disappointing. I know there are people who love this but I am NOT ONE OF THEM. It conjures up a guy in a flat cap with a full beard, wearing an ironic sweater and riding a fixing. Sappy vocals and the intentionally lackadaisical sound that this genre offers. Bleck.
Just play kuxxan SUUM.
Reviewed by Belladonna on December 18, 2013 at 5:10 pm
Two slowly evolving ambient pieces. The first is punctuated by periodic reverb-heavy blooms of sound, sometimes sounding like an electric guitar hit and sometimes another stringed instrument being plucked or struck, served with a side of crackly crinkly textural elements and some deconstructed strings. The second piece has a thick bass doom drone with dissonant guitar(ish) work o'ertop leading to a tension-building stasis field. Tension within stillness, no big builds to boil-over, rather searing shimmering simmers, like a sonic sous vide. Teeth-grinding drones for the heads.
Svarte Griener is the musical alias of artist and musician Erik K. Skodvin. Erik was born in Norway and is currently based out of Berlin. The artist states that this album was made in collaboration with another artist Marit Folstad for two different art installations.
Reviewed by Muad'Dib on December 18, 2013 at 4:28 pm
Eight CD's, over nine hours of music spanning six years in six different settings, including a KFJC engineering/recording assist at Yoshi's Oakland. What else might you say but "Holy Cow!!!!" William Parker, jazz bassist and all around renaissance man, has created a project that is comprehensive, entertaining and all around stunning.
Hailing from the South Bronx, Parker's influences are expansive and stellar in all areas. Citing Stan Brakhage, Jonas Mekas, Maya Deren, Carl Th. Dreyer, Albert Ayler, Cecil Taylor….. the list goes on and on… as influences for his art and eventual turn to jazz, Parker uses mentors as guides to build his musical world attempting to reach the "tone world" where "only magical formulas that will bring the dead back to life will be alive in this world of tones and vibrations and the word interesting will be banned from the vocabulary." One word to describe him, I thought, was Shaman. Well, I hit that on the head because guess what he calls himself? That's right.
These eight CD's cover a variety of incarnations of Parker's performance groups. At the core is the William Parker Quartet, laying down solid rhythms, exploring the space within and between, improvising within the structure, going from a free jazz sense, to his standards, to solo outrageousness. Parker is primarily a bassist and the introduction to him is scratching away at the strings, seemingly at the top or bottom of the bass. It goes on until you get lost in his vision and journey. And for nine hours plus the journey continues. These are professionals, playing a skilled music, exploring the works given and the skills of each other. Enjoy for decades to come.
Reviewed by Naysayer on December 18, 2013 at 6:22 am
To call this music soothing, spare, and lovely does not do it justice. Only listening and letting it surround your senses will do that. Sarah Lipstate has a way with the guitar, creating loops that are too enjoyable for me to call drone, but that shows how little I know about drone. How she creates the loops is good food for imagining as you listen. The bowed guitar shown in the CD picture is one clue. Try 6 and 7. This is a keeper.
Reviewed by humana on December 17, 2013 at 9:59 pm
The band hails from Timbuktu and is composed of family and friends. Aballow Yattara, the leader, knows how to rock the West African instrument called tehardent, which is a three-stringed, fretless creature considered a precursor to the banjo. The percussion comes from the calabash, a half-gourd that has been hollowed. The music is intended to accompany traditional dance, and what I like about it is how upbeat it sounds. I can imagine stomping around to it wailing in sorrow or in joy, or both, attesting to a heritage of feeling and story that can best be expressed by the very music you hear on this CD.
Reviewed by humana on December 17, 2013 at 9:47 pm
Filed as CD,International
The variety found on this CD is remarkable. Just listen to Track 2 and you'll go from eye-opening rock which progresses to calmer waters and through rocky shores again–simply amazing. 7 has elements of dub, 11 has a jaunty gypsy folk feeling, 4 is bubbly, 6 and 10 contain the sole vocals on here, and 3 is something you just have to listen to and describe for yourself. This is a perfect example of why KFJC is so vital–it offers a little of everything to everyone.
Reviewed by humana on December 17, 2013 at 9:39 pm
Bubble Gum Power Poppers, The Bam Bams, pour two tons of sugar into '77 Garage punk and let it spaz out on the floor. Cute, Sweet, and all so neat. These ladies must have spent sleep overs drinking, talking about boys, and worshipping the Buzzcocks! Very up beat and energetic!
Reviewed by honeybear on December 17, 2013 at 9:38 pm
Rap and Punk???? It???s Happened before, check out DeeDee King! Murs, Darryl Jenifer (Bad Brain???s Bassist), and Sacha Jenkins (former Rolling Stone journalist and VH1/MTV Producer) hit the ground running with this ???Fuck You??? to the music industry. Comprised into a concept album about a man named,Tyrone White. Who is a black man that is looked down upon in the Black Communtiy for loving Punk Rock and White Women. He starts a band and gets a deal, falls in love, battles the evil racism of the major record labels, and learning to except what you are/never bowing down to what other want of you. Kind of has the ???Tommy??? or ???Lola Verses Powerman??? vibe going. A lot of this album feels like filler, but the gems on here shine very bright. Nice mix of Hip Hop, Punk, Classic Rock & Reggae. Samples from harDCore Washington DC bands (Bad Brains and Minor Threat)! This was a pleasant surprise!
Reviewed by honeybear on December 17, 2013 at 9:23 pm
As the title suggests, Sandor Finta aka Andorkappen brings us another glimpse into realms of hopelessness and disavowal under his moniker Lord Time. His background is relatively diverse, coming from LA black metal trio Harassor but also part of harsh noise trio KILT, we drift from pounding blast beats and bristly guitars into clouds of murky drone and emerge among swaths of psychedelic soundscapes. 20 short tracks smashed together into 2 side longs that move through all varieties of noise, metal and ambience. A dark and dreary dirge from a decrepit, deserted dungeon will boil over into a black maelstrom of feedback only to subside, gliding into brittle guitar tones. Sometimes the sound veers to a more electronic timbre, with pulsing ritualistic repetition, other times the wall of guitar teeters under its own heaving mass with only the hollow echoing drums to hold it upright. The album throughout has a sharp, metallic and very lo-fi sound giving it a bleak and despondent disposition. Each side with their own harrowing outro; side A a haunting organ piece and side B a plodding piano march. Either way you go you'll get shivers staring into his icy eyes. Might as well just sit tight in your dank tunnel for eternity…
Reviewed by abacus on December 13, 2013 at 6:30 pm

Crystal clear sound…but not ice crystals, this
release from the now trio is warm and cozy. Adding
Ivar Grydeland on guitar, especially his lap steel
with its delicate little lasso swinging around your
ears, is going to rope a lot of new listeners in.
The compositions are really beautiful, all composed
by Swedish sonic chef Klaus Holm, he delivers the
sort of Hubro vibe of lighter than an empty bird's
nest with his reeds. Great use of clarinet with
Ivar's strings. Slowly his notes circle, the fastest
they get is on "Sliding Doors" (or #3 as song titles
were differing in the booklet and in a CD player).
But on #3, Ivar brings out the banjo to gently
reign in the rhythm as Klaus' sax slithers back and
forth. Bassist Roger Arntzen does a great job without
a drummer to keep what could be just drifting numbers
anchored to earth with toe-tapping, finger-thumping
lines. There is some light percussion added in too.
Through-out the album there's a lots of subtle overdubs
of "polite noise" – soothing skronk, a crackling wire,
and your beloved grandmother's ghost. Very nice flow
to this short, 4 song CD. A home, sweet suite, home
vibe. Even the titles are bed and breakfastable!
-Thurston Hunger
Reviewed by Thurston Hunger on December 12, 2013 at 11:31 pm

Second release from this LA band, originally a Skrot Up cassette
but now a spin down slab of vinyl thanks to this Permanent press.
If you like mad intoning renegade preacher/vocalists, even if
you never stumbled across Suicide before, this album is for you.
On first listen, I was smitten. And that first track, with deep
voice wordless and reverbed into wanton rant. Hell, yeah! Side 1
songs come and go like sitting at a busy intersection during rush
hour and watching for weirdos go by in cars. These songs feel like
they are chrome-plated with tinted windows so you can't quite see
what's inside them. Maybe a body, maybe a couple of tanks of
oxygen, or is it a toxic chemical? Like those car occupants, the
8 songs on side 1 are gone but leave an indelible impression.
Drum machine makes you want to dance, but the baritone madman
vocalist is staring at you so you better not move. Little rifflets
of guitar that could have an ocean of spy surf behind them. Rev'd
up synths idle wildly. After my second listen, I felt like I was
in a dingy bar with only bouncers, and each bouncer is trying
to throw another bouncer out. The flip side is a single track at
45 RPM PLEASE NOTE. It's kind of a chaotic free form take of the
tighter vibe from the songs on the flip (indeed lyrics from
20 Sq Ft get howled into the fray). Kind of a lunatic jam with
that poet/prophet/pervert shouting in the storm. Really digging
this release. A rare burly form of synth rock!
-Thurston Hunger
Reviewed by Thurston Hunger on December 12, 2013 at 11:30 pm

Numinous Eye return to KFJC's library after physically returning to
the pit recently chaperoning and jamming with Junzo Suzuki. Fans of
the galactic guitar space jams, dripping trippy effects will be
pleased. But folks looking for more song structure will enjoy Mason
Jones' interlocking guitar pieces that stumble in precision on
tracks like "As You Like It" and "Building Dreams." Something about
those tight propelling riffs and Mike Shoun's open freeway drumming
hit me in old and Neu places. Kool Krautrock kicks and Hallo Gallo
flashbacks! Mason adds some subliminal vocals, hushed and relaxed.
Mike's drumming, more than motorik is the secret sauce here, as well
as on recent Thee Oh Sees releases. (Well I thought for them it was
the echo plex as well). This 's a full sound for two guys, plus
bassist Stoo Odom on the B-side opener and closer. The former,
"Reduced to Ash" has some nice goopy, stringy guitar slinging by
Mason. And he gets a kind of sitar strain on "Dreaming in the Dusk."
The closer, "Will You Let It Fade" pilots for the center of the
eternal jam. Two other quick sidebars, the album image is a great
found photo of a "Numinous Eye" of sorts. And Mason needs some kind
of KFJC commendation for decades of ambassador work building a
link to the Japanese underground. Hoping he can help KFJC
line up our first China connection for a live broadcast in 2013.
-Thurston Hunger
Reviewed by Thurston Hunger on December 12, 2013 at 11:27 pm

Following the trail of TAL (or TalSounds aka Natalie Chami)
is what led me into the Cricket Cemetery. So that's some
pretty ruling pied piper action, thanks! Chicagoan Natali
works w/ swirling soundscapes, dronish but never robotically
sterile. On her track, "Valse" focus is on a soothing sax solo
from Anthony Bruno drifting over a base built by Natali with
synth pulses, some dappled delay, disembodied voices (one
of the things she always does excellently) and by the end
she has woven in a form of found percussion. It's a wistful,
blissful lulling, that leads to Iron Galaxy on the flip.
Ironically that starts with a sample saying,
"What happened to your nose?"
"I got punched in the face"
And it is a sort of sonic sucker punch after Tal. Imagine
Melt Banana with a male vocalist on the Love Earth label.
That won't get you there, but is headed in the right direction.
Agressive, insistent, and kind of cute in an extreme way.
White noise is gated in lieu of guitars and drums are
overridden by angry drum machines. Got to be a one-man
wrecking crew, pretty heavy yin/yang action on this split!
-Thurston Hunger
Reviewed by Thurston Hunger on December 12, 2013 at 11:25 pm

Check the images on this 2011 CD, they
are from an Anatomy Institute in Larsen's
homeland, Italy. This combo release is
evidently a soundtrack to images from
there during 1935-85. Like the cells shown,
this release is undergoing mitosis. The
first 6 tracks are a *live* collaboration
between renowned percussionist Z'ev and
the band, indeed the lead off segment is
heavy on the medical drum, subsequent
sounds have bouncing strings, synth
digeridoo waves, and Z'ev is much more
in the background. Hovering, trance
ambient rock. The last live slice, #6,
presages what is to come. Working a sort
of Pan Sonic blipbeat, the band adds
dramatic flourish in minimalist layers.
Dreyblattian? The last 5 tracks are
"The Aural Mix" more lab than live,
and equal parts brooding and breeding.
I think Z'ev did the mix, and he really
chose subtlety and headphone swirl over
insistent tribal rhythms. I preferred
the darker studio work for its mad
scientist moves. In V.Tro indeed!
-Thurston Hunger
Reviewed by Thurston Hunger on December 12, 2013 at 11:24 pm
Next Page »