KFJC On-Line Reviews
What KFJC has added to their library and why...

Coleman's masterful alto sax sets the mood for each of these tracks that were spontaneously composed, all with the theme of "creating a musical analogy of the interactions between the circulatory, nervous, respiratory, and other biological systems of the human body" (from the CD sleeve). The trumpet, bass, drums, and guitars that join the sax bring to life the "functional arrhythmias" the ensemble set out to express through accessible yet challenging jazz.

Reviewed by humana on March 29, 2013 at 9:29 pm

Fullman sets up long-string installations (ranging from
53-200 feet!) and uses these to generate her sustained
droning sounds. I've not seen her perform (although
looks like the Bay Area has had several exhibits over
the past decade) nor have I seen Max Eastley (whom I knew
also did such performance/creation from his work with the
Spaceheads). Photos and videos are available at her site
http://ellenfullman.com).
This 2011 release is KFJC's first full length under her
name (she was on a number of collections, including one
also on Important Records and the outstanding "Orbitones,
Spoons and Harps." The first two pieces here offer whispers
of Indian music, Fullman in sitar splendor. Theresa Wong on
the first doing the sawing/slithering on her cello, very
reminiscent a Subramaniam or two. #2 with Henna Chou (cello)
and Travis Weller (violin), here the smaller strings construct
a skyscraper from two note intervals…at the top a flock
of sparrows nests. The title track feels like Petticoat
Junction, done Avant Garde style. A hint of harmonica,
bouncing over the drone, at 21min a committed radio listener
can listen deeply, and really feel the shapeshifting of
the long strings beneath the bounce. Though subtle, there is
a pronounced shift to darkness. The bounces at the end go off
in refracted angles. The closing track is complicated cathedral
of sound, lots of odd harmonics strung out, it's a 20min
study in texture. One for the synaesthesiacs!

-Thurston Hunger

Reviewed by Thurston Hunger on March 28, 2013 at 10:09 pm

Enchanting release from Em records, capturing Thonghuad Faited's
work on the sor (see images on the album, it's a sort of a
two-string Thai fiddle) from the 1970's. The sound may be familiar
from some of the excellent Sublime Frequency forays into Molam
styles.?? Faited's sor often conjures a dizzy cross between a
sea shanty and mystic trance music. I truly hope some KFJC DJ's
who play country music will drop one of the instrumentals into
their sets, as there is a sort of Gaelic reel vibe. The full
band pieces also feature the khaen, which sounds like windy
cities of glass, kind of a heralding announcement. There seems
to also even be some chicka chicka guitar chicken scratching.
The percussion has a distinct clip-clop beat, leading to a
dancing vibe. All tracks are gorgeous, but something about how
Faited's sor compliments the two female singers on three tracks
here really wins me over. The voice and sor both flutter and
waver in quick glissando, they are so high in pitch, but to
me both feel soothing and never shrieky. On top of it all, the
sonic beauty and grace here is matched by the benevolent gesture
from Em Records to raise funds for the aged and ailing Thonghuad.
Behold the twists of Faited's sor!
-Thurston Hunger
Reviewed by Thurston Hunger on March 28, 2013 at 10:07 pm
Filed as 12-inch,International
When I first heard Rimbaud's gritty voice delivering the lyrics on his fascinating songs, I felt like his music could be classified as country, but then I settled on everyman's acoustic rock. This NYC musician treats subjects that range from Hurricane Sandy (4) to the woes of today's economy (8) to the overscheduled nature of life (3, 10) to Beatles covers (11) to how underappreciated teachers are (5) (definitely #6 came to mind on this one). The first song is a treasure with its rainbow references. You'll either enjoy this or wonder about it, either one of which is a good thing.
Reviewed by humana on March 28, 2013 at 7:50 pm
Out on Black Truffle records comes the fourth album with the lineup of Haino/O'Rourke/Ambarchi, with help from Charlemagne Palestine and Eiko Ishibashi on the wineglass drone on track one. Recorded as part of a live festival in Japan 2012.
6 tracks here, with two different styles. The first two and sixth tracks are kind of spacey droney thinkscapes, with a chorus of wineglasses on track 1, with the bass and flute more predominant in track 2. The album takes a turn here where you get three "caveman" rock tracks, peaking on a super high energy psych explosion on the fourth track, before slowly edging out of it and back into the ambience and quirky vocals. No one really leading the group. Wandering the hillside smoking quietly before finding a secret rock 'n' roll commune where there's no holds barred psych jams. Dose, and enjoy..
Reviewed by mickeyslim on March 27, 2013 at 9:37 pm
Char blackened metal rigor mortis writhing in pits of doom and despair. Imperial is the tortured screeching soul who reeks of nihilist misanthropia as only a true New Jersey-an could. Slithering arachnid feeding frenzies on guitars, sometimes getting a little math thrashy (3,8) but with plenty of headbangers to face punch for sure. Bass emerges from the din at times and the drums are bleak as you would expect any monotone black metal to provide but some nefarious variety leaks in, with a goth zombie dance party on 5 and some overblown power noise flooding track 9. Also some spooky industrial interludes on 6 and 10. All in all some quality brutality. Dreams from the ghost at the bottom of the well. Let go of the earth…
Reviewed by abacus on March 27, 2013 at 6:51 pm
This newly formed duo out of Chicago bring home the bacon with two ingeniously infectious tunes.. Garagey overdrive sounds and riffage to write home to your mother about.. sooo tasty. Side A or Trust and Order is catchier of the two, with a sticky yet simple, repetitive guitar riff, gluing things together while the drums tip their hats to a head bang. Heavily processed indecipherable vocals come mummbling in about half way through. Simply satisfying is a loopy kind of way. Like frolicking through a meadow of daisies after frying your brain on a bucket of whippits. Side B is an impaired love song written for this guy's puppy. My personal favorite and weirder of the two. Kicks off with a grinning acoustic guitar riff accompanied by feedback sounds and high pitched tinkerings. Reverby, echoed out vocals give praise to puppies and the whole thing simmers and spasms for a short minute until all that's left are these crackly oscillations fading into gurgley noise.. the kind of noise my puppy would make.. if I had one.. -Surfer Rosa
Reviewed by surferrosa on March 27, 2013 at 6:17 pm
Self proclaimed "sparkle prog" out of Brooklyn NY (hipster capital of the world! after kfjc that is..) I call it orchestral, shimmery, psychedelic, kaleidoscopic sounds. This certainly fits the prog-bill though..keep your ears perked for dramatic tempo changes, synthesizer kisses, viola hums and the infallably proggy drawn out instrumental sections. Girlish lady-vocals are drenched and dripping with reverb. As is everything else. Repetitious in an infectious, bouncy sort of way. Good mood music.. agreeable and pretty easy to swallow. Spacey, stoney, with a little bit of jingle jangle and the tiniest touch of occasional grit.. like two grains of salt on a sugary cube of caramel. -Surfer Rosa
Reviewed by surferrosa on March 27, 2013 at 5:36 pm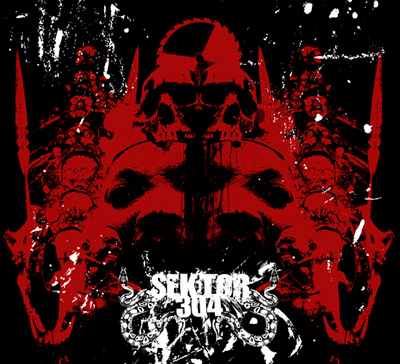 This is the 2009 debut album of Sektor 304, out of Porto, Portugal. Hard, noisy industrial beats with a tinge of power electronics and dark ambient. The two piece group performs using, in their own words, "vocals, beats, synths, bass, metal junk and power tools." Dark, metallic noisy industrial that remains rhythmic and at times even melodic. Some of the tracks have a slow, doomy vibe, (Voodoo Machine, The Beast") while others are straightforward industrial pieces ("Power Exchange") with a few ambient tracks ("Pulse Generator, Blood Rush") thrown in. Heavy metal satan sh*t all over this one.
Reviewed by incognito on March 27, 2013 at 5:27 pm
Wighnomy Brothers and Robag Wruhmed teamed up to remix some big names on this 2007 release. Including remixes of Future Sound of London, Royskopp, Underworld and Depeche Mode, this album runs through downtempo, deep house, minimal dubby tech and idm, and even dabbles in some very artsy 180bpm breakbeats. A solid album of remixes, from an ambient, trip hoppy remix of FSOL's "lifeforms" to deep glitchy mixes of Matthias Tanzman and Underworld. My favorite on the album was the hidden breakcore/idm/jungle track, Robag Wruhme's "Bakkenvesper." A really nice album, where the tracks hold their own as standalone pieces or parts of the whole.
Reviewed by incognito on March 27, 2013 at 3:37 pm
Viva Melbourne! Viva Ooga Boogas! This is the Ooga Boogas' second album and it is so much fun. Hailing from Melbourne, Australia, Mickey Young (of Eddy Current Suppression Ring and other projects) and his pals give up a bag of mixed styles, all good, all rock, ready to bounce around, even when the topics may not always be light. The variety of styles – some with country tinges, some with a darker side, some with a synth dance like flavor – mix so well, so smoothly, that the transition doesn't jolt. It just seems like the next obvious thing to come after the previous song. Tight musicianship, easy vocals, good rhythms. All smiles even in the dark moments. Enjoy!
Reviewed by Naysayer on March 27, 2013 at 1:50 am
This is a remastered version of Detroit techno king Carl Craig's "The Secret Tapes of Dr. Eich". Originally released in 1996, this double LP is a prime example of Craig at his dance floor best. Reviews use words like "essential" and "classic" and listening to this it's easy to hear why. Starting off with low bass and background electronic sounds, a beat starts like a heartbeat. A vocal sample comes in talking about people suffering catastrophic violence while sounds of a person in stress are heard in the background. The heartbeat gets faster- silence – and then loudly a voice states "welcome to our world". And the dance beats start for four glorious sides. Craig sticks to a 4/4 beat keeping it clean and simple but oh so smooth. Its mathematical beauty is fascinating and wonderful to follow. A beat starts. Then a new set of sounds come after, layering in, fading out, re-introducing. It's like listening to a mandala. And side D "Country Boy Goes Dub" even samples a classic beat from Liquid Liquid. If techno has a concept album, this might be it. On Craig's Planet E label.
Reviewed by Naysayer on March 27, 2013 at 1:10 am
Erkin Koray is a Turkish guitarist and baglama player who is considered the first person to bring rock and roll to Turkey. Playing since the late 1950's and still a formidable force in Turkish music today, Koray is known for mixing traditional folk songs with rock music. Being well versed in a variety of styles, his guitar playing is highly praised. The selections from the Pharaway Sounds 2 CD release cover his first psychedelic single "Anma Arkadas", his biggest seller "Saskin", several covers including the Moody Blues' "Tuesday Afternoon", as well as many of his 1960's and '70's releases on 45's. Koray's interest was, and still is in psychedelic and prog rock and this is displayed repeatedly in the fuzz guitar, extended guitar solos and elaborate arrangements of these pieces. CD 2 gets more tripped out but both CD's are excellent samples of this Turkish godhead.
Reviewed by Naysayer on March 27, 2013 at 12:39 am
Filed as CD,International
Industrial downtempo doesnt quite begin to describe this, although it's a fair start. Author and Punisher weaves together a harsh, metallic but surpirisingly palatable tapestry with Ursus Americanus. Taking elements of dark ambient, power electronics, dub and sludge/doom metal and blending them seamlessly into an album of hard as f*ck riddims. Maybe not for the weak of ears, as this reminded me of Vex'd, if Vex'd was really into doom metal. Fans of harder and darker shades of electronica, breakcore and noise will appreciate this offering of dubby and sludgy beats. Bassface all round.
Reviewed by incognito on March 26, 2013 at 12:48 am
This full length release from German producer Lars Leonhard, titled "Seasons – The Four Seasons" is a very lush album. It has a minimal techno vibe, with heavy dub influence. There are bits of dub and downtempo, deep house and techno. There are some very obvious Rhythm and Sound types of sounds, samples and filters throughout the album, but if anything, that should be a compliment. Alvina Red sings in French on a few of the tracks. I love this album – its simultaneously warm, ambient and lush, yet minimal. Really excellent release.
Reviewed by incognito on March 25, 2013 at 10:43 pm
Philandering noise gypsy out of Chicago molds three amorphous mouthfuls of electrostatic eruption to excavate your earhole and annihilate expectation. The first brings back-of-the-head piercing tears seared over pan-fried bio-luminescent drone. Then hypersporadic overdose of dirty crack feedback that dares withdrawal, writhing on the floor in broken seismic seizure. The album closes with a long gut shattering rumble laid low and bare for cerebral insertion. consensual violations of unreality. self-induced tone deaf dissipation.
Reviewed by abacus on March 25, 2013 at 12:47 am
Rare groove magazine WaxPoetics highlighted this LP in their July 2009 Brazil Issue. Its hard-as-hell-to-find [except for a $50-$100 price tag on the web] 1969 original press quickly became a minor grail for beat diggers around the globe in terms of Brazil's deep bass groove-driven, garagey guitar-infused Tropicalia movement of the late-60s (perhaps sparking this 2012 Swiss re-issue distributed by Light in the Attic). Beatdiggers also love it for its bongo-pellas and Clyde Stubblefield-esque stank-funk, on-the-one open bass and drum parts (there's a butter ass guitar/bass/drum loop in the middle of the Hey Jude-ish Espiral, side B track 3, that's dying for a longer edit and I would be surprised if Kenny Dope hasn't already done it). As a whole, it is an acid licking Brazilian sweatbox of bugged out fast funk and swarmed up psychedelics and sometimes almost folk rock (especially on the vocal tip) laced with some jazzy arrangements and subtly dusted space echo freak-outs as well (peep: Modulo Lunar, side A track 3). Be it Tropicalia, all of this rests on a foundation of samba and bossa nova characteristic to the country's soul style but with a rawer edge than others I've heard from this genre such as Jorge Ben and Os Mutantes (Os Brazoes cover both here). I hardly understand Portuguese but one gets the feeling that the lyrics are sardonic and arcane like a Frost Amphitheater convo (peep: Volksvolswagen Blue, side A track 4). Still there is more than just a side dish of US soul persuasion here as well, and it is greasy. Mann The General
Reviewed by mann on March 24, 2013 at 9:21 am
Filed as 12-inch,International

Prepare to love the Cravats as much as I do. Went hunting for
"Colossus Tunes Out" but found this recent repackage/reimagining.
KFJC is lucky enough to have the orig 1980 12″ of "In Toytown"
but this comes with a bunch of bonus bouncers ("I Am The Dreg"
alone was worth plunking my pennies down) and the second disk
has another Penny (Rimbaud) cranking up the compression & inserting
snippets and a right cheeky little Alice who must have fell in
through the CD centerhole). There's more variety in the Cravats'
bag of art-punk tricks than'll fit in this review. Excellent
scurries of Svor Naan's sax, gutter-busting basslines from The Shend,
whose irate vocals hit the little red spot, or at other times get
wobbled up in a fine weird way. Guitarist R.R. Dallaway can rev
up tense chord rumble (X.M.P. which features The Shend shouting
"What now, Little Man?") or skudge the song and sax along (like on
"Situations Vacant"). Drummer David Bennet adds the right amount
of hyperactivity via the drums. This album rarely idles, truly
exceptional rock, with the oddball attitude, effects, sampled
sounds and lyrics ("Gordon" the dada tale of a mama's boy
and dig the vocoder heavy breathing on the second disk!)
Penny's remix, is far from Crass, it's devoted and demented
(the sax sounds turns into an army of kazoos) and the peppery
bits tossed on top worked in kind of a Negativland way. But
plenty for the impure purist to peruse on the first disk.
Do not miss.
-Thurston Hunger
Reviewed by Thurston Hunger on March 22, 2013 at 12:09 am

2009 release from Quebec. The brothers Tabassian having journeyed
from Iran to meet up with Pierre-Yves Martel who plays the
Viola da Gamba. Both Kiya and Ziya were trained in Tehran on
classical Persian instruents, respectively the setar and percussion.
The setar is a lute, which Kiya can fly like a psych rock god
on, but for this he is set in acoustic-improv mode. He also
plays a shuranguiz at times, with bassier strings and evidently
violin as well. His brother, uses ancient instruments to get
exploratory improv sounds of plink, plunk and possibly some bowed
percussion. "Montreal" opens with notes pinched on the shuranguiz,
akin to an alap section of raga. Kiya solo and setting a mood
of contemplation. More muted and rattle and scrape sounds follow
on subsequent tracks. Iranian flavor as distant as the Farsi
title ("Masafat" means distance) yet still present (rising on
the "Hudson").?? Kiya's violin on "Casselman" sparks well off
Martel, and Ziya has great rolls of dry percussion on that lively
track. From that track on this CD seems evoke more passion,
"Ottawa" perhaps the most outwardly musical, with its sense
of a waiting room, and anticipation turning the door handle.
Great flurries from Kiya on that. Many pieces are short, but
inviting as can be. The fever setar on "Gatineau" and then
windy, ocarina-like whistles of "Chelsea" and then it is done.
Definitely want to hear more from all three, especially Kiya,
and actuelle in general. So much beauty in Iranian art, we
need to remove the political cobwebs on both sides to get
to the heart of what matters. Communication and creation!
This album is brimming with them both
-Thurston Hunger
Here's a pretty cool clip of Kiya and his setar and his passion-provoker, dig it!
http://www.youtube.com/watch?v=WU6VO2Kx4kA
Reviewed by Thurston Hunger on March 22, 2013 at 12:08 am

Broad comedy without the broads, well apologies to the
anatomically correct Tamzin Griffin. The shrill trilling
of Martyn Jacques is strongly featured here to remind
you of the tone-deaf charwoman who doubled as your wet
nurse from your long-lost British childhood. In small
doses, the whimsy and whinny may work better (blessed
be the brevity of radio) for some. Surely others may sup
this up like sweetened cod liver oil, from the first sip
through the verbal slips and the snip, snips of Conrad.
Strongly recommended if Graham Chapman were yer favorite
Python. Penguin on the Telly, nudge nudge wink wink…
the music is often a two chord vamp, With the accordion
waltzing about through the playground garden with its
toy flowers and toy pianos and of course the many graves
of naughty little boys. Well the fairer sex does get
one turn in the cabaret dunk booth on "The Dreadful
Story About Harriet and the Matches." Old cautionary
tales of Heinrich Hoffman parsed into quick couplets
and quicker gruesome ends. More gaslight than ghastly,
and truth be told this recording from last century (1998)
could have faired well a century before that as well.
We only have the music here, but I've caught glimpses
of the theatrical version online, and on stage is
where the Tiger Lillies are meant to kill it.
-Thurston Hunger
Reviewed by Thurston Hunger on March 22, 2013 at 12:02 am
Next Page »