KFJC On-Line Reviews
What KFJC has added to their library and why...

Ride 'em, Cowboy. Trumpeter Jacob Wick rounds up this
posse including saxslinger Briggan Krauss who never backs
down from a duel. They start the album tiptoeing into
the "Gleam" but both get in some feverish firing before
that 12+ minute track dies out. "Scalp" follows and
showcases the guitar of Jonathan Goldberger, he builds
up a cool New Zealand-y kind of cloud space for the
hornmen to leap through. On that track as well, dig
the crack action of drummer Mike Pride. Kind of reminds
me of Jim Black, with tireless bursts of tuneful fills.
"Dance" feints an arena rock intro, staggers its way
back and forth. "Drag" like "Scalp" let's Goldberger's
slack-packed guitar create a dirty dustbowl for Wick
and Krauss to dart through. Pretty cool how well Wick
wields guitar in his compositions, or maybe how
Goldberger communicates to Wick, dunno? "Ride" is
kind of a water-color number, with a lot of room for
Pride to flex his stickwork. "Clear" starts with
micro-percussion and guitar masquerading as harmonium
while Wick and Krauss circle each other, guitar and
drums rise slowly to frenzy and Wick soliloquizes to
close. Dug this more and more with each listen.
It ain't the Glanton Gang, so this ain't a ride through
hell, but it is a helluva ride!
-Thurston Hunger
Reviewed by Thurston Hunger on February 28, 2013 at 7:38 pm

The triumphant return of the king of "Rube Goldbeat!"
Bastien constructs his own instruments/devices that have
simple motors driving everyday items to build pop/techno
from the tech up on up! The "percussion" on "Peep" comes
from scissors gnashing! Several devices will collaborate
so the sound while repetitive doesn't feel innundatingly
redundant. As an inventor and composer Bastien's got a
deft never heavy hand, and lithe fingers! Plus a warped
record collection to match his warped mind, an old blues
belle sample haunts "Now On." He does a cool trick at
times where the tonearm is lifted and reset by his
gears and shafts. Perhaps it's the mechanized chord
patterns echoing a calliope, or the sort of happy
big-top melodies he taps into, but there's a bit of a
circus sound to these tracks. Some of the rubber band,
or paperclip flipping sounds add a light comedic effect
too, but the sounds are all so crisp and clean, no
clowns with needle marks here. Bastien adds in sweet
muted trumpet on tracks, at times delivering bachelor
pad music for primitive robots. DVD for the Eye,
palindrome titles for the brain and plenty for the
ears. Tinker tailored techno of fine calibre.
Stands fine on tone alone but if you want to watch what
you listen to, check
http://www.youtube.com/watch?v=UE7eSN63N7Y
or
http://www.youtube.com/watch?v=KZqzdI5o2BY
These are different than the songs on the album, but it seems they
are sonic sources for the album. Inspirational stuff Pierre!
-Thurston Hunger
Reviewed by Thurston Hunger on February 28, 2013 at 7:37 pm

My what pretty bruises you have… Duo from Texas pound out
ponderous ballads, sounds like bass pedals that anchor the
slow moving riffs, but evidently it's "Super Bass Station
mixed with distorted NanoPiano and Hammond organ all midi
controlled together." Straight from the keyboardist/vocalist's
mouth. Speaking of that mouth, Daron Beck's vox are often a
kind of theatrical baritone moan, imagine a singer
transported from a 1930′s cruise ship. He stacks up waves
of synth patches to keep bowling over the listener, and
then those dramatic vocals fix a strange fascination. On
"Bodies in Tow" he almost gets into Om mantra territory.
He croons over a cocktail piano (with great faux-theremin
ghosting) on the outset of "Tastes Like Blood" before
the brain burrowing begins and he opts for more of a
30-day dungeon yell. "Tell Her I'm Dead" (yeah the titles
might be a target giveaway) commences like a lost track
from Weakling! Beck gets his full on scream up in that,
it also features more of his wacked-out synth work. The
only other instrument going here is drums and Jon Teague
is a killer. Really excellent hammering, fills and beyond.
Check out lurching rhythm of "Against The Door" Prog-like
blasphemy in the hallowed halls of hell? Doom-gaze? Who
cares, feels like a heartier harkening back to the days
of Projekt, but this is a new debut album.
-Thurston Hunger
Reviewed by Thurston Hunger on February 28, 2013 at 7:36 pm
Improvised compositions from electric/acoustic sound artist Timo van Luijk. This is mostly experimental scratches, squabbles and noise walls that go from nearly inaudible to incredibly loud and abrasive. The last 3 tracks were easier for me to listen to than the first 3, mostly because they feature some melodic and percussive elements. This is dark and unnerving, and Im not even going to start with the cover art. My nightmares have some new featured players. That is all Im gonna say.
Reviewed by cadilliac margarita on February 28, 2013 at 4:50 pm
Filed as A Library
Together since 1993, this 2001 release from French-German duo of Franoise Cactus and Brezel ('pretzel') Goring is so much fun, I didnt want it to end. Alternative electro pop-hop with video game vibes. While Cactus bangs on the drums and provides the majority of vocals in French (some in English, and German too… I think!), Goring does his thing on synth and guitar. The last track was remixed by Felix Kubin, so that should give you a good idea of what to expect. Neat-O!
Reviewed by cadilliac margarita on February 28, 2013 at 4:48 pm
Filed as A Library
James Hunter out of the UK has written and provides warm and gritty vocals for all songs on this album out on GO/ Fantasy Records. After touring for 20 years with the likes of Van Morrison (for whom he was a backup singer) Aretha Franklin, Willie Nelson, and the late Etta James, Hunter is back with his 5 piece band (now giving them name credit after many years of touring as his dedicated backup band). Channeling his pain from the 2011 loss of his wife Jacqueline to cancer, he has dedicated this great album of throwback classic R&B to her. For someone who has undergone such a huge loss, this is surprisingly upbeat with guitar, sax, drums, organ, bass, piano, vibraphone, percussion, and was produced by Gabriel Roth, co-founder of Daptone Records. They will be at Bimbos 365 on March 9th.
Reviewed by cadilliac margarita on February 28, 2013 at 4:46 pm
Filed as A Library
A collection of live tracks from the decrepit army of degenerates that make up +DOG+ headed by Steve Davis, lord overseer of Love Earth Music. The tracks here offer different flavors of this collective of noisers from all around California, including the Liver Cancer guys, Lob from Instagon and others. Not entirely the rhythmic industrial noise with subtle manipulations and alterations that we get on studio material; instead, we have a lot more harsh, brutal assaults of feedback, screaming and destruction. The vocals sound like they come mostly from Bobby of Liver Cancer, with his deep groaning and roaring, with some spoken word and fuzzed out audio samples thrown in the mix as well. The first track here, recorded at The Lab in SF is just that, a chaotic storm of electrical ruin. The two Test Patterns tracks incorporate the subtle factory sounds and on Pt. 2 move into harsher territories, with a sample of The Aristocrat's joke thrown in for good measure (FCC!). Humiliation and The Shadow are more hurricanes of audio annihilation, with slightly more distant recording quality. A great addition to our extensive collection of +DOG+ material, revealing an even more rank and rabid side to these rotten rascals.
Reviewed by abacus on February 27, 2013 at 10:14 pm
Large ensemble hardbop recordings made at the Ohio Penitentiary… A conflicting story??exists here: the Ohio State University Band allegedly visited the penitentiary and met with Logan Rollins (nephew of Sonny) and Reynard Birtha, after which they immediately invited the two to make a record, which would make sense listening to the music. But… looking at the back, and seeing the 12 solemn dudes there all wearing the same clothes, and, on top of that, having instruments tied to their names, I'm thinking it may just be a bunch of convicts jamming their hearts out… at least that's more interesting, anyway.
Straightahead bluesy bop music, I can already tell Psych City will be a KFJC favorite, ??but I'm hitting Mantra Dance on the blues show… enjoy!
Reviewed by mickeyslim on February 27, 2013 at 6:44 pm
Tape warp trickery and co-opted surf grooves are just the beginning of the basic elements these prolific rockers used to create their own noise-laden trashy brand of garage. Segall and Cronin grew up together in Laguna Beach where it seems they absorbed to the bone the clash of idealistic beach vibes within dirty dejected Los Angeles. And here they laid it all out on vinyl, 10″ to be exact, released on Kill Shaman Records in 2009. Of course, with Segall saturation on the college radio charts, In the Red had to pick that limited release and throw it on CD here for all of our convenience. Loud, brash and unflinching guitar rock that is supremely overdriven and yet simultaneously danceable, hanging out with the power-pop kids at High School and even they're scuzzy and thrashed. I Wear Black and Doctor Doctor show us these guys definitely dosed heavy on 70s punk and classic psychedelia, even paying tribute to the classics with Pink Floyd cover on track 7. The album closes with 10 minute "side long" title track that takes some acid washed Britpop for a joyride up to the clouds and down along cresting monsoon waves. Fuck CMJ and Pitchfork, this still rocks my buttocks!
Reviewed by abacus on February 27, 2013 at 6:33 pm
Bridget Hayden first solo release (she was in the Vibracathedral Quartet) from 2011 is a mellow sound symphony, including electronics and guitar, and what sounds like a bass and drums at times. The electronic and feedback manipulation grab the growly helm and take the guitar (and the rest of the music) for a wild ride, losing rhythm and control of everything.
Most tracks are peaceful and serene, and have a meditative quality to them as they fluctuate, with only a few things going on at once (kind of quiet and subtle), it makes you anxious. The track Thrashing Momentoes is the black sheep , with a crunching guitar riff that wants to go somewhere (I had to check the vinyl at one point; I thought it might be skipping or stuck on a locked groove) as the electronics sneak in, almost guitar-like. Check out the haunting vocals on the last track, creepy. Like kicking back in your boat on an all black lake, fishing on a cloudy day.
All the tracks are super tight together on the vinyl with essentially no gaps between tracks.
Reviewed by mickeyslim on February 27, 2013 at 6:23 pm
Released in '06 on the War Office Propaganda label, since renamed Rage In Eden, this is probably one of the more amazingly strange things I have reviewed. A split between Mushroom's Patience aka Raffaele Cerroni, an Italian avantgarde band based in Rome and Outofsight, an elusive Polish dark ambient/experimental artist.
Mushroom's Patience is an Alien Space Rock Opera, some glitch beats, melancholy piano, quirky bleeps, improv Jazz and experimental chaos. Outofsight is equally strange and perplexing, dark ambient, experimental weirdness, darker than Mushroom but equally quirky. Overall this release is like the soundtrack to a newly remade Flash Gordon movie. Enjoy!
Reviewed by Belladonna on February 27, 2013 at 4:44 pm
I challenge you to play this and not dance just a little bit… A collection of underrepresented soul and R&B tracks compiled by WFMU DJ Mr Fine Wine meant to get your groove goin and entice a party. All pulled out of the King/Federal archives, with tracks from 1955-1964, we got some familiar faces like Hank Ballard and Freddy King but a lot of lesser known cats as well, like one gem by a certain Tiny Topsy. All utterly scrumptious, from the spicy Latin instrumental opener led by drummer Cozy Cole to the whistle-response sing-along and Doo-Whomp snap-bass boogie of Mel Williams and Eugene Church; gettin dirty at the Swingset with Bill Doggett, then chick-boom-a-clackin with the percussive layering from Little Willie John, and of course some gut-wrenching harmonies and rhythmic roundabouts a la Tiny Topsy. These tracks will make you wanna grab your woman, sway your hips and throw your hands in the air. Twist, shake and boogie!
Reviewed by abacus on February 27, 2013 at 2:13 pm
ImpRec300 is a compilation of live recordings from eight groups. Seven are instrumental tracks and one is with vocals (Bardo Pond). Most tracks are about five minutes in length.
Side A tends more toward psych/Kraut/space rock. Mugstar's selection is more of a slow jam, while Cave's piece picks up the pace. Grails is like minimalist funk with repeated bass line and drum with some simple electronics. Bardo Pond does what they do best with the slightly mysterious vocals.
Side B is in a more meditative, ambient and drone vein. Master Musicians of Bukkake use what sounds like temple bells to definitely invoke the tone for side B. Chord has a very quiet piece as does Bass Communion & Pig. There is the surprising end piece by NHK yx. This last work starts out in a similar style as the previous three selections but turns into quiet electronic beats, changing the mood, slightly, of the rest of the album. It's scratchy in all the right places.
This album is a celebration, of sorts, of Important Records 300th record in 10 years. It's a great introduction to the label and some of it's bands for those who are unfamiliar with what they are about. For those who know the groups, it's enjoyable to hear the live recordings.
Reviewed by Naysayer on February 27, 2013 at 12:49 am
Battisti (1943-1998) was an Italian singer/songwriter who was popular in his native country for three decades and considered a major influence on Italian pop music. This is his self-titled 1969 release, mostly upbeat and catchy, although there are some moments that are kind of moody and evocative of something. All vocals are in Italian. Strings and horns and other musical flourishes were added but the record doesn't seem overproduced; it strikes me as a typical pop record of the period. Side A ends with a bit of a jam… was that a backwards guitar? I believe Battisti generally wrote the music and worked with various lyricists over the years. He got more into "concept albums" in the 1970s and some of these tunes sound as though they may be part of something bigger; but I don't understand the language so I couldn't say. The record ends with an unexpectedly heavy rocker. All in all, a worthy addition to KFJC's International library.
Reviewed by Max Level on February 26, 2013 at 9:23 pm
Filed as 12-inch,International
The second volume of the Minimal Wave Tapes, compiled by Veronica Vasicka and Peanut Butter Wolf, released through the Stones Throw label. This is a fantastic collection of hard to find tracks from 1980s minimal electronic artists and producers, including In Trance 95, Hard Corps and others. Some of the tracks certainly sound dated, but so many have drawn from these sounds that they're almost iconic. "What Happened to You" by Subject combines electric guitar power chords and drum machines that so many would later emulate and define the darkwave and minimal sounds of the 80s, while tracks from Hard Corps and Phillipe Laurent sounds like electro inspired cuts that could just as easily be in a goth danceclub, dropped between Bauhaus' "Ziggy Stardust" and a Siouxsie song as on a soundtrack of an 80s scifi movie. There are some absolutely outstanding tracks here including Ohama's anthem "The Drum" and In Aeternam Vale's "Annie," which is so beautifully proto-Ladytron that I had to listen to it six times in a row. Any one who appreciates the genealogy and history of electronica and dance music will love this album.
Reviewed by incognito on February 26, 2013 at 8:21 pm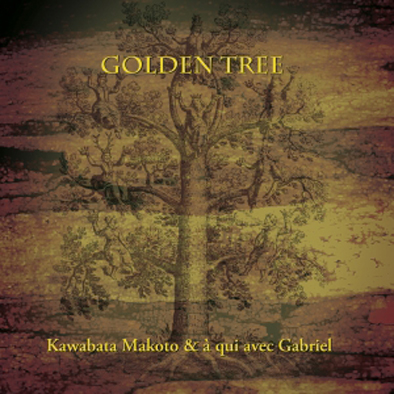 "Golden Tree" is a collaboration between Acid Mothers Temple's Kawabata Makoto and accordionist/vocalist a qui avec Gabriel. The 3-track full length release is a shimmering, evocative droning ambient study in soundscapes, with Makoto's guitar creating a rhythm and melody, with accordion dancing around it. The track "Solid Torus" is a 26 minute journey through sound moving from playful to ambient to menacing atmospherics. The duo works seamlessly together, and the result is a very pretty and light record, sometimes droning, sometimes atmospheric, always inventive.
Reviewed by incognito on February 26, 2013 at 7:55 pm
A 2012 release documenting one era of composer/percussionist Corner's ongoing collaboration with dancers–these two side-long pieces (24 mins and 20 mins) are from 1989, recorded in Corner's NYC loft. The artist performs solo on his familiar tam-tam, a highly resonant metallic instrument similar to a gong. Seems to be a feedback-type system at work here, wherein the tam-tam makes a sound which a dancer responds to, which informs the next tam-tam contribution, and so on. Quite nice–sometimes resonantly meditative and sometimes more active and percussive. I especially like the last third or so of Side A, which is more single-minded and rhythmically pulsing than the rest of the record. A few random sounds are included here and there, such as a telephone ringing in the background a couple of minutes into Side B. The liner notes tell us that "all distortions are inherent and desired" so keep in mind this is meant more as a document than it is a flawless recording. The round sheet metal pseudo-gong attached to the album cover is a nice (though odd) touch.
Reviewed by Max Level on February 26, 2013 at 7:28 pm
Raime's "Quarter Turns Over a Living Line" is the duo's first full length release since their inception in 2010. iTunes seemed to place them in the "dance and house" genre, although for the life of me I cant figure out why. While they may have elements of dance and electronica, their sound is such a unique hybrid that it cannot be very snugly squeezed into a genre. This LP for the most part sounds ambient, using moody atmospherics and slow, deliberate drum patterns. Raime creates big open spaces, punctuated with often syncopated, distinct, yet quite minimal and almost background drums. The melody, if you want to think of it as such, mostly comes from the clean, heavy low end, and airy samples and stabs. I particularly liked "Exist in the Repeat of Practice" and the closing track "The Dimming of Road and Rights," although I absolutely and genuinely enjoyed every moment of it. This is a fantastic album, worth listening to again and again.
Reviewed by incognito on February 26, 2013 at 7:27 pm
You can almost hear the wind rushing through Jackie Oh's silk-scarved hair as she speeds along the coast in her sky-blue Buick convertible. This pop rock blast from the 60s past is energizing and fast paced, with guitars, drums, and Katie Serbian's vocals adding the perfect feminine touch. Side B is a slightly slower love song that rollicks along. It's all like cracking open a can of ice-cold Coke–you feel refreshed and young again.
Reviewed by humana on February 26, 2013 at 5:17 pm
Angry ladies out of Oakland, Ca making some killer noise rock with punk sensibilities. These chicks got some lungs on them. This is like a conversation where everyone (instruments and people too) is yelling or ranting. Lo-Fi, explosive and energetic…musical in the most non-musical of ways. Uncomfortable, abrasive pairings of sound keeping things just filthy enough while always falling into a rhythm you can bounce to in between spastic outbursts of sonic chaos. Howling feedback, lopsided riffage and relentless interplay. Noise moving backwards on #8. Nifty electronics on #9. These are the sounds of not giving a fuck. Makes me wanna elbow somebody. -Surfer Rosa
Reviewed by surferrosa on February 26, 2013 at 1:43 pm
Next Page »