KFJC On-Line Reviews
What KFJC has added to their library and why...

Two long tracks and one shortie of skritchy scratchy staticy voices, like a deaf-mute's schitzophrenic thoughts as they walk through a quiet bus station depot. Hollow ambient voices turn into a loud stagnant drone, the bus station bustling now, and loud trains whir and whizzz by like an industrial battlecry, then back into a low monotonous dream. Philippe Petit is not the famous tightrope walker, but rather the creept turntablist. The album is based on a dream of Petit's where he dreamed?? Shinya Tsukamoto made a twisted re-make of "Eraserhead," amd he was writing the score… irky.

M. Slim

Reviewed by mickeyslim on December 22, 2011 at 2:09 pm

Like a scary nightmarish dream, this electrified drudge crawls out of the murky muddy swamp and into the demented minds of this foursome from Arizona. The album consists of nin tracks of ghostlike screaming from a man in a dog maks and blackface, psyched out guitar riffs, stony thrumming drumming, feedback galore, and randon tempo changes. The last track, "Did You Hear," is an eleven minute long stoner epic, maniacal laughing and inaudible screaming, bluesy distortion from guitarist, and droning bass; a perfect demonic accumulation of these guys' best. Francis Harold says of his own music, "It's, uh, really tense and really awkward and really confusing, like when you first get ot middle school and you have to dress out for P.E"

enjoy,

mickey slim

Reviewed by mickeyslim on December 22, 2011 at 2:02 pm

Don't judge a book by its cover, this ain't no dancing bubble party.
Two guys, along with a few others creating noise.
Noise, as in, went into their garage, grabbed everything metal, and started blowing.
I almost picture someone trying to blow through a tuba, but it has a sweater stuffed in it. Has that desperate, red faced weakness to it.
Made me need to breath deeply. Suffocating.
Experimentation at an extreme.
Reviewed by cinder on December 15, 2011 at 10:53 am
Wishy washy floating bubbling drowning droning.
One man project, Sam Meringue.
Beautiful sounds of electronic "explorations", have you.
Ghostly singing on side B.
Side longs, or not, they jut from one sound until it bores itself, into the other.
Same vein names – James Ferraro, Skaters.
Reviewed by cinder on December 15, 2011 at 10:51 am
Trippy eves-dropping explorations from Dub Taylor, who once studied with Karlheinz Stockhausen.
Electronics, white noise, and random sound clips.
ARP 2600, moog and synth warbles (think Wonka's TV room) and 80s computer sounds.
Interesting mixtures, great experimentation. Like flipping though radio channels in the car. Even a track for some Dudley Do-Right nostalgia!
Reviewed by cinder on December 15, 2011 at 10:49 am
WOW. A total psychedelic electronic space trip.
Shruti box (!!), synthesizer and drum machine = the perfect astronomical sounds.
Two solid 17 minute tracks.
Evolving, droning, and twisting itself into lush cosmic arenas. Very stellar, beautiful!
Reviewed by cinder on December 15, 2011 at 10:48 am
Basementronics by Nick Hoffman and Stephen Holliger.
One long track of spook drone, dark corners and synths.
Hollow sounding, somewhat dark and foreboding, but not in a threatening way.
Hand screened covers, sparkly!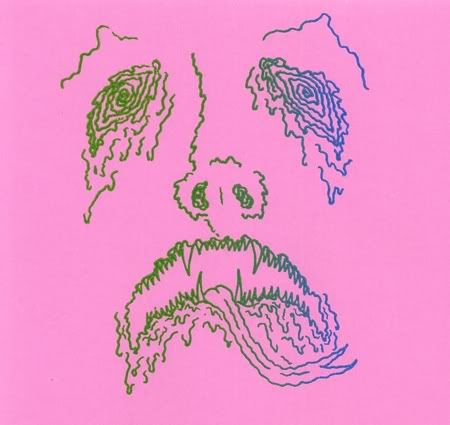 Reviewed by cinder on December 15, 2011 at 10:40 am
Total irritating clipped noise. You'll think it's skipping, but it's actually not. The kind of scratched mayhem to drive any listener insane. Electronic zips and zaps, in between the dead silence. Play this and wait for the phone to ring "is your CD skipping??". Minimal beats along with skidding electronics and warbles. The neat beat noise. Miguel Depedro (Kid 606), Jason Doerck (J Lesser) along with Drew & MC from Matmos make up this project, so now knowing that, it all makes sense. Experimental glitch, and a Joy Division "remix".
Reviewed by cinder on December 15, 2011 at 10:31 am
From the Muscovite pranksters' minds to your bleeding ears. There are just 51 copies of this US tour only set that comes in a very confusing silk-screened folded puzzle of a CD case (hanging on the wall by mambo loco). You could listen to the entire two discs trying to decide if this is primarily a noise piece or rock album and never quite decide. The album starts off with the most unapproachable, screaming, indecipherable rant and quickly descends into all sorts of post-apocalyptic industrial grooves, raucous grinds billowing plumes of distorted anthems, and very danceable ritualistic psychedelia. The entire album is drenched in noisy distortion, haunted echoes and all sorts of nonsensical jabs but for the most part maintains a solid groove that could get you doing a shuffle as easily as it could get you breaking everything in sight. Just wait till you leave master…
Reviewed by abacus on December 14, 2011 at 11:17 pm
Alhaji Sikiru Ayinde Ololade Balogun, who passed away just last year around
this time, recorded this album originally??back in 1982. Alhaji Agba championed
his brand of percussion heavy??and Yoruba style song-chant as "Fuji music"
citing the Japanese Mt. Fuji as landmark of love. This album is mesmerizing
in his deep voice with deeper reverb, and then sometimes augmented by some
of his Fuji commanders voices. Every once in a while, a trumpet trickles into the mix, with a sort of take on "Taps" or similar notes. Each side keeps rolling
with no break despite distinct songs worked in, so I think this was just??one or
two tremendous trippy takes.??The flip side features some English on "Fuji
Americano" but hearing a sample of the title track is what told me I had to get
this record for KFJC.??Other later works of his had more perky beats and
guitar flash and synth cheeriness. This one's more stark delivery and the vocals
grittier and way less processed strongly give it a hypnotizing power. Bluesy
bite in the chant, and a lot of squeeze drums, give this a less pretty feel which only adds to the power. Really a uniquely beautiful record that can please Howlin' Wolf fans, and echo-plex rockers and millions of his Nigerians in his homeland.
Reviewed by Thurston Hunger on December 14, 2011 at 10:12 pm
Filed as 12-inch,International
Seminal Japanese underground band, released in 1971. ??The name comes from the favored drugs of drummer and bassist respectively, plus guitarist Shinki Chen (apparently considered the "Japanese Hendrix" of the day)
Japanese music is often a bizzaro world transformation of western pop; here, we input late-60s heavy sounds ala Blue Cheer and Hendrix, and out comes this warped gem. ??Like much of J-psych, vocals are the weak point. ??A bunch of "hip" phrases gleaned from American records and movies, strung together in an attempt at Hendrix cool, the result is, at times, painful.
Musically, we have glorious proto-stoner rock, heavy riffs, fuzz, and blues guitar.
Reviewed by monster on December 14, 2011 at 9:03 pm
A trip to the Greek underworld complements of No Neck Blues Band guitarist David Shuford (aka D. Charles Speer). His solo work has traditionally been explorations into the roots of American music and the perverse influence of honky-tonks and all the drugs and alcohol that came along with them. Here, however, he explores the similarities in the Greek 'Tekedes,' though with a heavier influence on space and improvisation. The album weighs heavily on the bouzouki (saz equivalent) and more specifically, serves as a dedication to the father of the instrument Markos Vamvakaris (second track is a recreation of his song that translates to "The Sniffer" of drugs no doubt). Each side moves from traditional Greek/Anatolian instrumentation and structures into more open, freeform psychedelic sounds that introduce Western instruments and sounds in a very tripped out, narcotic ambience. There is a wide variety of styles and sounds here and no track sounds like any other. Check out the liner notes inside for in-depth track descriptions. Limited edition 500 copies!
Reviewed by abacus on December 14, 2011 at 7:07 pm
Gianni Gebbia is a Sicilian sax mercenary who gigs all over the euro-jazz festival scene. Here, however, we have an intimate exposition of his seemingly effortless virtuosity. First off, this is a genius concept project as each track is an improvisation around each tarot card within the Arcana Major deck (check out the 'game' explained on rear). All solo explorations of the infinite sonic possibilities that the saxophone has to offer, we have here a centrifuge of tone poems composed of introspective and entrancing repeated arpeggios, enigmatic modalities, desperate struggles to grasp concrete ideas and formless, swarm-like drones. His circular breathing techniques allow for endless sweeps that explore every possible harmonic variation within his tonal journeys. The entire history of the instrument, from classical to modern jazz, is contained within, so intimately executed that you can hear the streams of breath and mechanical clicks that produce every sound. This entire album has a philosophical and narrative flow to it and could be listened to as one piece. Mix it, use it as interludes, play it on its own, just play it!
Reviewed by abacus on December 14, 2011 at 6:44 pm
Fall-out from the recent Fake Hospital check-up. and fantastic
fall-out at that. If you're the kind of person who would walk
over white-hot coals in pursuit of Grouper, Weyes Blood sort
of sounds, prepare for the smell of burning flesh. White
Gourd is apparently Suzanne Stone, her tarot workout includes
loops of synth, spell-bound sax, and echoes of her voice
in mirrors. She can get abrasive too in bursts. Screams aboard
the alien abduction on "Clever Clux Twins." Shrill vox in the
"Ice Caverns" are going to cave them right in.?? But most of this
is really pretty in that raw blitzing way. It's a great kitch
sinking with the television on, and cheap elecrtric
birds short circuiting, and her high priestess-ness getting
higher in waves of sound. Inspired lunacy, do not leave this
Stone cassette unturned.
Tart tantrum tantra
Tease tenseness to tinnitus
Tarot cards on fire
Reviewed by Thurston Hunger on December 14, 2011 at 6:42 pm
Hyper alienation of 1985 Belgium youth. I think it is hard
to get synths these days to sound as raw as Vita Noctis did.
Circuits are too good now and drum machines too snappy.
Here the drum machines sputter as if they know they are
going to be put out of work by a coming wave of Japanese
electronic efficiency. The twin Kips kin formed the band,
and talked Kris' girl Martine Genijn into joining them. She
can sing, but I actually really liked the male vox on the
earlier tracks. Their unsinging matches even better with the
unlearned unplaying! Shouting in a choppy and bitter English,
the songs often stop, lurch, derail and resume again in
another manner. "Introductory Works" and "Hearing Noises"
are just tremendous art-damaged synth displays. Stuck on
that wedge between punk and new wave, there is some guitar,
but like everything else it gets mangled into beauty, along
with the detuned oscillators and dejected lyrics. The bitter
distrust of youth paired up with a nagging drive to put it to
music is always striking to me, no matter the musical genre.
But adding that alienation to the advance of machines via
early electronic consumer instruments and especially the
anemic drum machines here makes for a potent mix. Much
more biting than a lot of the minimal wave reissues coming
out, this was stands true and tart 25 years down the road.
Talk of a reunion worries me, as I think this caught them at
their apex. Am I the only one who caught an eerie draught
of "Dead Ringers" while listening to this? An exceptional
rerelease, kudos to Dark Entries.
Bitter synth of youth
Foreign feeling foreign tongue
Dark Belgian Brilliance
-Thurston Hunger
Reviewed by Thurston Hunger on December 14, 2011 at 5:45 pm
It's easy to see (and hear and enjoy) this as another
example of the KFJC/OCD connection. And this is a CD
that plays better with others on the radio than at
home from start to finish. The simple recipe is the
boca di Bosetti, motormouthing his way through text
and with guitar shadowing his every little step and
tonal leap. But often times, I sonically blurred
the text out and followed the aquatic refreshment
that is Tony Buck (the Necks!) on percussion. He is
always so damn good. Kenta Nagai is the shadowy
guitarist, playing a sort of depressed, muted wah-wah
that puddles around every Bosetti word. On "Spaceship"
the approach is quite different, Bosetti is slowed
down, and multitracked and sounding like a taffy
opera. On that last track Nagai no longer "speaks"
at the same time. I actually preferred the other
tracks, as the tension of the guitarspeak and
Bosetti babble (the words sort of make sense, sort
of don't and loop themselves at times) worked, I
think live, if the echolalia vanishes then Bosetti
can bring his electronics up and the drums crescendo
and it must be very impressive. Overall it's a nice
son of Text-Sound exploration…
speech of consciousness
wth Peanuts parent guitar
mwah mwah mwah mwha mwha
-Thurston Hunger
Reviewed by Thurston Hunger on December 14, 2011 at 5:43 pm
Dug the recent 3eese we were shipped, and then
happy to see this fly in through the KFJC mail slot.
Evidently 3eese, Geese and Frozen Geese are all
connected at the Lazonby-on-Bailey. Two live in
Leeds keybards and knob-goblins. Graham Bailey
on synth and effects, and David "Lazerboy" Lazonby
beaming hammond organ and other waves into
the prog-psych soup here. This one long piece,
split in vinyl half, starts in an imaginary subway
with a shemale robot public briefly announcing
departure, but the music then moves out into an
electronically dappled bush of ghosts. This Frozen
Geese config features five gents, and Stephen Goodwin
(whom I think is an erstwhile drummer) is key, anchoring
the freak-for-all here with deep rooted bass playing.
Simple, stalwart and a hint of spook Czukay. Plenty of
analog bubbles in this jammy outing. Felix Frey fuzzles
his guitar, percussion comes from Lazonby's Boss DR55.
Normally I'm not chemically as susceptible to long jams
as my fellow KFJC DJ's but, I found the shape-shifting
on part 1 very compelling. Nice for transferring from the
beat and ambient territories to rockier realms. The
Frozen Geese might flock together with a Mother Mallard even.
Falling from the sky
Frozen Geese pluck mushroom jam
From Uncle's old synths
-Thurston Hunger
Reviewed by Thurston Hunger on December 14, 2011 at 5:38 pm
??
There are a lot of great things about David Lee??Jr's "Evolution" but the one drawback
is ironically its lack of evolution. Super session drummer, this is his only release
(1974 limited to 400 copies, reissued by Soul Jazz/Universal Sound), so now snapshot
of evolution on other releases. Even on this album, his compositions are??mere sketch-pad
enticements. The long title track is actually a composite of further tight but??sweet short
ideas. Even though he sings "I Don't Want to Go Now" on "Love Parable", you sense maybe
he was okay not being the focus, which is unfortunate. His tuneful playing, and working in of
chimes and vibes (long before any Chicago/Sao Paolo Underground action) leave you so
hungry for more. I checked the samples before buying and was over the moon about this,
but the samples might actually be longer than the actual tracks ;> Seriously though, he
has some nice help from Bob Cranshaw on electric bass and George Davis on guitar on
three tracks, but it does feel like a lot of effort was solo mono-tracking and stacking up
the ideas, but not finding ways to connect them. Like an artist too full of images to finish
one??painting? Still I am grateful for this window. Lee wears his New Orleans pride on his
sleeve and sticks, with tracks like "Nola Reflex" and "Second Line March." Not quite
Purdy-licious, but definitely supernal.
??
New Orleans New York
Drummer second line marched up
Soul patrol short watch
Reviewed by Thurston Hunger on December 14, 2011 at 5:27 pm
Singer/songwriter Bridget St John was a favorite of the late John Peel, who presented her on the BBC frequently… his voice resides here in numerous spoken intros. Stylistically, St John is not so traditionally-0riented as other British singers of the time; her influences instead draw from Donovan, Joni Mitchell, John Martyn, and Buffy St Marie. Her voice is reedy and pitched much lower than most female singers of the time, and when she's heard dueting with Kevin Ayers, he often sings a higher part than she. Her guitar playing is quite accomplished (nothing fancy, but very detailed and appropriate) and some tracks add backing from players associated with 10 Years After, King Crimson, Soft Machine and "Tubular Bells" — a little heavier company than perhaps you might expect. These tracks are all BBC recordings, some actually derived from over-the-air transmissions recorded non-professionally. The first disc contains the best sounding audio, with the second being quite lo-fi at times. St John released a few albums on Peel's "Dandelion" label (you'll find one of them in the KFJC B Library vinyl stacks). She now lives in the US and still is active, if only a bit. ( crimes )
Reviewed by ArtCrimes on December 14, 2011 at 12:47 pm
Na Hawa Doumbia's sound reflects the??Wassoulou??style, quite different than the "Desert Blues" we often associate with Mali. This is mostly upbeat music with her soaring vocals floating over relentless percussive plucking on the??kamale ngoni ("youth harp") accompanied by electric guitar, bass and percussion. A nice combination of Western instruments well integrated with traditional African sounds; there is no attempt to sound commercially relevant. Doumbia is still active, with many LPs in her back catalog (KFJC has one of them on vinyl). This is a reissue of 1982 LP, out on new "Awesome Tapes from Africa" label. ( crimes )
Reviewed by ArtCrimes on December 14, 2011 at 12:27 pm
Filed as CD,International
Next Page »