KFJC On-Line Reviews
What KFJC has added to their library and why...

A summer 2009 LP release by Samara Lubelski, "Future Slip" is a dreamy, wistful ride from the NYC music veteran of Hall of Fame, Tower Recordings, and many other projects. This is her 5th solo release and it was produced by Thurston Moore. Samara has a crispy, whispery singing style that has a tad of the folky retro feel of Vashti Bunyan, a smidgen of the girl-group jangle of Softies-era Rose Melberg, and a hint of a sedated Stereolab. Her breathy, spare vocals combine with piano, Rhodes, guitars, etc. And, as long as we're mentioning Sonic Youth, this would also fit comfortably alongside some of their quieter and Kim Gordon-voiced pieces. Beautifully breathy psychedelia.

Reviewed by lombard on November 30, 2010 at 4:07 pm
Released in September, 2010, this album by Evon, "The Bees are Coming," features a number of SF Bay Area artists and is led by composer and artist Agnes Szelag. Agnes composed, performed, recorded and produced this and shows her chops on a dizzying number of instruments (cello, bass, guzheng, harp, guitar, harpsichord, vibraphone, singing bowls, glockenspiel, piano, electronics, etc etc!).
The overall effect is at times heavy, with the album starting up with deep bass sounds that lumber into a monster-movie soundtrack and then twist into beauty with pretty Eastern-flavored plucking, along with warm percussion, marimba, vibraphone and woodblock. Agnes' vocals then come in, providing a slightly jazzy accent. It can also be atmospheric, with prominent strings and vocals that are at times fuzzy accents, floating and dancing with the music. It's kind of like chamber pop meeting some jazz performers at the symphony for the screening of a film noir, with the loveliest sounds resulting from that marriage.

Reviewed by lombard on November 30, 2010 at 3:22 pm
This Turkish band takes you on a quite pleasant instrumental excursion with masterful electric guitar work and percussion. Ethnic flair permeates the psyche rock sounds. Side B has a definite surf feel, especially ???Snakesurfing.???
Reviewed by humana on November 29, 2010 at 12:31 pm
Filed as 12-inch,International
Low-fi garage pscyhe rock out of Lansing Michigan. ???Make You Understand??? has dogs barking and a fast pace. The other songs are somewhat slower. Solid debut outing.
Reviewed by humana on November 27, 2010 at 6:09 pm
In 2004 Quantic traveled to Addis Ababa, Ethiopia and unearthed albums that reveal traditions of Ethiopian music rarely heard anywhere else. Quantic presented this mix of the treasures he found as an opener to an LA show featuring Mulatu Astatke, Ethiopian jazz pioneer. Sit back and let DJ Quantic???s magic transport you to Eastern Africa.
Reviewed by humana on November 26, 2010 at 4:39 pm
Filed as CD,International
Kitty Brazelton is a composer, performer, and music professor at Bennington College. An oratorio is music for instruments and voice that tells a sacred story, this one is based on Ecclesiastes 3 from the King James Version and also from Brazelton's own translations. It is called "modern" due to use of found sounds and drones from the laptop and other techniques that are more recent.
The music for voices, strings, percussion, bells and other background is beautiful, often very haunting and unsettling. Some tracks remind me of aboriginal Australian music, even Tuvan throat singing.
Notes:
– Words "to every thing there is a season" will be familiar from the Pete Seeger 1959 tune that became the huge Byrds hit "Turn, Turn, Turn" in 1965.
– Ecclesiastes is pronounced "ih-klee-zee-AS-teez"
– Computer readable pdf file on CD with more information.
Reviewed by Cousin Mary on November 24, 2010 at 12:09 pm
This CD contains bonus tracks and video for this 1974 album by Scottish folk musician Bert Jansch. Former Monkee Michael Nesmith produced and played guitar. Musicians include Red Rhodes (steel guitar), Byron Berline (fiddle, mandolin) and Jesse Ed Davis (guitar).
Very fancy guitar work, nice singing. Jansch fans will get a kick out of the archival footage in the video.
See also review of main 12″: http://spidey.kfjc.org/index.php?p=3934
Reviewed by Cousin Mary on November 24, 2010 at 11:18 am
Filed as CD,International
This is the soundtrack to the recently released film "135 Grand Street New York 1979," which documented the No Wave scene in New York City. The soundtrack includes raw, no wave performances by Theoretical Girls, UT, A Band (kind of surf-influenced, lo fi garage), Rhys Chatham, Youth in Asia, The Static, Chinese Puzzle, Morales, Steve Piccolo, and Jill Kroesen. A great document of the no wave scene and its experimental, art rock sounds, from minimal to intense.

Reviewed by lombard on November 23, 2010 at 4:13 pm
Filed as CD,Soundtrack
On their new sophomore full-length "Invocation," Oakland/LA-based KIT gives us a great blend of rock with some melodic girl-group moments in the vocals. Recorded with Phil Elverum in Washington, it's super fun and upbeat with pounding drums (often at the forefront), a bit of math-rock, feedback, drama, and lady vocals. "Cure Light Wounds" is one of my favorites, with its girl punk, yelled vocals, and lyrics referencing a broken heart that makes the singer ask, "Did you put a hex on me, a curse, a charm?" Members include Vice Cooler, Steve Touchton, Kristy Gesch, and George Chen and on this release they also have some guests, including Nora Danielson on vocals and violin and Themba Lewis on upright bass, vocals and noise guitar.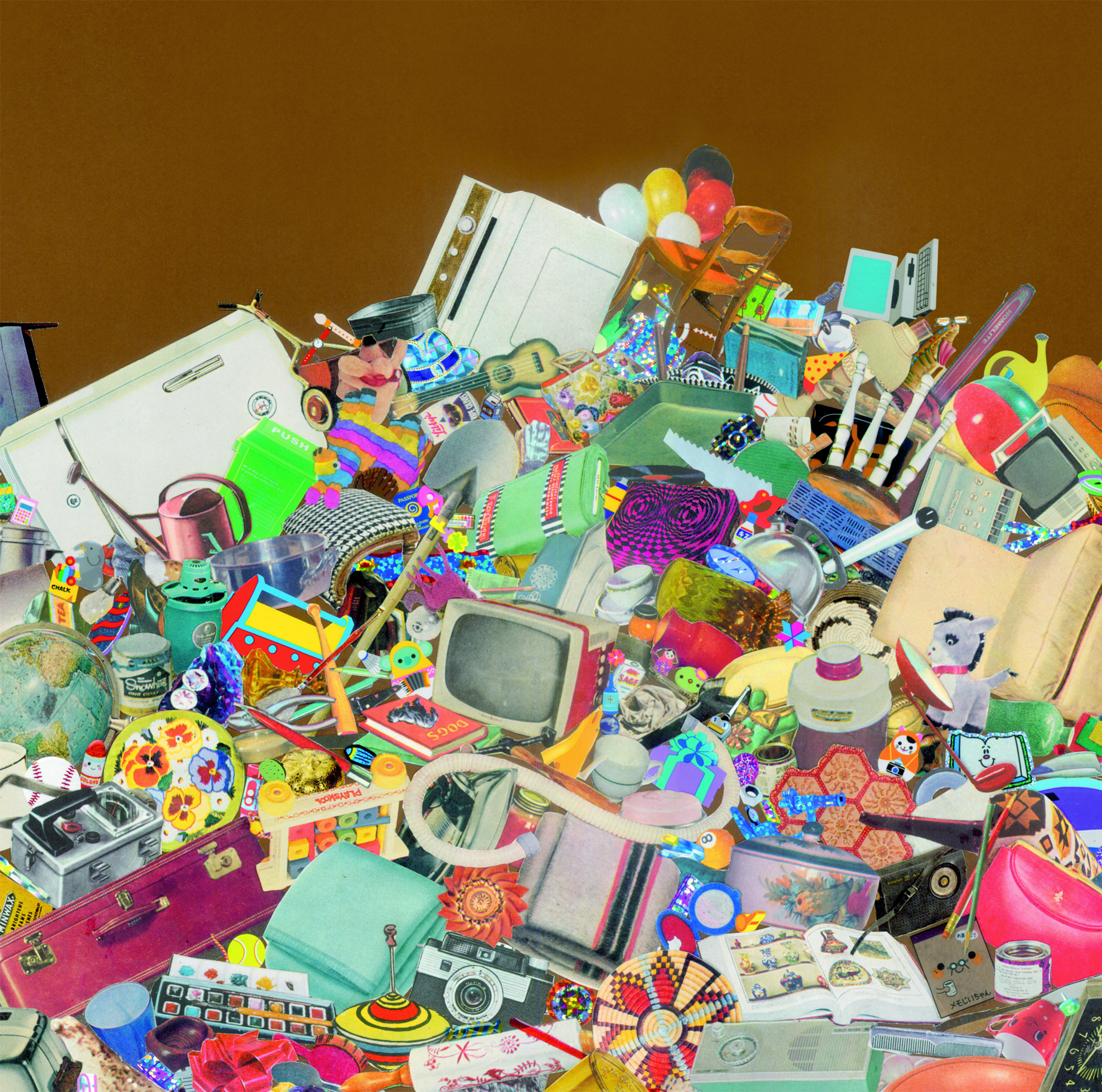 Reviewed by lombard on November 23, 2010 at 3:19 pm
This brand new release "Liasons" from Bronx duo Pigeons is simply gorgeous. Their third album is a pleasantly sedate blend of lo-fi psychedelia-infused pop. While listening I was reminded a little bit of Kendra Smith's Guild of Temporal Adventures with moments of a slowed-down, Quaaluded Strawberry Switchblade. It has a far-away folky feel, with muffled vocals that sound like they are coming out of an AM radio. Flute pops in here and there, as well as some dramatic organ. There's a swank French flavor on two tracks (including a Serge Gainsbourg cover).

Reviewed by lombard on November 23, 2010 at 1:59 pm
FUCK YES- another Sun City Girls album! This one was recorded in Seattle by Alan Bishop, Randall Dunn and Scott Colburn. Alan Bishop does vocals, acoustic and electric guitars, electric bass, pitch pipe, mandolin, organ, mellotron and percussion. Richard Bishop on electric guitar, piano, organ, vocals, acoustic guitar and electric bass. The late Charles Goucher on drum kit, gamelan, gongs and misc. percussion. Also featured on this release Jessika Kenney on vocals on A-3, A-5 and B-4, Eyvind Kang on viola on B-2 and B-4 and David Carter on trumpet on B-6. This is mind blowing stuff, typical of what we have come to expect from these masters of their craft. These records are of limited issue and very rare. I started becoming obsessed with the Sun City Girls because of my interest in Alan's solo work as Uncle Jim and Alvarius B (which I would highly recommend). Track 5 on Side B is a cover of an Ennio Morricone arrangement.

Reviewed by ophelia necro on November 17, 2010 at 1:30 pm
From Middlesbrough in North East England, Oli Heffernan has been making loops, field recordings and 4-track recordings since the mid nineties. He has played with a numerous projects over the years including bands like The Fall, Echo And The Bunnymen, Clinic, John Cooper Clarke, Leaves, Future Of The Left, and Archie Bronson Outfit.
Detective Instinct, gets it's name from the song by The Fall. This EP is the first of a series of 4 collaborations titled: "Detective Instinct Presents". The project began when Heffernan rediscovered old recordings, he then wrote to a few musicians he had previously worked with and they began a type of online exchange of recordings. This release features a collaboration with The Champagne (of Country Teasers and Gag). Post punk with very elaborate percussive elements and plenty of social commentary. In the midst of the songs are field recordings of haunted buildings, people going about their daily business, and lots of found sounds recorded while he was on tour with Das Wanderlust. The cover art for the series as well, was found in an old book of woodcuts. This is really marvelous stuff and I can't wait to hear more.
Released on Sick Room in Feb. of 2009.
Reviewed by ophelia necro on November 17, 2010 at 1:07 pm
Hasan Abdur-Razzaq and Ryan Jewell from Columbus, Ohio's improv scene combine with Tom Abbs of New York to produce 14 noisy, frequently squawk-y tracks that show a lot of energy and satisfying interaction of reeds, percussion, strings and special effects from found objects.
Sometimes a bit hair raising, the cuts grew on me – some of the shorter tunes would be a good introduction into modern improvised jazz.
Notes: Unusual instruments include saxello (straight B??? soprano with a slightly curved neck and tipped bell), tarogato (single-reed, conical-bore woodwind), and the tongue drum (wooden box, with tongues (keys) to be played by mallets or fingers).
Reviewed by Cousin Mary on November 17, 2010 at 12:31 pm
In his copious and almost impenetrable liner notes, Schuller (American, born 1925) seems to be saying that his 12-tone compositions have some elements of the classical form and that makes them more digestible.
In any case, the Symphony (1965) is a big work with lots of cool percussion, at times with a cinematic drama. Constantly moving and engaging, it could give 12-tone a good name.
The Quartet for Double Basses (written in 1947) is rather dark and brooding – not a surprise with 4 low-register stringed instruments. I enjoyed the unique instrumentation and the hearty forward momentum kept my interest.
Reviewed by Cousin Mary on November 16, 2010 at 11:28 am
2010 recording in San Francisco captures a collaboration of strings (violins, cellos, bass koto, and contrabass) with Rent Romus on alto and soprano sax. Exploratory, experimental improvisation works more on some tracks than others for the listener to this CD – some of the pieces might very well have been more striking in live performance.
(X)tet name refers to a varying number of players, also the X factor inherent in improvisation. Tracks 5 & 6 have more sax sound; on other tracks, sax is less prominent.
Reviewed by Cousin Mary on November 16, 2010 at 10:04 am
"Free jazz" trio Air recorded these tracks in Chicago in 1975. Free jazz in this context is challenging but not grating. Tracks are all over 10 minutes long, but never long enough. Each musician has lengthy solos that are pure pleasure and mind blowing – I kept changing my mind about which one was the lead or for that matter, my favorite.
Notice that Threadgill plays a different instrument on each track. One example is track 4, a must listen for flute fans.
Reviewed by Cousin Mary on November 16, 2010 at 9:32 am
Extremely Spirited Live recording of an evening at the famous Cafe Oto in North London. Decoy play there often, but on this particular night, they were joined by Saxophonist, Joe McPhee. This performance must have been a sight and sound to see. Out of the gates, these guys turn up the heat and never really stop cooking throughout the entire set massive set. Track 1 is just under 40 min. Track 2 clocks in at about 30 min, and then the 3rd track is a measly 8 min. Again, Massive, in a word. Amazing in another. Improv at its finest. Dig the Hammond B3 channeling Sun Ra throughout! Everyone is top shelf here. Don't sleep on this!
Reviewed by jacksoil on November 10, 2010 at 6:06 pm
Maggi Payne is Co-Director of the Center for Contemporary Music at Mills College in Oakland where she teaches recording engineering, composition, and electronic music.
Her sources include leaky faucets, running toilets, light bulb filaments, floor furnaces, boiling tea water, dry ice, ball bearings, and static-y space transmissions, just to name a few. In this CD, she takes these very commonplace sounds and processes them to make extraordinarily beautiful electro-acoustic art. I hear that they are presented with video art in performance, but the audio stands well on its own.
Liner notes detail each of the seven tracks. Lots of interesting info, including an extensive biography, is at her website http://www.maggipayne.com/
PGM: Some volume levels are quite low, minimal sounds that might not be audible on a car radio.
Reviewed by Cousin Mary on November 10, 2010 at 11:03 am
The smooth vocals of Ras Michael accompany the mellow drumming and guitars of his ban The Sons of Negus to treat serious subjects such as not selling Daddy more whisky and the familiar rhyme of ???London Bridge.??? ???Hear River Jordan Roll??? does indeed rollick along. Listen and bask in this religious musical experience
Reviewed by humana on November 6, 2010 at 11:37 am
At first these live performances by the Bloomington, Indiana band sound like drone, but then they evolve into psyche, experimental rock with hazy male vocals, skillful guitar, and nice percussion. B1 is more fast-faced than the others, but they are all pleasing.
Reviewed by humana on November 5, 2010 at 4:25 pm
Next Page »