KFJC On-Line Reviews
What KFJC has added to their library and why...
A great record. It may as well be subtitled "People Up to No Good in Sketchy Locations in San Francisco at Night" because that is exactly what it sounds like. A high concept record–music composed by bassist/bandleader Mezzacappa as accompaniment to (and extension of) noir literary works and films that she found intriguing and inspirational. Her detailed liner notes lay it all out. The music is skillfully realized by an ensemble of first-rate local jazz/avant-garde players. It twists and turns, making the listener wonder what is waiting in the next dark alley. Snippets of film dialog pop up here and there, and I like the way the electronics of Tim Perkis add a sense of subtle unease throughout. An evocative ride through nighttime SF more than a few decades ago… Fillmore Street, Army Street (not Cesar Chavez), Green Street, etc.
Reviewed by Max Level on October 17, 2017 at 9:36 am
Reeds/drums/bass exploration recorded in Milan in 2012. Although Sakata has worked with both Bill Laswell and DJ Krush, he stays well within the free jazz idiom herm, with a soulful, searching sound that recalls both Ornette Coleman and Steve Lacy. What really makes this album special, however, is the near-telepathic communication among the band members, all the more remarkable given that this was their first meeting. The first track begins with the players quietly testing each other, but they quickly cohere around a common thread and move through a variety of spaces. The second track is quiet and contemplative, with Sakata switching to clarinet, Centazzo dazzling us with an array of bells and chimes, and Fujiwara drawing out tones with his bow. Track 3 picks up the pace again, and then on track 4, we're in for a treat as Sakata puts down his horn and grunts and growls his way through a Damo Suzuki-esque dirge. The last track is based on Stella by Starlight and sees the drums and bass play it (relatively) straight while Sakata blows over the top. Overall, well worth your time if you're into this sort of thing.
Reviewed by Phil Phactor on October 4, 2017 at 6:12 pm
The track/album name comes from a 1610 astronomy work by Galileo. Sidereus Nuncius is often translated as "Starry Messanger". Here it is a highly improvised musical work for viola, violin and tenor sax. Very breathy, wispy, fluttery and delicate. Recorded live in Seattle in 2006.
Reviewed by Cousin Mary on October 4, 2017 at 3:10 pm
Conrad Winslow is a composer working in Brooklyn from Alaska and has studied at NYU and Juilliard. The group is violin, flute, cello, and percussion. It's got that fun silence silence silence then crash John Cage feel I personally enjoy. The whole thing is also a performance piece with costume and candles and choreographed ritual-like movements. Very brainy High Art kinda stuff.
-Billie Joe Tolliver
Reviewed by billiejoe on October 4, 2017 at 2:37 pm
A brilliant recording by Hungarian viola player, Szilard Mezei and Italian piano player, Nicola Guazzaloca. These master musicians pair up for recordings at 2 concerts and give performances of improvisational bliss. From slow and quiet almost silence, to loud bursts of volatile sound, Szilard bows, scratches and engulfs his viola, nursing and cursing a rich array of sounds, even bits and hints of Hungarian folk tunes. Nicaola, plucks and strums the inside of the piano then moves to eloquent chords, patterns, trills and other innovations on the piano keyboard. The interplay between them is thrilling to listen to, hearing the two shadow and mimic each other, then explore around the other's sounds. Serious for sure, but fun. Lots of fun from these improvisers.
Reviewed by Naysayer on September 18, 2017 at 11:06 pm
Recorded last year. Jazz improv jam with Hocevar leading on drums, Fraser on bass, St. Louis on cello, Clarke on synth, Corren on piano, Rasmussen and Qu on sax, and Tevis on trumpet. Skronky crashy good time. 48 minutes long. Just strap in and enjoy.
– Billie Joe Tolliver
Reviewed by billiejoe on August 30, 2017 at 5:01 pm
being on top is a good hip opener – claudia la rocco's voice is a quiet snarl: calm, measured, sometimes provocative, always defiant. – remember the way her legs spear and thrust – each track finds her accompanied by a different set of bay area musicians. – put the mountain in a box, put the box in a dumpster – rumblings and rattlings, abrasive synths, extended techniques galore, the sounds are sometimes with and sometime against, but always underneath. – your skin looks buttery and delicious – it's la rocco's voice that dominates, telling stories about ballet, the body, poisonous relationships, and sexual violence. – you don't cry anymore when you're sad – smack in the middle of the album, "public access" (T5) sees la rocca in conversation with saxophonist david boyce and the mood briefly relaxes. – do you want that kind of attention?
Reviewed by Phil Phactor on August 28, 2017 at 11:20 pm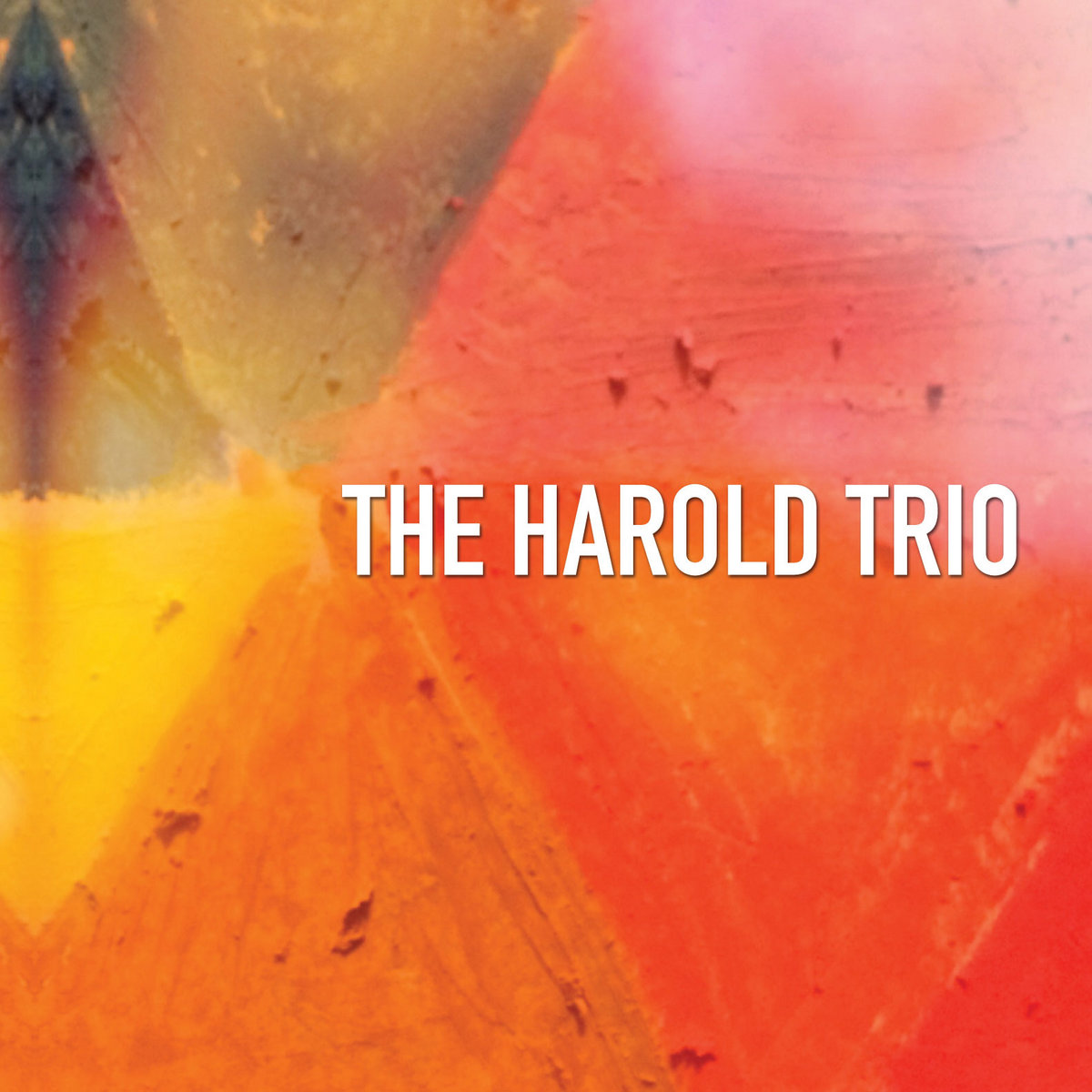 The result of an exchange between the Washington and Sweden chapters of Women in Jazz, The Harold Trio recorded this in LA for Edgetone Records in May 2016. All three women are international performers, working in places as diverse as India, Brazil, Uganda, and Sweden. They bring a broadly-informed sound that draws on jazz, classical musics, and improvisation to these impressionistic improvised tunes.
Amy K Bormet (piano/wurlitzer/voice)
Biggi Vinkeloe (alto saxophone/flute)
Tina Raymond (drumset)
Reviewed by Hemroid The Leader on August 22, 2017 at 2:28 pm
This is the second album by the Schimscheimer Family Trio, the fake sibling musicians this time accompanied by their fake uncle (Ben Goldberg on Bb and contra-alto clarinet). "Broken Home" is a sort of concept album musically describing the families semi-traumatic family experiences, their fake relatives, and some animals that could cause problems. All instrumental, Jon Arkin (drums, percussion, electronics), Michael Coleman (keyboards) and Kasey Knudsen (alto sax, electronics) are working in Henry Cow territory, sort of, with a lot of other ideas floating around. Songs might start out with a straight ahead jazz riff and then change into a series of repetitive notes, jumping into a tappable rhythm which then gets covered and challenged by another rhythm. Tempos change, time signatures change. The sounds twist and bend. Yet it sounds light and humorous. The quality of the musician's skills is superb. They are putting so many sound ideas in to play, yet in this enjoyable almost bouncy way, with out letting you forget the sinister underneath. A truly enjoyable experience and a great listening surprise.
Reviewed by Naysayer on August 21, 2017 at 12:44 am

Dan Phillips is a Chicago guitarist who moved to Bangkok Thailand 20 years ago. His music is featured here and it is Groove oriented but also pays tribute to the AACM. Hamid drake on drums. Brass section is very strong. Recalls Raul Bjorkenheim, or Lester Bowie' s Brass Fantasy.
Reviewed by Hemroid The Leader on August 9, 2017 at 2:57 pm
Somewhere between AHH! and UH! lie these collectively improvised free jazz livestock orgies out on improvising beings. The same 50-minute-plus composition is performed in the studio on disc 1 and live on disc 2. Linda Sharrock's post-stroke vocals are wild and primal. Very challenging and rewarding. The sidemen are right along with her, Itaru Oki, Makoto Sato, Eric Zinman, Mario Rechturn et al. CD1′s larger group's collective improvising recalls Ornette Coleman Free Jazz LP. CD2 is a smaller group and it gets raw.
Reviewed by Hemroid The Leader on August 7, 2017 at 9:12 pm
Chris Corsano – drums
Sylvie Courvoisier – piano
Nate Wooley – trumpet
The premiere recording of this lineup, in Brooklyn 2015. These four tracks work out a very promising relationship. Wooley and corsano come from a DIY/free music background and Courvoisier was educated at the conservatory in Lausanne. But maybe these distinctions are not very important as they are having a very advanced musical discussion.
The first track is 21 minutes long and it is the wildest and most tenuous. They continue to explore through the next two and by the last tune there is a sound. This band has a great sound and I think they would be crazy not to record more of it.
Reviewed by Hemroid The Leader on August 7, 2017 at 4:54 pm
Trumpeter Rob Mazurek (Chicago Underground, Isotope 217) and electric pianist Thollem McDonas (Tsigoti, Estamos Ensemble) meet for the first time in Marfa and head for the outer limits. As might be expected from a pair of experienced improvisers with incredibly diverse interests, they hit a variety of spots along the way. It helps that Mazurek is packing a sampler, a modular synth, bells, and his prodigious voice in addition to his horn. Electric-era Miles is the obvious referent, but there are also Oval-style glitch experiments, modular synth workouts, free-folk psych freakouts, and even some "straight" free-improv. Of particular note are those moments when Mazurek's shamanic chanting breaks through the squall, and the whole thing threatens to break itself apart. Noisy, messy, and joyous.
Reviewed by Phil Phactor on July 26, 2017 at 7:05 pm
Follow up to 2016′s Wood Flute Songs oversize box. All compositions William Parker. In the tradition of Mingus and Ellington. Both CDs recorded live on the same day in 2016.
Parker's namesake quartet on CD1 features OKC's Jalalu Kalvert-Nelson on trumpet, CD2 In Order To Survive quartet features Cooper-Moore on piano. Both CDs feature Parker-bass, Rob Brown-alto, Hamid Drake- drums.
CD1 – Kalvert-Nelson on "Rodney's Resurrection". Brown on "Handsome Lake." Drake and Parker swing hard all disc.
CD2 – Cooper-Moore channels Cecil Taylor and Don Pullen. Check out "Some Lake Oliver." Parker's bow on "Sunrise .." lets you know he is completely in control.
Reviewed by Hemroid The Leader on July 26, 2017 at 5:29 pm
Oakland-based percussionist and composer Jordan Glenn is a modern-day Mingus, known as much for his mastery of his chosen instrument as for his unique and compelling ensemble work (cf. BEAK, Wiener Kids). Here, he collaborates with Jim Ryan, a Bay Area poet who used to pal around with Allen Ginsberg and William Burroughs. Glenn's compositions feature hammered dulcimer, vibraphone, and piano, and mesh perfectly with Ryan's gravely, sage-like voice. The mood is mostly somber and melancholy (although watch out for T5 which works itself into a bit of a frenzy with some hand percussion and guitar pyrotechnics), and I can't help but envision an old man alone in his castle, whiskey coursing through his veins, slowly going insane. Guaranteed to both fit in and stand out in any show. Highly recommended!
Reviewed by Phil Phactor on July 25, 2017 at 1:01 pm
This 1984 offering from Roscoe Mitchell and friends presents a mix of approaches, spread over a half-dozen tracks ranging from 2-12 minutes in length. In opener "Words," vocals and a pair of saxophones tiptoe around one another in alternating bouts of drawn out, held notes and quick choppy phrases. "You Wastin' My Time" features a much larger ensemble busting out an off-kilter, ass-shaking groove with Sugar Hill-esque rap–notable for the percussion, and lots of spirited sax and bass work. Short-form improv "Views A, B, and C" is laid back like a plastic bag caught in the wind. "View D" has almost no percussion, but squeaky everything– these dudes take turns doing insane runs, but make it sound so easy. "Lifeline Lyon Seven" is an upbeat, more traditional cut held down with ride, snare and bass; Mitchell delivers a hazy, extended solo out front. It also includes a frenetic solo by Mike Mossman (trumpet) and some true wackiness from Spencer Banfield (guitar).
Reviewed by milo on July 16, 2017 at 1:10 pm
One long track 39m. Piano and a bunch of fumbling. Will make you think something is wrong with the car. About 38 minutes in a toy drum machine takes over. Noises. A plastic straw makes an ominous sound and brings the proceedings to an absurd finale.
Tanya Chen (Tender Buttons) plays piano, electronics, toys.
The liner notes have a picture of some salmon fillets and a microphone.
Reviewed by Hemroid The Leader on June 11, 2017 at 8:22 pm
Zanshin is a collaboration album between the French experimental jazz trio Lena Circus and the Japanese trumpeter, flugelhornist, and perennial collaborator Itaru Oki, released 2016. The album moves back and forth between minimalistic noise and cacophonous noise, always with trumpet. Drums are an afterthought. Could be good bed music, but the textures are unpredictable tracks tend to crescendo toward the end. On the whole, only moderately interesting, somewhat lethargic, with passages of panic like Miles Davis unable to wake up from a heroin dream. Has two tracks over 10 minutes for bathroom breaks. Squirrels and farts here and there. If you do two takes of an experimental improvisational piece, do you have one track or two. Social Norm
Reviewed by socialnorm on June 11, 2017 at 4:21 pm
Nine wonderful tracks of "free jazz" exploration tempered with continuous references and returns to meter, rhythm, repeated phrases of almost melodic quality. Sylvie Courvoisier on piano and Mark Feldman on violin had recently teamed up with Ikue Mori and Evan Parker for an album, so they come from experience and skill. Adding Ned Rothenberg on clarinet, alto saxophone, bass clarinet and shakuhachi makes for an interesting, challenging and lovely trio. No drums. Fascinating for a jazz album. And not missed in the least. These pieces explore so many dimensions capable with this list of instruments. For instance, when Feldman bows his violin it's more shocking and head shaking than when he plucks, which would seem to make more sense. Songs start off and seem to explode, a rhythm played which begins to twist then loose itself in pure emotion. Pushing the definition of what is jazz, this collection of sounds positively broadens that idea.
Reviewed by Naysayer on June 4, 2017 at 12:36 am
Grosse Abfahrt is a project started by Gino Robair to explore improvisation with large groups or musicians. The core of the group consists of Robair, John Shiurba, Matt Ingalls, Tim Perkis, and Tom Djll. On this album (whos title means something like "airship holiday souvenir photo album") they are joined by Frank Gratkowski, Kjell Nordeson, Liza Mezzacappa, Phillip Greenlief, and John Bisschoff. The session was recorded at Mills College in 2009.
Given the nature of the group, and the wide variety of instrumentation (all kinds of wind, string, percussion, electronics…) I expected something pretty frenzied and cacophonous, but it's actually quite subtle and delicate. The artists spend most of their time listening, and slowly build intricately layered soundscapes that breath and flow.
The album starts off sparse and droney, and slowly picks up some speed as it progresses. Tracks 5 and 6 sound are more energetic and skittery (although still short of cacophonous) than the others, as if the group took a quick espresso break before recording them. There is a brief frenzied climax on track 6 that really hit the spot, and then track 7 slowly unwinds, bringing us back to the vast, wide open spaces that characterize the first few tracks.
Reviewed by Louie Caliente on May 17, 2017 at 6:15 pm
Next Page »