KFJC On-Line Reviews
What KFJC has added to their library and why...
Beethoven's Triple Concerto
Concerto in C Major for Piano, Violin, Cello and Orchestra, Op. 56
Rudolf Serkin, piano
Jaime Laredo, Violin
Leslie Parnas, Cello
Alexander Schneider Conducting The Marlboro Festival Orchestra
Every summer, America's finest classical musicians gather in Marlboro, VT. This dates from 1964. The B side begins with a high-pitched recording defect which resolves just after you begin pulling your hair out. A fine record.
Reviewed by Hemroid The Leader on January 24, 2017 at 10:41 am
Pierre Souvairain was born in Switzerland to French parents, July 30, 1911. In 1953 he joined the faculty at the University of Toronto, and in 1959 he became a Canadian citizen.
These pieces are part of a 19th century genre of solo piano music. Beethoven's Bagatelles, Op. 126 was his final work for piano. He called them "cycle of little pieces," and they are tracked together on this LP. Schumann's Fantasiestucke, Op. 12 was written in 1837, dedicated to Fraulein Anna Robena Laidlaw, an accomplished and attractive 18-year-old Scottish pianist with whom Schumann had become good friends. Dreamy fanciful sketches.
Reviewed by Hemroid The Leader on January 24, 2017 at 10:20 am
String trio published in 1797 when Beethoven was 27 years old. The first of four, all from his youth.
Violin – Jascha Heifetz
Viola – William Primrose
Cello – Gregor Piatigorsky
Reviewed by Hemroid The Leader on January 18, 2017 at 12:10 pm
Horowitz married Toscanini's daughter. Beethoven piano sonatas. Good for the mood.
Reviewed by Hemroid The Leader on January 11, 2017 at 4:47 pm
Beethoven took Viennese music publisher Anton Diabelli's cut-n-paste waltz with one unexpected chord change and freaked it every which way, writing 33 variations. Beethoven pushes the limits of piano composition. Steven Bishop at the piano.
Reviewed by Hemroid The Leader on January 11, 2017 at 3:48 pm
Wolfgang Amadeus Mozart born Salzburg, Austria 1756; died Vienna, Austria, 1791.
Mozart wrote six string quartets dedicated to Joseph Haydn. Here are two, played by the Budapest String Quartet using the Library of Congress' Stradivari instruments, given to the nation by Gertrude Clarke Whitall. Great old Mono pressing from 1953.
Reviewed by Hemroid The Leader on January 4, 2017 at 1:53 pm
Jascha Heifetz – violin (YA-sha HIGH-fetz)
with the BOSTON SYMPHONY ORCHESTRA conducted by Charles Munch (like "The Scream" painter)
Released 1959. Violin concertos. Heifetz was a rock star for RCA Victor, "the greatest violinist of our generation."
Reviewed by Hemroid The Leader on December 17, 2016 at 4:04 pm
Arthur Rubinstein – piano
Jascha Heifetz – violin
Gregor Piatagorsky – cello
Released February 1951. Heavy vinyl, well-loved condition. In his lifetime, Ravel was dogged by critical and public opinion that regarded him dismissively as a follower of Debussy. Mendelssohn's trio is so idiomatic as to be playable by third- and fourth- year students.
Side A – Ravel – Piano Trio in A Minor
Side B – Mendelssohn – Piano Trio No. 1 In D Minor, Op. 49
Reviewed by Hemroid The Leader on December 17, 2016 at 3:44 pm
One look into Rudolf Serkin's steamy bedroom eyes.
Reviewed by Hemroid The Leader on December 14, 2016 at 5:30 pm
Attention MISPRINT: side a is the Mendelssohn Violin Concerto Number 2 in E Minor Opus 64. IMO it is the better side.
According to Billboard Magazine of August 31, 1959, "Violinist Oistrakh, cellist Knushevitsky, and pianist Oborin are instrumentalists first and musicians second. Oistrakh and Knushevitsky don't brush over their strings, but literally dig into them, producing a richness and sweetness of sound found in few trios. As musicians, however, they missed some of Schubert's lightness and grace. Prime material for the chamber music fancier."
Reviewed by Hemroid The Leader on November 30, 2016 at 5:25 pm
Antonin Dvorak (DVOR-jack) wrote the Quintet op. 97 in the summer of 1894 in Spillville, Iowa, a settlement of his fellow Bohemians. Dvorak loved folk music and here he takes rhythmic inspiration from the drumming of Iroquois indians. He would later say the summer in Spillville was his favorite time in America.
B side is the Cypresses For String Quartet – originally songs. Elaboraations on the classical string quartet.
Reviewed by Hemroid The Leader on November 15, 2016 at 1:17 pm
San Francisco Symphony conductor Michael Tilson Thomas in 1976, conducting London's Philharmonia Orchestra & Ambrosian Singers through Claude Debussy's (DEB-u-see) La Mer and Nocturnes.
La Mer is an ode to the sea but also an attempt at a symphony. The usual narrative of a symphony is dispensed with. A vast seascape.
Nocturnes are 3 separate parts, often programmed with just the first two. Clouds, Parties, Sirenes.
Reviewed by Hemroid The Leader on November 15, 2016 at 12:17 pm
Claude Debussy (DEB-u-see)
A1 Saxophone Rhapsody. In 1895 Mrs. Elise Hall, a wealthy Bostonian, commissioned this work for saxophone. Debussy was unfamiliar with the sax, cashed the check, and nothing more until 1903 when Mrs. Hall showed up at his Paris apartment. He was hounded until in 1911 he dropped off the soloist's part, with unfinished orchestration. Debussy called her the femme-saxophone (saxophone woman). When he died in 1918, the French composer Roger Ducasse finished the orchestration and the work premiered at the Societe Nationale in 1919.
A2 Clarinet Rhapsody – Written as a clarinet entrance exam for the Paris Conservatoey.
Side B are 3 pieces by Honeggger that are very energetic, lots of brass and percussion. Very enjoyable.
Reviewed by Hemroid The Leader on November 15, 2016 at 11:56 am
Duo- Leonid Kogan violin- Andrei Mitnick piano. Side A has Fritz Kreisler composition and transcription . Side B Russian composers and great violin technique. Great duo sound throughout, drop in anywhere.
Reviewed by Hemroid The Leader on October 25, 2016 at 11:57 am
Heartbreaker pianist. Bedroom eyes. Mop of hair. Great fingers. Plays the hard stuff. Side A & B1 with Boston Symphony Orch & Kousevitsky (ku- sev- IT- ski)
Died age 31, October 29, 1953. His plane clipped the treetops near Half Moon Bay. No survivors. Was there enough for a legend?
Reviewed by Hemroid The Leader on October 25, 2016 at 11:53 am
Birgit Nilsson, famous upper register. 7th generation Swedish farming stock, the first non- Italian to open the season at La Scala in Milan. Side A Beethoven. B3 from Don Giovanni is a shorter tune. Every track hits the high notes.
Reviewed by Hemroid The Leader on October 11, 2016 at 6:38 pm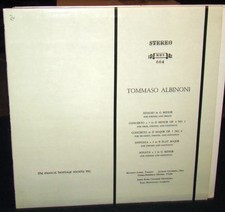 Tommaso Albinoni, self described dilettante, scion of paper-mill wealth, Venetian contemporary of Vivaldi. Known mostly in his time as a composer of operas. None were published so what is known of him are instrumental Sonatas and Sinfonias. Sounds like a car or diamond ring commercial, sounds like Vivaldi, sounds like Classical. B2 is notable for its lack of counterpoint, prefiguring the symphony
Reviewed by Hemroid The Leader on October 11, 2016 at 6:34 pm
Violin virtuoso Sascha Heifetz. Accompanied by his student Eric Friedman and Brooks Smith at the piano. Side A & B1 are Beethoven. Bach Concertos add symphony orchestra.
Great stuff. Heifetz is daring, attacking, penetrating
Reviewed by Hemroid The Leader on October 11, 2016 at 6:26 pm
This album features Bernard Brauchli playing clavichord compositions written in the 1500′s and early 1600′s. He performs on a period instrument – the Tosi Clavichord – which was built in 1568. Doing this review, I learned that clavichords of this era use fretting – more than one note shares a string. This saves space, but means that some note combinations are impossible.
These tunes are readily identifiable as coming from the Renaissance, but the sound of the clavichord is interesting – sounding guitar-like at times, with a bit of twang. Fun to compare to modern electronics in a way.
Reviewed by Cousin Mary on August 29, 2014 at 9:03 pm
3-LP set from the 1970′s covers a fine selection of late Medieval secular music. Brilliantly played on period instruments, most tracks have vocals but some are only instrumental. Dissonant, odd harmonies to our 21st-century ears – this music links love to war, features "courtly" idealized love. Liner notes have lots of good background and academic information.
PGM: A sackbutt was an early trombone.
Reviewed by Cousin Mary on July 2, 2014 at 6:11 pm
Next Page »