KFJC On-Line Reviews
What KFJC has added to their library and why...

In 1959, Alan Lomax recorded four-part Sacred Harp singing in stereo for the first time at this convention in Alabama. Sacred Harp is a book of folk hymns, many with origins in the British Isles. The singers divide among the four walls and then each group sings its unique part. The words are hard to make out, but there is fine spirit here.

PGM: Numbers in the titles refer to the page in the Sacred Harp Hymnal.

Reviewed by Cousin Mary on December 11, 2013 at 3:58 pm
World boogie is coming! Inspired by other Mississippi folks R.L. Burnside and Mississippi Fred McDowell, RL Boyce started playing music as a child drumming on a foot tub and slowly moved on to playing the guitar. His first recording was when he was 15 on a track with his uncle, Othar Turner.
Sounds a lot like a more boogie-ing RL Burnside, really. Not as electric as Burnside, but sounds good with the band backing him. Duel drums on two-thirds of the tracks. Plays with his usual cast of friends: Luther Dickinson (guitar), Lightnin' Malcom (guitar), and Calvin Jackson and Cedric Burnside (drums). Good ol' blues sounds on a bluesman's long awaited full length debut. Legit..
Reviewed by mickeyslim on August 6, 2013 at 4:49 pm
A man, his guitar, and a pal accompanying on harmonica, sitting playing the blues. New self-released album from Coyote Slim and Colin Teurfs. Good shuffling jumpin' blues music here..
Slim plays somewhat broken guitar rhythm patterns on a couple tracks and knows his way around the Mississippi Delta style. His unique voice is hauntingly low and a bit grizzy, contrasting the higher pitch harmonica wail. The tracks have a stripped down feel because it's only just the two of them, and it sounds a little produced, but it gives the guitar sound a crisp clean crunch. His voice gives the tracks a sense of honesty and truthfulness. Track 3 is a true story of his house burning down. Of course, I'm a sucker for "Slim's Boogie" which is a toe tapper…
The two tracks without the harmonica seem to be lacking, but track 4 (Charlie Patton tune) still holds it's own. I like that the Teurfs knows how to keep a good rhythm with the harmonica AND can also tear it up when he needs. Great new self-release from local bluesman, who'd have thought?
Reviewed by mickeyslim on July 16, 2013 at 3:59 pm
This is like a step back in time to early rural America, and reading the liner notes on the album is essential to appreciating the significance of the music contained herein. The artists on this record took guitars and banjos and introduced them to parlors in much the same way that hosts of salons in France introduced literary ideas and philosophy. Dating from 1923 to 1938, most of the songs are instrumental, although Side B contains a bit more commentary to accompany the music. Sylvester Weaver's "Guitar Blues" was the first finger picked guitar solo to be recorded, ever.
Reviewed by humana on July 8, 2013 at 7:23 pm
Two discs chock full of R&B nostalgia. I thoroughly enjoyed how this made me feel like I was doing domestic chores like my mother, listening to excellent music to help me through the mundane nature of what I was doing. The New Orleans native performed at the New Orleans Jazz & Heritage Festival from 1972 until his death in 1999. You can???t go wrong, no matter which disc or song you sample. Enjoy.
Reviewed by humana on June 9, 2013 at 1:18 pm
Originally recorded from 1977 to 1980 as an NEA project, Dust-to-Digital is bringing these tracks from African Americans in North Florida to the public's attention again. Some songs record how blacks came to Florida from other parts of the deep South for better opportunities. One CD of secular music in the blues tradition includes Moses Williams' one string zither – a primitive one string instrument possibly related to West African music that was brought over by slaves. The other CD of sacred music is from the churches – hymns rather than jazzed up gospel tunes with examples of shape-note singing. For each track, there are very comprehensive notes in a 200+ pages book that accompanies the CDs. The music itself is from regular folks in plain settings with background coughs and noise. Vocals are frequently incomprehensible due to thick accents. Priceless not because of its virtuosity, but because it is a record of traditions likely to be lost.
Reviewed by Cousin Mary on June 5, 2013 at 3:52 pm
Portland, Oregon based Marisa Anderson says she applies classical technique to her music. No matter, this is lovely stuff for solo guitar and lap steel (no vocals) that shows stunning virtuosity. Her renditions of her compositions bridge boundaries of folk, blues and country.
This album is said to recall experiences from her travels that began at age 19 and continued for 15 years.
Haunting, lush, beautiful.
Reviewed by Cousin Mary on May 29, 2013 at 3:27 pm
As the title indicates, another release of old timey blues harmonica sounds from Smithsonian Folkways. With the likes of Sonny Terry and Brownie McGhee, Phil Wiggins, John Cephas, Eddie Burns and more, this collects a good number of the often glossed over harmonica players.
Recordings from '52 to '08; tracks like 'Take Your Fingers Off It' sound like they are clearly home recordings (that one recorded by prolific writer and blues historian, Sam Charters) due to a slightly lower sound quality, even though most of the tracks are recorded in and around the late '80s and '90s.
The one person I'd never heard of, Doctor Ross the Harmonica Boss, blew me away, in fact, the harmonica playing on the album is undeniably influential to any aspiring harp player. The solo acts where it's just a man and his harmonica signing a blues track are particularly impressive (Bye Bye Bird!). Deep, extensive liner notes… learn yo' self something.
Reviewed by mickeyslim on May 22, 2013 at 3:54 pm

Many things flow from the mighty Mississippi (label), and
here some 78's wash up, cleaned up and darn near baptised.
Despite the title of the album (a presumed nod to Leola
Manning's "The Devil Is Busy in Knoxville") this is no
collection of murder ballads, but instead his grace and pearly
gates, where "Fify Miles of Elbow Room" await us. The
harmonies on here are downright heavenly. Not just frequent
angel-wing fliers like the Carter Family but the straight
collar sweet hollar of the Anglin Brothers and the Delmore
Brothers (connecting to Palace and Everly brothers in my
sacred heart and scarred ears). Of course the purest
chorus comes from the mouth of babes, and "Chariot Jubilee"
sounds like it could almost be a pacific island sublime
frequency call and response chat. Too short. If you want
a little hint of the apple polished by the serpent, check
out the rough and ready work of Elder Richard Bryant's
Sanctified Singers, or the Silent Grove Baptist Church
Congregation (the shadowy bass accompaniment behind
the powerhouse unknown lead male vocal defying the Grave).
Is Rev I.B. Ware a real person, I reckon so but his sentiment
"I Wouldn't Mind Dying" closes this album, which also
features the cover lady, the mighty Sister Rosetta Tharpe
belting out a tune from her thinner days, and holding a
note too high and pure for any devil to touch. Sing on
sister and brothers, sing on right on past the grave.
-Br'er 'Unger
Reviewed by Thurston Hunger on April 26, 2013 at 3:34 pm
This gospel giant born Christmas day 1934 never seemed to get his voice heard much outside of the Mississippi area where he hailed from, though he did play a bit in France and Italy. Front porch country-blues stomp played clean with a hint of backwoods grit and some real raw twang. He pelts out these prayers with some big belly wailin' and gap-tooth moans that really let out that spiritual energy rooted deep to the core. I hear they called him Reverend Boyd Rivers though who knows if he ever lead a sermon in his life. I did read that he sang in local churches around Madison County and had an ample supply of biblical anecdotes. Friendly and easygoing but also intense and passionate, he liked to hang out with his friends at JoJo's gas station/convenience store on Highway 51, the main street of Pickens, MS, of which he lived 5 miles outside at the end of a two-mile long gravel road. I'm no religious man, but I would've liked to sit back and hear him preach. He died of a heart attack November 22 1993.
Reviewed by abacus on April 24, 2013 at 6:11 pm
Mississippi relases another selection of obscure and unknown gospel tunes, this time running in the blues vein. First side is more of gospelish R&B singing groups. There's acool version of Swing Low, Sweet Chariot that's super slow. And a cool vesion of Amazing Grace by the whirlwinds, who twist up their own rockin' version of this otherwise somber tune.
More solo acts on the flip side, including a killer, grity song by Ethel Prift called What time Is It? Also, a couple tracks by reverends and their congregation, the first of which sounds more Delta bluesish with the use of guitar. The second one is just clapping and call and response signing. Favorite is the last track, which is super lo fi, garagey blues, as another version of Swing Low, I call it a Punk sea shanty. Dig in…
Reviewed by mickeyslim on April 17, 2013 at 10:18 pm
Ethel Profit is a woman with a voice to make your heart bleed. Her smokey voice is accompanied by the blusiest of solo blues guitar.. teetering on the fringe of gospel with the tracks Death is Not the End and Life is a Battle, both uplifting and somehow melancholic…lonesome. The nature of this old recording gives it a natural sort of overdrive, you can hear the sound peaking and crackling when Ethel really starts to wail…and does she ever. Simple and soulful, dug up from the depths of Mississippi Records' unbelievable sonic archives. -Surfer Rosa
Reviewed by surferrosa on April 17, 2013 at 3:40 pm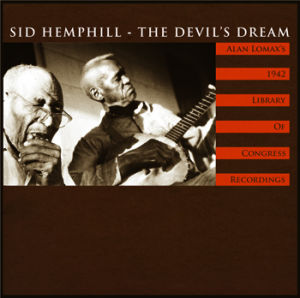 These are archival recordings collected by Alan Lomax, ethnomusicologist and folklorist, of Sid Hemphill (1876-1961) out of Sledge Mississippi, recorded August 1942…Sid Hemphill called his work 'old folks music' and handmade many of his band's instruments. These recordings are full of crackly old folk songs and instrumentals, most certainly with that post-war, whiskey sippin', jams and ditties on the front porch on a hot day sort of sound. Outstanding fiddle-fodder makes for a square dance kind of feel on a lot of these tracks.. banjo twang to make your toes tap.. Some feature the 'quil' a hand cut cane panpipe, which you can find on many of the short instrumentals paired with a snare drum, which echoes of a civil war drum-line march. Vocals are soulful, and gritty, wailing about hunting or the devil himself. All this underlined with the wonderful pops, cracks and hisses of a recording made long long ago. -Surfer Rosa
Reviewed by surferrosa on April 16, 2013 at 4:51 pm
At it again, Mississippi Records releases a collection of gems from big names like The Carter Family and Woody Guthrie, to the obscure Shortbuckle Roark or Buell Kazee. Ol' time folk tracks recorded between '27 and '43, dealing with murder and lost loves. Slide guitar, banjoes, fiddles, harmonies, and no percussion of any kind on the whole album. Most of the tracks are traditional ballads, and have no real author, much like "John Henry."
"Pretty Polly" is a banjo murder balled. "Why I'm Grieving" is a yodeling sister duo, and there's a bitchin' version of "Man of Constant Sorrow" on the B-side. Mississippi John Hurt's "Louise Collins" is about the murder of a girl, originally about a male victim. Rare recording of solo Jimmie Tarlton who almost exclusively recorded with a guy named Tom Darby. A couple Delta bluesy song find their way in there, too. Check it out, drop that needle like its hot…
Reviewed by mickeyslim on March 19, 2013 at 5:43 pm
This minister, first recorded by Arhoolie label founder Chris Strachwitz (who also took the photo on the sleeve), here delivers gospel (Side A) and blues (Side B). Guitar, bass drum, piano, and voices help him get his messages across to his Portland, OR congregation. The devil is out there, but he can be resisted!!!
Reviewed by humana on January 25, 2013 at 12:01 pm
The Georgia Sea Island Singers were a folk ensemble that formed in the early 1900s. They traveled performing songs. They are descendants of slaves who identify as Gullah. ??The members have changed over the years. There have been a handful of recordings. And the lineup has included Bessie Jones, Joe Armstrong, Mable Hillery, and Frankie SUllivan Quimby. This release was recorded by Alan Lomax in St. Simons Island, Georgia in Oct. '59. Additional recording took place in April '60 in Williamsburg Virginia. Alan Lomax was a musicologist, wtriter and producer who spent most of his life in the pursuit of archiving American folk musicians throughout the mid-south west and it's nearing territories. his is a collaboration between Alan Lomax Archive and Mississippi Records. It's is a beautiful testimony to the heritage that the Gullah kept alive.
Reviewed by MSTiZA on January 9, 2013 at 7:02 pm
A totally charming blues album. Thomas, a Texas native who hoboed and railroaded his way all around the country, recorded these tracks way back in the 1920's. Every song is upbeat and almost jaunty, influenced by the ragtime music popular at that time. Thomas accompanies himself on guitar and one of the most distinctive blues sounds I've heard–he plays the quills, a home made panpipe type instrument with its origins in American slavery. He plays it the way another blues singer might play mouthharp and it makes me smile every time he whips it out. His songs especially caught on with west coast blues revivalists of the 1960's-70s such as Canned Heat, Taj Mahal, and Hot Tuna, who either covered his songs or "borrowed" them to write their own songs. I'm not exactly a blues aficionado–give me Albert King and Big Mama Thornton and I'm happy–but I could not stop playing this once it got its hooks in me.

Reviewed by Max Level on December 4, 2012 at 7:45 pm

Ten outstanding tracks from Lightning Hopkins, none of which are already in the KFJC library. Hopkins' sweet and thick as honey voice is in fine form, as is his excellent guitar work (track 2 shows this off a bit). Beautifully recorded by Arhoolie Records founder Chris Strachwitz in 1967 in Houston, Texas. Real blues (example: Slavery), not just the jokey stuff. Recommended!!!

Reviewed by Cousin Mary on November 14, 2012 at 2:43 pm

Here we have some gospel blues from the 1960s and 1970s , rather austerely sung against guitar backdrop, from the likes of Missionary Mamie Sample and The Sensational Six. Rev. R. Henderson's voice is difficult to understand in his album closer, "Stop Living on Me." How many people have you wanted to say that to? Give this a spin and commiserate.

Reviewed by humana on September 14, 2012 at 1:23 pm

Ranie Burnette (1913-2000) sings and plays guitar and is joined by Abe Young on harmonica on two tracks. Burnette was known in the Mississippi hill country and was a mentor to R.L. Burnside, but was not recorded until later in life. These quality recordings were made in the early 1980's; I sort of expected them to be shorter and scratchier since the material sounds like what you might find on an old 78rpm disc. Burnette's sweet voice and the strong rhythm of the tunes put this into the category of extraordinary. The Liner notes say that the rhythm was influenced by local fife and drum bands- very intriguing!

Reviewed by Cousin Mary on August 7, 2012 at 9:36 am


« Previous Page — Next Page »