KFJC On-Line Reviews
What KFJC has added to their library and why...
An interesting take on 80's Darkwave. Kaelan Mikla (Lady of the Cold in Moomin vernacular) is a 3 piece female led band that hails from Iceland. Formed after winning a library poetry slam circa 2012, their sound has changed over the years culminating in this 2016 release. Here they churn  out interesting darkwave reminiscent of  Xymox and the Cranes. Vocals are in Icelandic (old Norsk) and lend a mysterious element that complements the haunting synth punk of the album. Track 1 is a nice introduction with a solo drony sound that transitions into a more conventional structure the second half.  Tracks 2 and 6 were slightly problematic for me as the discordant harshness of the vocals were too shrieky for my taste but your mileage may vary. Tracks 4, 5 and 8 are the strongest and feature the smoother vocal stylings of drummer Sólveig Matthildur.
Reviewed by Jim Hunter on June 13, 2018 at 5:25 pm
Symphonic indie industrial rock meets electronic mayhem experiments with whimsy-angry arrangements in the NIN flavor. Songs about loneliness, paranoia,  betrayal and mistrust. Singer Leo Ashline provides the melancholy and Shaun Ringsmuth the multi-layered samples, angry guitars and harsh synth and drum sounds. Very original, you can't nail down what they really represent! Hey even melodies are present! Maybe the future of prog rock. Play it. –Kai
Reviewed by Kai Sync on June 13, 2018 at 3:21 pm
New 2018 release with quite a cold-charming dark techno EP from Anders Karlson or Celldöd (Dying Cells In Swedish.) Kind of electronic music youngster Front242 would create today but with this own freezing Perfect as Swedish charm of coldness and starry nights dancing to Swedish debate programs in a bunker.  B-side has even future-Dub techno. Hardware metal music. Play this loud with lots of bass so the studio monitors rip out from the ceiling. –Kai
Reviewed by Kai Sync on June 13, 2018 at 3:20 pm
Finally! Our first addition from Phew, the project of Hiromi Moritani, that began in 1980 after Moritani split from the Osaka post-punk group Aunt Sally. Since then, she has collaborated with Ryuichi Sakamoto, Holger Czuaky and Jaki Leibezeit from Can, and many others. Around 2010, she transitioned from a guitar-driven rock sound into minimal electronics, previewing her new work at gigs around Tokyo and on small runs of homemade CD-Rs. This 2017 album collects the tracks from those releases. Everyone says this sounds like Suicide and that's the first thing I thought of too, and so of course it's excellent. The songs here are made from analog synth pulses, drum machines, and Moritani's echoing spoken-word vocals. "New World" (T1) has a psychedelic feel, "CQ Tokyo" (T2) driven by intense, "Frankie Teardrop" drum machine rhythms, "Mata Aimasho" (T3) is smoldering dark ambience, "Usui Kuki" (T4) is a dream sequence driven by dissonant tones and a steady rhythmic beat, "Echo" (T5) pulses with aggressive, textured synths and wavering bass lines, "Antenna" (T6) concludes with brilliant metallic reverberations that softly fade away. 
Reviewed by lexi glass on June 10, 2018 at 5:18 pm
Progressive Black Metal from Athens, active 2002-13. They only put out three recordings, of which this 2013 EP is the last. It really is great stuff, its angular and aggressive mid-length bursts balancing atonality and melody skilfully with a slight Grind influence perhaps. Included within the appealing all-paper packaging is a wordy interview—conducted by Temple of Flesh, the Cypriot label that co-released this with BBMM— with I.K. guitarist 'MyLastBreatH.' The following excerpts, presented in their original sequence, may help you decide whether you will like this LP:
"[W]e formed I.K. with the sole purpose to play Black Metal that departs from the Black Metal rules… Our name is a tribute to Antaeus, a very special and original band; that is telling of where we came from… A.V. of Dead Congregation appeared with us on stage… some riffs are nods to other bands that the listener can name… I cannot pick between Deathspell Omega and Black Witchery… [drummer] Syrinx blasted with the astrogrind camp of Dephosphorus before focusing on his classical music studies…"
This is not the most 'authentic' Black Metal in the world, but this is not a surprise as the band openly disdain the orthodox sound. There is plenty of bite here all the same.
Reviewed by Lord Gravestench on June 5, 2018 at 9:20 pm
smallertide is Sam Sharp and Joel Almberg, a guitar duo from Minneapolis. This is their first full length release, the follow up to a 2016 7" EP, Crickets (in our library). Guitar melodies, treated with reverb and effects. The tracks are fleeting, lasting just a few minutes, and together with the hazy sound, the record has a twilight feel. But it's not just pretty, easy listening – there's the occasionally placed dissonant note, a melancholy ache. Released by Sharp's label Poor L'Amour.
Reviewed by lexi glass on June 5, 2018 at 8:47 pm

There's a gently flowing Appalachian stream and then there's the vastness of the cosmos, and hovering somewhere in between is Sarah Louise. Something about the way her 12-string is tuned bathes all that rapid fingerpicking in a soft glow, so that you're never quite sure if you're listening to John Fahey or Tangerine Dream. This record is from 2016 and is part of VDSQ's solo acoustic series. 2018 sees a Thrill Jockey release as well as an LP reissue of her 2015 cassette on Scissor Tail. All tracks are in the 4-6 minute range.
Reviewed by Phil Phactor on May 23, 2018 at 4:48 pm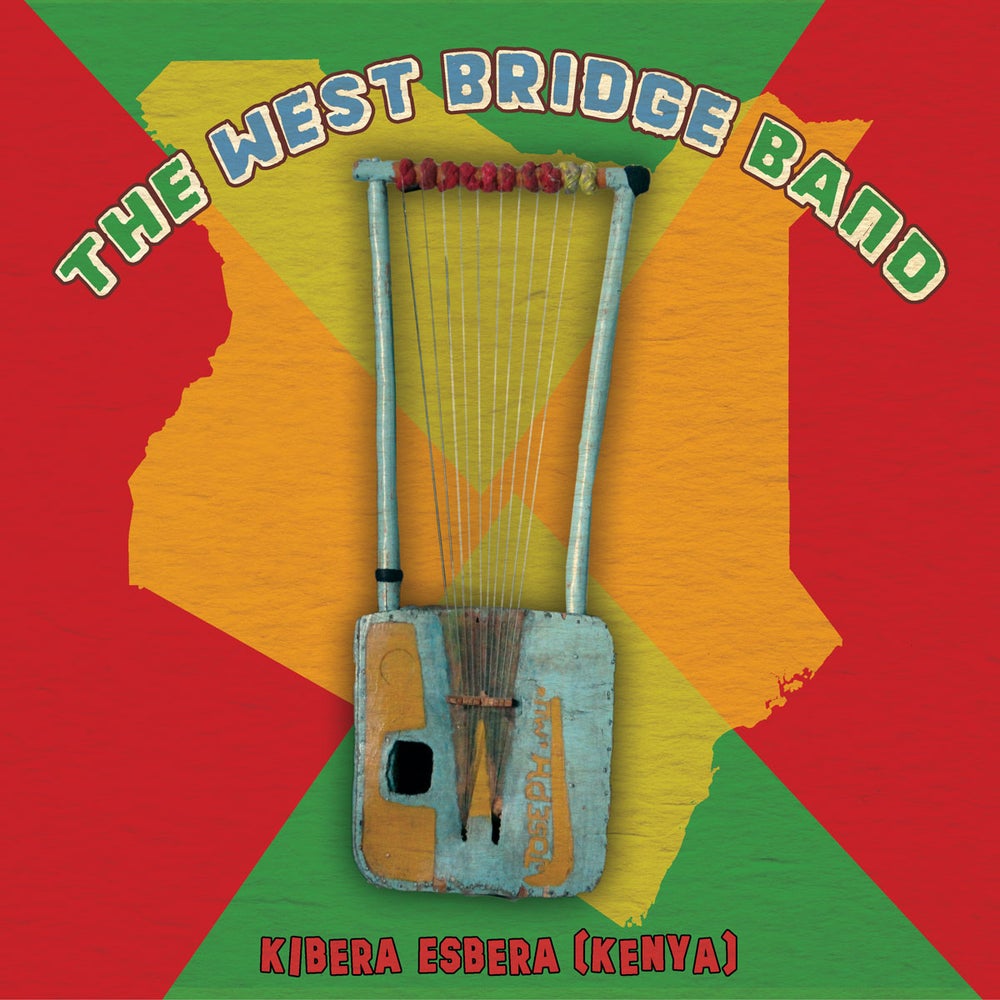 This 4-piece consists of Luhya tribesmen from Kenya on a mixture of homemade and more traditional Kenyan instruments. These instruments live with 2 million others in the Kibera slum outside Nairobi. They live in crushing, impossibly cramped poverty. Their dayjob is entertaining safari tourists, swapping clothes on the break to appear like a new band- this album was recorded by Ian Brennan in a family's home the size of a car interior.
Reviewed by Hemroid The Leader on May 15, 2018 at 2:39 pm
Filed as 12-inch,International

Served up by ZudRangMa records in Bangkok,
a fantastic store run with keen (and khaen)
love by Maft Sai (connections to next door
Studio Lam where Molam and Luk Thung artists
often perform). Traditional flavors are strong
but varied on this collection of their label's
recent 45s. Opening with the towering power of
the khaen (a bamboo pipe organ that sends
skyscrapers of sound out of one's mouth). The
vocal stylings are so great, kicking up a kind
of gymnastic percussion that dances over drums
and other skins. Check out Chanpen Pornaswan
(B2) for a sterling example, or for the male
counterpoint of view, Aa Jaan Jitakorn Molam
Group (B3) for that surging form of singing.
(B1) actually goes all in with onomatopoeia
on "Ding Ding Dong." That piece feels like
an island sound system with its proud horn
punctuation and killer drummer. So much
style, swervy and hypnotic. Even without
vocals, "Lam Plearn Diew Khaen Diew Phin"
and "A Ba Ni Bi" have dance floor beckoning
beats that slide up to you, A3 a jangley
bouncer, while B4 is a vibraphone groover.
I like to pretend Onuma Singsiri's (A4)
song is some kind of Thai darkwave, but
the initial Joy Division blotted out by funky
sproingy synths and her "how ow how ow ow"
quick cadences. All solid but do NOT miss
Warin Shinaraj (A2) it transports me every
time, not to Bangkok, straight to Paradise.
Her voice lingers on notes then darts away
the guitar and drum anapestically waiting
on every word, ending with a strange calming
blend of laughter and piano ripples. Wow!
New York vs Noo Yaak! We all win.
-Thurston Hunger
Reviewed by Thurston Hunger on May 5, 2018 at 12:39 pm
Filed as 12-inch,International

No stranger to KFJC's airwaves, Marisa Anderson
unites with Portland powerhouse Mississippi Records
to reissue her 2013 release of an homage not just
to the Traditional Songs of the title, but to the
guitar. It's all instrumental, and all electric,
and weaves between reference and reverence. She
can pluck gentle and clean as on "Farther Along"
or tiptoe near the third wire that Junior Kimbrough
use to ride with "Pretty Polly." Songs that are
pulled deep from the heartland, if not the heart
of this country appear : "May The Circle Be Unbroken"
and "Amazing Grace." But Marisa's domain extends
beyond natural and sonic borders, "Bella Ciao"
is indeed beautiful, and builds up a nice storm set
of chords. Dig the super reverb recoil on "Johnny
I Hardly Knew Ye." A lot of the album has a solemn
and introspective vibe, often soothing but not without
a bout of bitterness. That being said, she concludes
with a downright jouncy "When the Roll Is Called Up
Yonder." Perhaps that is the arc of the blues, to
struggle humbly and with grace, but carry a heavy
weight till we hit our run-out groove and the
needle rises with us to the skies.
-Thurston Hunger
Reviewed by Thurston Hunger on May 5, 2018 at 12:37 pm

No Balls is a far cry from any eunuch freak folk, they
deliver heavy electric instrumentals, lightly seared
by noise with a hint of psych (well from a manic
Japanese point of view). Connected to the Brainbombs,
and somehow without lyrics No Balls sounds almost as
filthy as that band, Anders Bryngelsson shares fluids
with da 'bombs. Was Dan Raberg severed as a member here,
but someone kept his horn though? Actually on "Pacer" it
almost sounds like someone singing into their distorted
guitar pickups, and on "Breaking" maybe a man or a trumpet
is trapped inside the bass drum and blurting out
exhortations…while the air runs out. Sick goose trumpet
also may appear on "Nachspiel" Overall they say plenty
without words. The other "father" band here is Noxagt,
from that good ol Kjetil Brandsdal (he oils the mighty
Drid Machine) burrows thick on bass and JC Lauritzen is
insistent on drums, really more of a battering ram.
Think concussion over percussion. David Gurrick recorded
his guitar parts on this album while completely naked.
And bleeding. Well it sounds that way. Clearly this
is what Trump had in mind when extolling the virtues of
Norway. Bonus points for Anders Hana on the mixer, isn't
The End here yet? Checking out other artists at
8mmrecords.bandcamp.com would be cook if Luca and co
could hook up KFJC with some more heaviness!
-Thurston Hurtin'
Reviewed by Thurston Hunger on April 19, 2018 at 3:33 pm

Short blasts of pineapple-expressed garagey blitzy
rock. Trio from Honolulu, who blew into Oakland to
record this to cassette for the Fine Concepts
label. Feels like they kept the cassette and
motor running, has a feeling like a live set
pumped out moving over the posted speed limit.
Travis Wiggins vocals add to it, shouty style
as if he was standing up in a convertible trying
to keep pace with these short grindy numbers.
He kinda reminds me of Franklin Bruno (Nothing
Painted Blue) but smeared out Oblivians style.
Travis on guitar and vox, Alex Nagata pumps up
boogie-ing bass and Jack Tawil on the sticks.
Really, some of his best moments are just hyper
stick ticking metal rim (like on "Ultra Bosch")
The songs keep cooking, at times Wiggins
guitar kinda wigs out, nicely so you get a noisy
improv vibe on top of the dive-bar riffage.
See the title track and "Riot Meditation."
Adding to the bar vibe, a Hendrix homage pops up
in "Chivington Soldier" and G-L-O-R-I-A
gets spelled out on "FOX-661L." No dinosaur
rock, no bones to pick or break, just a raw
at times murky but driving energy. "Eyes in the
Heat" ups the ante with thrashy guitar building
up to an almost Fall style urgency with
lyrics that march and then a firing line snare
close-out. Things slow down a little around the
bends of "Berlin 64" but them the serrated edges
of "Magna Knife" cut in more car-crash art-rock
hurtles down your earway. "January 13 Incident"
and the anthemic "Goncharova Cats" hit the
finish line strong.
-Thurston Hunger
Reviewed by Thurston Hunger on April 19, 2018 at 3:31 pm
Omutibo is a style of Kenyan folk music that combines storytelling with intensely rhythmic fingerpicking guitar. It was developed by guitarist George Mukabi in the early 1950s, who took inspiration from the traditional nyatiti lyre and sukuti drum. The style proved to be wildly popular, and Mukabi sold hundreds of thousands of records throughout East and Central Africa. Over 50 years later, Cyrus Moussavi (Raw Music International) traveled to Kenya to visit many of the original musicians and record them in their homes. While George Mukabi himself is not featured here (he passed in 1963 at the age of 33), we do hear music from his son Johnstone. Joyous, life-affirming songs, and an essential document.
Reviewed by Phil Phactor on April 18, 2018 at 6:16 am
Filed as 12-inch,International
I nearly lost it when I heard that two of my favorite musicians had been collaborating on a record for over ten years. So my expectations were probably unreasonably high for this one, and on first listen, I prepared to be blown away. That didn't happen, but over multiple spins, I arrived at something much more satisfying – an appreciation for the craft of two brilliant electronic artists working at the top of their game.
My first impression was that you can really hear Daniel's influence – it's that rhythmic Matmos sound they've perfected on albums like A Chance to Cut is a Chance to Cure and Ultimate Care II. Here, complex collages are arranged from sonic fragments – blasts of noise, snippets of static, deep bass tones – elements you might hear on Wiese's harsher records. Painstakingly composed, apparently without the use or sequences or samplers, but the result isn't fussy or difficult. Layers of rhythm easily move with a dancefloor energy (T2, T4), march to a beat (T9, T10), ascend stepwise up the rungs of a ladder (T7). The precision gives way to more fluid tracks (T5, T6, T8, T11), with long drones, loud muck, whistling tones and sweeps of plucked strings (T11). The album builds to a final horrific conclusion, that ends not with a bang but with a – surprise! – chomp. Mastered by our friend Thomas Dimuzio. Excellent.
Reviewed by lexi glass on April 17, 2018 at 8:39 pm

Solo improvisations for shakahuchi (a Japanese flute). Sparse, mysterious, utterly captivating. Check out the other releases on Siwa in our library
Reviewed by Phil Phactor on March 28, 2018 at 5:59 pm
Nice lil' single from Tech N9ne bringing us that Midwest rap with the hard boom bap. Lyrics aren't as fast-paced as some of the raps that have given his style recognition but it will definitely still get you movin'. This single has the radio version, the album version, the instrumental, and the acapella version. Radio version and instrumental run about 3:52 and album and acapella versions run about 4:04, it's unfortunate that the album version skips at the end and worse still that the instrumental skips right at the beginning, also the album version contains FCC's. Just put this here plate on yer record spinner and enjoy.
Reviewed by kato on March 26, 2018 at 10:15 pm
Debut album from this New Jersey surf trio. Great energy and an original sound that sounds different from most surf. Joined by musician friends on a variety of instruments that fill out their sound.
Reviewed by Cousin Mary on March 24, 2018 at 3:04 pm
Radio Poland journalist Wlodzimierz Kleszcz brought Norman Grant to Poland in 1986, paying him with studio time. Kleszcz saw a connection between the roots music of Jamaica and Poland – a link between ex-slaves and the Polish Gorale ex-serfs. The music feels earnest but forced at times, like the material is not fully developed. Psalms 23 is Grant chanting the bible. Whatever its deficits, it is endearing. Just before the wall fell, searching for a connection.
Reviewed by Hemroid The Leader on March 13, 2018 at 2:51 pm
Painted Caves is the electronic side project of Barn Owl Evan Caminiti. On this 2013 release, Caminiti uses modular synths with tape loops and digital effects to create a sense of pervasive paranoia. Tense beats and minor-key synth drones, as cold and soulless as the AI algorithms methodically sifting through your email, location data, and camera roll. Ranges from intrusion into quiet, intimate spaces (T1, T2, T5, T6, T7) to massive data collection on a national scale (T3, T4). But just when no escape seems possible, there are brief moments of strange beauty, hints of warmth. Limited release from the fine French label Shelter Press.
Reviewed by lexi glass on March 6, 2018 at 8:42 pm
Last summer we were visiting our friends in Cloverdale. It was god awful hot so they decided to take us down the road to the Russian River for a swim to cool down. After trekking across the riverbed rocks, we got to a place in the river that was shallow enough for us to set our beach chairs and just sit with the current gliding over us. It was not really my idea of pretty: it was hot, brownish, dry with plants a sort of dusty green. But when I finally settled into it I began to appreciate the calm, serenity and turmoil of this oddly idyllic spot with the cool water pushing around us. I often remember this place even though it may not have been my idea of a place to go.
I feel this way about "Chalice Hymnal", Grails first album in six years. It's not what I might have expected but when I let it settle in, it works. It is a lush four sided continued exploration into the sounds they have developed over their career. Cinematic is definitely the phrase for these pieces. Each piece of psych rock post-rock is like a soundtrack to a series of short films, not clearly related but surprisingly united. Guitars and electronics play heavy with bass and drums, plus mellotron weaving dreamy explorations on some tracks while others perform a more beat driven journey. Most of the shorter tracks left me wanting for more. The longer tracks filled my need for meditative wandering. Like the river experience, not necessarily where I wanted to go but definitely something I keep remembering after several listens.
Reviewed by Naysayer on March 5, 2018 at 9:00 pm
Next Page »