KFJC On-Line Reviews
What KFJC has added to their library and why...
It takes a lot to get me psyched these days, but Miss Massive Snowflake does the trick. Talk about your hidden treasures–this CD had been hiding under my front car seat just waiting for me to feed it to a player so that it could feed me with its amazing fresh rock sounds and unique tempo changes ("Goldsworthy" is outstanding in this respect). Jeanne Kennedy Crosby's bass playing masterfully keeps a rhythm winding throughout every song. Shane de Leon's clear vocals
Reviewed by humana on January 20, 2018 at 4:35 pm
Comments Off
This artist is from Mali and is a master of the kora, a 21 stringed lute bridge harp. The album is solo kora. You can hear its depth and variance. This is remastered recordings from 1976. To someone with little to no knowledge of African music such as myself, one can hear the influence that it has had in American music here.
- Billie Joe Tolliver
Reviewed by billiejoe on January 20, 2018 at 1:44 pm
Filed as CD,International
Comments Off
Mysterious Descent is described as "a mythodramatic song cycle" based on the "extant texts of the Idnat Ohintsosh-ikh… the only existing records of the Koktimo civilization, the sudden disappearance of which remains a mystery." I'm pretty certain that this backstory is the invention of trickster Brett Carson, a composer, jazz pianist and fixture in the Bay Area experimental scene. On this work, which debuted at the 2016 Outsound New Music Summit, he is joined by percussionists David Katz and Nava Dunkelman and violinist Mia Bella D'Augelli.
The piece progresses through twelve movements that are increasingly bizarre. Vocals, sometimes sung in English and other times spoken in invented tongues, conjure a glowing sea goddess that appears while taking out the garbage in the evening and elephants roaming the kitchen while getting a glass of water in the middle of the night. "Song of Vurvmoprinka" ends with a folk dance about a flaming phallus and cosmic vulva (T4), "Song of Urdogravikazhts" drones with violins and voices, then gives way to ecstatic shouting by a spirit who just wants to fuck with us (T6 – FCC), "Song of Dzochanibralk" is a sweeping rhapsody about phosphorescent flatworms, then descends into a wild freakout of chanting, piano, strings and bells, and "Last Song" wraps it up with a lovely kazoo (seriously) anthem (T12). Confusing, absurd and occasionally beautiful – like existence itself, and the weird myths we create to explain it.
FCC T6 – we're being fucked with
Reviewed by lexi glass on January 17, 2018 at 6:02 pm
Comments Off
Fine instrumental work from the Santa Cruz band. Excellent playing from the long established trio – Jim Thomas on guitar, Martyn Jones on drums and Jennifer Burnes on bass. Tends toward the mellow psychedelic side and causes us to ask the question – "is this surf music?" I like track 13 for its energy, some other tracks for their hypnotic trance.
Reviewed by Cousin Mary on January 17, 2018 at 4:29 pm
This project was formed out of NorCal Noisefest in 2014. They are Ben Salomon on percussion and invented instruments, Tania Chen on found objects, toys, and electronics, and Bryan Day also on invented instruments. It sounds like sonic examinations. Their homemade sounds make for some great creative experiences. These are some noise researchers.
– Billie Joe Tolliver
Reviewed by billiejoe on January 16, 2018 at 9:15 pm
This is John Coltrane's work arranged and produced by Evangelista, the Filipino-American guitarist and composer. On this album he is playing guitar with M. Rei Scampavia on keys and electronics, Robert Lopez on drums, and Dan Clucas on trumpet. All together they are called Grex. To me it sounds like psych with trumpet. It's emotional and playful.
– Billie Joe Tolliver
Reviewed by billiejoe on January 16, 2018 at 9:13 pm
This is the debut album from Socal-based guitarist Joshua Gerowitz, and it's exceedingly hard to pin down. The lead-off track seems simple enough, with the horns blowing over a swinging, dad-jazz vamp, when all of a sudden Gerowitz launches a fuzzed-out attack and blows things wide open. The Hamburger Isand tracks (T2, T5, T7) are noisy, vocal-led drone improvisations and available in a variety of track lengths for your programming convenience. Morning Landscape Illusion (T4) is a bluesy dirge with lots of filigreed horn work that slowly builds in intensity. Last track is a lonely, looper-ed, Bill Frisell-style send off.
Reviewed by Phil Phactor on January 16, 2018 at 9:10 pm
Comments Off
Talk about creativity–this sampling of the first 20 years of the Abaton Book Company label is a treasure trove of radio theater, singer songwriters, soundtracks to movies starring cats (10), quartets, and more. A lot of the tracks are by Marianne Nowottny, whose debut was recorded by ABC when she was only 16. The liner notes are a must read as you listen to the wonderful weirdness contained on this CD. It all makes you believe that coloring outside the lines has not, nor ever will, go out of style.
Reviewed by humana on January 14, 2018 at 6:31 pm
Comments Off
What's not to love about punk rock with rollicking lyrics such as "Stiletto heels could not erase, that girl's butt was right in my face" (5)? This guy trio packs a hearty punch with these songs that are worthy of many listens. Be sure to check out "Hot Girls Eating Pizza on Instagram" (10).
Reviewed by humana on January 14, 2018 at 5:38 pm
Comments Off
Tym Wojcik is Cup, and these hazy punk songs prove to be more than just a hiccup in his repertoire. Fast-paced guitar works like a jolt to the system in this seventh release from Cup. Songs are 1- to 3-minute bursts of energy. Drink up.
Reviewed by humana on January 14, 2018 at 4:16 pm
Comments Off
I don't know who Karen is, but this Oakland band pays a fine tribute to her with this release of pop rock goodness. Each song's lyrics are on the insert, but the vocals are clear enough to make them out. The upbeat guitars and drums provide a fine setting for letting the wisdom of said lyrics sink in. "Afternoon Waking Life" (2), "Slide Collection" (4), and "The Midwest is Boring" (9) will have you bopping and rolling down the window of your car as you blast th
Reviewed by humana on January 14, 2018 at 1:22 pm
Comments Off
Long noise tracks? Yes please! Collaboration from noise artists Stirner and Levy Daal from the Netherlands. First track begins with some weird field recording of people screaming and yelling in another language. Middle has some excited screaming and moaning. Ends with more dialog. Noise over all of it.
Track two is more chill but not. It's spoken word with static over it on in a really realistic way. Makes you feel like something is not working. Listeners will love it!
– Billie Joe Tolliver
Reviewed by billiejoe on January 10, 2018 at 1:32 pm
In East Germany in the 1980s, replication and distribution of recorded material had to be authorized by the State, and so a rich and creative DIY cassette culture emerged to share the work of artists too weird or too subversive to receive the GDR's stamp of approval. This scene was the focus of Mannequin's klangFarBe compilation from 2016 (in our library), and now of this new collection from Bureau B.
The 14 bands collected here had limited means and limited exposure to bands on the other side of the wall, and so the resulting sounds are wholly unique and varied. Take the Stoffweschel track (T6), a glitchy beat that gives way to a creepy, mechanical circus dub. Heinz and Franz have the East Berlin blues (T3), Der Demokratische Konsum lash out with noisy electro krautpunk (T9, Kriminelle Tanzkapelle bring synth dance rhythms and chopped vocals (T2), Choo Choo Flame features strange vocal stylings that remind me of Anna Homler (T5), Gesichter's repeating tape loops has a hip hop feel (T11), and Musik zum Weltuntergang wraps it up with a 9 minute high-pitched drone track for the end of the world (T14). Many of the musicians here went on to more well known projects after the wall fell, including Frank Bretschneider (alias A.F. Mobius (T1, T10) and in Kriminelle Tankapelle (T2) and Heinz and Franz (T3)) who founded the klangFarBe label in the 80s and, later, Raster-Noton in the 1990s. Photos of the original cassette artwork and information about the bands are in the liner notes.
Reviewed by lexi glass on January 7, 2018 at 8:10 pm
Comments Off
Fixed media and electroacoustic music from Birmingham-based composer William Price. Inspired by diverse sources: the abstract paintings of Francis Bacon and Gerhard Richter, the writings of James Joyce and Charles Bukowski, or more abstract concepts such as a practicing musician, discreet gestures, and meditation.
Intense music that will crawl your mind. Software scopes, aggregates and dissects. Excellent sound design.
Reviewed by Hemroid The Leader on January 4, 2018 at 3:06 pm
Almati/Almaty is the largest city/population center in Kazakhstan. 1.7m live there, 9% of Kazakhstan's total population.?? Elevation 2500 feet.?? These recordings date from May 1994.
Kazakh bards bow sacred lutes, sing microtonally, strum the two or three-stringed long-necked dombra, simple-structure songs with alien timbre and mesmerizing vocal technique.
Reviewed by Hemroid The Leader on January 4, 2018 at 2:30 pm
Filed as CD,International
Found Property Recordings released this CDr?? documenting a 2008 performance in Sheffield, England by Thereminist extraordinaire Beatrix Ward-Fernandez and percussionist Charlie Collins – sounds in space. Architectural. Volumetric. One continuous performance – track breaks to facilitate use.
Reviewed by Hemroid The Leader on December 28, 2017 at 2:51 pm
Marshall Allen Volcano Quartet, Volcano Swing
Marshall Allen was part of the Sun Ra Arkestra and this band is a continuation of that. They were in London in 2011 when a volcano exploded in Iceland, grounding all lights. The band took a three-day residency at Cafe Oto in North London.
They stopped by the BBC Radio to promote the gig and recorded this CD. First track is totally interstellar, but then they settle into a traumatic jazz quartet groove. the end of the CD there is a live interview and Marshall Allen reveals that he was a member of the Sun Ra Arkestra trapped in Seattle when Mount Saint Helens exploded in 1984.
Reviewed by Hemroid The Leader on December 28, 2017 at 2:23 pm
Different noise artists. Tracks 1-6 are all the same artist and are really short. They can really be considered one piece and would sound cohesive if one were to play them on continuous. All good solid noise tracks.
– Billie Joe Tolliver
Reviewed by billiejoe on December 20, 2017 at 4:31 pm
\
Sofia Gubaidulina (b. 1931) was a Russian composer who pushed boundaries, tonalities, forms and sounds. This displeased the Russian academy. However, she received the support of Dmitri Shostakovich, who championed her work, thereby providing cover.
Three long tunes, 17, 17, ans 38 minutes. These chamber pieces feature the Bayan, the Russian push-button accordion, a folk instrument. According to banyan player Friedrich Lips, these works, like all works by Gubaidulina, spring from "the collision of two beginnings — good and evil."
Reviewed by Hemroid The Leader on December 19, 2017 at 3:18 pm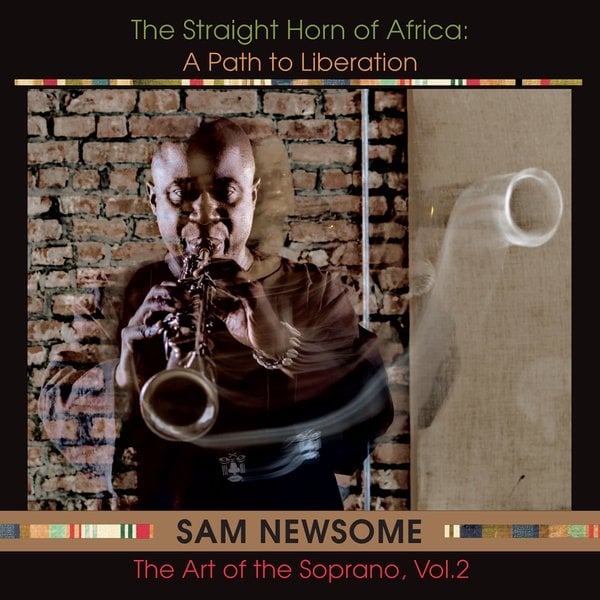 Solo soprano sax originals by Sam Newsome, who was in Terence Blanchard's band in the 90s. A solo investigation, "The Straight Horn of Africa," ventures to many places – swinging, otherworldly sounds, African nature sounds, American jazz sounds, Mimmo-isms, Afrobeat and Highlife — it's all here. Really cool sounds, pure, beautiful, strange.

Reviewed by Hemroid The Leader on December 19, 2017 at 2:46 pm


« Previous Page — Next Page »