KFJC On-Line Reviews
What KFJC has added to their library and why...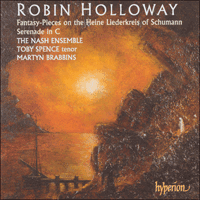 British composer Robin Holloway (b1943) reworking material from Schumann, chopping it up and pushing it this way and that. Performed by the Nash Ensemble, named for the beautiful Nash terraces of their native London. 1979's Serenade in C is almost jazzy at times, especially the Finale (#5). Fantasies on's Schumann's Liederkris (1971) follow, with Schumann's originals, sung by young and robust show-stealer Toby Spence, sandwiched in between. Kind of an odd program, but it works.
Reviewed by Hemroid The Leader on May 30, 2018 at 4:20 pm
12 duets between Syrian oud and Chinese pipa. Their string instruments offer different interpretations of the same ideas. Hong teaches and Rafea was artist-in-residence at Carleton College in Northfield, MN. The tunes are improvised, the players are masters, the vibe gets thick. Sometimes with ancient tradition, time and understanding seems to become dense and harden. These players are kicking up dust, looting the columbarium, hybridizing new alloys and making waves in the aether.
Reviewed by Hemroid The Leader on May 30, 2018 at 3:34 pm
Tidbits for the musical gourmet are served up extremely pleasant. 18th & 19th c. guitar duets with flute, harpsichord, cello or violin. Track length between 7 and 11 minutes, most containing several movements. You could play a single movement, bring diversity to your set, use as a bed. Get creative. The different instrumentations bring different sounds. Very enjoyable.
Reviewed by Hemroid The Leader on May 30, 2018 at 3:01 pm
Anne Clark meets Martin Rev at the local poetry slam to create something
original? Indeed! Map 71 is the two piece Bristol UK duo consisting of
percusionist Andy Pyne and Poet Lisa Jayne. 7 tracks of oscillating reverby
percussion combine with Jayne's inflectionless spoken word musings on topics
such as controversial dance moves and psychedelic waiting rooms to create
something unique and interesting. Real or halucinogenic? Every track will have
you pondering. Elements of Industrial, Ambient, Avant-garde and Post-Punk all
coalesce harmoniously without sounding pretentious or self indulgent. There is
a consistent feel to all presented here but Track 5 is my favorite.
Available as a CD or Cassette.
Reviewed by Jim Hunter on May 23, 2018 at 4:26 pm
Oakland musician and Outsound New Music Summit organizer Rent Romus takes his sax and flute to Helsinki, Finland where he is joined by excellent Finnish musicians to make this remarkable live 2017 album.  Very weird but very beautiful and listenable.  Sound is terrific, lovely tones from all instruments.  The tracks do not remind me of anything I have heard before and that's a good thing.  (A kantele is a traditional Finnish zither.)
Reviewed by Cousin Mary on May 10, 2018 at 12:17 pm
Guitarist Todd Novak (Cowlicks) is known for his country blue grass music but this band plays surf music.  The EP is all instrumental and features drummer Martyn Jones (Mermen), bass Johnnie Hamilton (Mach IV, Berzerkers), with keyboard work that adds a nice difference from Scott Theakston.  Definitely surf but with an edge.
Reviewed by Cousin Mary on May 10, 2018 at 10:51 am
Hard bop meets avant garde in this outstanding session from 1963.  Original recording and remastering were both done by Rudy Van Gelder.  Excellent piano from leader Andrew Hill, stunning "side men" include Joe Henderson on sax, Richard Davis on bass, Roy Haynes on drums.  Does it get any better than that?  Edgy and marvelous.
Reviewed by Cousin Mary on May 10, 2018 at 9:58 am
Solo guitar carnage from Reg Bloor, an NYC experimental/metal guitarist. Bloor went solo recently, starting with her excellent 2015 release Themes for an Imaginary Slasher. Before that, she played in Glenn Branca's ensemble for nearly two decades, served as concertmaster for several of his symphonies for 100 guitars (she and Branca are married), and collaborated with Bowie, Thurston Moore, GYBE and others. Bloor wields her axe fearsomely, churning out dissonant melodies that slash like a thousand blazing knives. Some pieces move in precise, repetitive melodic cycles, like the climactic bloody scene in a horror film playing in an awful continuous loop. In others, the guitar notes are blurred into a thick blackout. Brutal and brilliant.
Reviewed by lexi glass on May 8, 2018 at 8:38 pm

Drunk punk duo out of Sweden, well drunk is
a bit unfair as the topics of their lyrics are
sobering, but the rock on display here is
dive-bar distorted and grasping for a 2am
closing anthem vibe. The signature of the duo
(deviating from their folk roots, but not thaat
much) is the warble of Lilou. Raw emotion rasps
her throat and a vibrato attacks without warning.
Think Jello Biafra as Judas Iscariot in Jesus
Christ Superstud. Lilou sings to defy both
multinational corporations and conventional
musical keys. It's fascinating in a harrowing
manner. John provides guitar and pen for the
words coming out of Lilou's mesmerizing mouth.
The leadoff cut has the martial chop and snap
of some of the Ex's stuff, while #2 definitely
has AmRep pep. They are a husband and wife duo
who might have met in the classified ads of
Sweden's version of "The Nation." -Hunger
Reviewed by Thurston Hunger on May 5, 2018 at 12:35 pm
Walbrzch (VALL-breck) is a small town in Poland, supposedly the site of the Nazi gold train, also the site of these recordings. David Kechley is professor emeritus at Williams College in MA. CD1 is Karasuma, a "fast funk for orchestra". This crossover piece was premiered by the Boston Pops. Very questionable. CD2 is Wakeful Visions / Moonless Dreams, A Symphony in 4 Movements. Each movement starts from a text, Shakespeare, Basho, Proust, and the bible. Notari, Notari features the flute, and Something Wicked is more rhythmic.
Reviewed by Hemroid The Leader on May 4, 2018 at 10:52 pm
His feet are walking on hard ground and his head is in the blue ethers. Always a story-teller, Red tells about BB King and Lightnin' Hopkins. The band tracks are Chicago blues. The solo tracks can be strange, childlike (see #5, 8). Very addictive.
Reviewed by Hemroid The Leader on May 4, 2018 at 10:12 pm
Shadow on Everything is the latest from Brooklyn post-punk noise makers Bambara and is their followup to the more raw and tight sounding 2015 effort Swarm. Shadow can be succinctly described a modern take on all things Birthday Party and its numerous offspring. Upon first listen, I was struck by the similarity to Nick Cave and the Bad Seed's 1987 release Tender Prey with its long meandering intro track The Mercy Seat. Western Goth themes of nooses, damsels, and skulls pervade from begining to end. Reid Bateh's vocal stylings have smoothed out since Swarm which complements the more polished feel of this release. A noteworthy and original element of Shadow is the extensive use of ambient tape loops to successfuly create background texture that enhances the aura of foreboding. The track Backyard (11) nicely incorporates complimentary female vocals by Lyzi Wakefield. While the inspiration of their Australian forefathers may be a little too obvious to make this an overwhelming once in a lifetime release, this is still a strong effort. Should appeal to a wide swath but especially those who enjoy noisy goth tinged post-punk.
Note: Tracks 4 and 7 are instrumental atmospheric tracks that are short and quite strong
musically.
Reviewed by Jim Hunter on May 3, 2018 at 7:20 am
Two hour long tracks of electronic beats with vibraphone and German and English spoken word about sex and gender and Freudian philosophical theory. The track Freud's Baby is about menstruation, circumcision, masturbation, and other things. Play during daylight hours at your own risk. Released in 2000.
Reviewed by billiejoe on April 30, 2018 at 2:45 pm
An eagerly anticipated new album from this fine San Francisco Bay Area modern surf band.  Ranging from hard rocking to pop to Spaghetti western, most songs are original compositions.  The first 16 tracks are instrumental, then there are 4 vocal (gasp!) versions of previous songs.  Great fun, good energy, well executed – beautifully produced by Slacktone drummer Dusty Watson.
Reviewed by Cousin Mary on April 28, 2018 at 4:16 pm
Poland's Siekiera released this "cold wave with a twist" LP in 1986. Long considered a
post-punk classic by those in the know, this angry moody release mirrors the frustration
Polish youth must have experienced while living under the watchful eye of a historically
oppressive regime. While Nowa A caries a nihilistic and apathetic vibe that runs paralell
to several western european musical contemporaries, the albums appeal to a non Polish
listenership is enhanced by Thomas Adamski's haunting vocals sung in the vernacular of
his home country. The most obvious musical influence here is early Killing Joke. However,
elements of mid 80's French cold  wave and hints of 4AD goth punk epitomized by Xmal
Deutschland's 1983 release Fetisch provide additional inspiration. Angular guitar stylings
and a taut rhythm section combine with synthesizers and vocals that coalesce into a novel
sonic signature that is unmistakably distinct from their musical influences. Unfortunately,
Siekiera was never able to garner widespread interest outside of Poland in the years
since ( excepting neighboring Germany where interest in Siekiera and this album in
particular has always been high ). This long overdue addition to the
KFJC library should have wide appeal.
Note: Tracks 10-14 are bonus tracks from a 1985 EP and 7 inch. Tracks 1, 4 and 12 are my
favorites though all tracks are strong. Track 10 is an instrumental. The word Siekiera is
pronounced SEE-CARA and not surprisingly means axe in Polish.
Reviewed by Jim Hunter on April 27, 2018 at 8:38 am
2008 CD with Plastician (of Rinse.FM DJ Fame) mixing various Grime and dubstep cross-over material. mostly instrumental, from ten years' back. Fast and furious mix, each tracks gets a couple of minutes and on to the next. It works with this kind of wobble grime material, too long tracks would distract the dancers and the attention span. The dubstep world provides the wobbly bass, the grime adds in the bouncy fast patterns and chord layers.
Put the CD on continuous play for 3-4 track playback. 
Alas, ten years is a long time and the current grime scene has moved on to other pastures with even more experimental soundscapes. Consider this the time when the dubstep producers were looking for a new venue for getting people to actually dance to their tracks. –Kai
Reviewed by Kai Sync on April 26, 2018 at 3:48 pm
John Balistreri is Slogun, a Brooklyn-based power electronics project founded on a simple premise: PEOPLE ARE TRASH! Originally recorded in 1997, this early work was remastered and re-released in 2015 by the Ukrainian label Old Captain. Heavy electronic confusion, from high end blasts to metallic infernos to more subdued suspenseful rumblings. Sometimes hints of sampled songs or reverberating voices can be heard somewhere in the uproar. All of it surrounds Balistreri's savage vocals: the cries of anticipation of a murderer planning the next crime, the taunts of a torturer as he abuses his victim, the growls of a racist confessing his disgust for the drug addicted and the poor (T2, T10), the screams of a rejected stalker that resorts to self-immolation as a final romantic gesture (T6). A real "achievement," in that is hard for me to imagine a purer expression of hatred, and because it absolutely delivers on its title (this filth completely spoiled for me a beautiful spring week and my birthday, as I'm sure the artist intended). Therapy through violence!

FCCs on every track except maybe T7

Reviewed by lexi glass on April 24, 2018 at 10:00 pm

Kenny Ahearn plays all instruments, including the bagpipes, of these surf classics and one of his own composition.  He has posted many videos online where he looks very natty in his kilt.  Great fun, surf Scotland!!

Reviewed by Cousin Mary on April 20, 2018 at 11:45 am

Boom Pam is a band from Tel Aviv, Israel.  They mix Balkan, Jewish, Greek and Mediterranean sound with rock.  They are frequently called a surf band – certainly the instrumental tracks on this album would fit in a surf show – but one ponders a chicken and egg question after considering the strong influence of middle Eastern songs such as Miserlou on American surf.  Really good musicians, very fun energetic tunes including the ones with vocals.  Instruments include a TUBA!

Reviewed by Cousin Mary on April 19, 2018 at 3:43 pm
Filed as CD,International

Ambient spacey jazz brought to you by piano, trumpet, guitar, and percussion. Long trips. Smith and Kaiser go way back but this album came out this year. Perhaps Ocean of Storms refers to the Oceanus Procellarum, a basaltic plain on the moon that is the result of ancient volcanic eruptions.

— Billie Joe Tolliver

Reviewed by billiejoe on April 18, 2018 at 2:01 pm


« Previous Page — Next Page »