KFJC On-Line Reviews
What KFJC has added to their library and why...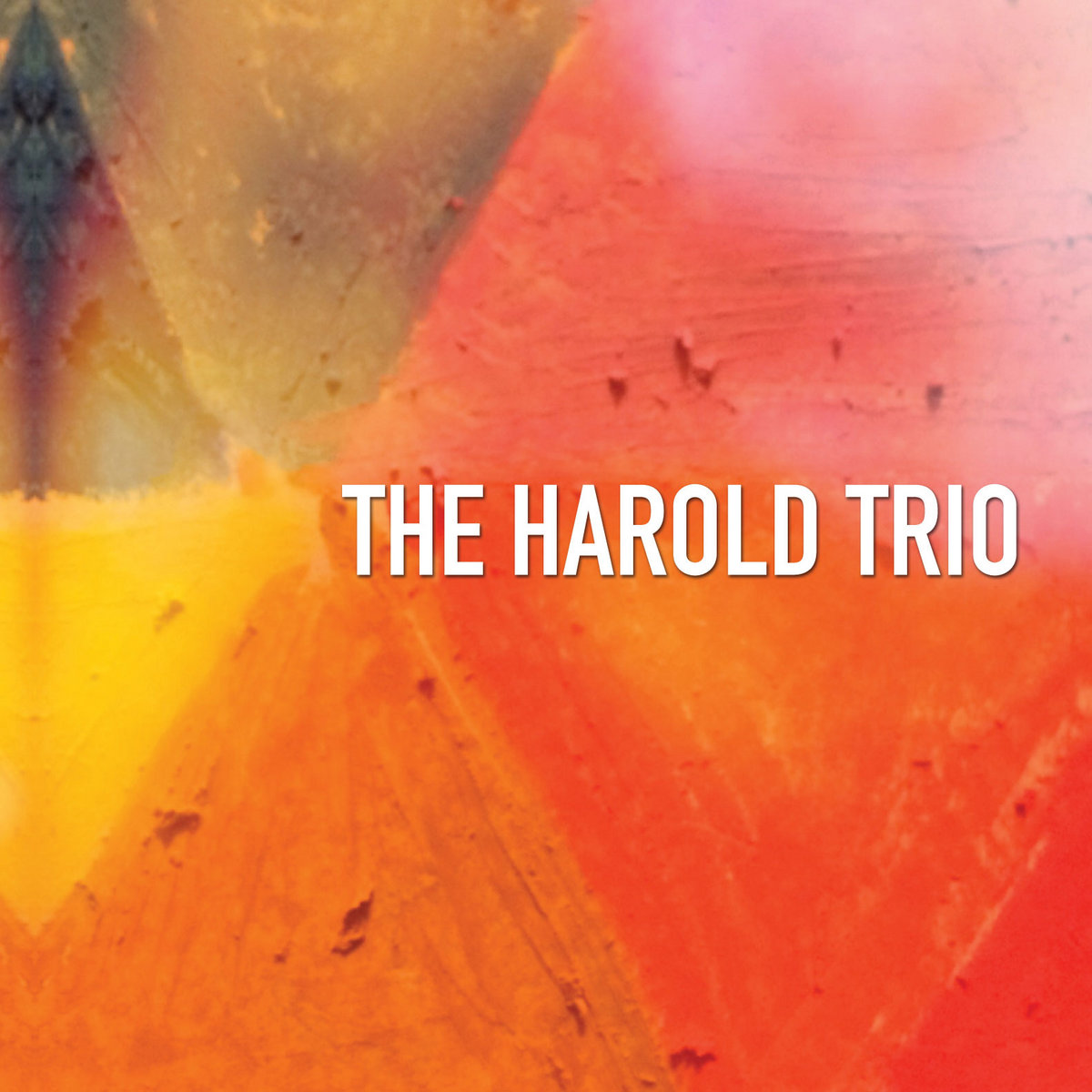 The result of an exchange between the Washington and Sweden chapters of Women in Jazz, The Harold Trio recorded this in LA for Edgetone Records in May 2016. All three women are international performers, working in places as diverse as India, Brazil, Uganda, and Sweden. They bring a broadly-informed sound that draws on jazz, classical musics, and improvisation to these impressionistic improvised tunes.
Amy K Bormet (piano/wurlitzer/voice)
Biggi Vinkeloe (alto saxophone/flute)
Tina Raymond (drumset)
Reviewed by Hemroid The Leader on August 22, 2017 at 2:28 pm
Serbian composer Milica Djordjevic (JOR ja vitch) was born in 1984 in Belgrade. 7 intently focused unpackings: thorough examinations of musical structure. Melody, harmony, rhythm, and many other conventional musical concerns are in the background. Stasis, tension, upheaval. The liner notes talk about it as crashes and reboots.
Track 1 commissioned and performed by the Arditti Quartet. Notations in the score include unpitched/noise bowing, highest possible tones, bowing on the bridge, huge glissandoing.
Well Organized.
Reviewed by Hemroid The Leader on August 16, 2017 at 5:53 pm
Ann O'Rourke, Carlos Jennings, and Mark Pino have been performing together as Ear Spray since 2010. This self-released, hand-painted CDR collects recordings of the noise trio's live performances from 2014-2016 at local venues The Stork Club (T1), LCM (T2), and the Second Act (T3).
O'Rourke is a percussionist, vocalist, and video artist who came to the world of free music later in life, discovering her love for strange sounds by playing drums in a free jazz group, taking operatic voice lessons, and singing in the Cornelius Cardew Choir, an SF-based experimental vocal ensemble. She brings all of her talents to this project – from the wails, yelps, and rapid-fire utterances of her voice, to the riotous tumbling percussion, to the live video projections that react to the music during the Spray's shows. She is joined by Jennings on turntables and electronics and Pino on additional percussion (Infinite Plastic Internal, McCaslin/Reed/Pino Trio, Surplus 1980, etc etc etc and a good friend of KFJC).
Each performance is a very different experience, each an adventure. The Stork Club track (T1, ~20m) is an ecstatic meditation on the looping mantra: if a thing loves it is infinite. The LCM track (T2, ~18:30) begins with a twisted reveille – you wake up, but you're still in the dream. The Second Act (T3, ~20m) is an underworld haunted by electronic ghosts. Together, it's the sound of an artistic spirit finding her wild, fearsome voice. Spray it loud!
Reviewed by lexi glass on August 14, 2017 at 8:10 pm
The Insect Surfers from Los Angeles claim to be "Planet Earth's Longest Running Modern Surf Band" but they continue to re-write the principles of modern surf music. In terms of musicianship, composition, and complexity, Datura Moon keeps them in a class by themselves. Jump around and dance to their great surf sounds or trip out on the psychedelic title track. Recommended!!!
Reviewed by Cousin Mary on August 12, 2017 at 3:40 pm

Dan Phillips is a Chicago guitarist who moved to Bangkok Thailand 20 years ago. His music is featured here and it is Groove oriented but also pays tribute to the AACM. Hamid drake on drums. Brass section is very strong. Recalls Raul Bjorkenheim, or Lester Bowie' s Brass Fantasy.
Reviewed by Hemroid The Leader on August 9, 2017 at 2:57 pm
West African mono chordal desert trance music. Psychedelic droning guitars. Tamasheq (Touareg) are a Saharan nomadic people who were in conflict with the government of Mali in the 80s, armed by Qaddafi. Tinariwen was formed in a Libyan camp for Tomashek rebels. This was Tinariwen's first western release after a series of regional tapes. Track one sung by a guy who'd been shot 17 times.
Reviewed by Hemroid The Leader on August 9, 2017 at 2:35 pm
Filed as CD,International
Somewhere between AHH! and UH! lie these collectively improvised free jazz livestock orgies out on improvising beings. The same 50-minute-plus composition is performed in the studio on disc 1 and live on disc 2. Linda Sharrock's post-stroke vocals are wild and primal. Very challenging and rewarding. The sidemen are right along with her, Itaru Oki, Makoto Sato, Eric Zinman, Mario Rechturn et al. CD1′s larger group's collective improvising recalls Ornette Coleman Free Jazz LP. CD2 is a smaller group and it gets raw.
Reviewed by Hemroid The Leader on August 7, 2017 at 9:12 pm
Chris Corsano – drums
Sylvie Courvoisier – piano
Nate Wooley – trumpet
The premiere recording of this lineup, in Brooklyn 2015. These four tracks work out a very promising relationship. Wooley and corsano come from a DIY/free music background and Courvoisier was educated at the conservatory in Lausanne. But maybe these distinctions are not very important as they are having a very advanced musical discussion.
The first track is 21 minutes long and it is the wildest and most tenuous. They continue to explore through the next two and by the last tune there is a sound. This band has a great sound and I think they would be crazy not to record more of it.
Reviewed by Hemroid The Leader on August 7, 2017 at 4:54 pm
Herbst9 is the dark ambient project of Henry Emich and Frank Merten from Leipzig (they also work under the name Land:Fire). This 2011 release from Loki Foundation is a 2X CD concept album inspired by the Sumer and Akkad, the world's first civilizations – from the cuneiform symbols and mythological imagery that make up the cover art, to the vocals in the ancient Akkadian language, to the ceremonial rhythms and instrumentation. The first disc opens with "She Filled the Wells of the Land With Blood" (T1), with ringing gongs and the chants of a vengeful female spirit (Andrea Sinclair provides vocals in Akkadian, also on T7). "Napissunu Mutumma" (T2, "Their Breath is Death") is a 15-minute epic with a dramatic battle scene bookended by beautiful, mysterious passages with harps and chimes. "Ludlul Bel Nemeqi" (T3, "I Will Praise the Lord of Wisdom", the title of a poem that reads like a Babylonian version of the Book of Job) is a fitting soundtrack to your upcoming solar eclipse sacrifice. "The Sage Lord Asimbabbar" (T11) is another highlight, with violin, lute, and chimes. Along with the dark ambient shadows and the acoustic instruments, loops of spoken word are used – some times well, but other times to confusing and even annoying effect (like the guided meditation spoken word on T2, for example). But that aside, there's hours of excellent dark, mystical atmosphere on this release.
Reviewed by lexi glass on August 6, 2017 at 3:44 pm
Romain Perrot is a French dad who makes "walls" in his spare time: long recordings of harsh, loud, dense and nonmusical sound that change little over time. This style has been dubbed Harsh Noise Wall or Static Noise, other practitioners of this vile art including Richard Ramirez (as Werewolf Jerusalem) and The Rita. In an interview, the composer discussed the concept of the 'Harsh Noise Will Manifesto,' which has to do with the increasing atomization and selfishness inherent to modern Western society. For him, he says, Harsh Noise Wall is a place where he can exist away from the world. In this sense the practice shares the escapist qualities of a religion. Performing live, Perrot often wears a garbage bag over his head, in defiance of France's laws against sporting religious head coverings in public.
Two tracks 2011:
T.1 = 'Paulina Semilionova Would Go To The Knacker' = 40m = noise generators and effects = will make you grind your teeth.
T.2 = 'The Appearance Of Truth Is A Moment Of Falsehood' = 20m = electro-acoustic 12-string guitar = will make you shiver.
Don't expect much to happen.
Vomir means 'to vomit' in French.
Reviewed by Lord Gravestench on August 2, 2017 at 4:46 pm
This is a true treat: 20 tracks, mostly instrumental, by the stunning guitarist, Eddie Pennington. Hailing from Kentucky, he plays in the parlor movement style of Kentucky thumbpicking. (Read the booklet for an in depth explanation.) His skills are ever apparent. The notes float by ever so delicately, with intricate twists and turns that captivate the listener. His playing in so smooth, so perfect it is almost unreal. You can just see him sitting on a porch, picking away, telling stories, singing, and playing for hours. A joyful listen.
Reviewed by Naysayer on July 30, 2017 at 10:57 pm
Life is good when folks like Astronauta Pinguim exist. Luckily he "landed" here, his words, specifically in Brazil. He is of the folks who find great joy in recreating sounds with vintage 60′s/70′s synths, electric organs, drum machines and voice modulated vocals. So good. Each song is a joy of moog, synth, electronique and robot vocals. Great beats, smooth sounds, and rockin' titles. You can't go wrong when one song is named after the iconic 3 words said in "The Day The Earth Stood Still" – "Klaatu Barada Nikto"- even if he spells the first word wrong -Kaatu. Do "The Robot" with this one. I will.
Reviewed by Naysayer on July 30, 2017 at 10:33 pm
Salamander Wool's music is by Carso Garhart and Twig Harper contributes electronic elements and production techniques. The first track is probably the best, with its field sounds (recorded over time in West Baltimore) and bells. Vocals join the sounds partway through the track, and are present on the other tracks as well. These are an acquired taste, but the music itself is pleasant enough, with its guitar strumming that is Americana-esque. Track 5 has water sounds and then whirring (a washing machine?). The lyrics have merit, and overall this might just be great music for the solar eclipse coming up.
Reviewed by humana on July 30, 2017 at 6:13 pm
Trumpeter Rob Mazurek (Chicago Underground, Isotope 217) and electric pianist Thollem McDonas (Tsigoti, Estamos Ensemble) meet for the first time in Marfa and head for the outer limits. As might be expected from a pair of experienced improvisers with incredibly diverse interests, they hit a variety of spots along the way. It helps that Mazurek is packing a sampler, a modular synth, bells, and his prodigious voice in addition to his horn. Electric-era Miles is the obvious referent, but there are also Oval-style glitch experiments, modular synth workouts, free-folk psych freakouts, and even some "straight" free-improv. Of particular note are those moments when Mazurek's shamanic chanting breaks through the squall, and the whole thing threatens to break itself apart. Noisy, messy, and joyous.
Reviewed by Phil Phactor on July 26, 2017 at 7:05 pm
From the very interesting, very awesome Austrian Death Metal scene (Pungent Stench, anyone?) came Cadaverous Condition, originally a Death Metal band but in recent years embracing a 'Death Folk' sound that sometimes incorporates somber acoustic instruments alongside death growls. As if that weren't eccentic enough, they had a slew of sympathetic experimental musicians remix material from their 2006 album 'To The Night Sky' into new compositions. The result was this 2008 CD. The remixers are Thighpaulsandra, Andrew Liles, Nocturnal Emissions, Product 8, Colin Potter, Nurse With Wound, Gjoll, Holy McGrail, Asmus Tietchens, Controlled Bleeding, and Ali Helnwein. It's about as strange as you'd expect, especially because the electric guitars and growls do make it through in some form on most pieces. Still, "[t]his is no ordinary remix album, this is alchemy."
The output ranges from glitch techno (t.1) to Industrial Metal (t.s 2, 8, 9), Death Surf (t.5) pure noise (t.s 3, 4, 10), and Surrealist collage (t.s 6, 7, 11, 12, 13). T.7 is the most brutal song ever to namedrop Rod Mckuen. The guest vocal from Death in June/Sixth Comm's Patrick Leagas is preserved more or less intact on t.8. Yay. The last track is also weirdly moving.
Pretty strange album. Many tracks could be played to make fun of metal, as many like to.
Reviewed by Lord Gravestench on July 26, 2017 at 6:49 pm
G*Park is Marc Zeier, the most obscure member of the already obscure Schimpfluch-Gruppe. His solo work is a surreal blend of field recordings, musique concret, and tape loops.
This box set (1 of only 77) contains CD reissues of 5 of G*Park's earliest cassette recordings, along with one CD of previously-unreleased improvisation with Runzelstirn & Gurgelstock. Also included are a glossy booklet of artwork and a bag of tea.
Lots of loops and layers going on here, a rich collage flowing directly through the sub-conscious (or un-conscious) mind of the listener. Flittery bird calls and heavy machinery, like a field trip through an under-construction menagerie. Ominous tones, drones, and groans confuse and disorient.
Quasi-rhythmic scrapes and clangs. Heavy breathing, snoring, gurgling. Dreamy nitrous-oxide induced bliss. The dental chair and all its drills, picks, blood, and bright lights feels so far away.
Hazy radio transmissions pulled from the ether. Distant memories of high-school football. Crunches, crashes, and sharp staccato piano snap you out of it, and take you somewhere else, somewhere darker.
Reviewed by Louie Caliente on July 26, 2017 at 5:54 pm
Follow up to 2016′s Wood Flute Songs oversize box. All compositions William Parker. In the tradition of Mingus and Ellington. Both CDs recorded live on the same day in 2016.
Parker's namesake quartet on CD1 features OKC's Jalalu Kalvert-Nelson on trumpet, CD2 In Order To Survive quartet features Cooper-Moore on piano. Both CDs feature Parker-bass, Rob Brown-alto, Hamid Drake- drums.
CD1 – Kalvert-Nelson on "Rodney's Resurrection". Brown on "Handsome Lake." Drake and Parker swing hard all disc.
CD2 – Cooper-Moore channels Cecil Taylor and Don Pullen. Check out "Some Lake Oliver." Parker's bow on "Sunrise .." lets you know he is completely in control.
Reviewed by Hemroid The Leader on July 26, 2017 at 5:29 pm
This album came out thirty years ago. Bay area dude. He's done a lot of important stuff like taught at Washington University and had fellowships. He is associated with the Deep Listening Institute founded by Pauline Oliveros This is three long minimal droney toney pieces. Horns on tracks 1 and 3 and didj on track 2. Absolutely delicious. Good for calming down or staying bummed out.
– Billie Joe Tolliver
Reviewed by billiejoe on July 26, 2017 at 4:37 pm
Anima Nostra is the duo of Nordvargr (Mz.412, Toroidh, Folkstorm) and artist Margaux Renaudin, a newcomer to Industrial music. This 2017 release can probably be considered a follow-up to the 2016 'Anima Nostra' album released on Cold Spring under their own names.
The components of the sound are recognizable to Nordvargr fans — thickly distorted synthesizer, gruff growls, Martial Industrial beats, mournful ambience, manipulated samples of religious chant, creepy-crawly repetition — but never before has this indestructible Swedish noisemaker combined his different sonic interests so seamlessly into one statement. The end result could be called Industrial Doom Metal, Neo-Classical, or Ritual Ambient, depending on which part of which track is playing. Recent fusion experiments from the Karjalan Sissit bunker came to mind, as well as fellow Swedes Trepaneringsritualen (who designed the cover using Renaudin's calligraphy) and Sanctum.
It's almost redundant to compare Anima Nostra to other groups in this vein, though, because Nordvargr himself helped found the Black Industrial cult of Scandinavia decades ago. He has continued to reinterpret and refine his sonic ideas since. His young collaborator seems to inspire him towards even stranger territory, like the opera valkyrie on t.4, the crisp gothic organ drones on t.5, the French whispers on t.6, or the bizarre metaphysical lyrics, which are as frustratingly oblique as other motifs here. The theme may be on the evils of language; perhaps the "atraments" are the printed inks we use to construct our flimsy psychic realities?
"All words are abuse," says the booklet, so I'll stop abusing this great CD. Play it.
Reviewed by Lord Gravestench on July 25, 2017 at 6:39 pm
Oakland-based percussionist and composer Jordan Glenn is a modern-day Mingus, known as much for his mastery of his chosen instrument as for his unique and compelling ensemble work (cf. BEAK, Wiener Kids). Here, he collaborates with Jim Ryan, a Bay Area poet who used to pal around with Allen Ginsberg and William Burroughs. Glenn's compositions feature hammered dulcimer, vibraphone, and piano, and mesh perfectly with Ryan's gravely, sage-like voice. The mood is mostly somber and melancholy (although watch out for T5 which works itself into a bit of a frenzy with some hand percussion and guitar pyrotechnics), and I can't help but envision an old man alone in his castle, whiskey coursing through his veins, slowly going insane. Guaranteed to both fit in and stand out in any show. Highly recommended!
Reviewed by Phil Phactor on July 25, 2017 at 1:01 pm
Next Page »