KFJC On-Line Reviews
What KFJC has added to their library and why...

It's too obvious to say "I love Anal" or "Anal is so good" so I won't. But, this is really a good album. Anal, actually Jody Evans from Wales, was a production assistant to Julian Cope in the mid 1990's. He asked to play around with the electronic equipment and came up with this brilliant exploration of all sounds electronic: beats, anti-beats, anti-rave. It was so good that Dorian and Julian Cope decided to release the outcome on their solo release label K.A.K. This is such a highly praised work by so many that it has been rereleased with more info, but we have the original. Amazing.
12 songs of unique electronic noodling. Call it IDM, EDM, electronic, whatever. So many variations of sound blips and bleeps. Love this so much. Listen and you'll love Anal, too.

Reviewed by Naysayer on June 18, 2018 at 4:21 pm

Jabbs socks off on the froth of the fuzzy topic, top topics to pop off about (gun) accentuate and tap along to, like a classic 3 piece combo, here imagery street to bed cover the bliss, the time-out, and the america of pop-rock, distopic-ally.

Vernacular postures in the common phrasing, can't ons you can't put on, tongue twisted logics, misbehave find someone else kill your[ ]self FCCS SHIT, FUCKING, PIECE OF SHIT, FUCKING BITCH.

No need to chime in, or dive in brine to stay to old age, all in pun and rhyme not the aforementioned, pintip accurate landscapes of guitar chorded refractory layers on the thimble of sound garden nirvana.

Dialectic's mesh syncretic weathered parts of a disjointed stonescape, a tinge of animosity, a shimmering nite dance.

Saying about chant, something to tell punk rant, can tell, "you don't care.. I don't care.." (about. The sound…) piston pump bounty bouncing beat and bumps if pressed on vinyl.

Having earned their mettle, display anthemically after prog-punk after dirge, under a rose tint, a lament.

Reviewed by Grizzly Adam on June 16, 2018 at 2:49 pm
Mark Applebaum teaches at Stanford and his compositions are said to pose "challenges to the conventional boundaries of musical ontology." He has also given a TED talk on boredom. Both of these facts come to mind when listening to the first three tracks of this CD, which comprise the piece "Three Unlikely Coroporate Sponsorships." The composer is credited with playing 'rant,' but it's a strange sort of ranting. Each movement starts with a spoken brand name, repeated, slowly morphing into other words, related in sound but not in meaning, decorated with cookie cutter glitches and delivered at hyper-speed. It's something like a manic version of Amirkhanian's text-sound compositions. It's certainly not boring, but is it enjoyable?
The other tracks are more conventional, at least on the surface. Clicktrack (T7) delivers an array of percussive sounds arranged in Cagean fashion. Skeletons In The Closet (T4) features eight analog synths squelching and belching away, and the title track (T5) is your source for classic dissonant string sounds.
Reviewed by Phil Phactor on June 13, 2018 at 7:15 pm
1996 collection from &R&S Records with various DrumNBass tracks of this era. This was the time and space of jazz influences, jazz chords, horns, lounge samples, downtempo drums and hipster elements that still kept the genre intriguing with multiple remixes of preciously released tracks.  Some of the tracks even have the early day low-end bass wobble present. Pick out the gems from the collection. For me it was the more less-jazzy experimental tracks by Tony Justice, Lemon D, Justice, Kenny Larkin and Locust. Sadly this was the last In Order to Dance collection from R&S Records.   –Kai
Reviewed by Kai Sync on June 13, 2018 at 3:18 pm
Collaboration between the anonymous masked maniac vocalist Blessed Blood Vulva and Japanese harsh noise artist Guilty Connector (aka Guilty C, aka The Skull Downpour Electronics, aka GxCx SKULL…). The first half or so of the tracks originally came out on a cassette release in 2014; these tracks plus some new and live material make up this 2017 CD release on SSSM, the Nagoya-based label run by Hiroshi Hashimoto, better known to us as Contagious Orgasm.
A combination of supershort grindcore blasts combined with harsh noise assaults and cut up collages – is this Japan's answer to Man is the Bastard/Bastard Noise? It's just as good, but way more deranged, so of course I love it. The first 26 tracks, and several throughout the second half of the album, are quick bursts of piercing feedback and BBV's disturbed howls. "The Slow Kill in the Cold" (T26), a pause in the insanity, is a suspenseful snowy murder scene, "Hooded Men From Hell" (T30, see also T31-32) is a longer onslaught – Incapacitants/Hijokaidan legend T. Mikawa assists on the noise and you can hear his touch here. "In the Forest of Red Water" (T51) is a sparser track with rattles and thudding feedback, "The Evils Rules" (T53) is degraded electronic gongs ringing through dark tunnels. The final track "Angel's Mother Is A Bitch (live)" (T65, yes 65) is 2:18 of silence followed by vicious feedback and screams. 20 seconds later, it's all over.
Reviewed by lexi glass on June 12, 2018 at 9:50 pm
A fine collaboration between two UK absurdist noise champions. Smell & Quim hail from Leeds and have been making unsettling lo-fi performance farts since the late 80s. Here they join forces with Bournemouth native and Head Cheese of Cheeses International, Steve Fricker aka Onomatopoeia. Fricker claims to only collaborate by mail, mixing and remixing each other's works to create the perfect abomination.
Unlike other Smell & Quim releases which rely heavily on smutty and/or violent vocal samples, the tracks here are more "traditional" noise: pulsating electronics with low-frew rumbles and grumbles and only the occasional hellish gurgle. Don't expect a wall-of-noise, though. Fluctuating dynamics evolving rhythmic patterns permeate these two pieces.
Appeasing The Great Porn God (T-1) is fairly pulverizing. Disorienting and discomforting, with transient pounding rhythms and guttural groans.  Semi-subliminal themes of pornography, masturbation, and S&M.  Nothing too overt or overly-discernible, though, so it's safe for daytime.
Symphony in Labia Minor is an act in three parts, each featuring sonic baths of piercing static. Part I (T-2) is the longest and the most aggressive, but blends into an almost ambient swirl, not unlike a dishwasher. Part II (T-3) is the shortest and most pleasant of the three. A nice palate-cleanser of sorts before painful shrieks signal the beginning of Part III (T-4). The final track is a return to the harsher sounds of Part I, but for the first time we get a whiff of *actual* instruments, like a guitar and some sort of drum. The drastic dynamics and binaural brain-beating are both on display in the final act, making it my favorite of the three.
Reviewed by Louie Caliente on June 11, 2018 at 9:44 pm
Steven Jansen is a sound artist from the southwestern US (NB "Not Steve Jansen from Japan, not Japan the country."), who has collaborated with Jeph Jerman and James Fella. On this 2016 release, he uses field recordings, treated guitar, bass and saxophone, and electronic sounds in his work. The album opens with a longform piece "Short Change" (T1) with ghostly saxophone melodies that grow into a heavy, enveloping dronescape; this was my favorite track of the album. The following tracks are shorter collages assembled from a collection of strange sounds: magnetic tape slithering and screeching, doors slamming, metal sheets recoiling, plucking of rusted strings, scraping of small objects, long eroded tones. The album concludes with a longer track, "Member Calendar" a (somewhat trying) study of the high-pitched whistles and chirps from the reed of the saxophone (T7). Released by Jansen's own label That's Cool records.
Reviewed by lexi glass on June 11, 2018 at 7:12 pm
Noam Chomsky is, of course, the seasoned voice of far left intellectual political thought and social observation. This lecture, given shortly after G.W. Bush won his second term, tracks the continuous actions the U.S. plays in its role as world imperialist dominator. Chomsky tracks the elaborate plans the USA government creates and implements, from post WW II up through the time of the lecture. The manipulation of world law by the U.S. is astounding and not surprising. It helps to understand where we are today. This just didn't happen. Everyone is complicit. It is always fascinating to me to listen to Chomsky: not just to his ideas but to his tone, his meter, his style. It is so soothing, rational and calm. He talks about the most heinous atrocities and manipulations of rule for power and the devastating effects on millions of people, yet he does so with such ease. No histrionics. It's almost frightening. Though the CD is tracked it can be played as one long piece. Enjoy.
Reviewed by Naysayer on June 9, 2018 at 11:52 am
Sydney band's 2nd self-released full-length. Wierdly enjoyable Australian Mexican metalheads mariachi muertos flamenco with hand drums and facepaint. Forays into psych, metal, even soccer (#3 "Golden Goal").
Reviewed by Hemroid The Leader on June 8, 2018 at 3:05 pm
Filed as CD,International
Areon Flutes is a new music flute trio. Sounds like birds, air, activity. 3 commissions from SF area composers. Recorded at the SF Conservatory of Music in December 2016. Hosts of the Areon Summer Flute Institute here in Los Altos, a unique summer music experience for elementary through collegiate flutists.
Reviewed by Hemroid The Leader on June 8, 2018 at 2:48 pm
Amirkhanian is the dean of American Text Sound Composition. His work on this 2017 release dates from 1973-77. Here Amirkhanian is using words and language and vocals as sound elements, building compositions out of mostly nonsensical spoken words and phrases. Among his methods for creating these pieces: Live vocals combined with pre-recorded vocals. Tape loops colliding, then syncopating, then diverging, creating insistent yet seemingly random rhythmic patterns. Multiple tape recorders in a series, continuously recording and overlapping until the words eventually disintegrate into unrecognizable sounds. Things like that. Track 5 integrates location recordings as environmental backgrounds. The liner notes in the accompanying booklet are detailed and fascinating, and toward the end there is a breakdown of each of these pieces and and how it was made. Super avant-garde and I love it.
Reviewed by Max Level on June 6, 2018 at 12:36 am
Belgian duo of 'Morbid Messiah' and 'Baron Cimiterre' allegedly founded in 2011. Since their 2016 recording debut, their take on Bestial Black / War / Goat Metal has made a big splash in the underground, like some kind of unholy cave diver.
Hype can be pretty deadly to extreme metal bands but not in this case. Proving there's more to my least favourite Western European country than Muslim terrorist safehouses, 'Man Bites Dog,' Jean-Claude Juncker's resort for retired bureaucrats, terrifying deep-state pedophilia rings, and those fried potato stick things, P.C. deliver an oozing effluent of exultant (and on a few occasions, oddly banjo-like) tremolo riffing, animalistic growls, and precisely pugilistic percussion. For psychedelic spice (and to go with their vintage logo) they add 70s-style guitar riffing and analog-sounding keyboards to the stew on many tracks.
Their most obvious influence is Beherit, though their sound is more studied; there are elements too of Archgoat, Blasphemy, Mystifier, Hellvetron, Goatlord, Nocturnal Blood, maybe Varathron. Good company to be in all around. My point is that their sound actually does manage to come across as fairly original, and unlike so many of their influences there is a certain tautness to the playing.
I asked Rat King what they were doing on the cover. "Obviously they are having a perverted ceremony," came her reply. Indeed.
Also included on this CD version: the tracks from the NWN! 12" LP we added 4 months ago.
T.s 1 + 10 are dungin' synth intros.
Reviewed by Lord Gravestench on June 5, 2018 at 10:17 pm
Free jazz explorations from New Orleans saxophonist Kidd Jordan and his longtime collaborators, drummer Alvin Fielder and pianist Joel Futterman. On this release, trombonist Steve Swell visits from New York and joins the trio in the Crescent City for a performance of three improvisational works. "Expansion" (T1), the most bombastic of the three, is a wild tumble of color and energy, but still anchored by familiar jazz patterns, like recognizable chord progressions on the piano and steady drumming rhythms. "Residue" (T2), my favorite, begins with more subdued passages that builds into a soulful meditation; this wouldn't be out of place next to the wonderful Alice Coltrane record in recurrent. "Sawdust on the Floor" (T3) ends with a wild frenzy, then a drunken march, and, for the finale, a loose, impassioned rendition of "Summertime." Not totally facemelting, but there's challenging ideas here, all the more impressive coming from the 81-year old Jordan.
Reviewed by lexi glass on June 5, 2018 at 9:29 pm
Collection of works from the beginning and end of the composer's career, performed by the American Composers Orchestra from NYC.
"The Seasons" (1947) (T2-T5) Composed to accompany a ballet, this one of Cage's first works for a full orchestra of traditional Western instruments. Dissonant, but not completely clashing, melodies that build from the quiet winter to the fiery fall. You can hear the influence of Cage's teacher, Arnold Schoenberg.
"Suite for Toy Piano" (1949)  A composition that centers on the unique metallic sound of the children's instrument. At this point, Cage was obsessed with the music of Erik Satie, who at the time was relatively unknown. There are two interpretations of the piece: the original solo work (T10-T14) which is surprisingly lovely, and a 1963 reworking (T15-T19) by Lou Harrison that substitutes the toy piano with a full orchestra, that obviously gives the work a completely different, grander sound. I prefer the original, but it's interesting to hear both side by side.
"Concerto for Prepared Piano and Chamber Orchestra" (1950/51) (T6-T8) Now we're getting closer to Cage's most famous work "4'33" (1952) that exemplifies his musical approach of "non-intention," inspired by Zen philosophy. This piece is a step in that direction, with Cage allowing the musicians to improvise freely within a fixed overall structure. But the fixed structure itself is also subject to chance: Cage flipped coins to determine how the orchestral and piano parts move in pitch and time. The piano, played here by Margaret Leng Tang, is prepared with objects inserted into the piano strings to change the sound of the notes.
"Seventy-Four" (1992) (T1 and T9) This work comes at the very end of Cage's career, five months before his death at the age of 79. A completely different kind of score, with the musicians playing single notes but freely choosing when and how to play them within a time interval. When the musicians change to different notes, it creates these unpredictable moments of dissonance, and an evolving drone-like sound. Two instances of the piece are included here.
Reviewed by lexi glass on June 5, 2018 at 8:27 pm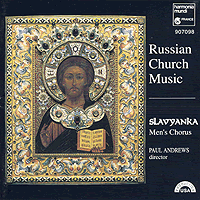 Choral liturgy music from the Russian Church, released in 1992 by harmonia mundi. Track 16 composed by Stravinsky. The Slavyanka Russian Chorus was founded April 1979 in San Francisco, named for a 19th-C. Russian settlement at Fort Lee near the mouth of what is now called the Russian River.
Reviewed by Hemroid The Leader on June 4, 2018 at 5:30 pm
"SIX CLASSIC ALBUMS"– 44 tracks from 1957-59 on 4 CDs from European imprint Real Gone Jazz, 2012. Rollins, Coltrane, Pettiford, Roach, Haynes, Charlie Rouse.. gang's all here. . Back cover of the booklet has the personnel. CD4 solo in SF. He had a ring that said MONK, he would hold it upside down and it spelled KNOW. "Always know," he said.
Reviewed by Hemroid The Leader on June 4, 2018 at 4:43 pm
This is a compilation of songs originally recorded between 1981 and 1984. It's electronics that sounds playful like video games with hazy male vocals fading in and out among the sounds of telephones ringing (3). It's more than the playful sound, though; it's a flashback to the 80s and many of these feel like a soundtrack to that time (4, 6, 8). I can tell this will get lots of plays.
Reviewed by humana on June 4, 2018 at 12:03 pm
This is refreshingly accessible avant-garde jazz from a quartet featuring Hone on alto sax and bass clarinet, Lauren Baba on viola, Gregory Uhlmann on guitar, and Mike Lockwood on drums.They are capable composers and improvisers. "Play" (7) sounds like a wonky circus act, while "Morning Bear" (9) is a lovely creation (written by and featuring pizzicato by Baba) worthy of many listens.
Reviewed by humana on June 4, 2018 at 11:42 am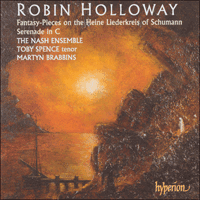 British composer Robin Holloway (b1943) reworking material from Schumann, chopping it up and pushing it this way and that. Performed by the Nash Ensemble, named for the beautiful Nash terraces of their native London. 1979's Serenade in C is almost jazzy at times, especially the Finale (#5). Fantasies on's Schumann's Liederkris (1971) follow, with Schumann's originals, sung by young and robust show-stealer Toby Spence, sandwiched in between. Kind of an odd program, but it works.
Reviewed by Hemroid The Leader on May 30, 2018 at 4:20 pm
12 duets between Syrian oud and Chinese pipa. Their string instruments offer different interpretations of the same ideas. Hong teaches and Rafea was artist-in-residence at Carleton College in Northfield, MN. The tunes are improvised, the players are masters, the vibe gets thick. Sometimes with ancient tradition, time and understanding seems to become dense and harden. These players are kicking up dust, looting the columbarium, hybridizing new alloys and making waves in the aether.
Reviewed by Hemroid The Leader on May 30, 2018 at 3:34 pm
Next Page »