KFJC On-Line Reviews
What KFJC has added to their library and why...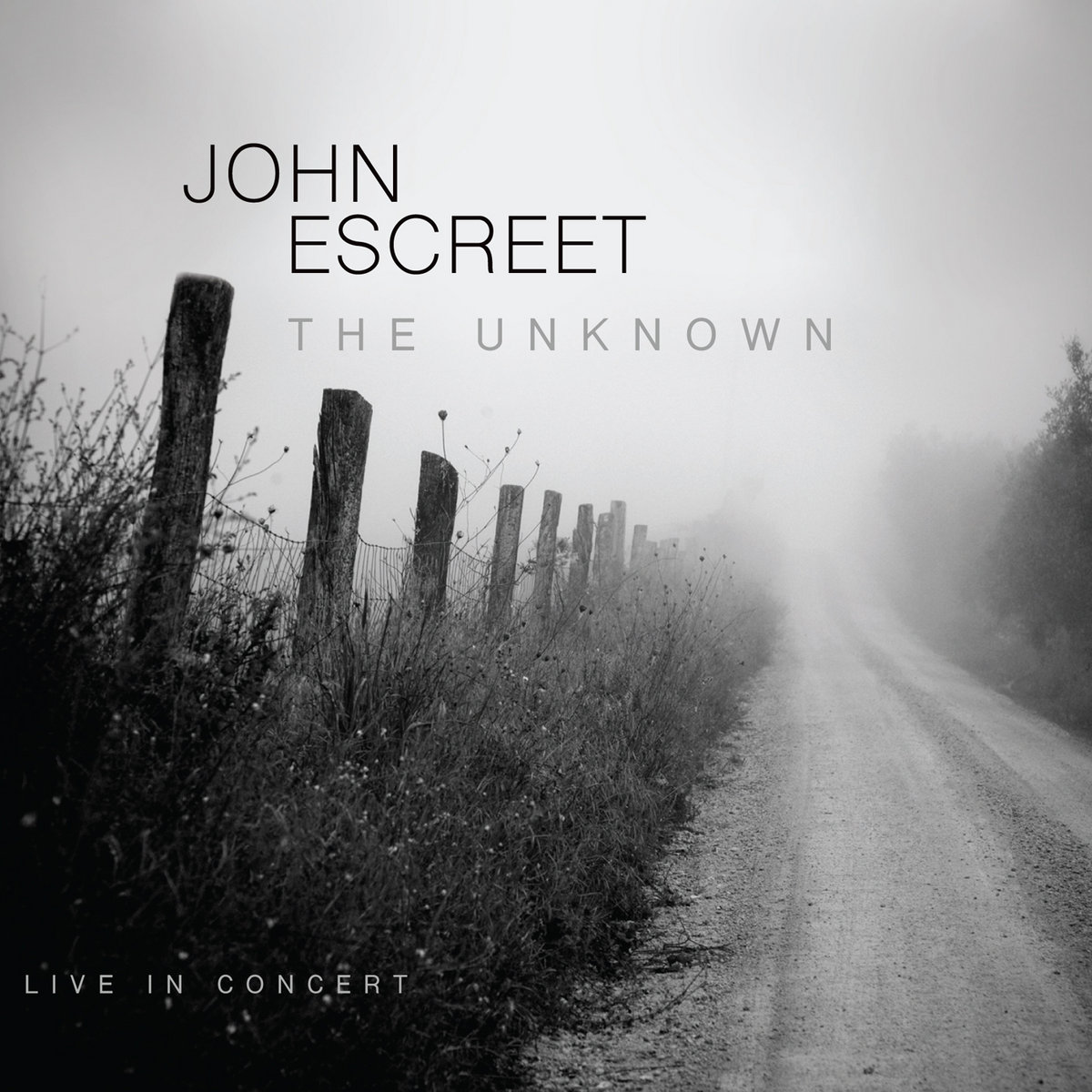 Totally improvised music from talented improvisers, quality live recording. Pianist John Escreet adds Evan Parker to his working trio of bassist John Hebert and drummer Tyshawn Sorey. The quartet has recorded previously in 2014. This Feb 2016 live recording in Holland documents their first time playing completely improvised music. Two long Tunes, from consecutive dates- the first 45 minutes the second 30 minutes and it ends with the audience clapping. Well worth it. Shows a lot of range from sensitive Stillness to overblown Madness. Top-level musicianship. Tyshawn Sorey is a great drummer.
Reviewed by Hemroid The Leader on November 21, 2017 at 3:44 pm
Italian duo collaborating with others. Really pretty strings. Italian spoken word track 5. English stuff track 7. Self-described neo-folk ambiance. Features Russian harp, Japanese guitar, e-bow, mandoloncello (bassier mandolin), ghironda (hurdy-gurdy), peppermill, electronics, and field recordings. Came out last year.
- Billie Joe Tolliver
Reviewed by billiejoe on November 15, 2017 at 3:46 pm
A collection of recordings from Canadian sound artist and film-maker Brian Joseph Davis. Most of the songs utilize pre-recorded material from other artists, manipulated or recast in interesting ways. The album deals with themes of copyright and censorship.
Rather than being meticulously orchestrated, the works rely heavily on randomness: CD player skips, destruction by fire, and highly-fallible human memory. Unlike many other conceptual works, these are very entertaining to listen to, and cover a wide range of genres including choral, glitch, spoken-word, pseudo-punk, and the overwhelming ambient noise hell-scape that is the final track.
The liner notes on the back provide a pretty acurate description of what's in the package, but I'll summarize here:
Eula (T1): The Sony End User License Agreement sung by a choir.
Five Box Sets Played on Fast-Forward, Then Edited Into Songs (T2-T6): This one is self-explanatory. Metal, soul, and other indescernibles.
Ten Banned Albums Burned, Then Played (T7-T15): Yup. Beatles, Sex Pistols, Mahler, Prince, Louie Louie, and more.
Voice Over (T16): A script composed from 5000 film taglines.
Yesterduh (T17-T18): What happens when you pay people on the street $5 to sing "Yesterday", then mix the results. The second version is a particularly inspired solo.
Minima Moralia (T19): Theodor Adorno's Minima Moralia as a punk 7″.
Greatest Hit (T20): All the tracks on a greatest hits album, all at once.
Reviewed by Louie Caliente on November 15, 2017 at 9:15 am
Live recordings. Oum Kalthoum and Fairouz are the two most beloved female singers in the Arab world. Fairouz is considered more accessible to Western ears. If you ask the taxi driver in Amman which is greater, he will tell you it is an unfair question that is impossible to answer.
In the words of Amazon reviewer K.S.A.: "I love it; it contains all famous songs for Fairoz. Also, packaging method is representing an expert person. Generally, I'm satisfied 100% from this deal. I suggest increasing your library for Fairoz.
Thank you"
Reviewed by Hemroid The Leader on November 14, 2017 at 11:50 pm
Filed as CD,International
Kaziwa (a Kurdish word for dawn/dusk) is a collaboration between Iranian sound artist Porya Hatami and Arovane, the solo project of German electronic musician Uwe Zahn. The 2016 album is the result of a long-distance correspondence between the two musicians. Hatami sent Zahn recordings of piano pieces, and Zahn replied with electronic work focusing on the sounds of the Una Corda, a synth instrument that produces a piano-like tones. Though the fifteen pieces are all minimal, piano-centered, with a late night mood (you could call them nocturnes), there is still much variety here. Some have a bright, curious quality (T2, T6, a reminder that the piano is a stringed instrument, 12), some are meditative ambient works (T1, T8, T9, T10, T14), but I'm particularly drawn to the darker, mysterious passages (T3, T4, T7, T11, T13). Another beautiful release from local label Time Released Sound.
Reviewed by lexi glass on November 13, 2017 at 7:49 pm

Respectable, math-style heavy rock from now-defunct trio out of Bloomington, IN.
Solid playing throughout. Four short tracks (1 to 3 minutes) and two longer tracks (5 to 6 minutes.) I found the latter two to be the best tracks–they move through different passages in tight arrangements and kept my interest. My favorite part is the Sabbath-inspired jam in the middle of #5. #1 is two minutes of solo flanged-out guitar.
The label says this is their only recorded work. It's too bad there isn't more material here, but as I said this is respectable the way it is.
Reviewed by Max Level on November 7, 2017 at 9:23 pm
This music is as cute and satisfying as the name of the band is. Electronica at its best, with beats that get your head bopping and your feet stepping. I particularly enjoy Chromantic, but everything is worth a listen.
Reviewed by humana on November 5, 2017 at 7:28 pm
Originally issued in 1977, a jewel of the national discography! Jibaro are the mountain-dwelling inland people of Puerto Rico. Don Chuito's voice is wonderful. Nieves Quintero on the Cuatro, the 10-string national instrument of P.R. Enjoy this like the dog on the cover.
Reviewed by Hemroid The Leader on November 4, 2017 at 5:22 pm
Filed as CD,International
Matthew Shipp adds wind player Daniel Carter to his long-time trio composed of Michael Bisio on bass and Whit Dickey on drums. The group works with an easy familiarity, favoring patient exploration over fast-paced fireworks. The opener soul secrets (T1) sets the tone for the album: a moody, modal composition which sees the bandmembers anticipating each others moves and effortlessly passing motifs around. If you associate Shipp with thundering left-hand chords, you'll find a different side of him here. The track is (T2) opens with two minutes of drums over a walking bass line followed by spare, angular trumpet lines from Carter that recall middle-period Miles Davis. The group generates the most heat on totality (T4), which is also, to my mind, the most satisfying. A solid outing.
Reviewed by Phil Phactor on November 1, 2017 at 7:04 pm
Lucian Tielans and Gnarlos (Seymour Glass from Bananafish) and their many collaborators are the Bren't Lewiis Ensemble. Founded in rural Norcal in the 80s, BLE released a handful of cassettes under the freak flag of the Butte County Free Music Society. After a "brief" 20+ year hiatus, the group reunited in 2009 and began playing shows and putting out new material once again. This 2016 CD collects new work as well as tracks from the first of those 80s tapes, 1984′s Make It Stop (T9 – so good and T12).
The all-star lineup includes Tom Timpson, The City Councilman, Lindy Lettuce, Limphoma, Babuna Virus, Lily McBilly, Fuzzy and Mr. Dolphin, who contribute to improvised works made with detuned stringed instruments, various household objects (zippers, pushpins, cat toys, one of those giant exercise balls, etc) and god knows what else. At first, the sounds roam alone and freely, scraping by on dry land or slithering in primordial slime (or is it aloe vera gel? – T6), but through chance meeting they self-assemble into primitive songs (T9, T13, T15). Interspersed throughout are tape collage interludes, with found sounds from shitty self-help cassettes, televangelist sermons, public access interview shows spliced and rearranged for maximum yuks (T1, T10, T17). Much more musical spasticity from these local legends can be found in our library, including 2016′s Cavoli Riscaldati and Occupy Infantry, that together with this release form an "interconnected trilogy"/sordid sandwich.
Reviewed by lexi glass on October 31, 2017 at 6:18 pm
"These songs aren't going to sing themselves" (from "Poor Valley Radio"). And count your lucky stars that Jon Langford (who wrote and sings the songs along with Bethany Thomas and Tawny Newsome) and his band (rounded out by skilled guitarist John Szymanski) found themselves in Muscle Shoals, Alabama to sing the great Americana songs contained on this CD. Yes, the sobering election of 2016 made them feel lost, but they stepped up to the plate and responded with these sometimes rocking, sometimes ballad-y songs. Be sure to read the poem in the sleeve.
Reviewed by humana on October 28, 2017 at 4:42 pm
SharkiRoma is a band of Japanese gypsies from Tokyo. This "original Gypsy style unit" is anchored by Violin, oud, and hand percussion and supported by guest musicians on accordion harmonica vocals and violin. These guys play belly dance shows in Tokyo Live rooms. Track 10 is a take on Wagner's Walk??re.
Reviewed by Hemroid The Leader on October 25, 2017 at 3:49 pm
Filed as CD,International
To John corigliano the problem with writing a percussion concerto was that "the very thing that makes it the perfect accent to other orchestral sonorities makes it unsatisfactory when it takes the spotlight in a concerto." To write Conjurer, he distilled his concept into wood, metal, and skin. Profoundly deaf Scottish percussion Master Dame Evelyn Glennie introduces the 3 choirs via cadenzas which are taken up by the orchestra.
In Vocalise, a singer and Philharmonic Orchestra begin acoustically and amplification and electronics are introduced.
Reviewed by Hemroid The Leader on October 25, 2017 at 3:37 pm
Before westerners brought their diseases to the island, Tahiti's main problem was overcrowding. An extremely rigid caste system kept everybody in place. Supernatural tabus hovered overhead. No mistakes were made, existence was predetermined. Genealogies, war stories, talisman chant, percussion, and dance reinforce the social structure and warded off bad vibes. Some hula and beautiful and then some very primal.
Reviewed by Hemroid The Leader on October 25, 2017 at 3:31 pm
Filed as CD,International
Phew!!!!!! Wow!!!!! Man!!!!! Not quite outsider but sort of because of production values and oddness. A+++++++. Mostly solo, multi-instrumentalist. Neurotic and sane songs of love and life. Beats sound like the 1980′s sometimes. Instruments sound like from the 1980′s sometimes. Hints of Eno. Hints of post-punk. Hints of pop. But wait…. it is all so TWISTED. Track 1, "I Miss You", starts out with a drum beat that feels j..u..s..t.. a bit tooooo slow. In comes a familiar guitar riff, then an electronic piano blurble, vocals sounding a bit like a chant, some off the wall guitar, more electronic mistakes, and full up rockestra with instruments that seem to have been found at the local thrift store. YEP!!!! With a big smile on my face I settled back in my old '97 Lexus and scuttled down the black as midnight hwy 280, blasting this audio gem. Each track is like it's own sonic universe: tweaked enough to be unique from the last track but familiar with the Logan Hone thread. Superb lyrics made me laugh out loud more than once and had me nodding in agreement. "Get In the Car" may be my favorite pop number of the month because it goes for it and then churns it up. Bravo for something so familiar and yet so beautifully strange. Refreshing. It gives me hope for new sounds.
Reviewed by Naysayer on October 24, 2017 at 10:20 pm
This is delightful. Check out Adams (ROVA Saxophone Quartet) on various saxes and flutes playing duets with electronics master Perkis. On some of the pieces the two players work within the same timbral environment and pitch range, rendering the line between the two less than clear. But not always– sometimes it is quite obvious who is doing what, just as one would expect with duets involving such dissimilar instruments. Each piece explores different terrain and they are all compelling and fun to listen to. A great release from two local musical treasures.
Reviewed by Max Level on October 24, 2017 at 7:56 pm
Gianni Mimmo is that unique musician/artist that is so dedicated to his craft, his art, that he really lives it to the fullest. "One Way Ticket" is a solo project for this soprano sax jazz improviser, but here the improvisation is with a twist. The fifteen selections, bookended by spoken word, include original compositions and eight interpretations of classic works by artists including, Mingus, Lacy, Monk, Webern, and Ellington. On the international jazz circuit, Mimmo is compared to Steve Lacy in his skill and expertise. It shows here. Interweaving such an array of sounds and tones Mimmo plays with ideas, elongating sounds and then switching shape with lightening speed. The recording is so intimate that we hear Mimmo's breathing, his buzz into the horn, his fingers pressing the keys and the keys moving on the saxophone. These sounds become faint, but continuous percussive additions to the sound of the sax itself. Unique, challenging, elegant. .
Reviewed by Naysayer on October 23, 2017 at 10:26 pm
They're back and better than ever! What a fun and enjoyable collection of brand-new rock songs penned by Cyril Jordan and Chris Wilson! These are uptempo songs and smooth ballads by this group whose origins are in San Francisco. Each song is great in its own way, but "She Loves Me" and "Lonely Hearts" are two of my favorites.
Reviewed by humana on October 22, 2017 at 3:16 pm
"Thin Black Duke" is Oxbow's 7th album in 30+ years and their first release in 10 years. It is a stunner. Like the bands Swans, The Fall, Psychic TV, and Half Japanese, Oxbow is in the category of having survived longer than possibly initially thought and yet still creating new sounds. They are not in the retro circuit. With age hopefully comes maturity in one's art. Such is the case here. Eight songs of dense musical interactions with lyrical depth. Is this a song cycle? Is this Oxbow's stadium rock album? If only stadium rock was like this. Track one starts out with a whistle then falls into a symphonic cacophony before the toe tapping song takes over. This sets the stage. Bassist Dan Adams, drummer Greg Davis, singer Eugene S. Robinson, and guitarist Niko Wenner work so well on these tales of observation of sadness, difficulty, challenge…..life. Song structures change mid song, going from symphonic to almost noise. Layered guitar drum and bass with piano embrace Robinson's distinctive voice and vocalizations, interpreting the cinematic lyrics with growls, howls, whispers, purrs, hisses …. haunting and always keeping the listener on their toes. Musical themes run through the works, like leitmotifs. Multiple listenings are needed to gain interpretation. This is a work for contemplation. Enjoy.
Reviewed by Naysayer on October 22, 2017 at 12:14 am
A great record. It may as well be subtitled "People Up to No Good in Sketchy Locations in San Francisco at Night" because that is exactly what it sounds like. A high concept record–music composed by bassist/bandleader Mezzacappa as accompaniment to (and extension of) noir literary works and films that she found intriguing and inspirational. Her detailed liner notes lay it all out. The music is skillfully realized by an ensemble of first-rate local jazz/avant-garde players. It twists and turns, making the listener wonder what is waiting in the next dark alley. Snippets of film dialog pop up here and there, and I like the way the electronics of Tim Perkis add a sense of subtle unease throughout. An evocative ride through nighttime SF more than a few decades ago… Fillmore Street, Army Street (not Cesar Chavez), Green Street, etc.
Reviewed by Max Level on October 17, 2017 at 9:36 am
Next Page »