KFJC On-Line Reviews
What KFJC has added to their library and why...
Progressive Black Metal from Athens, active 2002-13. They only put out three recordings, of which this 2013 EP is the last. It really is great stuff, its angular and aggressive mid-length bursts balancing atonality and melody skilfully with a slight Grind influence perhaps. Included within the appealing all-paper packaging is a wordy interview—conducted by Temple of Flesh, the Cypriot label that co-released this with BBMM— with I.K. guitarist 'MyLastBreatH.' The following excerpts, presented in their original sequence, may help you decide whether you will like this LP:
"[W]e formed I.K. with the sole purpose to play Black Metal that departs from the Black Metal rules… Our name is a tribute to Antaeus, a very special and original band; that is telling of where we came from… A.V. of Dead Congregation appeared with us on stage… some riffs are nods to other bands that the listener can name… I cannot pick between Deathspell Omega and Black Witchery… [drummer] Syrinx blasted with the astrogrind camp of Dephosphorus before focusing on his classical music studies…"
This is not the most 'authentic' Black Metal in the world, but this is not a surprise as the band openly disdain the orthodox sound. There is plenty of bite here all the same.
Reviewed by Lord Gravestench on June 5, 2018 at 9:20 pm
smallertide is Sam Sharp and Joel Almberg, a guitar duo from Minneapolis. This is their first full length release, the follow up to a 2016 7" EP, Crickets (in our library). Guitar melodies, treated with reverb and effects. The tracks are fleeting, lasting just a few minutes, and together with the hazy sound, the record has a twilight feel. But it's not just pretty, easy listening – there's the occasionally placed dissonant note, a melancholy ache. Released by Sharp's label Poor L'Amour.
Reviewed by lexi glass on June 5, 2018 at 8:47 pm
Collection of works from the beginning and end of the composer's career, performed by the American Composers Orchestra from NYC.
"The Seasons" (1947) (T2-T5) Composed to accompany a ballet, this one of Cage's first works for a full orchestra of traditional Western instruments. Dissonant, but not completely clashing, melodies that build from the quiet winter to the fiery fall. You can hear the influence of Cage's teacher, Arnold Schoenberg.
"Suite for Toy Piano" (1949)  A composition that centers on the unique metallic sound of the children's instrument. At this point, Cage was obsessed with the music of Erik Satie, who at the time was relatively unknown. There are two interpretations of the piece: the original solo work (T10-T14) which is surprisingly lovely, and a 1963 reworking (T15-T19) by Lou Harrison that substitutes the toy piano with a full orchestra, that obviously gives the work a completely different, grander sound. I prefer the original, but it's interesting to hear both side by side.
"Concerto for Prepared Piano and Chamber Orchestra" (1950/51) (T6-T8) Now we're getting closer to Cage's most famous work "4'33" (1952) that exemplifies his musical approach of "non-intention," inspired by Zen philosophy. This piece is a step in that direction, with Cage allowing the musicians to improvise freely within a fixed overall structure. But the fixed structure itself is also subject to chance: Cage flipped coins to determine how the orchestral and piano parts move in pitch and time. The piano, played here by Margaret Leng Tang, is prepared with objects inserted into the piano strings to change the sound of the notes.
"Seventy-Four" (1992) (T1 and T9) This work comes at the very end of Cage's career, five months before his death at the age of 79. A completely different kind of score, with the musicians playing single notes but freely choosing when and how to play them within a time interval. When the musicians change to different notes, it creates these unpredictable moments of dissonance, and an evolving drone-like sound. Two instances of the piece are included here.
Reviewed by lexi glass on June 5, 2018 at 8:27 pm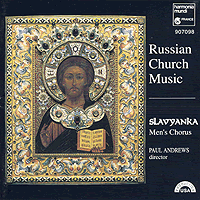 Choral liturgy music from the Russian Church, released in 1992 by harmonia mundi. Track 16 composed by Stravinsky. The Slavyanka Russian Chorus was founded April 1979 in San Francisco, named for a 19th-C. Russian settlement at Fort Lee near the mouth of what is now called the Russian River.
Reviewed by Hemroid The Leader on June 4, 2018 at 5:30 pm
This is a compilation of songs originally recorded between 1981 and 1984. It's electronics that sounds playful like video games with hazy male vocals fading in and out among the sounds of telephones ringing (3). It's more than the playful sound, though; it's a flashback to the 80s and many of these feel like a soundtrack to that time (4, 6, 8). I can tell this will get lots of plays.
Reviewed by humana on June 4, 2018 at 12:03 pm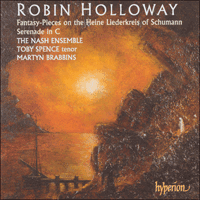 British composer Robin Holloway (b1943) reworking material from Schumann, chopping it up and pushing it this way and that. Performed by the Nash Ensemble, named for the beautiful Nash terraces of their native London. 1979's Serenade in C is almost jazzy at times, especially the Finale (#5). Fantasies on's Schumann's Liederkris (1971) follow, with Schumann's originals, sung by young and robust show-stealer Toby Spence, sandwiched in between. Kind of an odd program, but it works.
Reviewed by Hemroid The Leader on May 30, 2018 at 4:20 pm
12 duets between Syrian oud and Chinese pipa. Their string instruments offer different interpretations of the same ideas. Hong teaches and Rafea was artist-in-residence at Carleton College in Northfield, MN. The tunes are improvised, the players are masters, the vibe gets thick. Sometimes with ancient tradition, time and understanding seems to become dense and harden. These players are kicking up dust, looting the columbarium, hybridizing new alloys and making waves in the aether.
Reviewed by Hemroid The Leader on May 30, 2018 at 3:34 pm
Tidbits for the musical gourmet are served up extremely pleasant. 18th & 19th c. guitar duets with flute, harpsichord, cello or violin. Track length between 7 and 11 minutes, most containing several movements. You could play a single movement, bring diversity to your set, use as a bed. Get creative. The different instrumentations bring different sounds. Very enjoyable.
Reviewed by Hemroid The Leader on May 30, 2018 at 3:01 pm

There's a gently flowing Appalachian stream and then there's the vastness of the cosmos, and hovering somewhere in between is Sarah Louise. Something about the way her 12-string is tuned bathes all that rapid fingerpicking in a soft glow, so that you're never quite sure if you're listening to John Fahey or Tangerine Dream. This record is from 2016 and is part of VDSQ's solo acoustic series. 2018 sees a Thrill Jockey release as well as an LP reissue of her 2015 cassette on Scissor Tail. All tracks are in the 4-6 minute range.
Reviewed by Phil Phactor on May 23, 2018 at 4:48 pm
Anne Clark meets Martin Rev at the local poetry slam to create something
original? Indeed! Map 71 is the two piece Bristol UK duo consisting of
percusionist Andy Pyne and Poet Lisa Jayne. 7 tracks of oscillating reverby
percussion combine with Jayne's inflectionless spoken word musings on topics
such as controversial dance moves and psychedelic waiting rooms to create
something unique and interesting. Real or halucinogenic? Every track will have
you pondering. Elements of Industrial, Ambient, Avant-garde and Post-Punk all
coalesce harmoniously without sounding pretentious or self indulgent. There is
a consistent feel to all presented here but Track 5 is my favorite.
Available as a CD or Cassette.
Reviewed by Jim Hunter on May 23, 2018 at 4:26 pm
Guitarist Todd Novak (Cowlicks) is known for his country blue grass music but this band plays surf music.  The EP is all instrumental and features drummer Martyn Jones (Mermen), bass Johnnie Hamilton (Mach IV, Berzerkers), with keyboard work that adds a nice difference from Scott Theakston.  Definitely surf but with an edge.
Reviewed by Cousin Mary on May 10, 2018 at 10:51 am
Solo guitar carnage from Reg Bloor, an NYC experimental/metal guitarist. Bloor went solo recently, starting with her excellent 2015 release Themes for an Imaginary Slasher. Before that, she played in Glenn Branca's ensemble for nearly two decades, served as concertmaster for several of his symphonies for 100 guitars (she and Branca are married), and collaborated with Bowie, Thurston Moore, GYBE and others. Bloor wields her axe fearsomely, churning out dissonant melodies that slash like a thousand blazing knives. Some pieces move in precise, repetitive melodic cycles, like the climactic bloody scene in a horror film playing in an awful continuous loop. In others, the guitar notes are blurred into a thick blackout. Brutal and brilliant.
Reviewed by lexi glass on May 8, 2018 at 8:38 pm

Drunk punk duo out of Sweden, well drunk is
a bit unfair as the topics of their lyrics are
sobering, but the rock on display here is
dive-bar distorted and grasping for a 2am
closing anthem vibe. The signature of the duo
(deviating from their folk roots, but not thaat
much) is the warble of Lilou. Raw emotion rasps
her throat and a vibrato attacks without warning.
Think Jello Biafra as Judas Iscariot in Jesus
Christ Superstud. Lilou sings to defy both
multinational corporations and conventional
musical keys. It's fascinating in a harrowing
manner. John provides guitar and pen for the
words coming out of Lilou's mesmerizing mouth.
The leadoff cut has the martial chop and snap
of some of the Ex's stuff, while #2 definitely
has AmRep pep. They are a husband and wife duo
who might have met in the classified ads of
Sweden's version of "The Nation." -Hunger
Reviewed by Thurston Hunger on May 5, 2018 at 12:35 pm
Walbrzch (VALL-breck) is a small town in Poland, supposedly the site of the Nazi gold train, also the site of these recordings. David Kechley is professor emeritus at Williams College in MA. CD1 is Karasuma, a "fast funk for orchestra". This crossover piece was premiered by the Boston Pops. Very questionable. CD2 is Wakeful Visions / Moonless Dreams, A Symphony in 4 Movements. Each movement starts from a text, Shakespeare, Basho, Proust, and the bible. Notari, Notari features the flute, and Something Wicked is more rhythmic.
Reviewed by Hemroid The Leader on May 4, 2018 at 10:52 pm
Shadow on Everything is the latest from Brooklyn post-punk noise makers Bambara and is their followup to the more raw and tight sounding 2015 effort Swarm. Shadow can be succinctly described a modern take on all things Birthday Party and its numerous offspring. Upon first listen, I was struck by the similarity to Nick Cave and the Bad Seed's 1987 release Tender Prey with its long meandering intro track The Mercy Seat. Western Goth themes of nooses, damsels, and skulls pervade from begining to end. Reid Bateh's vocal stylings have smoothed out since Swarm which complements the more polished feel of this release. A noteworthy and original element of Shadow is the extensive use of ambient tape loops to successfuly create background texture that enhances the aura of foreboding. The track Backyard (11) nicely incorporates complimentary female vocals by Lyzi Wakefield. While the inspiration of their Australian forefathers may be a little too obvious to make this an overwhelming once in a lifetime release, this is still a strong effort. Should appeal to a wide swath but especially those who enjoy noisy goth tinged post-punk.
Note: Tracks 4 and 7 are instrumental atmospheric tracks that are short and quite strong
musically.
Reviewed by Jim Hunter on May 3, 2018 at 7:20 am
Primordial Wound is the project of Seattleite Dan Fried. Two sidelong pieces made from "shortwave radio, field recordings, tape, synth, effects, and feedback." Each track follows an arc, moving through a range of sounds: the opening collage of radio broadcasts on the title track, extended blasts of metallic noise propelled by human screams – the rot coming from within – and sparser passages of ringing, drones, and forgotten remains. A hybrid of harsh noise and electroacoustic sound art, this is another unique new release from Oxen.
Reviewed by lexi glass on May 1, 2018 at 9:35 pm
Harsh noise wall split cassette from two Seattle noise artists. Peter Keller (also working under the names Bacillus, Dirac Sea and others) is Condo Horro, a project that combats "the effects of gentrification and soulless development" by building some walls of his own. It's actually a pretty funny concept, so I'm glad Seattle's sweetheart Felicia Gaggins aka Masturbatory Dysfunction, got him to lighten up a bit with this release, from the cover art collages of oiled up porno dudes with space needledicks to the suggestive track titles. The Condo Horro side is a 30 minute slab of crushing static that keeps feeling heavier, while Gaggins follows it up on side B with another half hour of filthy friction. From Seattle to Silicon Valley, we're all getting fucked!
Reviewed by lexi glass on May 1, 2018 at 9:29 pm
Relive KFJC's summer vacation in Reykjavik with this cassette compilation accompanying the release of the second edition of MYRKFÆLNI, a zine that spotlights underground Icelandic artists. The founders of MYRKFÆLNI (Icelandic for "fear of the dark"), Kinnat Sóley and Sólveig Matthildur (in the punk trio Kaelan Mikla), were our gracious hosts for our two-day live broadcast Live from the Icelandic Underground in September 2017. Many of the artists from that festival appear here: World Narcosis with dissonant despair (T1), IDK IDA with an ethereal ballad (T2), Holdgervlar with cold melancholia (T13), and crowd favorite Godchilla, with a heavy tribute to Akira (T12). There's new stuff too, including dark synthy dance tracks (T3, T5, T7, T11), metal (T4, T8), ambient (T9), hardcore (T10), and even a punky Christmas carol (T6). Limited release cassette that came with the first 200 issues of the zine, both now a part of our library.
Reviewed by lexi glass on May 1, 2018 at 7:55 pm
Two hour long tracks of electronic beats with vibraphone and German and English spoken word about sex and gender and Freudian philosophical theory. The track Freud's Baby is about menstruation, circumcision, masturbation, and other things. Play during daylight hours at your own risk. Released in 2000.
Reviewed by billiejoe on April 30, 2018 at 2:45 pm
'A Dark Symbiosis of Dead and Eternal Darkness' split 2005.

Side A 'Death' – Elisabetha- Elisabetha (split 2008) were from Germany. They used to be Black Metal, but then they went full Neoclassical retard. It seems that this split has been released twice with the same Nachtmahr material on the other side— on the CD version it's a bizarre black metal track on Elisabetha's side but on this 7" version you get keyboards… is it "Dungeon Synth," Renfield? Derision apart, the take on Darkwave, dedicated to E.A. Poe, is actually fairly apt.  There's a heartbeat in there too, and some spoken word in Deutsch. Are any of the instruments real?

Side B 'Darkness' – Nachtmahr- Two tracks from the now-inactive German project, founded 1996. Don't get them confused with the Electro-Industrial project or the other Black Metal band from Germany! This is primitive symphonic BM with lyrics from Goethe (on the first track) and really cheap synth parts that sound strangely divorced from the other instruments, kind of like hearing two songs at once. A+ for the mindfuck, and perhaps they even meant for this to happen. They shot for Emperor/Enslaved epic Valhallan feels and got something a bit more 'special.' I will play this side.

Reviewed by Lord Gravestench on April 28, 2018 at 5:28 pm


« Previous Page — Next Page »