KFJC On-Line Reviews
What KFJC has added to their library and why...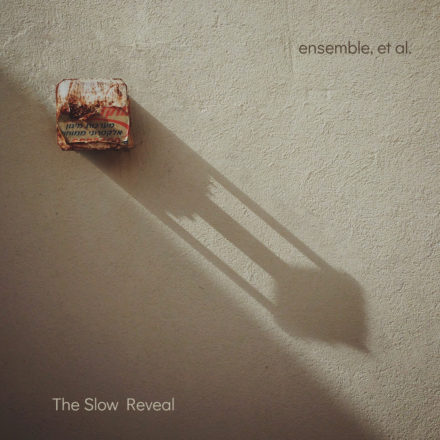 Don't mention the Tortoise in the room. Four academically-minded percussionists get together with John McEntire and record a p*st-rock album. Vibraphones, glockenspiels, dense interlocking rhythms, drums that crash in half way through, it's all here. The first four minutes of??Minbalism (T8) sees the boys putting their chops to good use setting up an entrancing, polyrhythmic, overtone-laden drone. Once the drums come on, it gets a bit corny, but that's just me (maybe?). Solid mallet vibes, if a little tame. Dive in!
Reviewed by Phil Phactor on November 29, 2017 at 8:03 am

Man oh man, does free jazz get more fun than this? I don't think so. Coming out of Chicago and released on Austin-based cassette label Astral Spirits ("new wave of heavy free jazz"), Hearts and Minds is a trio composed of bass clarinetist Jason Stein (fun fact: Amy Schumer's brother), keyboardist Paul Giallorenzo, and drummer Frank Rosaly. Giallorenzo often sounds like two players in one, playing bass lines with his left hand while doubling the melody with the right. Other times he's putting down smooth chords, getting noisy (a la the recent Thollem/Mazurek record), or spinning out tender melodies (check the solo on Irresolute). Jason Stein is the star of the show. A master on the bass clarinet, he can do all the free jazz tricks???clicking sounds, dissonant overtones, rapid-fire passages, circular breathing???but he's also always melodic and always swinging. On Three for One, he lays down some klezmer-esque wailing over a slinky Sun Ra groove and then leads you down into a dark underworld that slowly fractures and expands before your eyes (ears?). Almost overshadowed in all of this is superstar drummer Frank Rosaly, never flashy, but pushing and pulling behind the scenes and always keeping it groovy. Great, great stuff that will appeal to fans of both traditional and free jazz, as well as prog, funk, noise, +++.
Reviewed by Phil Phactor on November 7, 2017 at 10:26 pm
Matthew Shipp adds wind player Daniel Carter to his long-time trio composed of Michael Bisio on bass and Whit Dickey on drums. The group works with an easy familiarity, favoring patient exploration over fast-paced fireworks. The opener soul secrets (T1) sets the tone for the album: a moody, modal composition which sees the bandmembers anticipating each others moves and effortlessly passing motifs around. If you associate Shipp with thundering left-hand chords, you'll find a different side of him here. The track is (T2) opens with two minutes of drums over a walking bass line followed by spare, angular trumpet lines from Carter that recall middle-period Miles Davis. The group generates the most heat on totality (T4), which is also, to my mind, the most satisfying. A solid outing.
Reviewed by Phil Phactor on November 1, 2017 at 7:04 pm
Bill Converse loves Detroit techno and he doesn???t care who knows it. Seven tracks of analog bliss spread across four sides of vinyl, this album is a sonic tribute to the Midwest warehouse raves of his youth. Recorded with no overdubs using an array of mostly vintage hardware, this album pulsates with the urgency of the dancefloor. The full range of the 303 is on display here, from gently gurgling basslines to squelch freakouts to psychedelic comedowns. Each track reveals a hidden beauty as it evolves, no doubt the result of many hours of solitary knob twiddling. Timeless body music. PLAY LOUD.
Reviewed by Phil Phactor on October 11, 2017 at 1:58 pm
Reeds/drums/bass exploration recorded in Milan in 2012. Although Sakata has worked with both Bill Laswell and DJ Krush, he stays well within the free jazz idiom herm, with a soulful, searching sound that recalls both Ornette Coleman and Steve Lacy. What really makes this album special, however, is the near-telepathic communication among the band members, all the more remarkable given that this was their first meeting. The first track begins with the players quietly testing each other, but they quickly cohere around a common thread and move through a variety of spaces. The second track is quiet and contemplative, with Sakata switching to clarinet, Centazzo dazzling us with an array of bells and chimes, and Fujiwara drawing out tones with his bow. Track 3 picks up the pace again, and then on track 4, we're in for a treat as Sakata puts down his horn and grunts and growls his way through a Damo Suzuki-esque dirge. The last track is based on Stella by Starlight and sees the drums and bass play it (relatively) straight while Sakata blows over the top. Overall, well worth your time if you're into this sort of thing.
Reviewed by Phil Phactor on October 4, 2017 at 6:12 pm
Purveyor of groovy ambience David Moufang (perhaps better known as Move D) adds live guitar and vibes to the mix and… nothing much happens. But perhaps that???s the point? The album meanders through the sleepy back alleys of dub, electronica, jazz, and trip-hop. Highlights include Tee Dum (T5) which marries Bill Evans harmonies to an exceedingly chilled electro beat and the beatless Boards-of-Canada-esque closer Concessions (T9).
Reviewed by Phil Phactor on October 2, 2017 at 8:04 am
Tokyo-based Hakobune has put out dozens of albums over the years on a who's who of boutique drone labels. On this self-released 3″ CD-R from 2011, he shows himself a master of the guitar-run-through-a-mess-of-delay-pedals technique. Three cosmic floating drones, useful for recovering from some harsh noise or just focusing the mind.
Reviewed by Phil Phactor on August 30, 2017 at 7:29 pm
being on top is a good hip opener – claudia la rocco's voice is a quiet snarl: calm, measured, sometimes provocative, always defiant. – remember the way her legs spear and thrust – each track finds her accompanied by a different set of bay area musicians. – put the mountain in a box, put the box in a dumpster – rumblings and rattlings, abrasive synths, extended techniques galore, the sounds are sometimes with and sometime against, but always underneath. – your skin looks buttery and delicious – it's la rocco's voice that dominates, telling stories about ballet, the body, poisonous relationships, and sexual violence. – you don't cry anymore when you're sad – smack in the middle of the album, "public access" (T5) sees la rocca in conversation with saxophonist david boyce and the mood briefly relaxes. – do you want that kind of attention?
Reviewed by Phil Phactor on August 28, 2017 at 11:20 pm
Trumpeter Rob Mazurek (Chicago Underground, Isotope 217) and electric pianist Thollem McDonas (Tsigoti, Estamos Ensemble) meet for the first time in Marfa and head for the outer limits. As might be expected from a pair of experienced improvisers with incredibly diverse interests, they hit a variety of spots along the way. It helps that Mazurek is packing a sampler, a modular synth, bells, and his prodigious voice in addition to his horn. Electric-era Miles is the obvious referent, but there are also Oval-style glitch experiments, modular synth workouts, free-folk psych freakouts, and even some "straight" free-improv. Of particular note are those moments when Mazurek's shamanic chanting breaks through the squall, and the whole thing threatens to break itself apart. Noisy, messy, and joyous.
Reviewed by Phil Phactor on July 26, 2017 at 7:05 pm
Oakland-based percussionist and composer Jordan Glenn is a modern-day Mingus, known as much for his mastery of his chosen instrument as for his unique and compelling ensemble work (cf. BEAK, Wiener Kids). Here, he collaborates with Jim Ryan, a Bay Area poet who used to pal around with Allen Ginsberg and William Burroughs. Glenn's compositions feature hammered dulcimer, vibraphone, and piano, and mesh perfectly with Ryan's gravely, sage-like voice. The mood is mostly somber and melancholy (although watch out for T5 which works itself into a bit of a frenzy with some hand percussion and guitar pyrotechnics), and I can't help but envision an old man alone in his castle, whiskey coursing through his veins, slowly going insane. Guaranteed to both fit in and stand out in any show. Highly recommended!
Reviewed by Phil Phactor on July 25, 2017 at 1:01 pm
Conceptual dark ambient from 1992 courtesy of two German dudes. Ominous rumblings, croaking frogs, gently wailing guitars,the occasional whispered female vocal: about as scary as that haunted house you and your friends made in 7th grade. Tracks run into each other and are divided strangely, so play on continous and dip in wherever. For fans of Barn Owl, Fennesz, Tim Hecker.
Reviewed by Phil Phactor on July 19, 2017 at 7:11 pm