KFJC On-Line Reviews
What KFJC has added to their library and why...
Witty, dark, gritty, post-apocalyptic horror-core hip-hop. The beats are bangin' and the rhymes are crammed in there with baffling complexity and frequency. The one or two duds are a small price to pay for the rest of the album.
Reviewed by milo on October 25, 2017 at 9:42 pm
Los Siquicos Litoralenos (The Psychics of the Literal) present homegrown rural psychedelia from Argentina on "Sonido Chipadelico". This collection was pulled from various releases and recordings made between 2005 and 2010; all cuts are relatively short, enjoyable, and would serve as an adequate bridge between multiple styles of music. Sounds range from rock-opera-ish to dubby, experimental, and lo-fi.
Reviewed by milo on October 25, 2017 at 9:24 pm
Filed as 12-inch,International
This 1984 offering from Roscoe Mitchell and friends presents a mix of approaches, spread over a half-dozen tracks ranging from 2-12 minutes in length. In opener "Words," vocals and a pair of saxophones tiptoe around one another in alternating bouts of drawn out, held notes and quick choppy phrases. "You Wastin' My Time" features a much larger ensemble busting out an off-kilter, ass-shaking groove with Sugar Hill-esque rap–notable for the percussion, and lots of spirited sax and bass work. Short-form improv "Views A, B, and C" is laid back like a plastic bag caught in the wind. "View D" has almost no percussion, but squeaky everything– these dudes take turns doing insane runs, but make it sound so easy. "Lifeline Lyon Seven" is an upbeat, more traditional cut held down with ride, snare and bass; Mitchell delivers a hazy, extended solo out front. It also includes a frenetic solo by Mike Mossman (trumpet) and some true wackiness from Spencer Banfield (guitar).
Reviewed by milo on July 16, 2017 at 1:10 pm
Forward-looking, synth-heavy, pop-oriented soul, released in 1979. This album has Scott-Heron and frequent collaborator Brian Jackson closing out the decade that began with "Pieces of a Man" (feat. "The Revolution Will Not Be Televised"), and rounding the corner into the uncertainty of the 1980's. Lyrics touch upon dark visions of the future (1980), fate, foible, and the musicians' life (Corners, Late Last Night), the wisdom of nuclear power (Shut 'em down), and the flow of immigrants over our southern border (Alien). This is driven by superb vocals, thoughtful lyrics, and demonstrates a serious commitment to songcraft on every track.
Reviewed by milo on March 1, 2017 at 7:24 am
This initial 1971 offering from Indianapolis' Funk Inc features wonderful interplay between organ, tenor sax, drums, congas, and guitar. Like so many "first" releases, tracks on this LP come loaded with a fierce, raw energy. "Kool is Back" (A1) is an epic funk journey that you'll want to play again and again, while "Sister Janie" (B1) offers a more relaxed approach, and "The Thrill is Gone" (B2) has Steve Weakley channeling BB King and Stevie Ray Vaughn. The band put out 4 more releases on Prestige through '74 before disbanding in 1976.
Reviewed by milo on December 13, 2016 at 10:06 pm
Interpretive: Funky situations, groovy syncopation. With gyrating hips, flailing arms, and stomping feet, greet your robot sex machine overlords.
Descriptive: This P-Funk spin-off is a female-fronted funk freakout for the whole family. "Ridin' High" (A1) is a synth dance explosion sure to get you moving. "Huff-N-Puff" (B3) is a fun re-telling of the The Three Little Pigs vs. the Big Bad Wolf with spooky sounding keys, and showcases some solid musicianship. "You're Leaving" (B2) is a vocal-led stomper that doesn't seem to have a commitment to any key signature, but somehow works–I had to make sure there wasn't anything wrong with my turntable for this song, but found it quite enjoyable when I just accepted this as fact. With sparse percussion and slinky bass work, "Don't Ever Stop" (A2) is your sex jam. Warnings: "No Rump to Bump" (A2) is a snoozer, "Booty Snatchers" (B1) starts off with some odd vocals and has lyrics that don't make a lick of sense.
Brief: It's like Parliament, but they took the men out. "Par-let"
FCC: All tracks clean.
Reviewed by milo on December 13, 2016 at 9:17 pm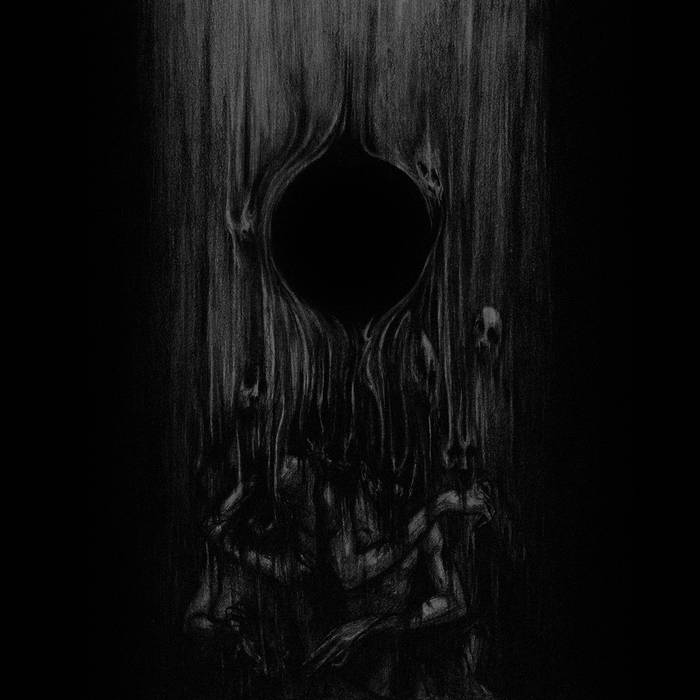 Interpretive: A man riding horseback in a midnight battle plows through the enemy line, as a tide of corpses in the making parts before him like Moses at the Red Sea. Underneath, the steed gallops at a ferocious pace, with only victory on its mind, the blinders fixing his vision ahead–only ahead–until the final battle, whereupon his charge will dismount and behead the leader of the fallen enemy. He knows not the possibility of failure. The riders arms propel his mace deep into the skulls he now crushes with ease, a level of mastery won only through years at war.
Descriptive: Welcome to a nearly continuous festival of punishment. This Bay area four piece (guit/drums/bass/vox) has refined a particularly dark and simple approach to aggressive music. They're tight, achieve a coherent sound, and the vocals are gruff enough to hit the spot without sounding comically evil. Bursts of three quick notes from the sludgy guitars ride atop fast-paced drumming; most tracks have a distinctive break from this before looping around for a second pass. No hooks or particularly memorable riffs; the focus here is on creating a wholly pummeling auditory experience. Memorable bits: the solid mosh in Sunken Reign (#2), and guitar flourishes & work around the kit in Hericide (#5). Dusk Abuse (#11) wraps things up nicely. This 2016 release has received support from multiple labels for the different formats, and these guys are delivering a superior product compared to their peers.
Short: straight up hardcore band dresses up as death metal band for Halloween, decides they like the outfits.
Reviewed by milo on August 13, 2016 at 3:38 pm