KFJC On-Line Reviews
What KFJC has added to their library and why...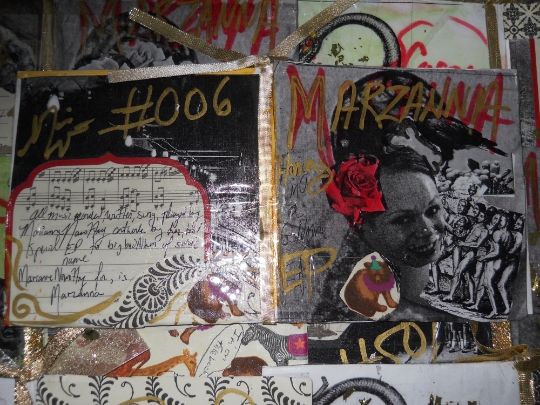 Experimental artist Marianne Nowottny released this very limited edition (only 50 copies) solo CD on Siren Wire Editions back in 2013. On this release she uses the moniker Marzanna, which is the name for the goddess of death and winter in Poland. Strange vocals, keyboards, and odd vocal interplay are in keeping with her other releases. She's been putting out music since she was a teenager and was always beyond her years. It's hard to believe that it was nearly 13 years ago (November 2001) that she played at a KFJC Listener Appreciation Party at Homestead Lanes! Ethereal and strange, just as we've come to expect from this poetic musician.
Reviewed by lombard on June 17, 2014 at 4:04 pm
Although this CD was placed into my hands in the dead of winter, it's fitting that it's getting added as we approach summer solstice. It's a sunny pop album by the Texas project Blackstone Rngrs (aka Blackstone Rangers) with some hazy vocals, hints of the 80s and a smidgen of girl-group style harmonizing.
Reviewed by lombard on June 17, 2014 at 3:37 pm
Beginning with the rumble of thunder and an enveloping rainstorm, this 1999 release from Decadence is a slumber-inspired journey into darkness (is it a dream or a fairy tale?). Spoken word vocals from a poetic, possibly tormented narrator are the focal point of the 8 spooky tracks. Each piece leads into another and the journey ends in a nightmare, with music box lullabyes interrupted by a growling demon (using sampled sounds of chinchilla screams at a slaughterhouse). With bits of lyrics credited to Nietzsche and Dostoievski (Dostoyevsky?), it's dark and haunting and at times reminiscent of elements of Chris and Cosey (vocals) and This Mortal Coil (instrumental swirling).
Reviewed by lombard on February 25, 2014 at 7:34 pm
On the spooky, ethereal soundtrack for The Devil's Business, composer Justin Greaves creates quite the atmosphere. With its mostly instrumental pieces, the soundtrack should satisfy fans of gloom, but also anyone desiring a contemplative musical journey. There are some subtle dour vocals (more like buried chants) on the Crippled Black Phoenix tracks and lush instrumentation throughout, with bits of piano, bass, and perhaps sea birds or a demonic crow foretelling imminent doom. As you might imagine from the description of the soundtrack, the 2011 film explores dark themes, as it centers around paid killers whose efforts are thwarted by black magic.

Reviewed by lombard on December 10, 2013 at 4:37 pm
Filed as CD,Soundtrack

Portland, Oregon-based Alto! just released this limited edition vinyl version (300 copies) of their debut LP. Featuring two drummers (Kyle Emory and Steven T. Stone) and one guitarist (Derek Monypeny), Alto! gives us a nice slab of intensity with added percussion and electronics. The A-side begins with a buzzing rumble, introduces drums, gets cacophonous, and then goes back to a drum beat. It continues in a back-and-forth conversation and also references metal, jazz, and prog (it gets into a bit of a workout). The B-side has a janglier start, but also has a similar conversational feel between drum, percussion and guitar that provides a drone-like mantra. Eventually the listener finds herself hovering about it all in a spaceship, bound for parts unknown.
Reviewed by lombard on July 3, 2013 at 3:48 pm
This release by Eeliks:en drew me in instantly, with the kid voices, strange compositions, simple electronics and percussion, and vintage video game sound effects. It reminds me a lot of the goofy fun of Flossie and the Unicorns, but it's even weirder. You will hear kid rapping (did he say "monkey bones"? "Reagan"?), minimal keyboards, and a baby. Best of all, this was created by a 7-year-old boy from Finland: Eelis Mikael Salminen. His early recordings were made on his dad's iPhone. This album is a great reminder that we should never underestimate the creativity of kids.
Reviewed by lombard on January 2, 2013 at 4:27 pm
Now that the San Francisco Bay Area's extended Indian summer is finally starting to fade away with an impending rain storm, it feels like a great time to embrace Foxtail Brigade's winter holiday-themed release Time is Passed from 2011.
From upbeat odes to Christmas to somber reflections on fractured family time, it's a lovely slice of sultry, nostalgic-feeling chamber pop that's nicely accentuated with pretty percussion and strings (ukelele, guitar, violin, viola, upright bass and cello) both plucked and bowed. Although we're adding the original 2011 release, a new deluxe version of the album was just reissued this week, bringing new life to these home recordings that were originally produced as a soundtrack to the film Losing Ferguson.
Reviewed by lombard on November 27, 2012 at 4:25 pm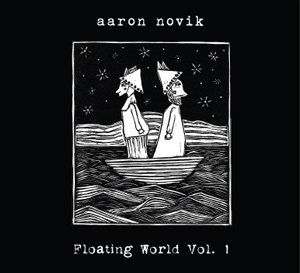 This 2011 release, Floating World Vol. 1, from composer Aaron Novik feels like a crazy opera. With violins, sax, accordion, organ, and clarinet, it has a chamber rock, klezmer sensibility with a lurking weirdness. Some lyrics are stream-of-consciousness and some pieces remind me of songs written by kids, in that they reflect matter-of-fact depictions of every day life (an ode to an umbrella, a track about under-diapers). Others are more obtuse, with inspired metaphors and impressive word play. Swan writes:
"we move thru the acid trip of existence,
as darkness the shape of a man,
bright sunflower petals emitting."
Although some tracks are fun and light, there's an underlying darkness. Hitler 1945 has a somber feel to both the lyrics and music. When you learn more about the creation of this album, it all makes sense. Novik composed these pieces around the poetry of 3 different "outsider" poets from San Francisco's Mission District: Swan ("former Chicago journalist…reborn as homeless street prophet"), the late Bart Alberti ("autistic savant"), and Michael Bernard Loggins (Creativity Explored artist). Carla Kihlstedt, Katy Stephan, and others (including Conspiracy of Beards) provide vocals.
It's an amazing slice of life and include glimpses of the Mission District haunts of the artists, from Valencia and 18th Street ("people were looking through lots of stuff that was sat out on the sidewalk…they got the street all trashy") to Market Street ("it's dangerous and unsafe!).
Amid the humor, there is also a lot of pain and depth, as these poems express the realities of the authors. In "Seat Part," Michael Bernard Loggins writes:
"problems weighs a ton
but life is soft as a love cushion
seat part"
Reviewed by lombard on October 9, 2012 at 12:45 pm
This is an incredible collection of rare Greek folk music recorded between the 1930s and 1950s. As the title, Bed of Pain, implies, there are many sad songs that are reflective of the upheaval (war, violence, urban crowding, poverty) within Greece at the beginning of the 20th century. This is a collection of music featuring the bouzouki (a plucked string instrument similar to a mandolin), which was "the instrument of prison and the hash-den" in the early part of the century, yet was more mainstream by the 1950s, eventually becoming the national instrument of Greece. Featuring some prominent singers from rembetika (music of the greek underworld), it's a sorrowful collection that will transport you back to Greek port side towns, full of themes of prison, intoxication, pain, heartbreak, and witchcraft.
Reviewed by lombard on September 18, 2012 at 4:56 pm
Filed as 12-inch,International
This is an ethereal release from Lucky Dragons, with an emphasis on percussion. Gongs, chimes, claps, taps and cranks meld with twinkling, bubbling, squeezing, plucking, and music box sounds. It can be subdued, with spare, chant-like vocals; but things also pick up and can reach a danceable pace, suitable for ritualistic romps around the campfire, drum circles or drowsy, acoustic dance clubs where ecstasy has been replaced with peyote and peace pipes.
Reviewed by lombard on September 18, 2012 at 4:15 pm
Despite the creepy images on the cover and in the CD insert (demons, ravens, a cloaked figure) that would make one think that this was a metal release, Ukrainian metal band Drudkh's "Songs of Grief and Solitude" is more folk than doom. Inspired by Ukrainian folk lore (fairy tales, folk songs, and legends) and by elements of some of their metal tunes, it's a drony, psychedelic, nature-filled listen. Flutes, rain sounds, guitar, and splashing are part of the soundtrack that is akin to a far more depressed, dronier Renaissance Fair or a dourer Guild of Temporal Adventurers.

Reviewed by lombard on July 17, 2012 at 4:48 pm
Inspired by the cinema, Turkish composer Erdem Helvacioglu crafted Eleven Short Stories using different prepared piano set-ups for each piece. Along with some more traditional piano sounds, the strings of a Yamaha C7 PE Grand Piano are plucked, scraped and played with mallets. Helvacioglu manipulated the sound of the piano by attaching a variety of objects (including utensils, metal places, ear plugs, erasers, paperclips, etc.) to the strings. It makes for a dramatic listen and it's easy to imagine these pieces providing musical accompaniment to visuals by the likes of the directors that Helvacioglu cites as influences (ranging from David Lynch and Atom Egoyan to Jane Campion).

Reviewed by lombard on July 10, 2012 at 3:58 pm
Since joining KFJC I've become more and more interested in the blurring of the boundaries of music and noise. No longer do I expect that music needs to be recorded in a pristine studio for it to have merit. On Only from 2011, Marianne Pousseur explores this concept explicitly as she performs material by luminaries like John Cage, Morton Feldman, Hanns Eisler, and by her father (the late Belgian composer Henri Pousseur). Track 9 features a series of Sephardic songs sung in a train station. She writes,
"I like to listen to music in places that haven't been designed for it. I like when music mixes in with noise. Only came from a personal desire to open the doors of my musical world to the concreteness of daily life, to tear down the fictional barriers between places and times of rehearsal and performance."
Pousseur's beautiful voice is accompanied by dreamy percussion and is punctuated by ambient sounds in the locations where she recorded in Brussels. You might hear school children frolicking in the background at a primary school, nature sounds from a forest, noises from a train station luggage room, street sounds, footsteps, and movements amid the empty spaces in churches and galleries.
Listening to this is an otherworldly experience, as Pousseur's powerful voice echoes through her surroundings. I can imagine her bellowing with church goers and schoolchildren in the audience for her populist operas.

Reviewed by lombard on July 10, 2012 at 3:20 pm
The Escher-like pencil drawings inside the CD booklet for this album hint at the crazy, labyrinth-like musical journey taken by Mary Halvorson and Jessica Pavone on this release from 2011. Viola, guitar, and vocals are utilized in a variety of ways; ranging from pleasant to alien to ominous. "New October" even feels a bit metal and prog-like in its hectic arrangement, whereas other moments would align nicely with classical arrangements or experimental guitar outings.
Reviewed by lombard on July 10, 2012 at 2:24 pm
Wisconsin-based musician/sound artist John Boyle's new release from 2012 features 4 lengthy ambient pieces with classical leanings. His soundscapes are quite lulling and I found myself drifting into a meditative state. Interesting, the CD release party was held at a planetarium in La Crosse, Wisconsin, complete with light show. Bonus points for the sweet cover art designed by his 6-year-old son. He will be performing live at KFJC on Tuesday, April 2, 2012 at 8pm.
Reviewed by lombard on April 3, 2012 at 1:50 pm

This 2011 release from Norwegian artist Moe seems to straddle across several genres, with a heaviness that might nestle next to metal in moments and a hectic art-rock sensibility (and sax to boot) as well. Heavy bass and drums are a nice counterpoint to bass player Guro Skumsnes Moe's sexier vocals that at times remind me a bit of Liz Phair's clean and confident talk-sing style, but with a Norwegian accent. Moe isn't afraid to scream either and during those moments this release would fit squarely on the playlists of both metal loving DJs and riot grrrl fans. Other pieces (Like "Save Me") are more straight-ahead with pretty vocals and more subdued bass. Musically, there are plenty of scrapes, saws, and creaks throughout the album to keep experimental fans happy as well. Guest artists include Okkyung Lee on cello on one track, Lasse Marhaug doing acoustic noise on another and sax by Kjetil Moster and Kim-Erik Pedersen.
Reviewed by lombard on February 21, 2012 at 12:44 pm


Sisters Taraka and Nimai Larson are the Brooklyn duo Prince Rama. On this 2011 release (their 5th), "Trust Now," they paint a mystical portrait influenced by a range of influences including art school and a Hare Krishna farm. Recorded in Seattle at a 19th century church, the album has a swirling, exotic Eastern sound full of bells twinkling along with the drone of chants and buzz. Synthesizer grounds it all and gamelan adds a lovely touch. Surprisingly, the album starts with gospel-like vocals (ooo, yeah, yeah, yeah!) that jolt the listener to attention, but from there is progresses into so many different spaces that might remind one of Bollywood soundtracks in one moment and the dark introspective spaces inhabited by Marianne Nowottny in another.
Reviewed by lombard on February 21, 2012 at 11:53 am
Finnish trio Hertta Lussu Assa creates a spooky soundscape on their self-titled LP of material recorded between 2008 and 2010. Utterances from ghostly voices (was that a distant scream?) drift in and out as the music buzzes, slinks, clinks, and sways. Bees buzz, keyboards twinkle as if in an abandoned saloon, and an unseen specter munches on caramel corn. On side 2, things begin ethereally, with laughter, the jangle of a bracelet, the whirr of an appliance, keyboard, and the squealing of a cat. It's a tremendously lovely, mesmerizing trip.
Reviewed by lombard on November 29, 2011 at 4:43 pm
I'm a sucker for sampled preachers, so this Heavy Chains EP (an October 2011 release from the Vancouver band) drew me in from the opening notes of "Crying Demons", as it starts with a sermon. As the minister calls, bass responds and the whole business gets heavier until the sermon is buried beneath guitar/bass/drums. As the album progresses, things get a bit more metal with screamed vocals. Yet that balance of hard and soft continues on tracks like "Commo Wire," in which a lovely melodic start leads into a heavy finish. In addition to screams, there's some actual singing on here, albeit it's warbly as if underwater.

Reviewed by lombard on November 29, 2011 at 4:17 pm
"In My Time" is a 7-inch release from October 2010 by Philadelphia artist Kurt Vile. It's a lovely little slice of pop. Somber-ish, with farfisa, guitar, drums, and percussion.
Reviewed by lombard on September 20, 2011 at 1:28 pm
Next Page »