KFJC On-Line Reviews
What KFJC has added to their library and why...
Jose Cota, formerly of Medio Mutante makes his solo debut here as Ssleeperhold. This is dark/minimal wave techno, or total shoegaze electronic. Elements of 80s horror films, dated soundtracks, poorly recorded minimal-wave tapes, clanging industrial and martial beats, overprocessed synths give the album a distinctly cinematic, thematic feel. Fans of Dark Entries more electronic releases might dig this a lot.
Reviewed by incognito on February 12, 2014 at 6:37 pm
Dolor's "Misteria" walks a line between quiet and funky-bouncy – something introspective and glitchy, yet bouncy enough to get your head moving. Elements of post-rave and techno on this one, mixed up with some gospel synths, hip hop and vocoded nonsense. The stand-out here is the title track, Misteria.
Reviewed by incognito on February 12, 2014 at 6:25 pm
2008 IDM and bass music release from Marching Dynamics on IDM powerhouse label Hymen. I found this album to be atypical for a Hymen release – it's particularly rhythmic and danceable, almost infectious. This was released at the height of underground dubstep, and there are a few unmistakable influences here with 140bpm, chugging tracks and heavy bass. Don't let this confuse you. In large, this is forward thinking bass music, unconstrained by genrefication. The bass is heavy, the beats are chunky, the rhythms are spooky and haunting. There is something very fresh and original about this album that I can't quite put my finger on. After the ambient introduction of "going under," Marching Dynamics gets right to the point of the album with "detuning purpose" and assaults the listener with bass, bass, and more bass. Great listen for the headphones crew, but equally at home being pumped out of your favorite bottom heavy system.
Reviewed by incognito on February 12, 2014 at 6:13 pm
2009 Collection released in Belarus. Tracks by 15 artists ranging from hard techno to gabber and dutch hardcore, drill and bass, death industrial. The album starts off with Asche's "Deadeyed Little Man" with an unrelenting 909 techno kick and just gets darker and harder as the album goes on. I'd never heard any of these artists here, but I will definitely be on the lookout for them from now on. Often very industrial sounding, hard, and punishing, especially some of the gabber efforts like Synascape's "Luka" and Winterkalte's "Ban Uranium Depleted Weapons 2k9, " and Punish Yourself's "French Pigs" which reminded me of being 16 and listening to Ministry. Danceable and incredibly fun, bassface all around. The album is finished off with Xabec's "No Disko," one of the most evil ambient tracks you could ever possibly imagine. Great album, not for the weak of heart or ears.
Reviewed by incognito on January 15, 2014 at 6:32 pm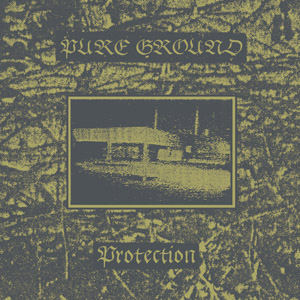 New 23min release from LA recording duo Pure Ground, in a limited 100 tape edition. I've seen people describe this as minimal wave and industrial; it's got a lot of minor chord synth progressions, and simple drum machine beats; I'm going to go out on a limb and call this "Margaret Thatcher Era Re-Enactment" wave. Dark-ish, not terribly complex lyrics and themes, lofi-recording aesthetic with hidden pop aspirations. A fun listen.
Reviewed by incognito on December 18, 2013 at 5:59 pm
Romanian-born and Germany-based Cosmin TRG's latest release on 50 Weapons seems more subdued than earlier works. Planted firmly somewhere in the techhouse pantheon, this album is simultaneously polished and clean with the xylophone hits of "Gordian" while seeming to capture the dirty, raw essence of Chicago and Detroit of old with chunky, hissing hits on "Desire is Sovereign." Dancable, melodic and yet meditative at times. ??As dance music is concerned, this is on the quieter, introspective tip, suitable for zoning out on a cloudy day or lurking in the shadows at the club and avoiding all your friends.
Reviewed by incognito on December 11, 2013 at 2:52 pm
This is a 2002 underground electro compilation from the Germany-based PSI49NET label. Split into "downtown" and "uptown" halves, disc one (Downtown) focuses on more traditional electro; it's quite minimal and sparse, focused mostly on the breaks and beats. All the classic elements are here, from the robot voices to the acid stabs and paranoid minor-key panning twinkly notes dancing about the top of your brain. Disc 2 is more bass oriented, and sounds a lot more trance, techno and house influenced (in that order.) Personally I found it difficult to get into and stay with disc 1, but Uptown really did it for me. There are a lot of saw-tooth basslines, robot vocals and harder beats. For the 2002 era, I think disc 2 would have been a bit more electroclash influenced than disc 1, which is just fine with me – i never had a problem with electroclash. Listening to it, however, you hear a lot of basslines that would later be used and recycled in some of the poppier and quite frankly garbage electro/electroclash sounds to emerge in the second half of the 2000s.
Reviewed by incognito on December 11, 2013 at 2:38 pm
Homegrown local drum and bass from Deepfatfried. Unmistakably late 90s US drum and bass. Techsteppy, kind of groovy rollers. Probably a piece of history here with funky, groovy local bay area jungle. Kind of experimental at times, with the final track going into drill-and-bass territory. Interesting time capsule.
Reviewed by incognito on December 4, 2013 at 8:17 pm
Old Komm is the project of Andrei Kolmogorov and Sergei Gorsky. Produced with field recordings done in the port town of Venspils, Latvia. Ambient, tones, samples, music concrete. Has a heavy and thematic edge. Very melancholy on side two, using news report samples, what sounds like old propaganda and droning electronics.
Reviewed by incognito on December 4, 2013 at 8:11 pm
Knotted Cord is the one-woman project of Rebecca Keehner, recorded in San Francisco. The aptly titled 2013 release "Heavy Minerals" is quite heavy, indeed. Bass driven, over driven sludgy garage rock. Mostly gritty, experimental, sometimes shoegaze kind of sounds with Keehner's vocals hidden in the background. I know its an odd comparison, but it kind of struck me as Led Zeppelin meets the Butthole Surfers. That's probably really wrong. Whatever. Listen to it and tell me how wrong I am.
Reviewed by incognito on December 4, 2013 at 6:43 pm
Latest release from Machinedrum, Vapor City vacillates between dubbed out minimal drumfunk jungle and downtempo. Out on the venerable Ninja Tune label, this is a very solid and mature album. Tracks "Gunshotta" and "Eyes Don't Lie" and "Rise and Fall" recall to mind Breakage's efforts on Scientific Wax and their ilk in the mid 2000s. Beautifully produced and crisp, with perfectly sequenced breaks that aren't over the top, continuously unique, not repetitive. "Infinite Us" slows things down to 145 bpm future-jungle territory, while "Center Your Love" and "Seesea" have playful vibes at downtempo speed and sweet vocals. "Vizion" dabbles in murky, gray ambient. The album is diverse, yet really held together by a common , not quite recognizable thread of bass music and dub.
Reviewed by incognito on December 4, 2013 at 6:29 pm
Chris Cater's (Chris and Cosey, Throbbing Gristle) first solo work in nearly 15 years, recorded in live in 1995 and released in 1998.??Recorded live on the 1995 Blast First, Disobey Tour. Tracks compiled from gigs in London, Manchester and Vienna. Quiet, introspective electronica, ambient techno sometimes bordering on death industrial and idm. Very cool stuff here, merits a thorough listen in headphones to get all the little nuances and effects. There is stuff here that vaguely reminds me of Basic Channel/Rhythm and sound, while other stuff reminds me of new death industrial stuff coming out today (prurient) that sounds like it took a page from Carter and Throbbing Gristle. Really cool music.
Reviewed by incognito on December 4, 2013 at 1:11 pm
New Weather are a trio making surrealist, visual electronica. Composed of two musicians and a visual artist, New Weather makes dreamy, psychedlic, synth and beat driven electronica. They have the warm, analog synth sound of 90's Air and a simplistic, minimal aesthetic. Groovy, psychedelic, warm synths with straightforward beats.
Reviewed by incognito on October 30, 2013 at 7:23 pm
From Hymen records, this is Philipe Vandal, aka VNDL from Montreal, Canada. This 2012 release uses processed electric guitars, field recordings and electronic devices to produce a work that is IDM in the classic sense. It has elements of ambient, experimental, noise and glitch. A lot of the tracks here are more toward the experimental ambient side, but there are a few beat driven tracks with complex drum patterns and deep bass. This is interesting, deep introspective music.
Reviewed by incognito on October 30, 2013 at 4:34 pm
Created, collected and recorded between 1995 and 1997, this is Slavek Kwis 1998 recording as Artficial Memory Trace. This is minimal, ambient experimental and sound collage work. It moves from minimal tone to digital noise, samples and power electronics. Mostly subdued, there are a few tracks that get into power electronics, like Monokrom II, and others that delve into experimental and glitch.
Reviewed by incognito on October 30, 2013 at 4:23 pm
The first solo work from Male's Jonathan Krohn under the Stave moniker. Ambient/doom/techno/industrial tracks of big, dark, cavernous spaces reverberating and resonating murk, fear, and darkness. Quietly disturbed and strangely rhythmic, ticking machinery in black and white concrete structures, cold, creepy, shadowy. Decaying samples, off beat industrial hits and claustrophobic, oppressive ambience.
Reviewed by incognito on October 16, 2013 at 12:53 am
Self described "experimental electronic freak folk" from San Francisco, the Cubby Preachers "4" is a collage of experimental ambient weirdness. A bit all over the place, from synth driven, wind-swept ambient and drone tunes to quiet folky house to garage psych weirdness to a quasi-religious astro philosophy freakout. Personally I was more into the ambient and drone stuff here, but I know that people are going to absolutely love the psych track, "Don't Wake Me If I'm Dead." Cool album,
Reviewed by incognito on October 16, 2013 at 12:27 am
This is Orbital's first album since 2004's "Blue" and also the first recording of original material since their reformation in 2008. Paul and Phil Hartnoll are back in the studio, and it's quite a joy to hear new Orbital tracks. "Wonky" refers to the brother's own perception that they've never really fit in – and certainly, this is an album unlike the Orbital I remember fondly from the 90s. There are a couple of unexpected things here – "Beelzedub" plays around with 85bpm dubbed out hip hop before doubling up the tempos and going into hard and techy drum and bass, while the title track "Wonky" features English MC Lady Leshurr and treads along acidy, big beat breaks.?? There are a few forays into ambient downtempo dub and synth pop, but there are some really choice tracks here that remind us that they're still Orbital. "One Big Moment," "Stringy Acid" and "Where Is It Going?" all have that the vibe of early to mid 90s Orbital that made tracks like "Belfast," "Chime," and Halcyon. While this may not on the whole be my favorite album of theirs, there are a few tracks here that really stand out for me, and I am extremely excited that the guys are back in the studio making tunes.
Reviewed by incognito on October 15, 2013 at 11:58 pm
"Kilo" is an appropriate title for Mika Vainio's 2013 release, as these are some heavy, dark tunes. Mostly rhythmic and synth driven drone and industrial ambience throughout the album, with tinges of death industrial here and there. There are a lot of sawtooth basslines crunching and driving the tracks, pulsing withelectric energy. Outstanding tracks all around in a wide range of bpm. It's a bit too rhythmic and linear to be considered experimental, but it certainly comes close. Doomy, droney, industrial goodness.
Reviewed by incognito on October 9, 2013 at 7:03 pm
Zomby's third album, dedication has been referred to as his "most dance friendly" although I'm not sure the title fits. There is a lot of 2step and grime influence on some of the tracks, while others drift toward the ambient and spacey-trancey while generally staying in the 128-140 bpm breakbeat format most easily identified with dubstep, uk garage and grime. There are a few instrumental tunes here as well, like the piano track"Basquait" or the organ drones of "Vanquish," with a foray into Squarepusher-esque idm in "Florence." The first half is decidedly more dance-friendly, with Natalia's Song (of the famous Reark controversy) and the square bass notes of "Riding With Death." It's a good album, albeit relatively short with a lot of very short songs that feel almost unfinished, but for Zomby's fans as well as fans of Hyperdub, Kode9 and the like, this is a very good listen.
Reviewed by incognito on October 9, 2013 at 6:32 pm
Next Page »