KFJC On-Line Reviews
What KFJC has added to their library and why...
Sinister sound-scapes composed of (and this is my guess) analog electronics and tape manipulation of instrument based noise and human vocal sounds. This is certainly not harsh, but I wouldn't call it pleasant..eerie in its nature, full of oscillations and open space. The music here is minimal in a way, but certainly not static, that is, these pieces move (even the longer ones) adding layers, tones and sound sources as each track progresses. Behold the beautiful hiss of magnetic tape..with all of its cracks and pop, sounds like wood burning in a fire. A constant ring will fool you into a hypochondriac's tinnitus…hear the moans of mechanical whales singing to each other.. along with layered and processed sounds of human mummbles and yells on track 2, particularly towards the end. Tangled, desolate yet somehow heavenly… cracked and buzzing.. like the natural noise of an urban habitat which you struggle to place your finger on.. an ever present symphony of tones which you cannot escape. -Surfer Rosa
Reviewed by surferrosa on May 15, 2013 at 2:45 pm
Little Women- Tenor, alto, drums, guitar- out of Brooklyn NY bring us their 42 minute masterpiece.. which I have conveniently cut up into excerpts, less threatening in their duration, for the purposes of radio play.. that being said, this piece is really meant to be listened to uninterrupted, as a whole. Lung is all about contrast, inhale and exhale..quite and loud, gentle and rowdy,euphony and cacophony.. whenever you hear one it will be followed by the other. The piece starts off with about 1:40 of breathing sounds, which return throughout, between spurts of instrumental spasms. Tings and taps of a drum set settle in, and the rest of the party chimes in at about 4 min. These are the sounds of awakening, slowly cracking your eyes open and coming to (excerpt 1). Starting off lovely and lulled, things simmer and cook, with pops of loudness poking through (goes from very quite to quite loud without warning)..like an indecisive manic depressive, until the tension busts open about 20 minutes in (end of excerpt 2) when guitar strings start to break, the saxes start to skronk and the drummer lets loose. Another lull is followed by another freak out (excerpt 3) as eventually this epic piece winds down..circling back to where it started (excerpt 4). These guys open up a conversation that strokes, whispers, kisses, shouts, stings and bites. Killer interplay of sounds, and musicians who are tuned to the same frequency. 42 minutes goes by like 10.. go ahead.. play it from start to finish. -Surfer Rosa
Reviewed by surferrosa on May 15, 2013 at 1:30 pm
Thunder Mountain is a 3 piece from Oakland..loud, stoned and broke. Here is a short EP of DIY, lo-fi garage rock..echoes of psych..tastefully sloppy with a fuzzy, far away tone which sounds like its blasting from deep inside a cluttered basement. Riffy and catchy with male/female vocals and a gritty tinge of wailing overdrive. Sort of a rock-a-billy twang on some of these (2) or vaguely folky musings on 4. Home made, freshly burned from somebody's home studio.. -Surfer Rosa
Reviewed by surferrosa on May 14, 2013 at 8:42 pm
Blectum from Blechdom from Bloopdom! This is a glitched out electronic circus of sounds. Beats to make you twitch. Responsible for this are Kristen Erickson and Bevin Kelly, two ladies who met at Mills College. This will make you jiggle to one hell of a goofy dance. Loops on top of loops..bleeps on top of bloops, contorted samples, broken instruments, tones of every shape and size..poking you in uncomfortable places. A whole goodie bag of sounds here..a stuttering convention of circuit bent toys…3 wants to take your baby from you. 4 just wants to be a part of you. Toilet trouble on 7. 24 robs the rave train. Short tracks are neat little jaunts, so play those too. This fiesta kills. -Surfer Rosa
Reviewed by surferrosa on May 8, 2013 at 1:26 am
Here is some blistering prog out of Norway: Elephant9 joining forces with Rein Fiske (Swedish guitarist from the band Dungen). I read a bunch of reviews referring to this as 'jazz-rock' but I'm gonna stick with prog.. hearkening very heavily of the 70s, so if 70s prog-rock is your soft spot, this will give you a little hard-on. Driving bass locked into tight drum grooves, with a sprinkling of tinkley organ lines and fuzz guitar meltage to go all around..a tinge of psych, these guys are jamming, finding a riff playing it fast and repeating it often. Soloists take turns smearing their skills all over your face. tempo changes, odd key signatures and a group of musicians who sound like they are busting their chops on full blast the entire time. #4 is different with an acoustic easy-listening kind of vibe. #5 plods a bit, bass driven and less urgent than the others, which seem to move in double time. All instrumental, super tight, sometimes a little noisy.. sweet. -Surfer Rosa
Reviewed by surferrosa on May 7, 2013 at 5:43 pm
Yannis Kyriakides takes you on a walk through sonic debris with these five pieces, all originally commissioned as sound installations. The sounds here are eerie, for a patient ear, with aching moments of silence that will make you very uncomfortable. These pieces (namely the 30 minute long track Varosha) are inspired by the ruins of a landscape once lavish and bustling. Varosha, located in Northern Cypris, was once a popular vacation destination, full of music, resorts and tourists. The place was abandoned in summer of 1974 during the Turkish invasion and has been left just as it was since then, an abandoned ghost town. Imagine buildings collapsing, beyond repair,extravagant resorts crumbling to waste..echoes and remnants of parties or busy crowds. Electronic sounds of decay and deconstruction. Ghostly resonances. Varousha (2) exemplifies this, with samples of Turkish pop tunes chiming in every two and half minutes or so.. a woman's voice, sounding almost programmed, saying lonely words. This voice appears on all tracks, opening and closing moments of discomfort on the Covertures (1, 3, 5) which flux from very quite to quite loud. On track 4 this voice is accompanying broken, disintegrating pop tunes and crinkly cracklies. Field recordings, founds sounds, piercing frequencies..Soundscapes of a forgotten place to intrigue your ear and give you goosebumps. -Surfer Rosa
Reviewed by surferrosa on May 1, 2013 at 6:48 pm
Guitar music from the Western Sahel – A selection of field recordings taken by Christopher Kirkley between 2009- 2011. Recorded on site at locations near the riverside of Niger to the North Malian Desert. A guitar is hard to find in this part of the world, the instrument is often battered, fixed in makeshift ways and passed down from hand to hand over many years. The guitars on this recording have a gorgeous, unique tone.. they are either tuned to each other or to themselves.. The songs here are those of a communal fireside jam, dedicated to the passage of time, with the voices of musicians or listeners talking in the background or reacting to the music. The musicians here are listening to each other, conversing using their instruments, with a free and easy sense of rhythm that makes me want to sit out in the sunshine, sip on something, kick back and listen. The guitar here is often accompanied by other instruments, and always a soulful voice singing in french. Sounds like a combination of improvised jams and group songs which have been practiced many times by a circle of friends. The last song on side B is probably one of the best renditions of the Police's Message in a Bottle you are likely to hear. Drop the needle anywhere, there is no going wrong. -Surfer Rosa
Reviewed by surferrosa on April 24, 2013 at 6:19 pm
Filed as 12-inch,International
Here is the work of Mehdi Ameaiane and Solage Gularte, two ladies from France who go by Istengrind and Twinsistermoon when playing solo. Natural Snow buildings is their collaboration. These pieces are drone-scapes, sound collages and acid folk lullabies. Spacious and slow.. riddled with stringy strums and opium lady vocals.. sounding dusty and far away. Something lovely out of a haunted attic. Two CDs of heady meditation. Gentle with a bite. Isengrind has more of a broken toy box sound, with lots of clinking and tinkering alongside the drones. Her vocals are murky.. more like ethereal hums. Twinsistermoon sets up a dreamland, her mesmerizing singing on many of the tracks. On the shortest she is accompanied by only the pickings of an acoustic guitar. Natural Snow Buildings will give you a natural and varied combination of these two.. ambient, organic, electro- acoustic..a freak folk ritual, shining through the haze -Surfer Rosa
Reviewed by surferrosa on April 23, 2013 at 4:32 pm
Ethel Profit is a woman with a voice to make your heart bleed. Her smokey voice is accompanied by the blusiest of solo blues guitar.. teetering on the fringe of gospel with the tracks Death is Not the End and Life is a Battle, both uplifting and somehow melancholic…lonesome. The nature of this old recording gives it a natural sort of overdrive, you can hear the sound peaking and crackling when Ethel really starts to wail…and does she ever. Simple and soulful, dug up from the depths of Mississippi Records' unbelievable sonic archives. -Surfer Rosa
Reviewed by surferrosa on April 17, 2013 at 3:40 pm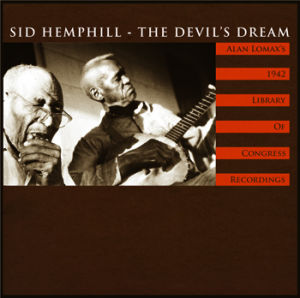 These are archival recordings collected by Alan Lomax, ethnomusicologist and folklorist, of Sid Hemphill (1876-1961) out of Sledge Mississippi, recorded August 1942…Sid Hemphill called his work 'old folks music' and handmade many of his band's instruments. These recordings are full of crackly old folk songs and instrumentals, most certainly with that post-war, whiskey sippin', jams and ditties on the front porch on a hot day sort of sound. Outstanding fiddle-fodder makes for a square dance kind of feel on a lot of these tracks.. banjo twang to make your toes tap.. Some feature the 'quil' a hand cut cane panpipe, which you can find on many of the short instrumentals paired with a snare drum, which echoes of a civil war drum-line march. Vocals are soulful, and gritty, wailing about hunting or the devil himself. All this underlined with the wonderful pops, cracks and hisses of a recording made long long ago. -Surfer Rosa
Reviewed by surferrosa on April 16, 2013 at 4:51 pm
Pisspounder appears to be a terribly appropriate title for this compilation because it will surely pound the piss right out of you. This collection concentrates on drum centered noise rock out on Deathbomb Arc. Six bands with a few things in common: insane tweeker drumming all over the place, absolutely relentlessness, and noisy for sure. The material here ranges from slightly to thoroughly painful… if you prefer the slight over the thorough try Foot Village, Dreamhouse or Aa. Now here is the scoop.
FOOT VILLAGE- Spastic, drunk and chaotic noise rock with male/female yellings, rants and chats. Lyrics are silly, sometimes telling a weird little story. Electronics on occasion. This sounds like a ruckus and a riot. The drummer here is definitely tearing his drum set apart. Into tiny little pieces.
SWORD HEAVEN- swirling with harsh electronics and violent vocals..tape manipulations, scraping metal sounds and a drummer who is falling apart. Mayhem and cacophony to bring home to your mother, though this will probably give her a headache and you might get kicked out of the house.
DREAMHOUSE- pounding, angular non-pop pop tunes for schizoids. Screaming and yelling telephone receiver vocals. Covered in clinks, clanks and bangs..demented organ lines and broken guitar riffs. Stuttering electronics and a vague vague sense of rhythm. Skronk on #4 if that hits your sweet spot.
RAINBOW BLANKET- first track is a drone monster with the drums building in. It resonates and rings as vocal moans echo from beyond, along with some sort of processed wind instrument.. sax maybe? Simmers and simmers, boils over, then simmers again. Second track is a harsh noise static fuzz ear-bleed.
AA- electronic oscillation going into ritualistic vocal tribal chant. Angular and driving.. light on the noise, heavy on the spazz, complete with backward sounds and killer drum work.. of course
GREYSKULL- massive improv noise-scape drone gumbo. Some dude gurgling and yelling in the midst.. Grumbling electronics and a heavy bass to make your bones vibrate. Cookie monster comes to visit about half way through.
So much to chose from, what will you do?? This collection destroys. Sonic annihilation. have fun.
-Surfer Rosa
Reviewed by surferrosa on April 10, 2013 at 6:31 pm
Male/ Female duo from Brooklyn, NY playing simple, catchy, garage pop tunes that will make you want to dance around and sing along. Their names are Shell Head and Jen Shag,they play guitar and drums and switch off or share doing vocals. Plus the amplifier they plug into looks like a spaceship or a beehive or something. Jen, on percussion, does not use a kick drum and barely any cymbals making for a pretty marching, floor heavy beat. Riffy, overdrive guitar grooves all over the place. These jingles are short, energetic and good fun. -Surfer Rosa
Reviewed by surferrosa on April 3, 2013 at 7:08 pm
Risil is a collective of musicians building a sound collage. Check out the fat, handsome looking list of contributors on the back. There is a whole toy box of sound sources here including samples, vocals, electronics, flutes, bells, mouth noises, guitar, drums, sequencing and field recordings. Things here get loopy, sometimes a bit skippy. Tracks are gentle yet busy, dynamic, never static, not quite ambiance…but not far from it. The drum beat drops in and out, ocassionally turning a meditation into a bouncy little jig. Beautiful use of vocal layering- soft, lovely singing is processed and stacked…like a whispered lullaby. Drones all over the place, underlining every wistful thought, as well as crackling and popping electronics to add a bit of sour to your sweet. A tinkering cacophony of ethereal sounds.. humming, floating, engaging and really quite nice. -Surfer Rosa
Reviewed by surferrosa on April 3, 2013 at 6:35 pm
This newly formed duo out of Chicago bring home the bacon with two ingeniously infectious tunes.. Garagey overdrive sounds and riffage to write home to your mother about.. sooo tasty. Side A or Trust and Order is catchier of the two, with a sticky yet simple, repetitive guitar riff, gluing things together while the drums tip their hats to a head bang. Heavily processed indecipherable vocals come mummbling in about half way through. Simply satisfying is a loopy kind of way. Like frolicking through a meadow of daisies after frying your brain on a bucket of whippits. Side B is an impaired love song written for this guy's puppy. My personal favorite and weirder of the two. Kicks off with a grinning acoustic guitar riff accompanied by feedback sounds and high pitched tinkerings. Reverby, echoed out vocals give praise to puppies and the whole thing simmers and spasms for a short minute until all that's left are these crackly oscillations fading into gurgley noise.. the kind of noise my puppy would make.. if I had one.. -Surfer Rosa
Reviewed by surferrosa on March 27, 2013 at 6:17 pm
Self proclaimed "sparkle prog" out of Brooklyn NY (hipster capital of the world! after kfjc that is..) I call it orchestral, shimmery, psychedelic, kaleidoscopic sounds. This certainly fits the prog-bill though..keep your ears perked for dramatic tempo changes, synthesizer kisses, viola hums and the infallably proggy drawn out instrumental sections. Girlish lady-vocals are drenched and dripping with reverb. As is everything else. Repetitious in an infectious, bouncy sort of way. Good mood music.. agreeable and pretty easy to swallow. Spacey, stoney, with a little bit of jingle jangle and the tiniest touch of occasional grit.. like two grains of salt on a sugary cube of caramel. -Surfer Rosa
Reviewed by surferrosa on March 27, 2013 at 5:36 pm
Angry ladies out of Oakland, Ca making some killer noise rock with punk sensibilities. These chicks got some lungs on them. This is like a conversation where everyone (instruments and people too) is yelling or ranting. Lo-Fi, explosive and energetic…musical in the most non-musical of ways. Uncomfortable, abrasive pairings of sound keeping things just filthy enough while always falling into a rhythm you can bounce to in between spastic outbursts of sonic chaos. Howling feedback, lopsided riffage and relentless interplay. Noise moving backwards on #8. Nifty electronics on #9. These are the sounds of not giving a fuck. Makes me wanna elbow somebody. -Surfer Rosa
Reviewed by surferrosa on February 26, 2013 at 1:43 pm
Pixilated sounds and gurgling beats courtesy of local SF/Oakland artist Alienslang or Jsun McCarty.You can tell that this guy has a soft spot for both techno and noise. Sounds like the audio to a scuzzy dance party with mood lighting populated by outdated short circuiting cyborgs, coated in rust..losing limbs on the dance floor… Or maybe like playing an old school Atari videogame on LSD. Glitchy, blipped-out beats and programmed percussion patterns dipped in the honey of filth and alien sound. An orchestra of beeps bloops, processed organics, and belching electronics. Sort of sparse and industrial in its own way….music made by possessed, junkjard machines who just wanna dance. This is the kind of nightclub I wouldn't mind stepping into.. which is saying something. -Surfer Rosa
Reviewed by surferrosa on February 26, 2013 at 1:04 pm
Spray Paint is a three piece out of Austin, Tx composed of two guitarists and a drummer. These are short, energetic bursts of dirty gritty catchiness. Sounds DIY in a decently produced sort of way. Riffage is repetitive and fuzzy.. finding the most awkward, angular pairing of notes and sounding them over and over again, relentless in a way that makes you dance a little..just uncomfortable enough.Post-Punk airing on the noisier side. Vocals are chanted, spoken or belted out as opposed to sung. ..coming from some other room, reverbed out and far away… -Surfer Rosa
Reviewed by surferrosa on February 20, 2013 at 6:31 pm
RM74 is the work of Reto Mader (Ural Umbo, Sum of R…) These tracks play like arrangements, flowing and building in movements.. like light reflecting off a glassy surface, or trees vibrating with the wind. Dreamlike in every sense of the word, but always with the subtle prick of an old nightmare. An orchestra of strings, synthesizers, broken piano lines, moaning theremin, radio frequencies and found sounds such as cracking tree branches or rustling paper….amplified objects, gongs and bells, backwards tones, sedating drones, shimmery strums..imminently interrupted by something ugly, but never for more than a moment. These are organic sound-scapes of the electro-acoustic. Just as eerie as they are lovely. Tracks do not segue but are certainly sections of one massive piece. -Surfer Rosa
Reviewed by surferrosa on February 20, 2013 at 6:02 pm
Sanjo translates to Scattered Melodies. It is a stylized form of improvisation developed in Korea during the 1890s. These recordings range from 1925 to the 1950s. The stringed instrument here is the Kayagum, a smaller cousin of the Japanese Koto.. the Kayagum's tone is not quite as bright as the Koto's and it sounds like it could have one or two strings, though the instrument certainly holds over a dozen. Accompanying the Kayagum is an hour glass shaped hand drum called Changgo, and the occasional sound of a human voice barely coming in from a distance. The music here is improvised and quite arrhythmic, that is almost wholly melodic, with an ever present wavering vibrato. Notes slide and bend into half tones, quarter tones and everything in between on the far eastern scale. The music breathes, expressive in its building tempo changes and fleeting moments when the beat sets in… all of this dipped in the pops and scratches of the old, original vinyl. Sublime Frequencies.. always delivers. -Surfer Rosa

Reviewed by surferrosa on February 20, 2013 at 2:11 pm
Filed as 12-inch,International


« Previous Page — Next Page »