KFJC On-Line Reviews
What KFJC has added to their library and why...
Scathing is the harsh noise project of Austin-based artist Kenny Brieger (also in Architeuthis Dux); this 2018 cassette is his second release under this name. Two ten minute breakneck cut up pieces. Side A is total implosion, I trace its source possibly to a mutilated rock song. Voices singing, feedback from microphones or guitars, even remnants of song structure, with a bridge of tense holding pattern rhythm that transitions between the two halves of the piece. Side B is total explosion, high and piercing, barreling with barely a breath until the final second. Another punishing release from Oxen.
Reviewed by lexi glass on March 20, 2018 at 8:18 pm
I can't help but really like these simple, shoegazy songs sung and written by Carl Lamoureux and Spaghetti Francis. They are folksy and hazy and fairly mellow. Last track ("Rivers") is my favorite.
Reviewed by humana on March 17, 2018 at 4:52 pm
Filed as A Library
Energetic, fresh, forward-thinking jazz from Norway, all composed by Ole Morten Vagan, who plays double bass. The last track ("Lontano Sea") is the most subdued of the bunch. Make sure your head is listening as you take in this unique sound.
Reviewed by humana on March 17, 2018 at 4:37 pm
Filed as Jazz
Imagine growing up in a small village in Tuscany, Italy, where time was marked by religious rites. Now imagine it while you listen to these field recordings that delve into the "sacred space" Aldinucci remembers from his childhood. You will be transported by manipulated sound in conversation with music that expands dimesions through mud squelches, water, melodies, and what sounds like a fish flapping on a line. Relaxing and fascinating because it is so real.
Reviewed by humana on March 17, 2018 at 4:27 pm
Filed as A Library
You'll want to read the liner notes on this classic. Reed, who grew up in Rising Sun, Appalachia, picked up a banjo at an early age and learned to pick out tunes herself. Looking at herself in the mirror, she declared her theme song ("Look Down That Lonesome Road," track 12) and fulfilled her goal of singing on the radio someday. Bully for her, I say! Her voice is as hearty as they come, and her music reflected her values and life–no hypocrisy in this woman's blood. This selection of her music comes to us through time and allows Reed's example to shine on for generations of women musicians to come.
Reviewed by humana on March 17, 2018 at 4:05 pm
This is a gem of a selection of Hadda Brooks's repertoire, from her amazing piano boogies (she's not called "Queen of the Boogie" for nothin') to her lovely sung ballads. The liner notes describe how she didn't think she could sing; we can all be glad that she gave it a try. In fact, she gave both herself and her audience a great gift when she decided to sing her torch songs. She may not have been as well-listened to as she deserved, but we can remedy that now by paying her homage.
Reviewed by humana on March 17, 2018 at 3:56 pm
Filed as Blues
Modern, quirky, jazz miniatures from this trio of Europeans. It's the very opposite of a skronk-fest, as all the tracks are composed (at least in part), and most clock at under five minutes. The compositions are highly rhythmic, with the melodic material hinting at all kinds of things from modern classical to lounge jazz. A polite, measured treat.
Reviewed by Phil Phactor on March 14, 2018 at 7:25 pm
Mattin is no stranger to the KFJC airwaves. In our library you'll find a ton of his work, under his own name, with the projects Billy Bao, Regler, Josetxo Grieta, and Consumer Electronics, and in collaboration with many artists… even Junko! This CD is the fourth volume of his Songbook series of improvised works recorded in 2006 in Tokyo. It lists six tracks, though my CD player reads only one long 22 minute track that contains the entire performance. Mattin is on vocals and guitar and is joined by a full band: another guitar, bass, piano, and – from over in the toilet – saxophone and Tomoya Izumi's screaming. Dissonant guitar violence, driving rhythms propelled not by drums but by bass thump, piano keys stumbling around and clashing with guitar strings.
It all surrounds Mattin's distorted, disturbed vocals that he claims are inspired by Lou Reed, but I hear more Damo Suzuki, Alan Vega, or someone more deranged. His performance is at once a parody of and a tribute to the underground rock show: the avant garde artist defying conventions with raucous noise and screamed lyrics, his back to the audience (or is he just a talentless asshole?) and the adventurous audience members engaged and rapt (or are they just pretentious snobs?). Mattin begs his audience for forgiveness ("I wanted to please apologize for my lack of talent") or confronts them directly ("your expectations are the worst nightmare any human being could have"). It's all pretty uncomfortable, and you can hear the tension in the stunned applause from the four or five people that showed up to the gig. Strange, vicious, and hilarious. WHY DO WE LET HIM DO THIS?
FCC at ~6:00 "this is another fucking lie"
Reviewed by lexi glass on March 13, 2018 at 7:56 pm
Septets and quintets composed by Gianni Mimmo in 2015 and 2014 respectively. The scores of these works are frameworks for improvisations. Classic Mimmo kissyface reed pops with string textures underneath. The ensemble moves through "tight corners". Expansive sound brings a new dimension, and a very positive outlook for the future.
Reviewed by Hemroid The Leader on March 13, 2018 at 3:19 pm
Radio Poland journalist Wlodzimierz Kleszcz brought Norman Grant to Poland in 1986, paying him with studio time. Kleszcz saw a connection between the roots music of Jamaica and Poland – a link between ex-slaves and the Polish Gorale ex-serfs. The music feels earnest but forced at times, like the material is not fully developed. Psalms 23 is Grant chanting the bible. Whatever its deficits, it is endearing. Just before the wall fell, searching for a connection.
Reviewed by Hemroid The Leader on March 13, 2018 at 2:51 pm
Achingly gorgeous work from local talent Roger Kim. Delicate melodies lushly arranged for an ensemble of strings, woodwinds, voice, guitar, and piano create a fairy-tale atmosphere. Drift off into a strange and wonderful new world…
Reviewed by Phil Phactor on March 6, 2018 at 9:57 pm
I get how you might not be totally jazzed to return to dungeon synth, but it'd be a shame if you passed on the deliciously warped sounds on this split cassette. We last heard from Romain Perrot working under his most well known alias Vomir, among the most infamous HNW projects going. Here, he appears as Free as Dead, working with a completely different palette of sounds: a possessed organ, the notes twisting and distorted into beautiful, demonic hymns. If you love the Solo Organ stuff we've been playing consistently for the past two years, give this creepier version a spin. On Side B, we have six tracks from Bride, a side project of T.O.M.B., that attempt to capture electronic voice phenomena, or the sounds of spirits affecting electronic signals. Textured field recordings, unintelligible voices, ringing bells, dark piano melodies, and synth drones wind and warble through ancient speakers. Beautiful nightmares.
Reviewed by lexi glass on March 6, 2018 at 8:56 pm
Painted Caves is the electronic side project of Barn Owl Evan Caminiti. On this 2013 release, Caminiti uses modular synths with tape loops and digital effects to create a sense of pervasive paranoia. Tense beats and minor-key synth drones, as cold and soulless as the AI algorithms methodically sifting through your email, location data, and camera roll. Ranges from intrusion into quiet, intimate spaces (T1, T2, T5, T6, T7) to massive data collection on a national scale (T3, T4). But just when no escape seems possible, there are brief moments of strange beauty, hints of warmth. Limited release from the fine French label Shelter Press.
Reviewed by lexi glass on March 6, 2018 at 8:42 pm
Last summer we were visiting our friends in Cloverdale. It was god awful hot so they decided to take us down the road to the Russian River for a swim to cool down. After trekking across the riverbed rocks, we got to a place in the river that was shallow enough for us to set our beach chairs and just sit with the current gliding over us. It was not really my idea of pretty: it was hot, brownish, dry with plants a sort of dusty green. But when I finally settled into it I began to appreciate the calm, serenity and turmoil of this oddly idyllic spot with the cool water pushing around us. I often remember this place even though it may not have been my idea of a place to go.
I feel this way about "Chalice Hymnal", Grails first album in six years. It's not what I might have expected but when I let it settle in, it works. It is a lush four sided continued exploration into the sounds they have developed over their career. Cinematic is definitely the phrase for these pieces. Each piece of psych rock post-rock is like a soundtrack to a series of short films, not clearly related but surprisingly united. Guitars and electronics play heavy with bass and drums, plus mellotron weaving dreamy explorations on some tracks while others perform a more beat driven journey. Most of the shorter tracks left me wanting for more. The longer tracks filled my need for meditative wandering. Like the river experience, not necessarily where I wanted to go but definitely something I keep remembering after several listens.
Reviewed by Naysayer on March 5, 2018 at 9:00 pm
High priest of the chill-out room Robert Rich returns with this satisfying collection of slithering, shimmering, seething electronic ambience. The beats range from absent to gently propulsive, but you probably won't be tempted out of your bean bag chair. Eastern-tinged melodies rise up out of the electronic murk and then fall again. On first listen, some of the tracks can sound rather simple, but there's lots of hidden detail for the patient listener.
Reviewed by Phil Phactor on February 28, 2018 at 6:36 pm
Pianist Tigran Hamasyan accompanied by the Yerevan State Chamber Choir, playing Armenian sacred hymns and liturgical songs (sharakans) from the 5th to 20th c.
Voices and piano. Hamasyan's piano is very questioning. Mystical, dazzling – incense wafts. Things shift suddenly, it can be unsettling as the sounds crack and come back together. A ceremonial tone pervades throughout.
Reviewed by Hemroid The Leader on February 28, 2018 at 4:55 pm
Transporting a capella trio. Polished world music from Bulawayo Zimbabwe. Their third album, their debut sold 250k in US/Canada.
Reviewed by Hemroid The Leader on February 28, 2018 at 4:29 pm
Filed as CD,International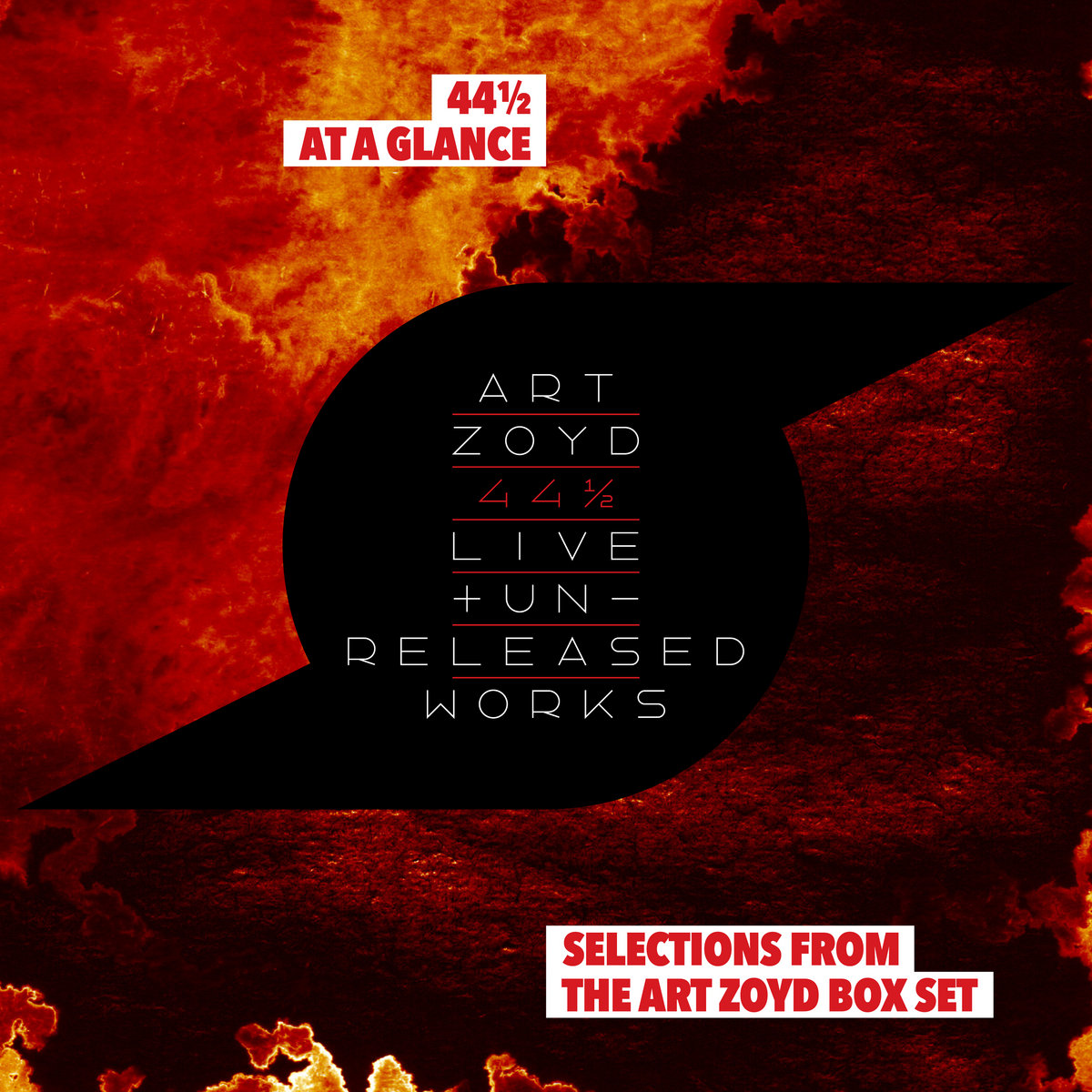 9 tracks from Cuneiform Records' 14-CD set "44 1/2: Live and Unreleased Works" Art Zoyd are founding members of the Rock In Opposition movement. Challenging material. Fans argue about who describes it right. More intellectual than Magma. Demented chamber prog. Impressionistic electronic soundtracks. Jaunty rituals.
Reviewed by Hemroid The Leader on February 28, 2018 at 3:29 pm
This is a trio who lives and works in Switzerland. They are Andi Schnellmann on bass, Manuel Troller on guitar, and David Meier on drums. The band name is an amalgamation of their last names. This album came out last year. It sounds like jazz rock with electronic influence. Minimalist? I'd say it's technical. I liked the guitar on the last track Round. It was written about the sound that it seemed to be a "Cubist work of art that seems to gaze out from the most varied of perspectives, but always in the same direction." I think that's apropos.
– Billie Joe Tolliver
Reviewed by billiejoe on February 28, 2018 at 2:06 pm
Lovely little guitar pieces by Mr. James. Some are on the floaty side, some are more insistent. Overdubs of multiple guitars, bass, and occasionally a simple drum machine beat. Lengthwise, most tracks are in the 2 to 3 minute range, with the longest topping out at just under 4 minutes. DJs who don't enjoy playing short tracks on the air–I tend to be one of them–can take advantage of the fact that there is not much space between the tracks, which means one could create a "mini-suite" by playing 2 or 3 or 4 tracks in a row. All instrumental.
Reviewed by Max Level on February 28, 2018 at 9:42 am
Next Page »