KFJC On-Line Reviews
What KFJC has added to their library and why...
This is a great little 7″ of garage rock (I only classify it to be helpful; it's a class of its own). "Poetics of Space" is a solid musical asking the question of where does time go, and the guitars and vocals of the trio provide the apt setting for such a question. "Like the Fly" is slightly more upbeat and danceable (to us old rock dancers) and makes us wonder about what being a fly on the wall would be like. Do flies dance? Try this out.
Reviewed by humana on August 25, 2016 at 12:08 pm
Stripped down trio format, laid back, listenable, nonchalant. Paul Bley (1932 – 2016) was a Canada-born American jazz pianist known for his free jazz innovations and emphasis on trio playing. Italian pianist Cappelletti plays with DiCastri on bass and Ditmas on drums who had also played with Bley.
Reviewed by Cousin Mary on August 24, 2016 at 5:36 pm
FCotD, as they are known, is a fine surf band from Santa Cruz. Lots of good energy, excellent playing, mostly original compositions mark this album. Original sounds for modern surf music.
Reviewed by Cousin Mary on August 24, 2016 at 10:34 am
energetic skronk improv jazz fits recorded in the late '80s.
LOW LIFE Brotzmann + Laswelltracks (1-10) bass sax and electric basses, dramatic progression story telling with fart sounds abound.
LAST EXIT (tk 11-14) is fuller free jazz sound, of guitar, drums, tenor sax, 6-string bass, and even vox on trk 12. loud crazy playing over the top of each other punctuated with occasional Primus proggy vibes.
yummy stuff, throw LOW LIFE on continuous and add liberally to your mix – dr. mouth's orders
Reviewed by mouthbreather on August 24, 2016 at 7:12 am
Split between two of the meanest, leanest Finnish Black Metal projects, unaccountably split across two CDs. Each band contributes re-recordings of classic tracks.
Satanic Warmaster (est. 1998) is probably the most successful Finnish Orthodox (i.e. serious about Satan, and tremolo picking) Black Metal project, and (alongside past split-mates Horna and Clandestine Blaze), one of the best. Though S.W. is known as the solo project of 'Werwolf,' here are four full-band versions of songs from his first three albums and one thrash song (t.3) from Pest, one of his many other bands. Sweeping riffs evoke the majesty of death over nocturnal hailstorm drumming, also t.s 2+4 have fairly prominent keyboards, so… be warned. Overall it's well produced, but does it really need a clean production sheen? It's still pretty great, particularly the Pest cover. The evil laughter on t.2 is fun as well.
Archgoat are a Bestial Black Metal/Old School Death Metal project founded in 1989, the same year as Beherit, another Finnish band whose Blasphemy-derived sound they aped and eventually improved by making it HEAVY AS FUCK. Keyboards here too on a few tracks but they make more sense with this group's minimal ritualism. The gravel pit vocals, the bass, the guitar tunings… all are deep as a black hole gaped by goats of Satan. Once again the clean production seems unnecessary, but this is still very much the 'Archgoat sound,' and probably the better half of the split.
No completely new material here but a good introduction to both bands. Cute Chris Moyen album art, too.
Reviewed by Lord Gravestench on August 23, 2016 at 3:48 pm
Vicious, stripped-down Power Electronics from Texas' Chad Odom, who has been doing this for about 16 uncompromising years now. Judging from packaging, this 2010 release could be concerned with influenza, the once and future pandemic, but no lyrics are given, nor much other info. There may be a fondness for the Hospital Productions school of overdrive worship (Prurient? Deathpile?). The music is a near-monochromatic, hopeless churning. Shuddering subbassment and some assembly-line Death Industrial squelch marches. Grimy. Hidden vectors of infection reward multiple listens with underlaid warm tones, barely intelligible samples, and distorted screams immured in layers of granular synth. It's brilliant but who cares? Despite the probably therapeutic attention to production and composition all most will hear is, to quote Iggy Pop, "a big load of trashy old noise." Their loss. Cover that coff, y'all…
Reviewed by Lord Gravestench on August 23, 2016 at 2:18 am
This Canadian band offer a mixture of crust punk and deathrock with elements of pseudo black metal. How trendy… oh wait, this is a reissue of a 2004 demo, so no tour with Protestant or Crimson Scarlet, then. Props due for being ahead of the curve.
Fuckmorgue wore their Rudimentary Peni influences on their sleeves (singer is 'Morgan Peni') with maybe less obvious traces of Nausea, Tragedy, 45 Grave or Nuit Noire. Haggard Detestationesque female vocals that are not really growls but not "clean" either, aggressive post-hardcore calisthenics and gothic organ.
The 'Down Forever' release occupying the A side is pretty good, but the B-side, an unreleased instrumental demo that trades scratchy violin parts for vocals, is pretty much totally forgettable. Maybe this should have been a 10″? Whatever. (Re)mastered by Colin Moron of Krallice.
Reviewed by Lord Gravestench on August 21, 2016 at 8:24 pm

Conceived as a "trialogue" between the music of Nels Cline, paintings of Ed Ruscha and poems of David Breskin. This is the musical component to Dirty Baby, a multimedia work of music, poetry, and pictures performed at the Walker Art Center in Minneapolis. A deluxe monograph was published by DelMonico Books.
Two discs of instrumentals from two different nonets. A major work in the canon of Nels Cline, features brother Alex, Vinny Golia, Wayne Peet, Scott Amendola et al. CD1: Longer tunes. CD2: Shorter tracks, wildly eclectic, Funky Bluesy Thrashy, Great track names taken from Ed Ruscha paintings. Ambitious; the larger group gives Cline a lot of different possibilities.
Reviewed by Hemroid The Leader on August 21, 2016 at 2:55 pm
Trio w/unique instrumentation: theremin, percussion/trumpet, & drums. Recorded by Rent Romus. Sparse. Delicate, tinier sounds. Echoing, looping theremin is very engaging. Lots of percussion, chimes, bells.
Reviewed by Hemroid The Leader on August 21, 2016 at 2:46 pm

First world problems breaking down the fourth wall and some
catchy third world melodies. Porest is no stranger to KFJC,
a Sublime Freak who tripped from the land of Molam to
Syria, remember? Trapping us with Neung Phak and stomping
us with the unstoppable Mono Pause before that. And
he built a Sham Palace along the way. Many of his friends
from those incarnations are summoned here. This album could
be what would have happened if Stan Freberg freebased with
hop hop? Or if Ken Nordine got stopped for a full security
cavity check EVERY time he thought about flying. Porest even
gets the band back together (not Conheim/Bishops/Albee)
but those secret agent quasi-NGOs-in-the-know Tourrorist
cloaked in computerized voices to protect the guilty.
Check out "The Field Recording" for their latest hits and
democracy operations. Or dig the family drama on "Schalked."
Other cuts are infectious like the Agit Pop of "Diplomat Smile"
and "Some Law" and "Au Revoirs of Blood." There's fuzzy b
ellybutton slink on "Your Vertebrae" that is mostly an
instrumental so you can be safe, or can you? Hey, the album
has kazoos, karaoke jingles of hate and lyrical nods to
Negativland and Public Enemy, so enjoy the revolutions of
this disk, those at least are real. Ko Ki!
-Thurston Hunger
Reviewed by Thurston Hunger on August 19, 2016 at 11:12 am
1999 re-issue of pieces from 1967 and 1970 respectively.
Each composition is carved up into segments for the CD
(or anxious DJ). Anxiety is at a premium on "Interrupteur"
hovering half-notes rising like steam, strings sawing
and lighter-than-air French Horn make up the soup,
percussion tumbles in at times then subsides, also a
trumpet occasionally hits like Batman and then rest. The drone is uneasy and the attacks
make the listener lurch even more. "Tautologos 3″ (KFJC
has renditions of 1 and 2 on another album) sounds like
a game piece, set in motion by rules, and not without
its humor. Like the "Interrupteur" there are sudden
spasms of sound, but no soup this time, instead a
background series of instruments that sort of volume-pedal
in a note at a time, like sheep bleating. Segment two
starts with a gallop, the electric guitar though often
stops the fun like a frustrated substitute teacher. On
segment three, faux sirens clear the orchestra for a
spell, then build a see-saw before something like a
mazurka breaks out. But it jump cuts to bouncing
twinkly organs. Tape splice delights. All of this back
when attention spans were long and uncorrupted by
TV/internet and the fly buzzing aroud in your skull.
Two very different tonnes of 12 tone fun! -Hunger
On the life and death tip, this reissue was the birth of
David Grubbs' "Blue Chopsticks" label and RIP Luc 8/22/2005
Reviewed by Thurston Hunger on August 19, 2016 at 11:10 am
Establish drone artist and professor of computer science Catherine C. Hennix from Stockholm and her ensemble Chora(s)san Time-Court Mirage. She has studied with the musician Pandit Pran Nath. This is an 80 minute track of vibrant tones. It's a live performance of a mix of electronic and non-electronic instruments. Indian inspired sitar sounds along with chanting (sanskrit?) vocals that mimic the oming instruments and chirping/humming horns. Namaste.
- Pandit Tolliver
Reviewed by billiejoe on August 17, 2016 at 4:35 pm
Do we need more Macronympha? Fuck yeah we do!! The indispensible Harsh Noise project of Pittsburgh pervs Joe Roemer and Rodger Stella is one of the most delightful things to come out of the American experimental music scene. You know that cassette that has garish porn collage on the cover and sounds like 40 minutes of someone throwing swords into a large industrial grinder? Yeah, chances are its creator was doing a poor imitation of this group.
This 2009 pressing of 30 was the third edition of this tape, originally released on the artists' Mother Savage in 1994 and then reissued in 1995 by Japan's Noise Records. It's probably the most diverse material I've heard from Macronympha. Every track is a champion, demonstrating totalitarian control over electronic tones, feedback and concrete sound sources a la The Haters, Sudden Infant or Merzbow… but different. Both live and studio recordings are present here but pretty indistinguishable in terms of sound quality. Is this what cock and ball torture is like? The last track, which seems to be made from manipulated radio signal, may be my favourite.
THIS is noise music. THIS is pornography. THIS is S&M. THIS should be banned. Check it out.
Reviewed by Lord Gravestench on August 16, 2016 at 2:24 pm
Melek-tha is the French dark industrial project of Lord Evil and his Cyborg Drum Engine. On this 2003 release, we witness the destruction of the world from a distance (high atop Black Mountain?) in two phases. Phase 1 opens with the sounds of the global war machine churning – jagged, racing synths – as its dictates, in French, are issued over the loudspeakers (T.1). These are the sounds of the collapse: a toxic sonic fog settles in, drum beats appear and accelerate as tension builds (T. 2), a transmission arrives from a courtroom as a smiling murderer (Bundy) asserts his innocence, and the machine grinds to a halt, its fuel exhausted (T. 3). Phase 2 is a glimpse of the world post-apocalypse. A new machine, a driving beat, grows from the burnt rubble and twisted metal (T.4); it is clear what is coming will be even shittier. The new laws are delivered to us, this time in an alien language (T. 5), but we understand their meaning. This is a lateral shift to a new world order, based on dominance and submission (T. 6), same as the old order. Welcome to oblivion!!!
Reviewed by lexi glass on August 14, 2016 at 4:51 pm
Slicing Grandpa: Noisey power electronics, low-frequency rumbles, and screeching guitars. Monotonous croaky indecipherable vocals that sound like they were delivered over a department store PA system.
Placenta Popeye: Noise rock trio from Marseilles France. Underwater sonic vibrations and piercing guitar feedback, punctuated by demented screams and moans.
Reviewed by Louie Caliente on August 14, 2016 at 1:34 pm
Complete fucking destruction, as usual. Screaming, squealing, static stabs. Pure sonic sadism.
"Pride of North American Noise" captures the band's sound in 2000-2001, just after Elyse Perez (of Laundry Room Squelchers) joined the testosterone-heavy duo of Emil Hagstrom and Matt Bacon. Many of the tracks were recorded live in Norway, Germany, Switzerland, and South Florida, and feature a variety of guests, including Weasel Walter on Clarinet and Rat Bastard on Violin.
The album clocks in at only 20 minutes, and most tracks are under a minute. The longest is track 17, a bizarre 5-minute club mix by V/VM featuring cheesy 80s synths and sax lines accompanied by cheering crowds and a cacophonous collage of Cock ESP live sets.
FCCs: 3, 16.
Reviewed by Louie Caliente on August 14, 2016 at 1:10 pm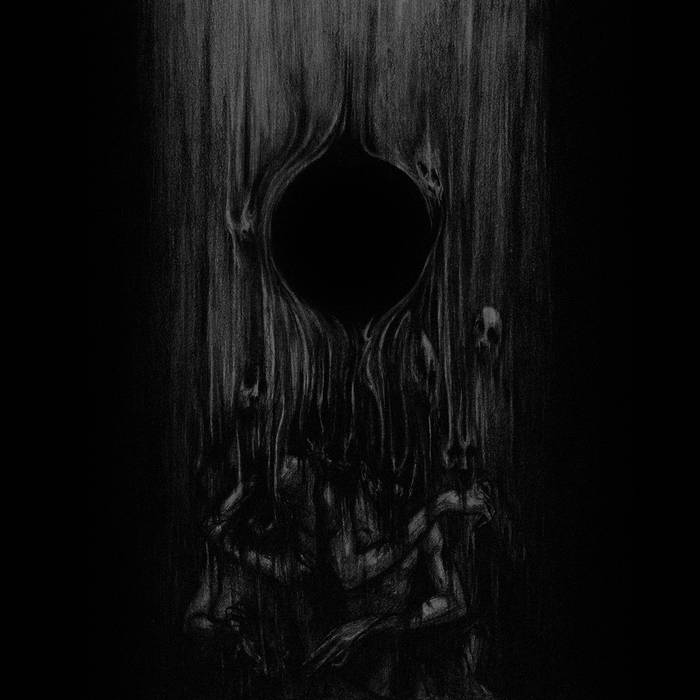 Interpretive: A man riding horseback in a midnight battle plows through the enemy line, as a tide of corpses in the making parts before him like Moses at the Red Sea. Underneath, the steed gallops at a ferocious pace, with only victory on its mind, the blinders fixing his vision ahead–only ahead–until the final battle, whereupon his charge will dismount and behead the leader of the fallen enemy. He knows not the possibility of failure. The riders arms propel his mace deep into the skulls he now crushes with ease, a level of mastery won only through years at war.
Descriptive: Welcome to a nearly continuous festival of punishment. This Bay area four piece (guit/drums/bass/vox) has refined a particularly dark and simple approach to aggressive music. They're tight, achieve a coherent sound, and the vocals are gruff enough to hit the spot without sounding comically evil. Bursts of three quick notes from the sludgy guitars ride atop fast-paced drumming; most tracks have a distinctive break from this before looping around for a second pass. No hooks or particularly memorable riffs; the focus here is on creating a wholly pummeling auditory experience. Memorable bits: the solid mosh in Sunken Reign (#2), and guitar flourishes & work around the kit in Hericide (#5). Dusk Abuse (#11) wraps things up nicely. This 2016 release has received support from multiple labels for the different formats, and these guys are delivering a superior product compared to their peers.
Short: straight up hardcore band dresses up as death metal band for Halloween, decides they like the outfits.
Reviewed by milo on August 13, 2016 at 3:38 pm
This vinyl release is a set of rare demos and takes from the cult electronica-post-punk band Nagamatzu. Nagamatzu was a British duo with Andrw Lagowski and Stephen Jarvis that was formed 1982. This was in the early days with explorations of the new music media using drum machines, sudden cheap Japanese synthesizers and old tape machines in combination with post-punk guitars similar to Joy Division, so these tracks reflect this era. These tracks are from their 1986 to 1991 experimentation. Musically this vinyl is a hit and miss adventure; I enjoyed the first and last tracks, but the rest tended to fall into the trap of 'it's an unreleased take and there's a reason it was not released.' However, you can experience the primal nerve of a duo experimenting with drum machines and other music toys with a cult-murky tape deck sound.
Reviewed by Kai Sync on August 10, 2016 at 7:30 pm
This is one of Andreas Arndt's many albums, released 2007 — the music is lo-fi industrial power angst music combined with heavy doses of pink noise and some non-drum beats sneak in here and there. The voices are manipulated with modulations and distortions and phone eq:ing so that the lyrics are mostly non-understandable statements about something where the title lyrics might give minuscule ideas what the intent of the track is. Some might enjoy this kind of power noise, it is indeed an acquired taste. But I missed any finesse and artistry amongst all the tracks, even with noise music you need artistic intent and the multitude of repetitious noise making has its limits.
Reviewed by Kai Sync on August 10, 2016 at 7:29 pm

Geneva vivre! Perky poppy stuff that could have been
cooked up in a Stereolab or come from the overflow of
Orchestre Tout Puissant Marcel Duchamp. Like that Swiss
band, this album has a full sound, with merely a dynamite
duo (including the actual bassist from OTPMD). Vincent
Bertholet's upright bass lines are what keep this in the
pop zone, he frequently nails the nerve from ear to toe.
In addition there's plenty of weird warpage via outer space
synth. One track, "S.O.S.I." sounds likes a nod to Glenn
Branca (or at least the Theoretical Girls). There is also
un hommage du the incredible Brigitte Fontaine, apparently
on "Cholera" but on "Le Tyran" it almost sounds like lady
Fontaine herself. That voice and the drummer and yin of this
duo comes from Simone Aubert. She has a nice "sweet scream"
of a voice. On "Resigne" it's a candy, on "Le Feu" it's
a flamethrower. The duo vox interplay is cool when paired
up, she might yodel while he speak-sings, or they might
trade off moves closer to a Ye-Ye way. They've got an
immaculate knack for producing catchy songs. Tres cool stuff
I want to hang with these two, although maybe not in the
furry cosplay from the cover. (Is that a "Revenant" nod for
bear and skunk?). Let's track down some Massicot, a side
project for Ms. Aubert. Art rock lives!
-Thurston Hunger
Reviewed by Thurston Hunger on August 10, 2016 at 6:23 pm
Next Page »